21 Fireplace Remodel Ideas to Enhance your Living Room Decor
The fireplace is the place in your house that fulfills the purpose of being a piece of beauty as well as keeping your place warm on cold winter days. It acts as a focal point in your house. It can widely impact the decor of your room depending on how you design the fireplace.
Nowadays, it is becoming quite popular to install a fireplace in the kitchen and bedrooms along with the living room. It is important to place and decorate them in such a way that they enhance the beauty and comfort of your house, along with being of great use. The place must be made pretty and pleasant as your family often sits by the fireplace to enjoy its warmth during the harsh winters and snowfalls.
So every year before the winters arrive, you can remodel your fireplace to enhance its look and give a different decor to your house just with a few shifts.
Fireplace Remodel Ideas
There is an introduction of several new ideas that have been gaining popularity. Here you can not just find a fireplace that is within your budget but also build a place that suits your decor in the best way possible.
A fireplace is an energy-efficient idea that saves your cost on electricity to keep you warm on winter days. It is an investment that lasts for years to help you in the winter. But it can be difficult to determine the starting point for redecorating your place. So we have brought 21 amazing fireplaces remodel ideas that will help you not only enhance your place based on your home decor but something that will be in your budget, according to your taste and preferences.
So check out these great fireplace remodel ideas that you can get inspiration and creativity from or use directly in your house without thinking. So it's time to enhance your fireplace before the winters hit you with the harsh cold and wind.
1. Whitewood Cozy Fireplace
We all enjoy a beautiful farmhouse decor with cute wooden aesthetics and colorful accessories and decorations. You can similarly design your fireplace. Decorate your house, giving a modern fireplace energy and feeling all over the place.
Color the surroundings of your fireplace in white and carry the same up to the top of the unit. On the mantel, you can place a beautiful wooden pot that will enhance the color grading in your house. Further, you can place beautiful flowers or plants in the pots just the way you want. The greenery elevates the vibe of the place.
The furniture or place around the fireplace can also be colored in white to make it look coordinated. This gives a rich and classy vibe to your place. White is the safest color you can choose with any decor or furniture. This is one of the great fireplaces remodel ideas that do not require too much thinking. You can just follow the decor as suggested here.
2. Grey and White Fireplace
If you are someone with an artistic type vibe, this is a great idea that you can implement in your living room fireplace. You can use some tiles with a unique and beautiful design pattern that will make your place look elegant and aesthetic. This is one of the modern ideas that require you to put some effort into a beautiful place in the living room.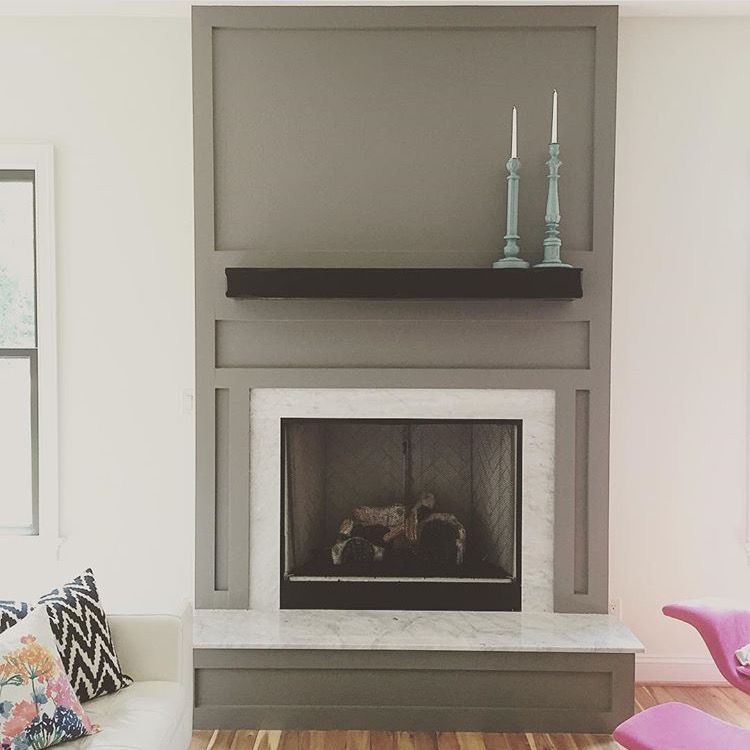 Again the top of the fireplace can be decorated with a wooden piece that is kept just for decoration purposes, or you can even use plants, candles, books, etc., in the place.
3. White Brick Printed Fireplace
Clearly, we are biased toward white-colored fireplaces, but that is only because of how good they make your place look.
If you have a fireplace in the corner of your house, this is the best idea to decorate it such that it stays in the corner and does its job but also cannot go unnoticed by anyone who visits your house.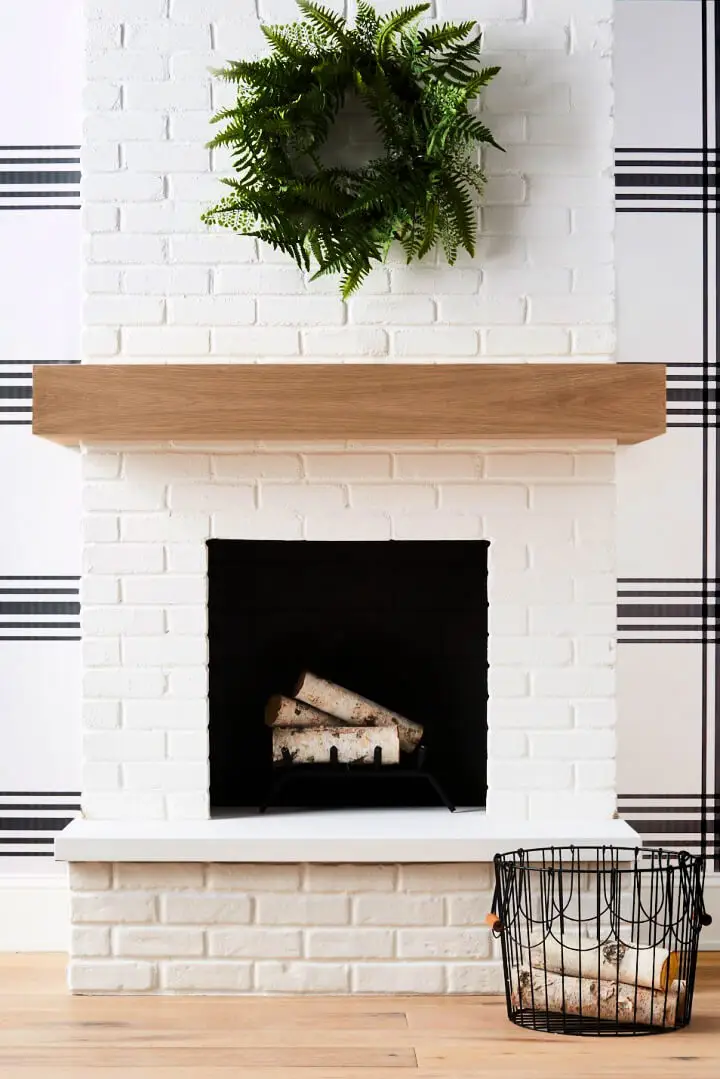 The fireplace is painted in white. You can keep it simple and whitewashed if you want, but we suggest an aesthetic pattern and design that will level up its elegance and beauty without much effort. Use the brick pattern to design the place. As the place is located at the corner of your house, it does not require you to put much effort into accessories. Just the white design makes it gain all the attention and makes your place look rich.
4. Multi Colored Tiled Fireplace
If you have painted your house in a lighter shade of color, such as white, yellow, pink, etc., you can use this brilliant-looking idea of a multi-colored fireplace. In this, the tiles do the major work of filling the colors in your place, so you must choose them wisely. You can also choose tiles that are of any two colors that go in contrast with your walls.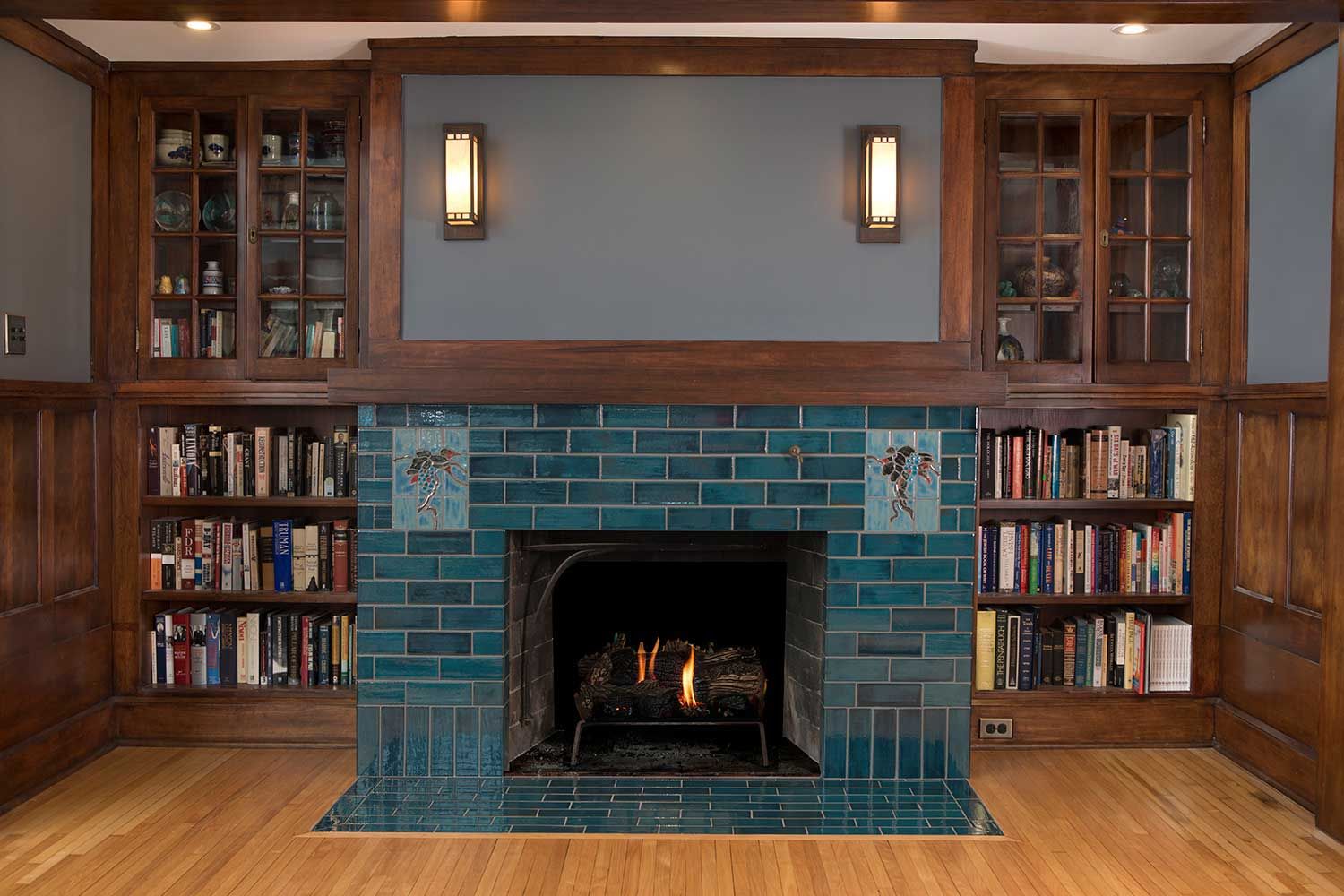 Further, using vertical lines on your place can enhance its beauty by giving a feel of being a well-thought idea for fire decor. This is one of the fireplace remodel ideas that give you a lot in terms of aesthetics with just minimum effort and creativity.
5. Traditional Meets Modern
If you have a traditional-looking fireplace in your home, this is an idea that can make it look beautiful with a modern aesthetic.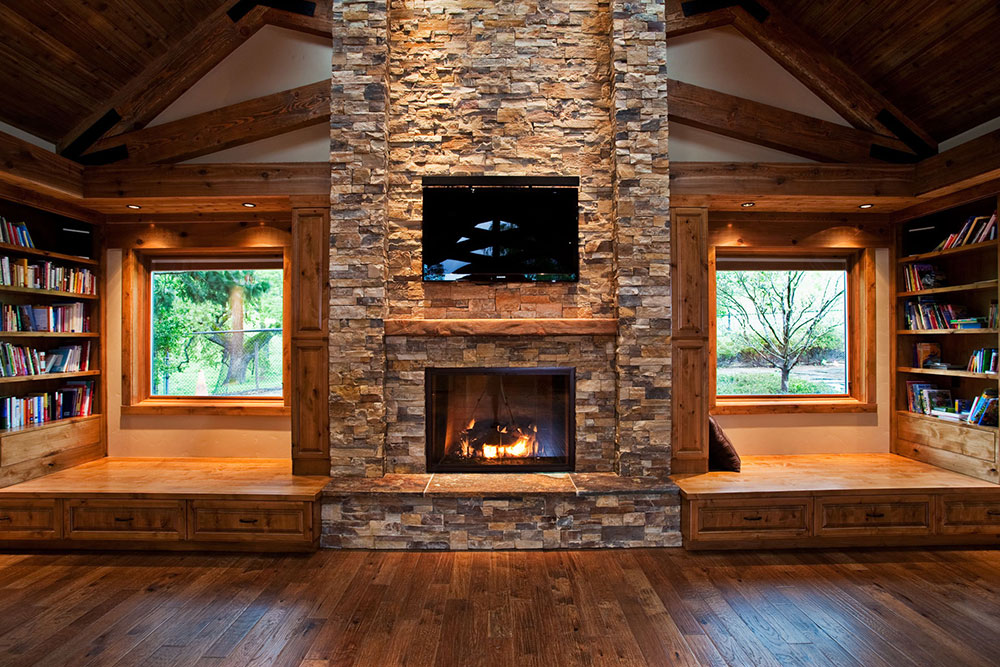 Paint the fireplace with a white color based on your home decor. You can also use any other light color as you want. This instantly makes your traditional fireplace look young and modern. Based on your house aesthetics, you can use some accessories that go well with the color. If you are using multiple accessories, try to keep them of the same color, as it makes the place look elegant and well thought out.
If you just have a fireplace and are not very keen on using real fire, you can use gorgeous candles that will light up your place with beautiful decor and ideas.
6. Impressive Modern Fireplace
If you are a minimalist and seek basic but classy ideas, this is the one for you! This is a rustic and modern fireplace that goes well as if it is a part of your home decor plan. It has a healthy white shiplap where the wooden mantle solves the purpose of being a showpiece.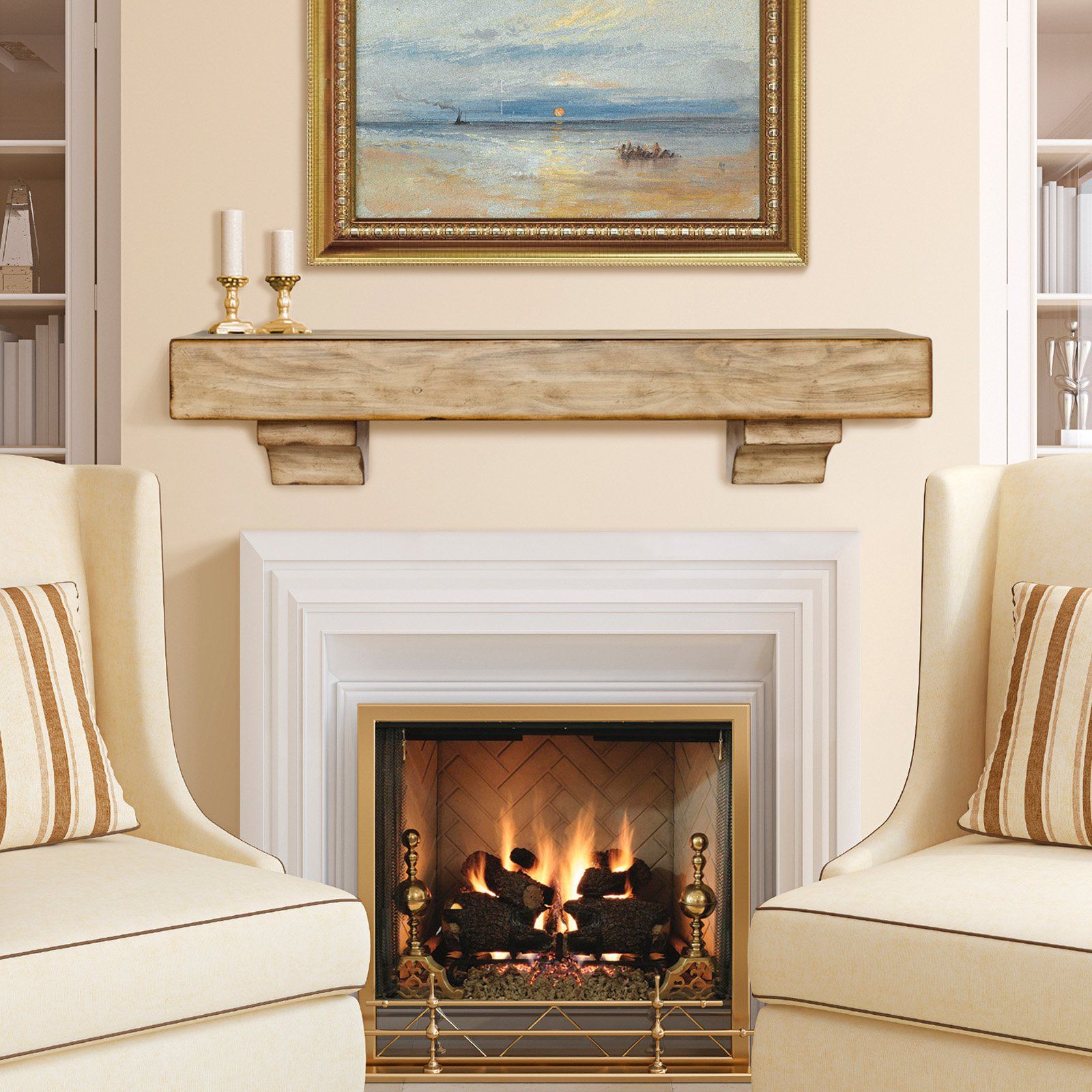 This wooden piece gives a focal point in your drawing room.
If you are planning to redecorate your entire house, this is one of the classy fireplaces remodel ideas that are in sync with the entire house. The entire plan is built based on what theme your interior is made of.
7. Wall of Wood Fireplace
If you want to make your place look extra dramatic, this is one of the fireplaces remodel ideas that help you to enhance its beauty by creating a unique and beautiful backdrop to enhance your interior. You can create a wooden backdrop on the wall, making it stand out irrespective of your wall paint colors.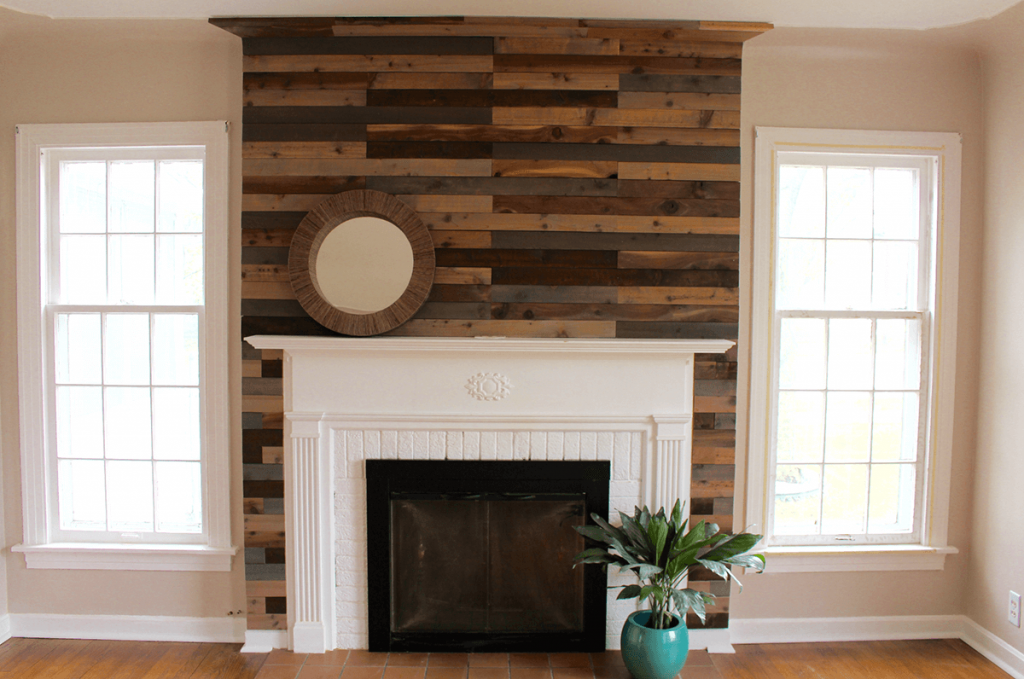 You can choose the most suitable color from the wood ranging from gray to chocolatey. It will give an artistic vibe to your house, making it the favorite place of your family members.
This idea requires you to put in some effort and expenses, especially if you are taking a professional's help. But as you can see, it is completely worth your efforts.
8. Monotone Fireplace Wall
You can make your fireplace stand out as a statement for your entire house with a monotone fireplace wall. It is always a safe way to design your fireplace, as it won't disappoint you. If you are a fan of dark colors, you can surely use this idea for your house. Use a color that is in contrast with your other walls and make it look attractive and unique with its beautiful colors.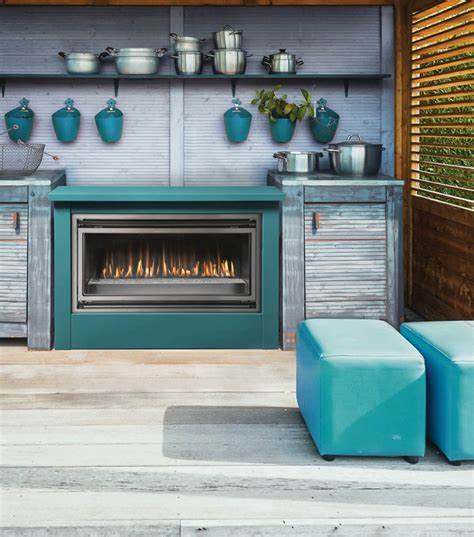 The entire place will light up and make your house look classy and well-planned. Whether you are remodeling your fireplace or the entire room, you can implement this idea easily. It does not require much effort, and there's no risk of not turning out to be the way you want it.
9. Stone-Made Fireplace
You can create comfortable and cozy seating around the fireplace for your family. Anyone can sit there to work, eat, play, or just relax. It will give the warmth required to make you feel better, along with offering the pleasure of beauty and aesthetics in the place. If you decorate the wall around the fireplace with stones, it can reduce the need for you to decorate the place. It drastically enhances the beauty of the place.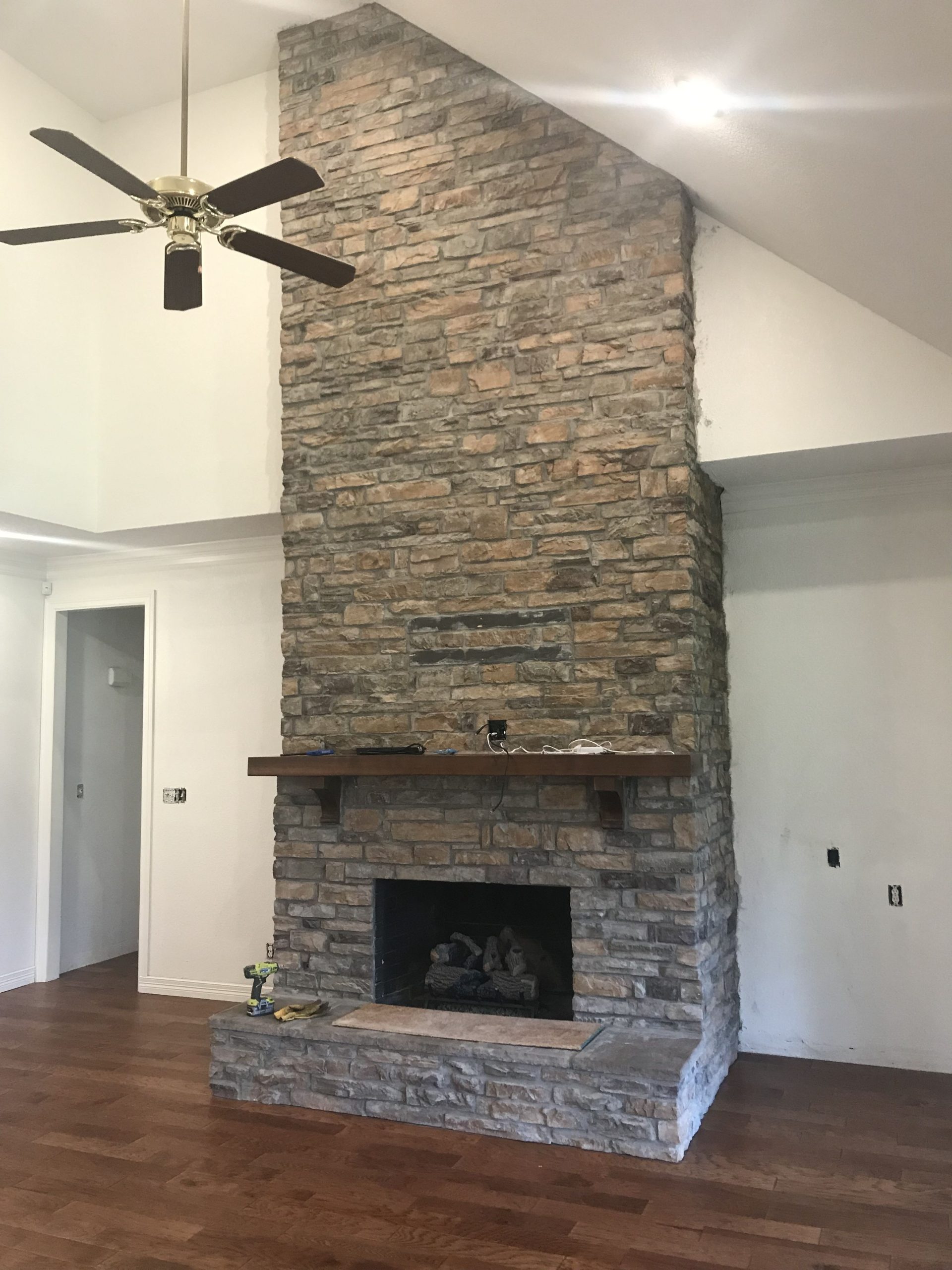 Further, you can place beautiful bedsheets, mats, and cushions in your seating area to enhance its beauty without excessive work. It drastically enhances the coziness of the entire place.
10. Build a Colorful Fireplace
If you want a quirky-looking fireplace that goes with modern trends, make it colorful the way you want. You can choose tiles from different colors and designs that will help you to enhance the fireplace or just paint it in combinations that you want. It drastically increases the beauty of your room.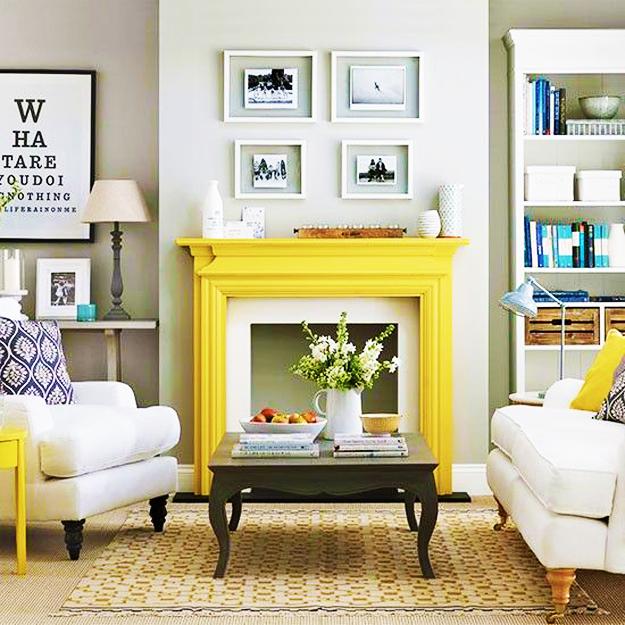 If you are planning to go with tiles, you may need professional help to place them well and fit them. But when it comes to painting, you can take your brush and place your strokes as you want. It gives a bold character and texture to your room. Moreover, you can change the tiles every one or 2 years to change the look of your fireplace. It will work well with your living room if your furniture and walls are in shades of white, as it will create a color balance.
11. Great Lighting
Lighting plays a major role in making your place attractive and elegant. You can use the lights such that it directly brightens up the fireplace in your house. The lights will make a statement for your space such that you won't require to use extra special accessories or tiles to make it light up. For amusing and romantic nights, you can install mood lighting using dim shades of different colors in your living room.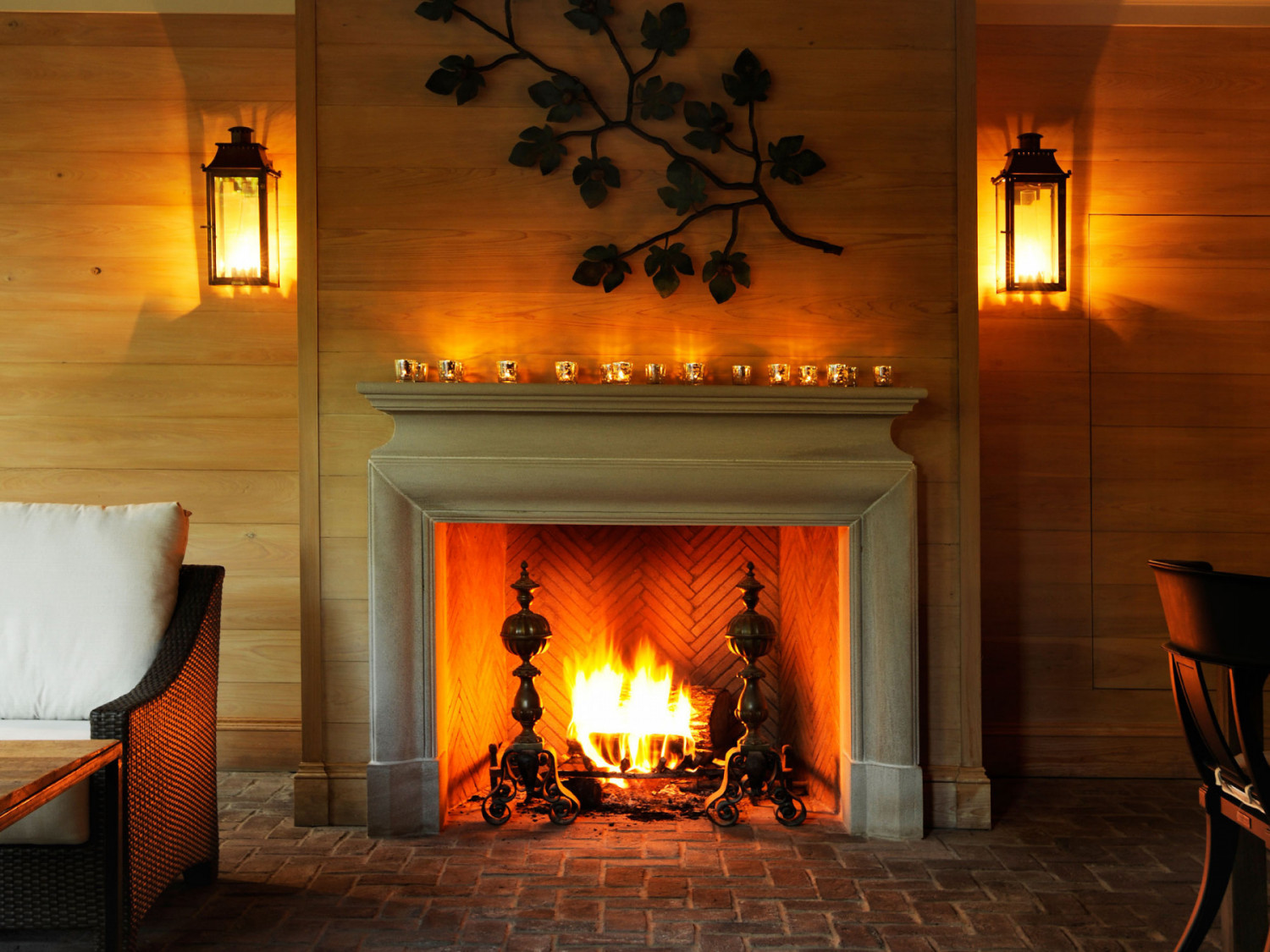 The best use of the light in a fireplace is to design a fireplace such that it contains bright and beautiful colors that go well with your decor. As the light falls on it, the fireplace will radiate vibrant colors and make your house look extra bold.
12. Embrace Originality
If you have an old place built with a stone fireplace and you want to remodel it, keeping its ancient touch alive, this is one of the most suited fireplaces remodel ideas for you. You can keep its charm alive and yet make it modernized just by using a wooden mantle made up of reclaimed wood.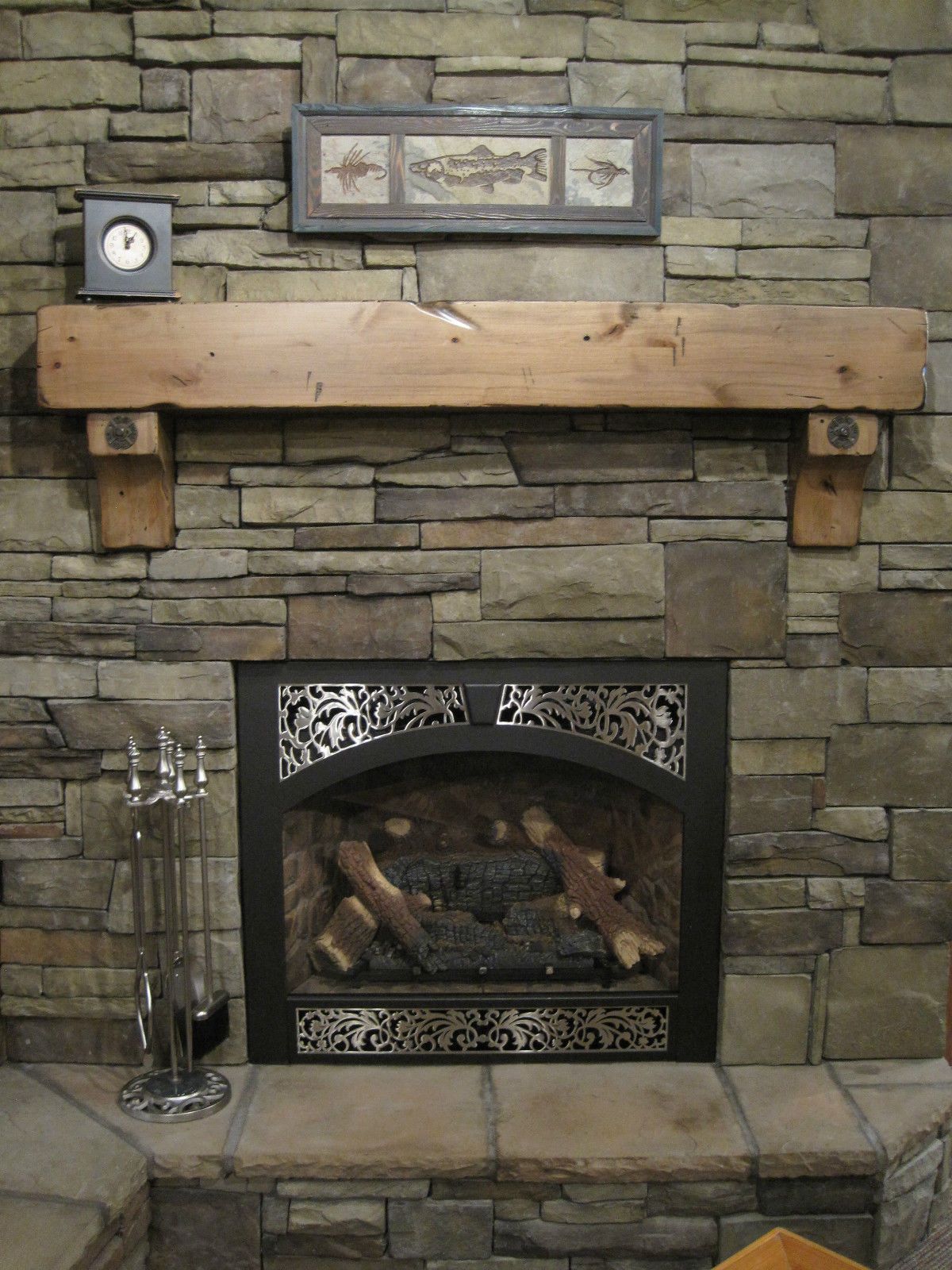 You can place a landscape painting to exaggerate its beauty and warmth. Also, you can decorate the mantlepiece by keeping some antique objects that are small in size and have a metallic finish to make the fireplace look interesting.
13. A Faux Fireplace
It is completely normal to want a fireplace in your house without being in a cold region. You might want to install them because they look stylish and give a bold statement to your house. In such cases, you can create a faux fireplace. It establishes a focal point instantly in your room. It does not require a firebox or chimney.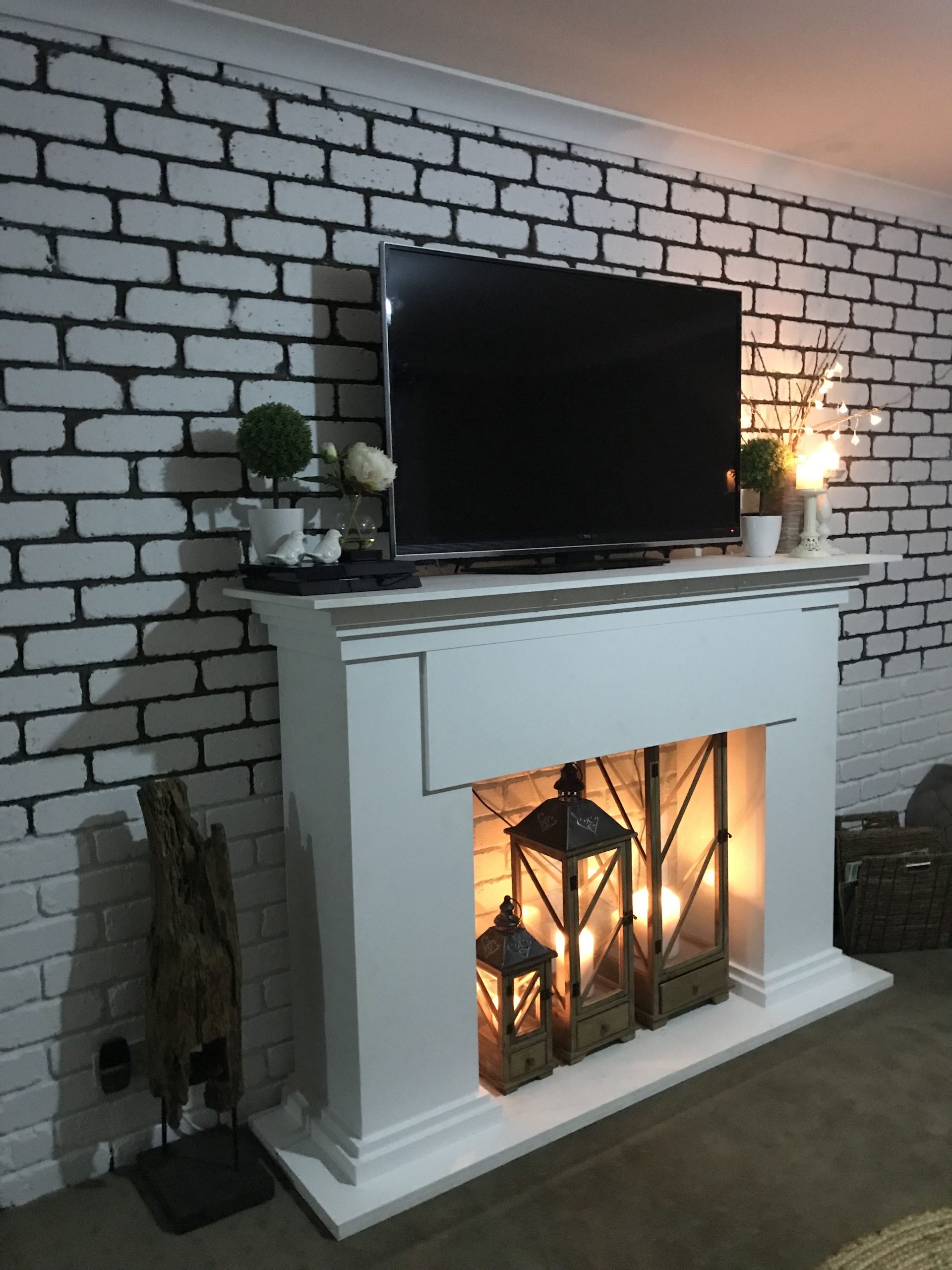 You can also use a mantlepiece that will create a better illusion of a fireplace in your living room. You can keep beautiful decor pieces or flower pots on the mantel to make it look great. Also, you can mount an art piece on the mantel to give a better-looking definition to your living room.
14. Display Your Collection
The fireplace is the focal point of your room. It is built in such a way that it takes all the attention, and people gather around it for warmth. Hence, it is an opportunity to decorate the place with your choice of theme. You can use any of your interests and decorate the fireplace mantel with them.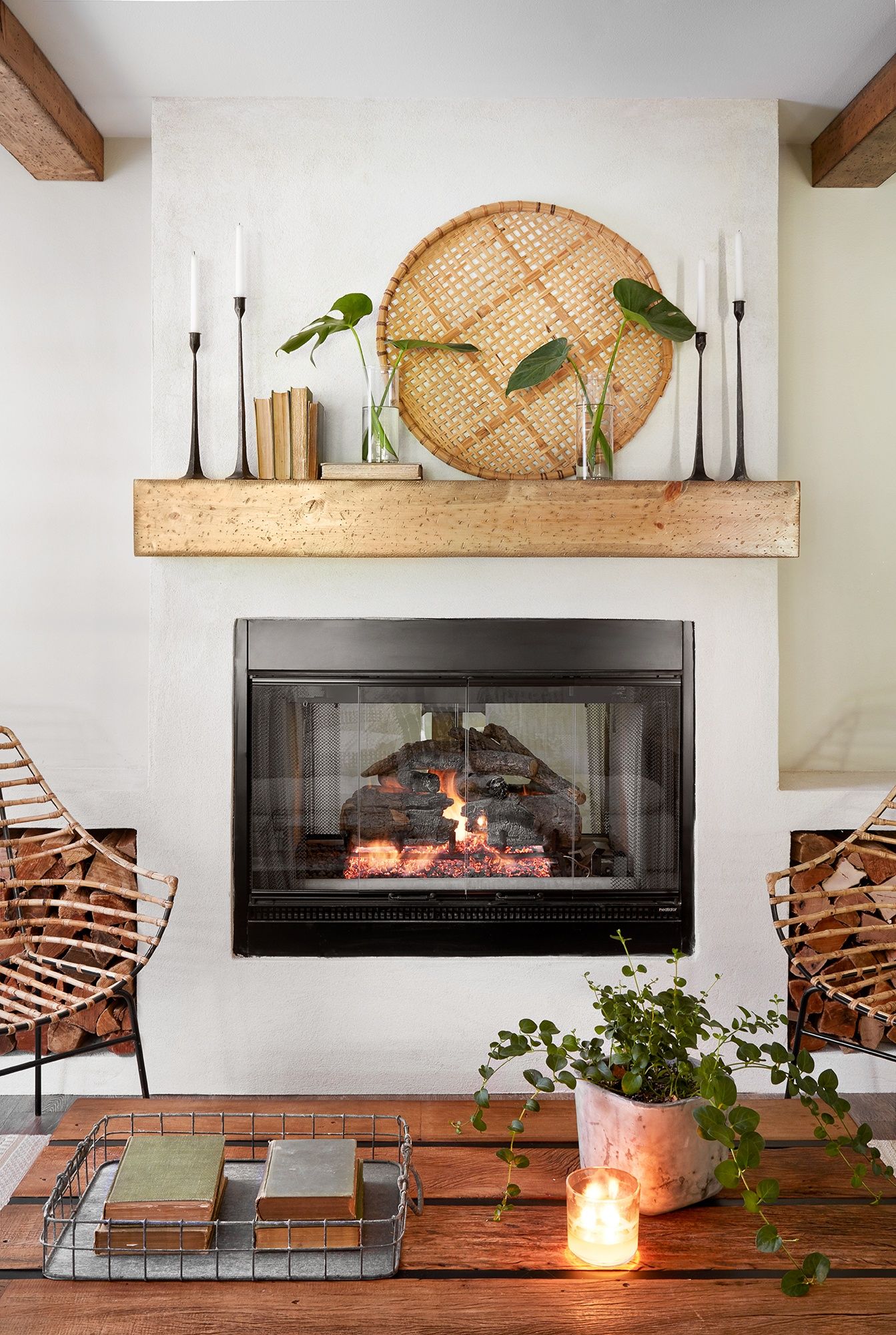 You can use your painting collection or something that you create yourself, along with your collection of books or pottery, collectibles from your favorite show or movie, etc. It is your house, and you have the freedom to decorate your fireplace just the way you want it to be.
15. White Faux with Logs
Again, it is understandable to want a fireplace in your house without having the need for it. After visiting through this fireplace remodel idea, all you need to have is a fireplace that goes well with your home interior and attracts all the guests that come to visit your house. Also, if you don't want to spend too much on decorating your house and yet want to make it look classy and rich, this is the way for you.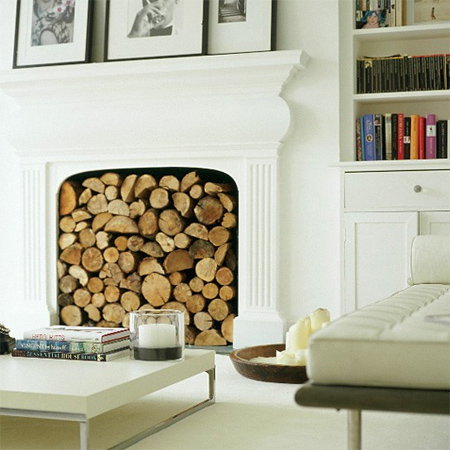 Create a charming and beautiful all-white faux fireplace and fill it with an abundance of birch logs to give it a bold and beautiful statement. You can decorate it with your favorite metal pieces or colorful paintings to create a statement in your room.
16. Tiny Hexagon Covered Fireplace
This is one of the easiest ways to change the look of your fireplace with a few efforts you can put on a weekend if you enjoy doing things yourself. Paint the fireplace white or any other color that you wish to have based on your home's interior design and look.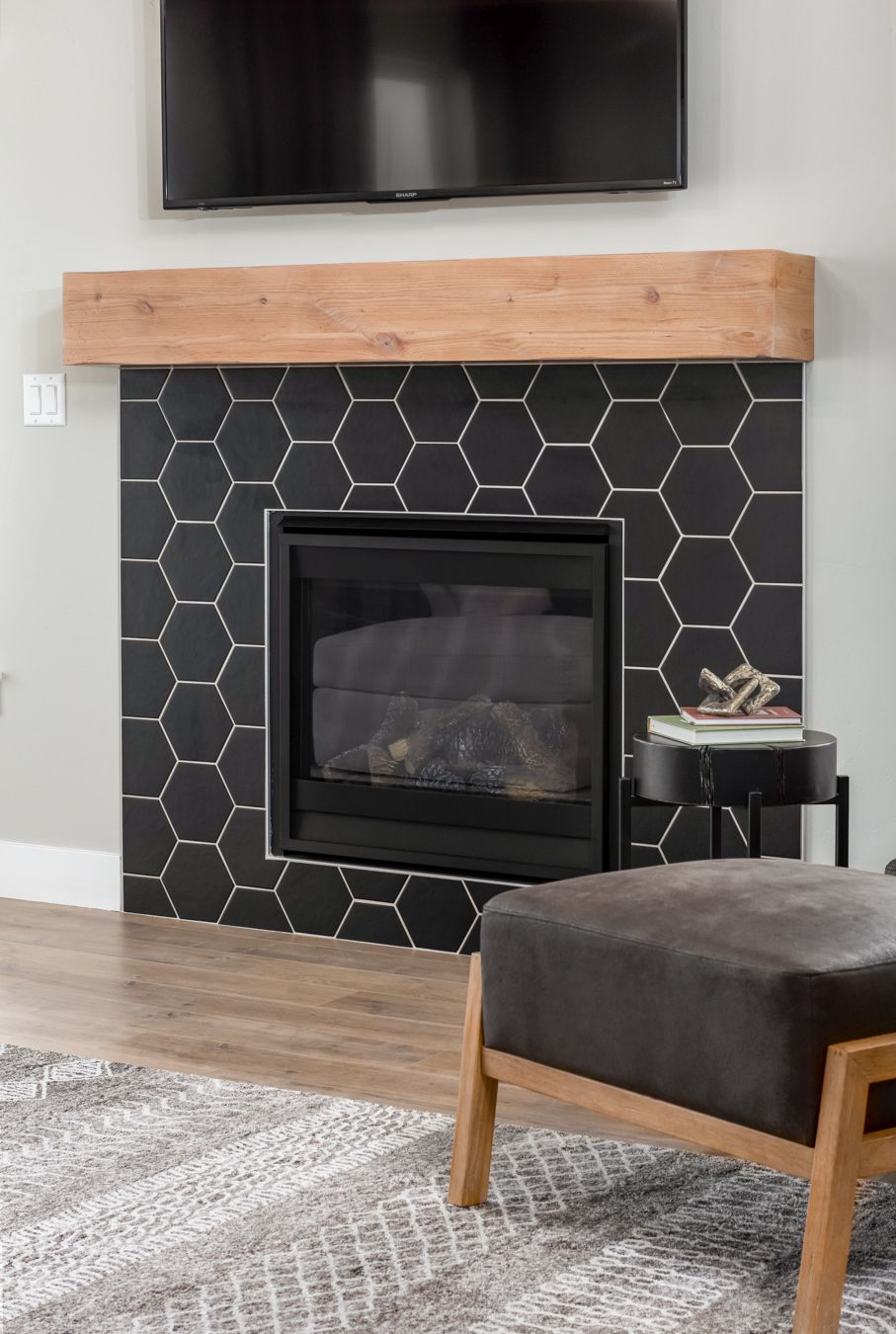 There are hundreds of styles you can choose to remodel your fireplace, but the hexagon one adds class and beauty to your place with just minimal effort and doesn't stop being stylish at any point. Keep the mantle bright black or white and enhance your place with this unusual fireplace remodel idea.
17. Architecturally Layered Fireplace
The fireplace can be layered with different architectural designs to make it look like an amplifying structure. It gives a feel of being a part of a huge composition of artwork connected by a simple structure with several architectural additions in your living room.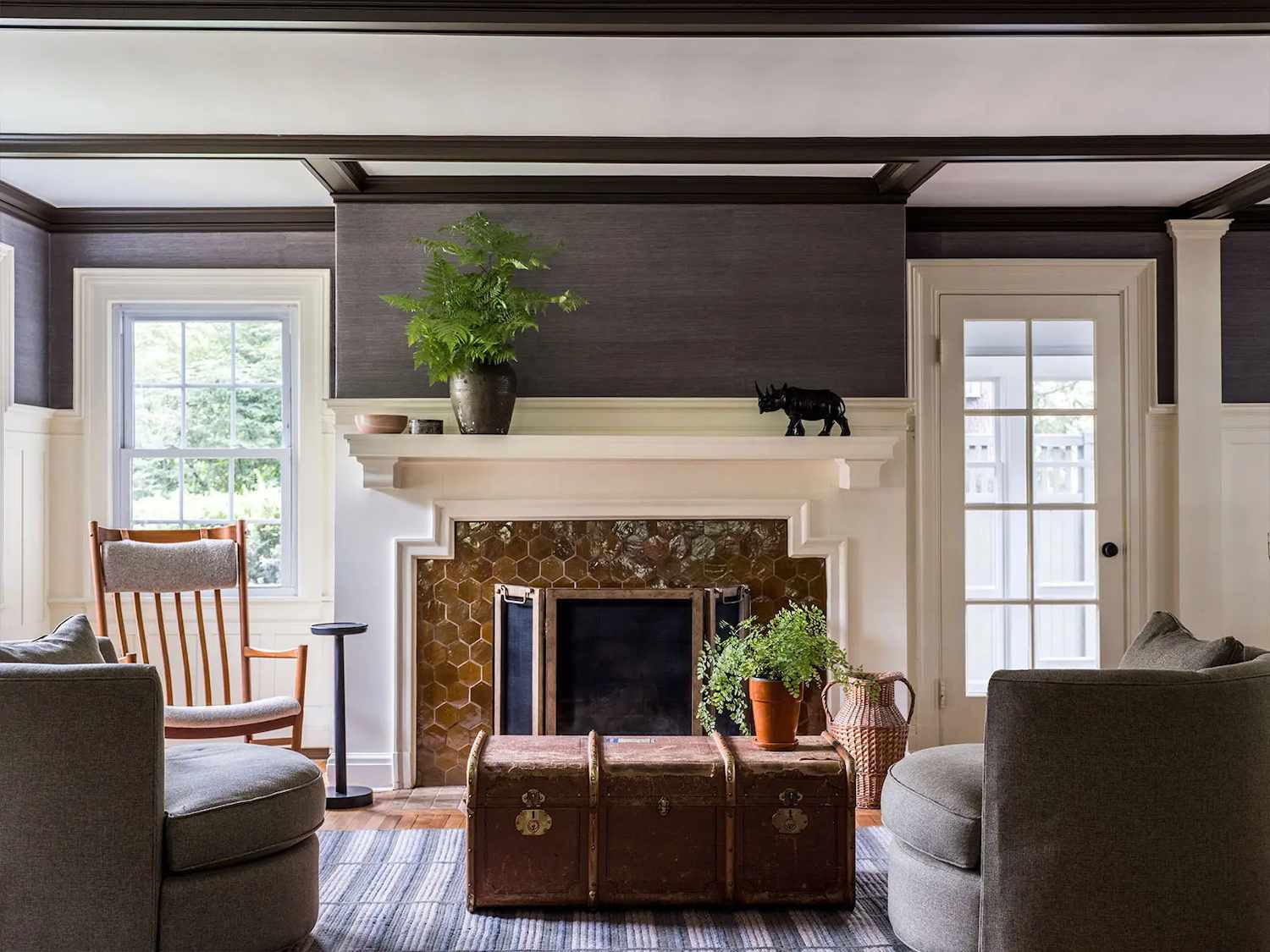 Further, detailing the sections with beautiful designs, thoughtful colors and accessories, and art pieces can make you look more elegant in your house than ever. To make your place look extravagantly rich in style, you can add mirrors over the mantel. It enhances the beauty of your place dramatically. Further, cabinets, shelves, and ceiling doors at several pieces can make the mantel a thing of multiple uses.
18. Extended Mantel Fireplace
If your fireplace is in the middle of the living room, and you are planning to remodel your room around it, this is one of the most suitable fireplace remodel ideas for you. You can create a fireplace and mantel in the center of your room, create a focal point, and then extend the mantel beam toward the end of the wall.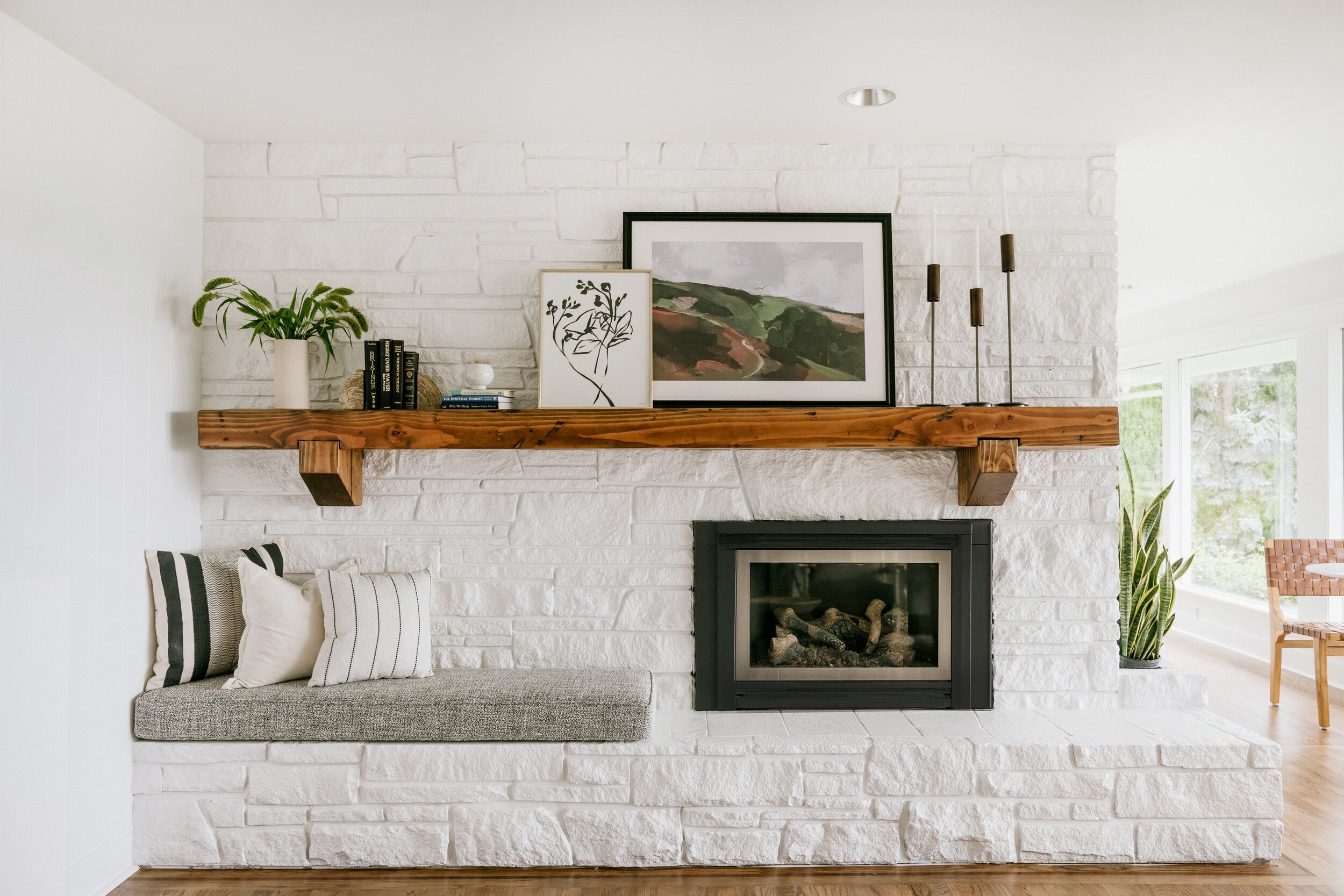 This creates a beautiful showcase in your house, giving it the most aesthetic and classy feel. You can fill the place with different accessories, paintings, and showpieces that go well with your wall color. Ensure to maintain symmetry and parallel lines across the place to make it look neat.
19. Stylish Storage Around the Fireplace
If you have a blank wall around your fireplace, don't let it go to waste as a wall. You can make the best use of the place by creating a storage place with cupboards, drawers, cabinets, shelves, etc. The extra space won't ever go to waste if you live in a family with kids. Mount these cabinets well to the walls using studs.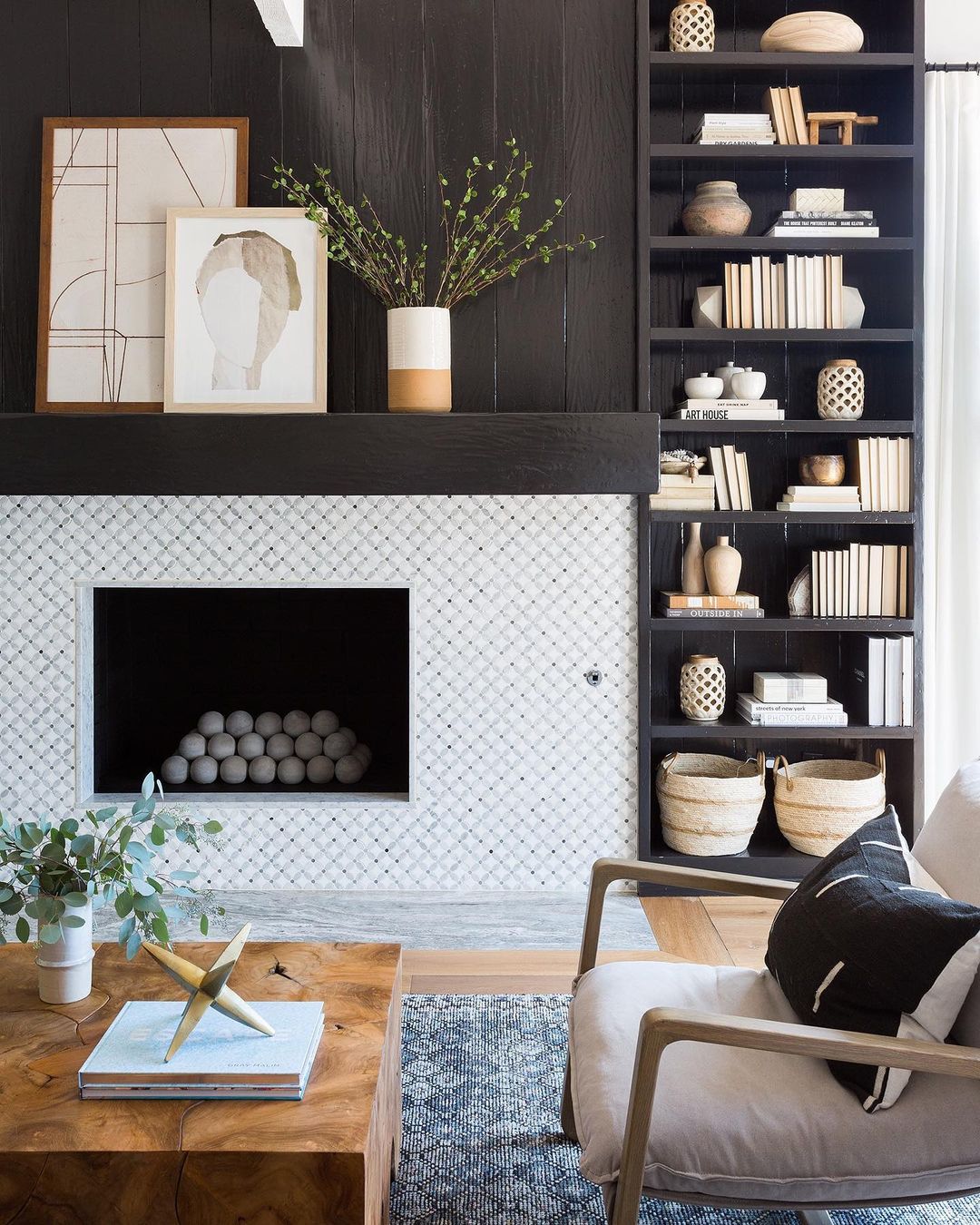 Further, you can paint them in colors that do not take away the attention from the fireplace but lets it shine bright. Light pastel colors would go well with the cabinets. Stud the upper part of the cabinet in line with the fireplace mantel.
20. Two-Toned Fireplace
You can enhance your fireplace design using two bold colors that can create a statement in your living room. You can paint around your fireplace white and use another bright shade to cover the mantle and place it above it that goes to the top.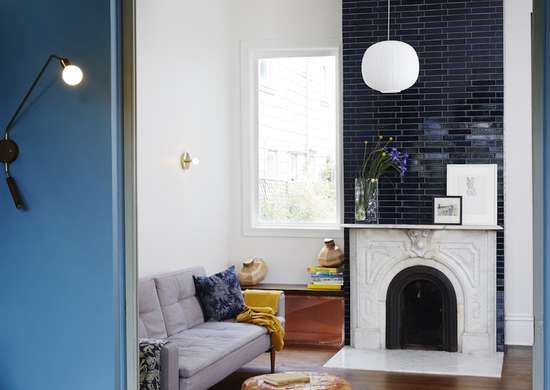 If not, there is a simpler way to do this and enhance the beauty of your place. Color the fireplace in a light shade of white and place a bold one-colored painting on the mantel. This will give it a two-toned look. Further, you can use accessories to compliment this combination, creating drama and elegance in the room.
21. Flat Plane Fireplace
The flat plane fireplace is one where there is no bordering area to the fireplace, and it directly connects with your wall. This is one of the most charming fireplace remodel ideas, as it gives a simple yet interesting look to the place. In such a case, you can add a wooden mantel that takes all the weight of looking at the place as a piece of art.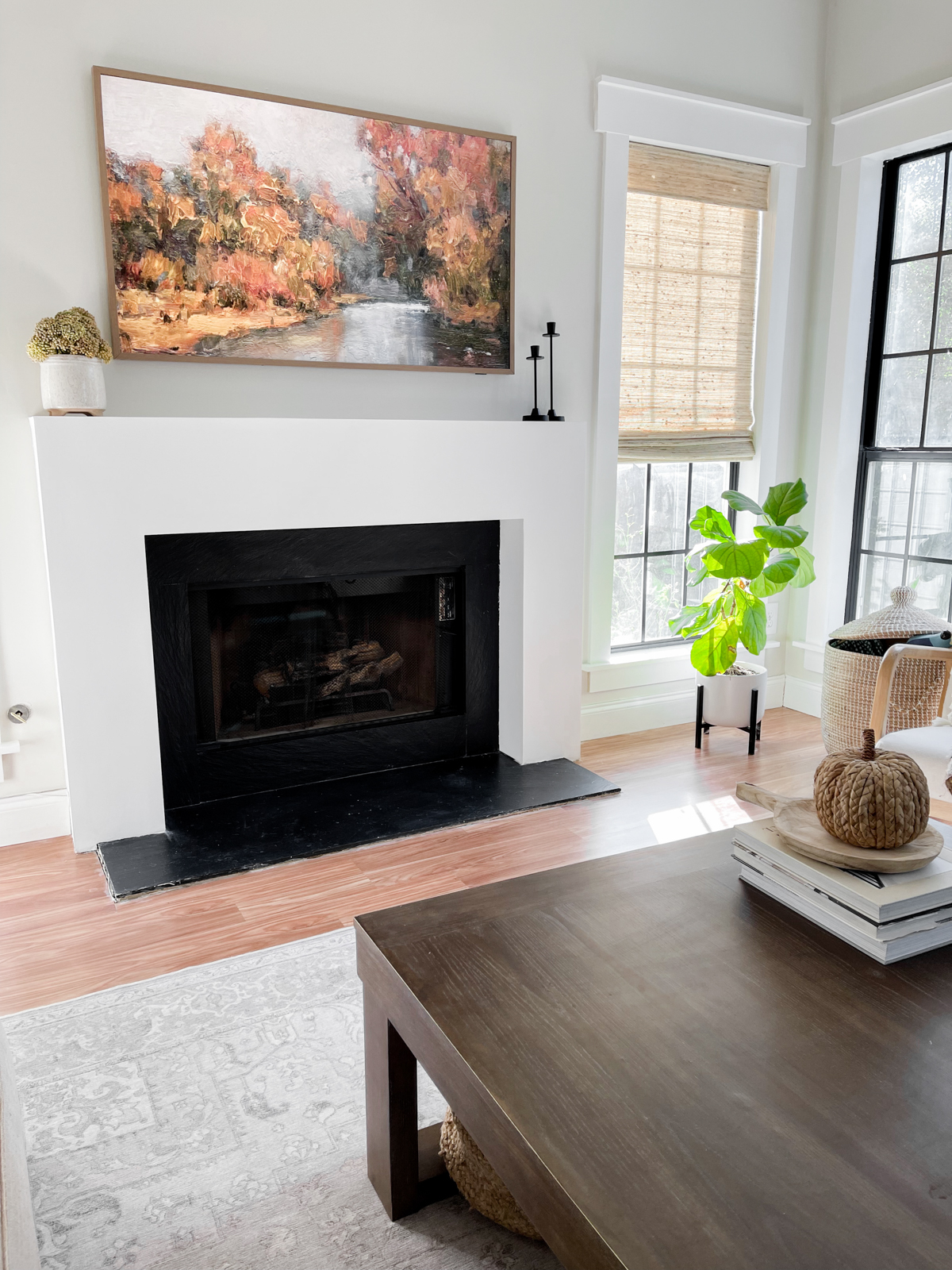 The white-walled place with wooden pieces gives it the most classy feel that you can ever get with any other design.
Conclusion
There are numerous fireplace remodel ideas that you can directly implement in your room to enhance the beauty of your place before the harsh winter hits you.
As you spend most of your time at your home, around your fireplace, making it look pleasing is an important job. If you are building a new house and a fireplace, you can go with the complex looks that might look a bit risky but also add drama to your house.
However, if you are looking just to shape up the existing one, a few strokes or color and placement of accessories have a long way to go.
Tell us about your fireplace remodeling experience in the comments.