21 Stunning Wedding Arch Ideas for Your Special Day
Your wedding day is a celebration of love, a momentous occasion that deserves a backdrop as breathtaking as your lifelong commitment. One element that can truly elevate the ambiance and aesthetic of your ceremony is the wedding arch. With its captivating presence and inherent symbolism, the arch decor has the power to transform an ordinary space into an enchanting realm of romance and elegance.
In this article, we bring you a curated selection of 21 stunning wedding arch ideasthat will help you craft the perfect backdrop for your special day. Whether you dream of an ethereal garden affair, a whimsical beachside soiree, or a timeless indoor celebration, we have gathered a diverse array of arch designs to suit every style and setting.
Breathtaking Wedding Arch Ideas
Join us as we explore the captivating world of wedding arch decor and discover how this essential element can make a resounding impact on the overall look and feel of your special day.
From lush floral installations cascading with vibrant blooms to minimalist structures adorned with delicate drapery, these arches will inspire your imagination and provide a focal point that reflects your unique love story. We delve into various materials, color palettes, and architectural styles, showcasing the endless possibilities for creating an enchanting atmosphere that will leave a lasting impression on you and your guests.
1. Rustic Elegance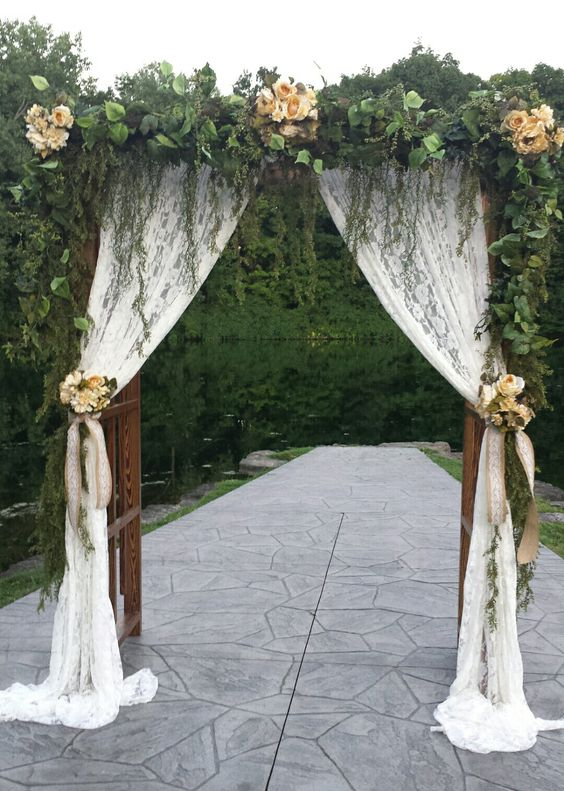 For a charming and rustic atmosphere, consider using natural elements like wooden branches, twigs, and flowers to create an arch. Adorn it with delicate lace or burlap for a touch of vintage elegance. This style works well for outdoor and barn weddings, adding a warm and intimate feel to the ceremony. Complete the look with mismatched vintage chairs or antique lanterns for a cozy and nostalgic vibe that will transport your guests to a simpler time.
2. Romantic Garden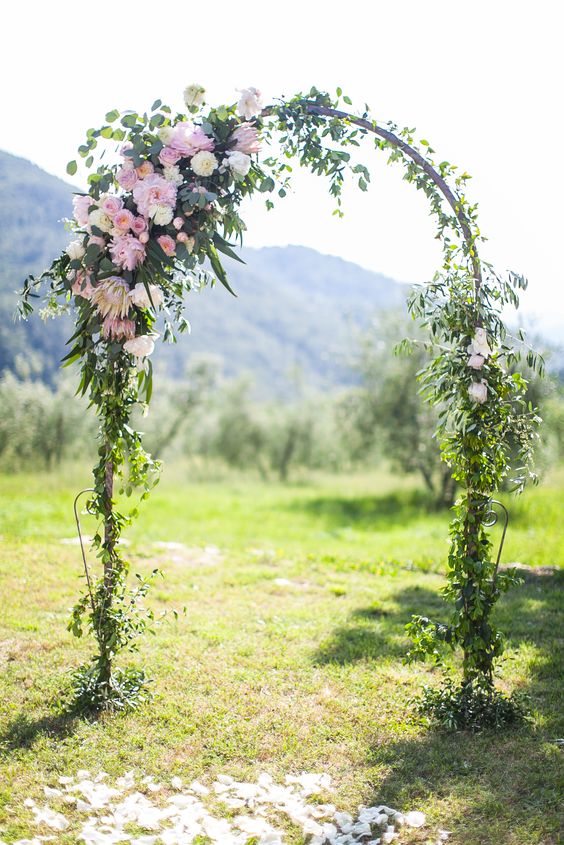 Garden weddings call for a dreamy and ethereal arch design. Incorporate lush greenery, cascading blooms, and soft draping fabrics to achieve a romantic and whimsical feel. Choose pastel shades and delicate flowers like roses, peonies, and hydrangeas to create a fairytale-like setting. Enhance the enchantment with delicate fairy lights or hanging lanterns for an intimate and magical ambiance. Let nature be your guide and allow the beauty of the garden to weave its spell on your special day.
3. Modern Minimalism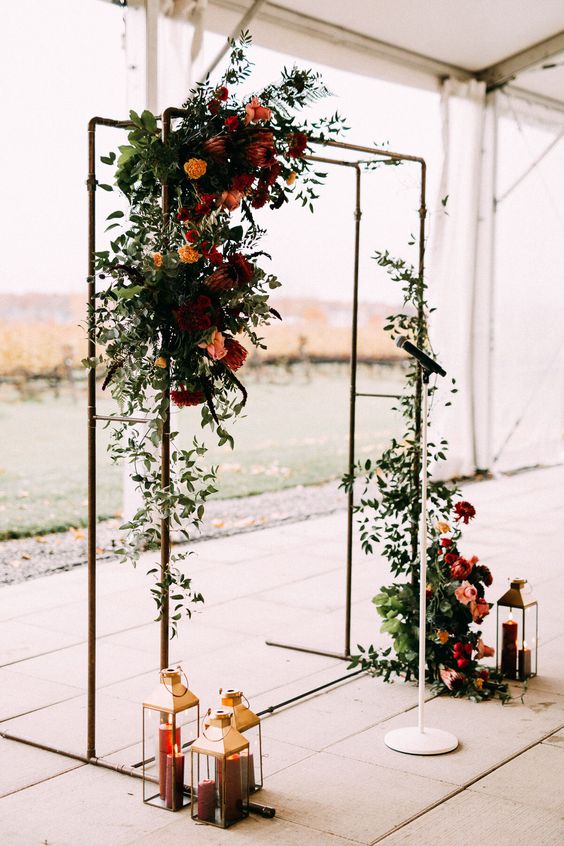 If you prefer a clean and contemporary look, opt for minimalist wedding arch ideas. Embrace simplicity with geometric shapes, sleek lines, and monochromatic color palettes. Materials like metal, acrylic, and glass will add a touch of modern elegance to your ceremony space. Consider incorporating minimalist floral arrangements or potted plants to maintain the clean aesthetic. This style creates a sense of sophistication and allows your love to take center stage, showcasing the beauty of simplicity and understated elegance.
4. Beachside Beauty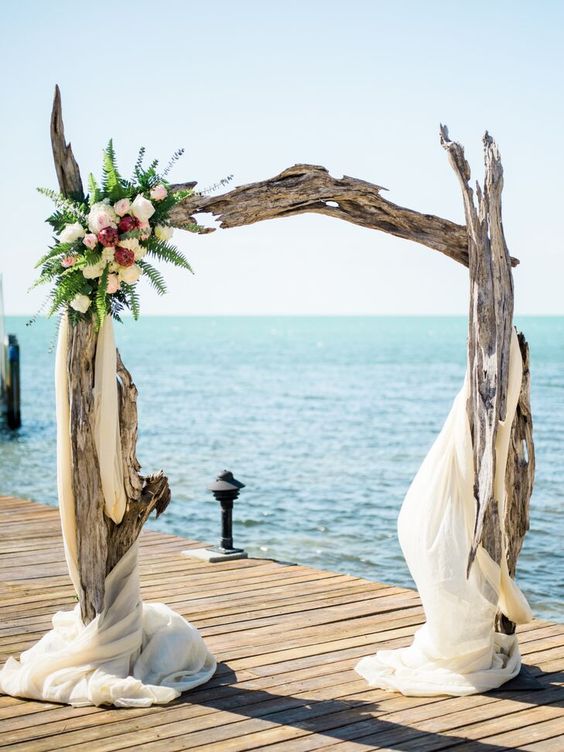 For seaside nuptials, take advantage of the natural beauty of the ocean. Decorate your arch with billowing sheer fabrics, seashells, and driftwood. You can also add up coastal elements like starfish or coral to capture the essence of the beach and create a serene atmosphere. Choose a color palette inspired by the sea, with shades of blue, aqua, and sandy neutrals. The gentle breeze and the sound of waves crashing will provide a soothing backdrop as you exchange your vows, creating a truly magical and memorable beach wedding experience.
5. Whimsical Wonderland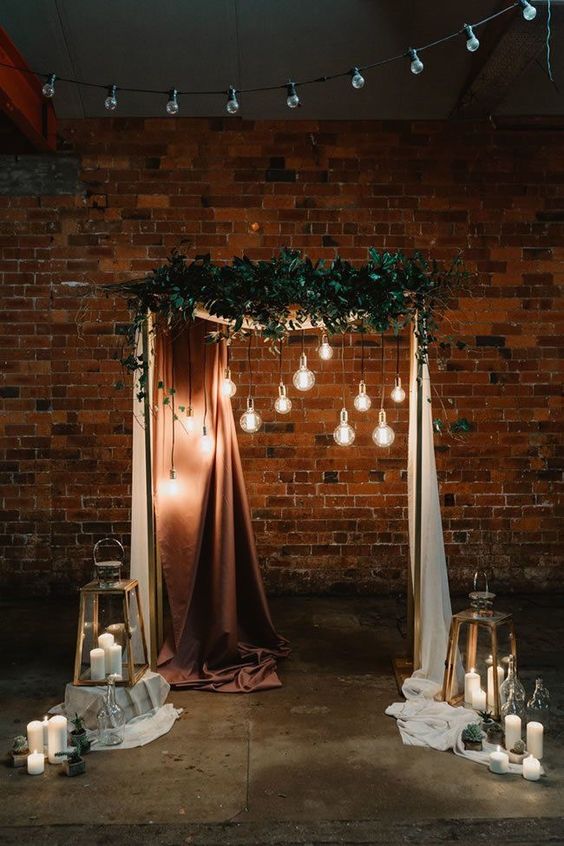 Infuse your wedding with a sense of whimsy by opting for a whimsical arch design. Think of hanging floral installations, ribbons, paper lanterns, and fairy lights. Choose vibrant colors and mix-and-match patterns to create a playful and magical atmosphere. Consider incorporating elements like oversized props, such as giant flowers or vintage swings, to add a touch of childhood nostalgia. This style allows you to unleash your imagination and create a wedding wonderland that is as unique and enchanting as your love story.
6. Timeless Elegance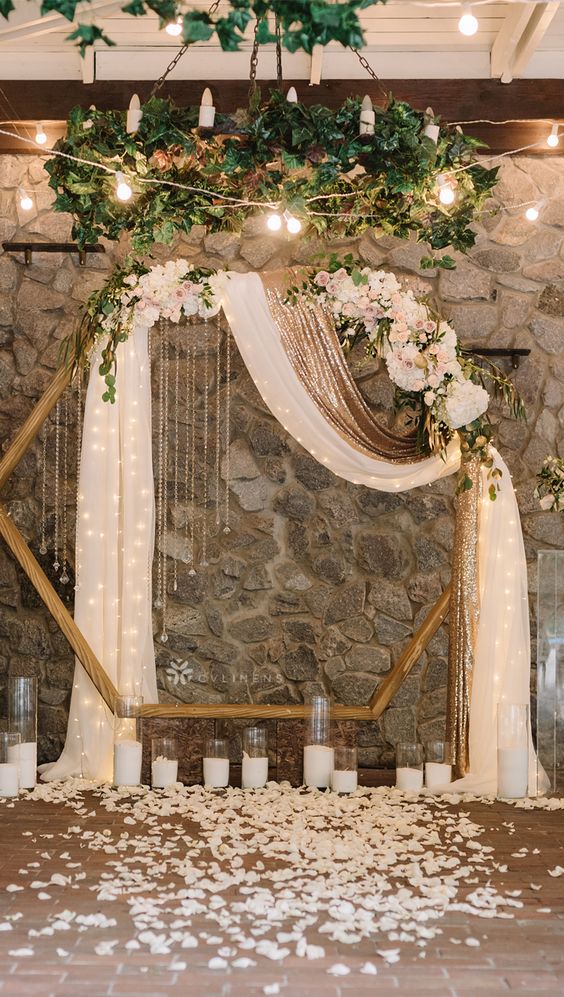 Classic and timeless wedding arch ideas exude sophistication and grace. Use lush flowers like roses, orchids, and lilies to create a luxurious and opulent look. Enhance the elegance with flowing drapes and cascading greenery, evoking a sense of grandeur. Opt for a neutral color palette, such as white, ivory, or champagne, to create a timeless appeal. Consider adding crystal accents or chandeliers to add a touch of sparkle and glamour. This style celebrates the timeless beauty of love and creates a captivating ambiance that will be cherished for years to come.
7. Vintage Charm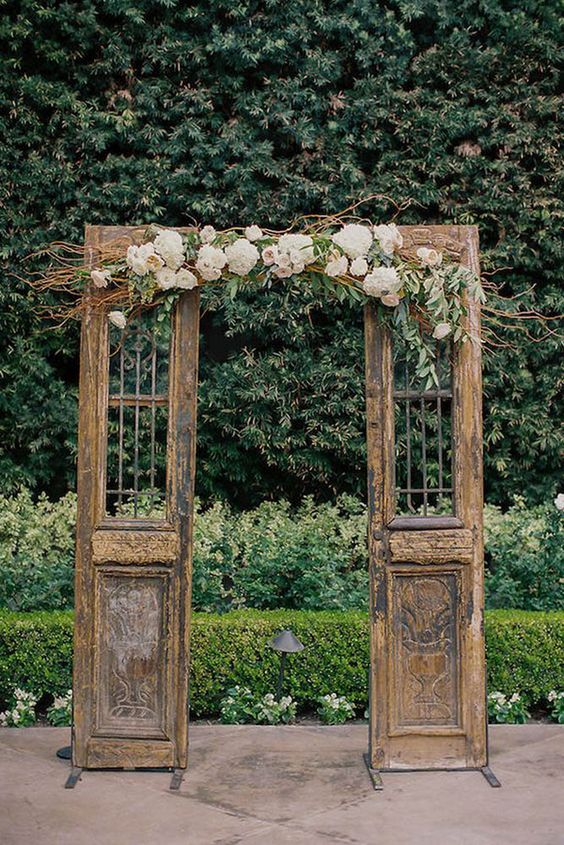 If you are naturally drawn to historical and vintage things, you can consider going for an arch that has the same vibe. You can go for antique designs and vintage doors to take your guests to the bygone era. Furthermore, decorating them with cascading blooms, ribbons, and delicate lace would help you catch up to the vibe. When it comes to tones & lightning, you can go for muted tones and soft lighting. 
8. Bohemian Rhapsody 
Bohemian-inspired wedding arch ideas embrace free-spiritedness and creativity. Use macramé backdrops, dreamcatchers, and vibrant textiles to achieve a boho-chic look. Combine rich earth tones with pops of bold colors to create an eclectic and artistic ambiance. Incorporate dried flowers, feathers, and natural elements like pampas, grass or succulents for a bohemian twist. Add floor pillows or rugs to create a relaxed and intimate atmosphere. This style allows you to embrace your inner wanderer and create a wedding arch that reflects your unique bohemian spirit.
9. Enchanted Forest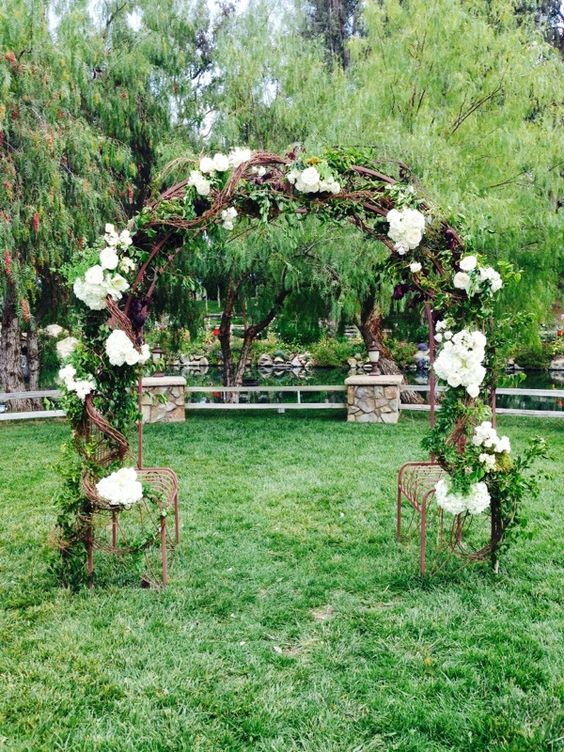 Create a mystical and enchanting atmosphere with an arch inspired by the forest. Incorporate lush greenery, branches, and moss to emulate a woodland setting. Add twinkling fairy lights and lanterns to create a sense of magic and wonder. Incorporate wildflowers and ferns for an authentic forest feel. Consider adding whimsical elements like hanging glass terrariums or birdcages adorned with flowers. As you exchange vows under this enchanting arch, you'll feel like you've stepped into a fairytale, surrounded by the beauty of nature.
10. Industrial Chic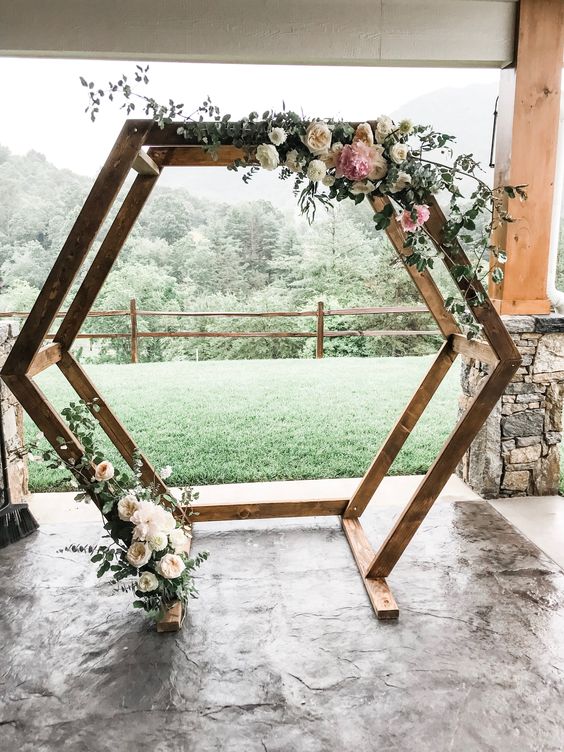 For couples who appreciate an urban aesthetic, an industrial-themed wedding arch is the perfect choice. Utilize metal pipes, Edison bulbs, and exposed brick to create a modern and edgy look. Play with contrasts by incorporating soft fabrics like tulle or chiffon to add a touch of romance to the industrial setting. Consider adding geometric shapes or wire structures to enhance the modern vibe. This style combines the raw beauty of industrial elements with the elegance of contemporary design, resulting in a visually striking wedding arch.
11. Garden Oasis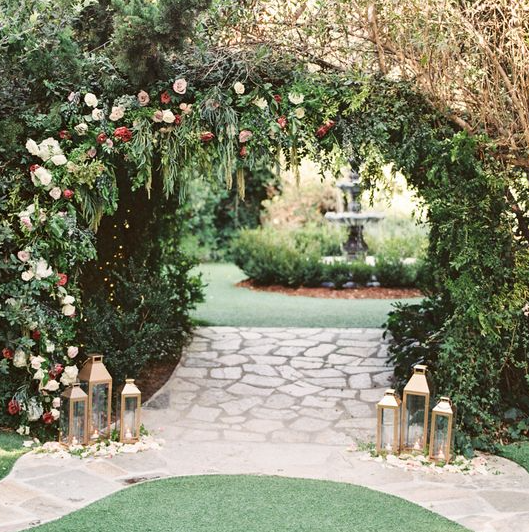 Transform your wedding arch into a lush garden oasis by incorporating an abundance of flowers and greenery. Use climbing vines, blooming roses, and cascading floral arrangements to create a vibrant and enchanting backdrop. Intertwine twinkle lights or lanterns within the greenery for a magical effect. Enhance the garden oasis theme by adding vintage-inspired garden furniture or decorative birdcages. This style creates a romantic and intimate atmosphere, transporting you and your guests to a serene botanical haven.
12. Glamorous Extravaganza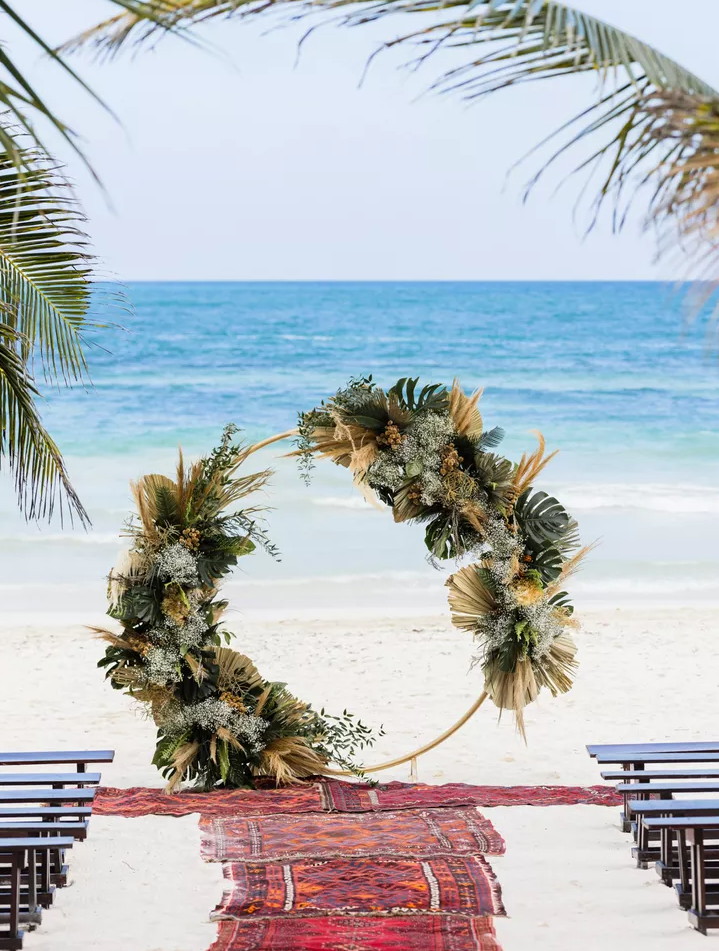 If you desire a wedding arch that exudes luxury and glamour, opt for an extravagant design. Incorporate luxurious fabrics like satin and velvet, along with sparkling crystal accents and chandeliers. Create a sense of opulence with cascading drapes and oversized floral arrangements, making a bold statement. Choose a color palette that includes rich jewel tones or metallic hues to enhance the luxurious feel. This style allows you to indulge in the grandeur of your special day, creating a wedding arch that reflects your love for all things lavish and extraordinary.
13. Cultural Fusion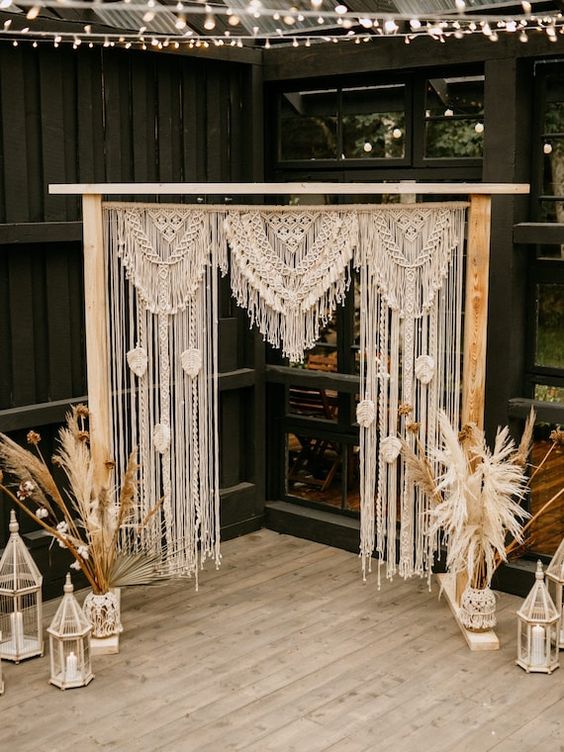 Celebrate your heritage by incorporating cultural elements into your wedding arch. Whether it's traditional motifs, colors, or materials, infuse your arch with the essence of your cultural background. From vibrant Indian mandaps to delicate Japanese-inspired designs, embrace the beauty of diversity. Use cultural symbols, textiles, or artwork to personalize the arch and pay homage to your roots. This style creates a meaningful and visually captivating arch that represents the coming together of different cultures and celebrates the unity of your love.
14. Fairytale Fantasy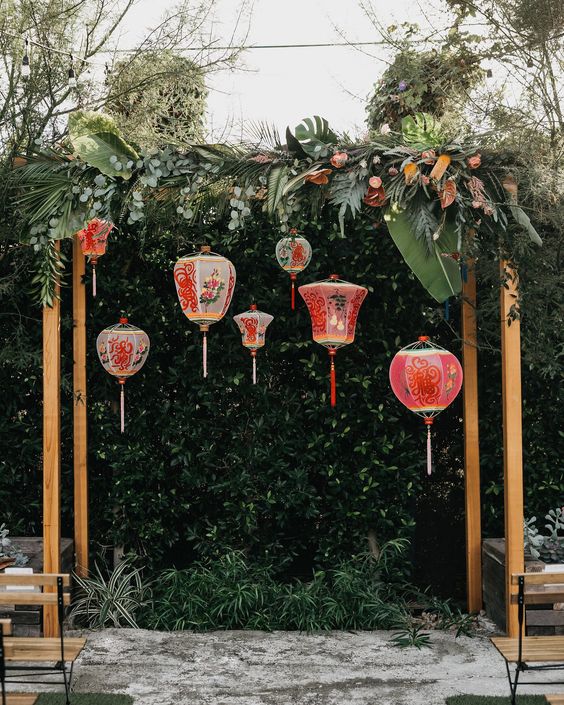 Bring your favorite fairytales to life with fairytale-inspired wedding arch ideas. Incorporate whimsical elements like twinkling lights, cascading ribbons, and delicate tulle. Add touches of fantasy with butterfly motifs, sparkling crystals, or even a touch of glitter, creating a magical atmosphere for your special day. Consider incorporating elements inspired by popular fairytales, such as a castle-like structure or a whimsical carriage. Use soft pastel colors and dreamy textures to enhance the enchantment. This style allows you to embrace your inner child and create a wedding arch straight out of a storybook, where dreams come true and happily ever afters are celebrated.
15. Tropical Paradise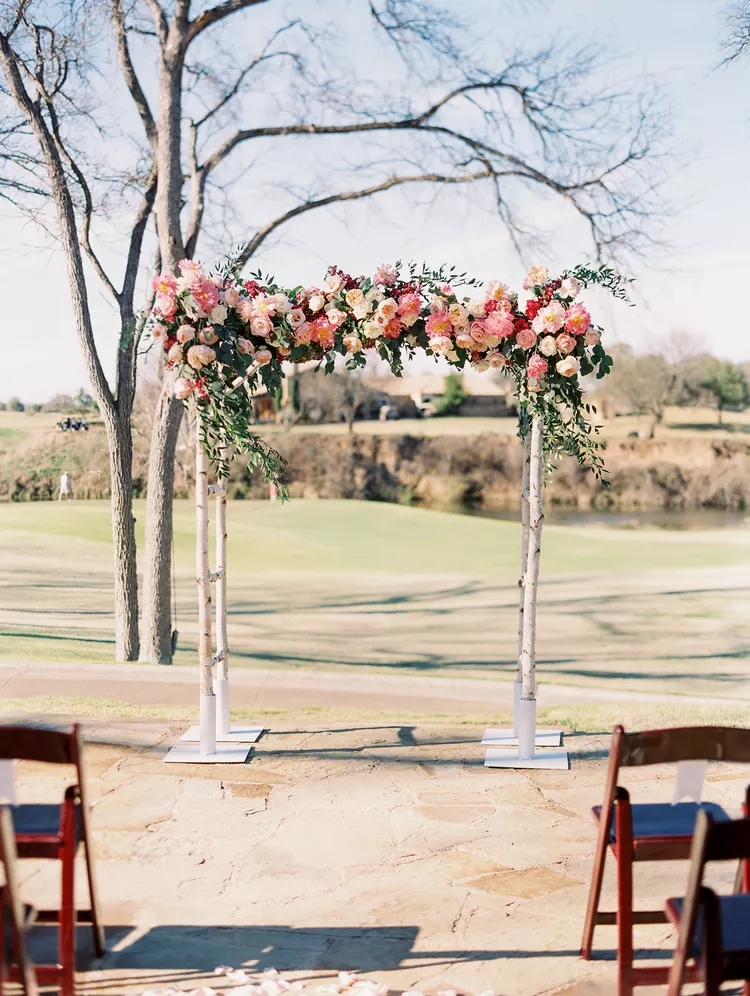 Transport your guests to a tropical paradise with a wedding arch inspired by lush islands and exotic destinations. Use vibrant tropical flowers, palm leaves, and bamboo accents to create a vibrant and lively atmosphere. Incorporate pops of bold colors like fuchsia, orange, and yellow to evoke the tropical spirit. Add touches of color with tropical fruits or incorporate a thatched roof for an authentic island feel. This style creates a festive and energetic ambiance, where the warmth of the sun and the rhythm of the ocean come together to celebrate your love.
16. Artistic Expression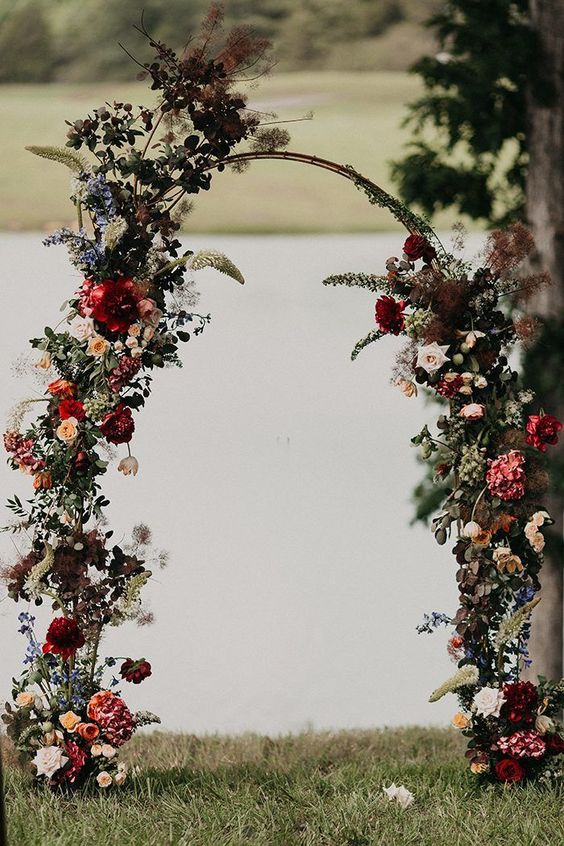 Infuse your wedding arch ideas with artistic flair by incorporating unique and unconventional materials. Consider using painted canvases, sculptural elements, or even repurposed objects to create a one-of-a-kind design. Experiment with bold colors, patterns, and textures to showcase your artistic vision. Embrace creativity and let your imagination run wild, whether it's through abstract forms or intricate installations. This style allows you to make a personal artistic statement, creating a wedding arch that reflects your individuality and passion for artistic expression.
17. Seasonal Splendor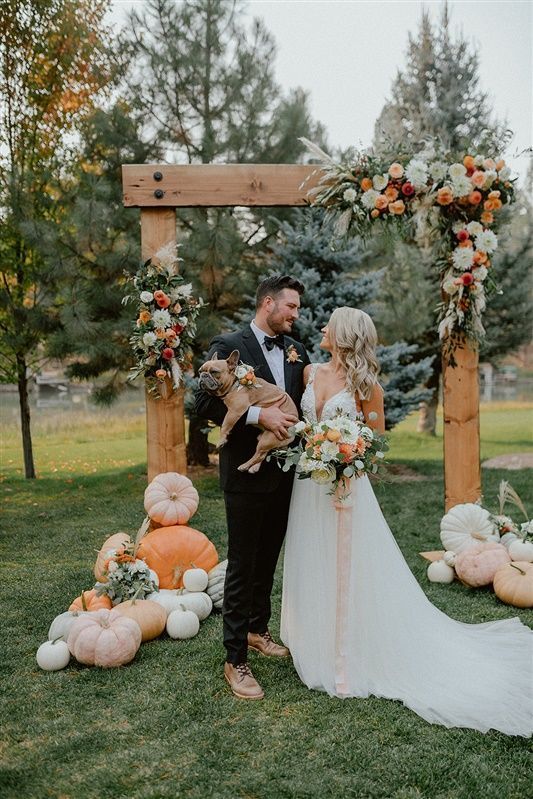 Embrace the beauty of each season by designing a wedding arch that reflects the time of year. Incorporate seasonal flowers, foliage, and colors to create a cohesive and visually stunning backdrop. From blooming cherry blossoms in spring to rich autumnal hues in fall, let nature inspire your design. Add seasonal elements like pumpkins, pinecones, or snowflakes to enhance the theme. This style celebrates the ever-changing beauty of the seasons, creating a wedding arch that harmonizes with the natural world and adds a touch of seasonal magic to your ceremony.
18. Starry Night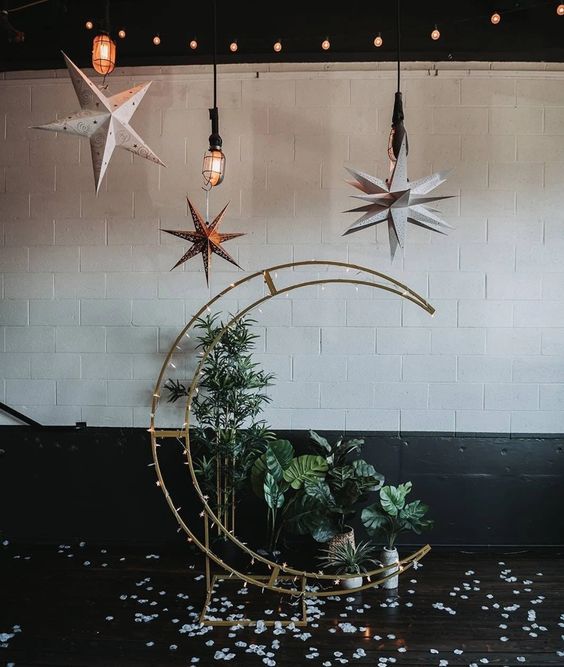 Create a celestial atmosphere with starry night-themed wedding arch ideas. Utilize string lights, hanging lanterns, and celestial-inspired decor to mimic a starlit sky. Add touches of metallic accents to create a dreamy and romantic ambiance, perfect for an evening ceremony. Consider incorporating celestial motifs like moons, stars, or constellations into the arch design. Use deep blue and purple hues to evoke the mystery and beauty of the night sky. This style sets a romantic stage for your vows under a canopy of stars, creating a celestial experience that is truly out of this world.
19. Whispers of Vintage Romance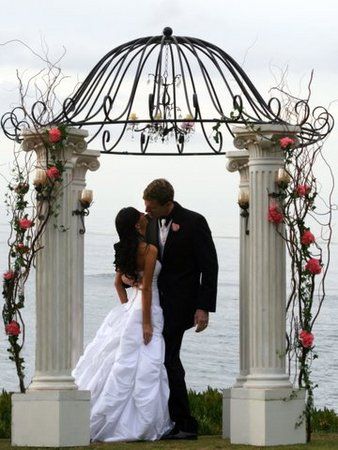 Channel the nostalgia of eras gone by with vintage romantic wedding arch ideas. Use delicate lace, vintage furniture, and soft pastel blooms to create a sense of timeless romance. Incorporate antique frames or vintage photographs to add a personal touch to your design. Opt for soft, muted color palettes like blush pink, ivory, and dusty blue to enhance the vintage charm. Consider using vintage-inspired props like old books, teacups, or birdcages to complete the look. This style creates a whimsical and sentimental ambiance, where love stories of the past intertwine with the present.
20. Ethereal Drapes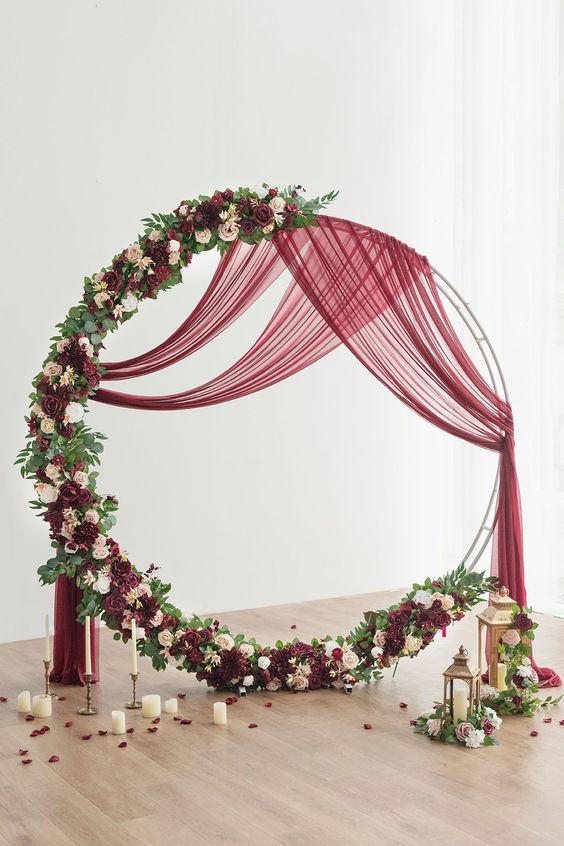 Create a dreamy and ethereal atmosphere with flowing drapes as the main element of your wedding arch. Choose lightweight fabrics like chiffon or organza in soft, muted tones. Allow the drapes to billow and cascade from the arch, evoking a sense of enchantment and romance. Play with different layers and textures, combining sheer and opaque fabrics for a dynamic effect. Add fairy lights or delicate floral accents to enhance the ethereal vibe. Let the drapes create a soft and romantic backdrop for your ceremony as they gently sway in the breeze. This style captures the essence of whimsy and creates a captivating and otherworldly atmosphere that will transport you and your guests to a realm of pure enchantment.
21. DIY Creativity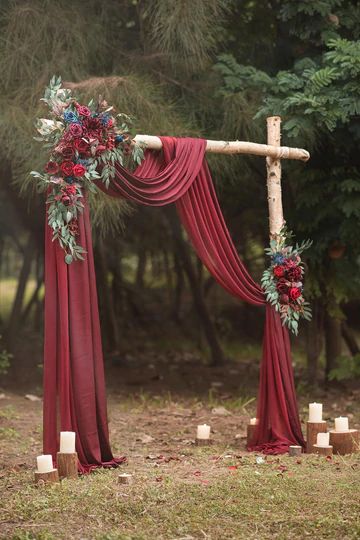 If you're a hands-on couple, embrace your creativity and design a DIY wedding arch that reflects your style. Collect materials like branches, reclaimed wood, or recycled items to construct a unique and eco-friendly arch. Add personal touches by incorporating elements that hold sentimental value, such as family heirlooms or handmade decorations. Let your imagination guide you as you paint, build, or assemble your one-of-a-kind arch. This style allows you to showcase your artistic abilities and infuse your wedding with your personal touch, resulting in a truly special and meaningful centerpiece for your ceremony.
Takeaway
As you embark on the journey of planning your dream wedding, we hope our collection of 21 stunning wedding arch ideas has sparked your imagination and inspired you to create a breathtaking backdrop that truly reflects your love story. As you continue planning, explore other aspects of wedding decor, such as lighting, seating arrangements, and tablescapes, to ensure a cohesive and unforgettable experience for you and your guests.
We wish you a joyous and magical wedding day filled with beautiful moments and cherished memories. May your chosen arch design serve as a testament to your love and provide a stunning backdrop as you say "I do" surrounded by your loved ones.