21 Creative DIY Room Divider Ideas to Maximize Space
Are you living in an apartment that feels a little more open than required? Do you want to decorate your living place to have defined spaces? If yes, you cannot do without DIY room divider ideas.
Room dividers are one of the simplest ways to divide the available open space with maximum separation and privacy, even in a small room. Moreover, they are a creative way to ensure flexibility and unique space while enhancing the style of the room. You can also get the required flexibility that usually isn't possible with a standard wall structure.
Thus, it can be rightly said that the DIY room divider ideas are inspiring ways to partition your space for its best use. No matter what your budget is, we are here with some of the popular room divider ideas.
Some Creative DIY Room Divider Ideas
1. Pax Doors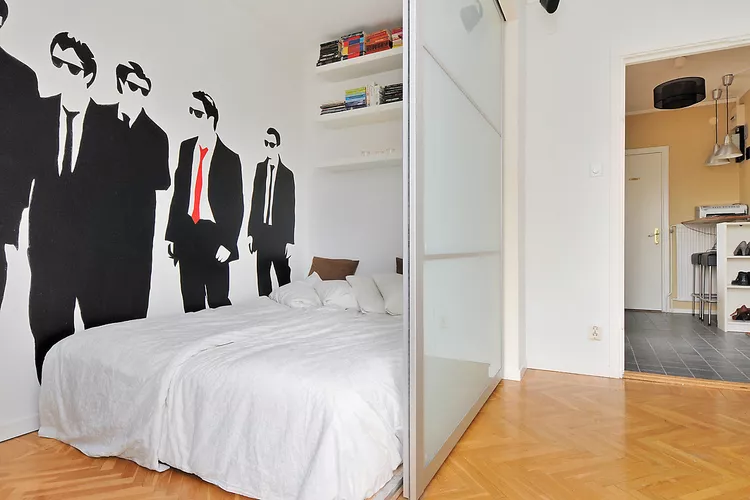 To begin with, one of the easiest ways to divide your space in a small room is to use pax doors. These doors are simply amazing, not just to ensure the desired separation but also to add to the visual beauty of the place.
Moreover, these pax doors are available in different sizes to fit in any room without any hassles. They can be stretched from the ceiling to the floor to slide effortlessly on their track and create an instant separation. The best advantage of these pax doors is that they are conveniently available at an affordable price range.
2. Adjustable Fabric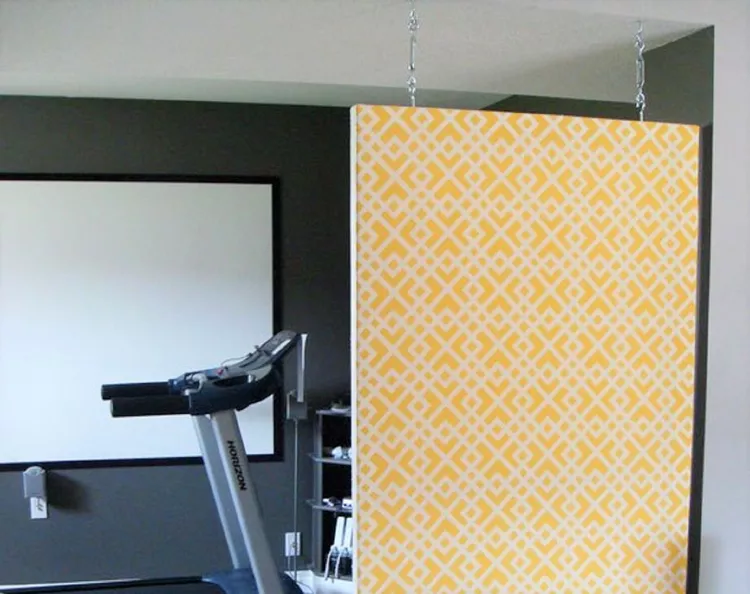 The next DIY room divider idea is to use an adjustable fabric to divide the space as and where needed. The adjustable fabric is generally inexpensive and easily available with every interior décor, besides ensuring its easy creation.
You can easily attach the connectors on the ceiling to use the adjustable fabric as a divider. This vertical divider easily slides through the connector to give the required flexibility and privacy. As it is lightweight, you will always have a dash of freshness and attraction in your room.
3. Bamboo Divider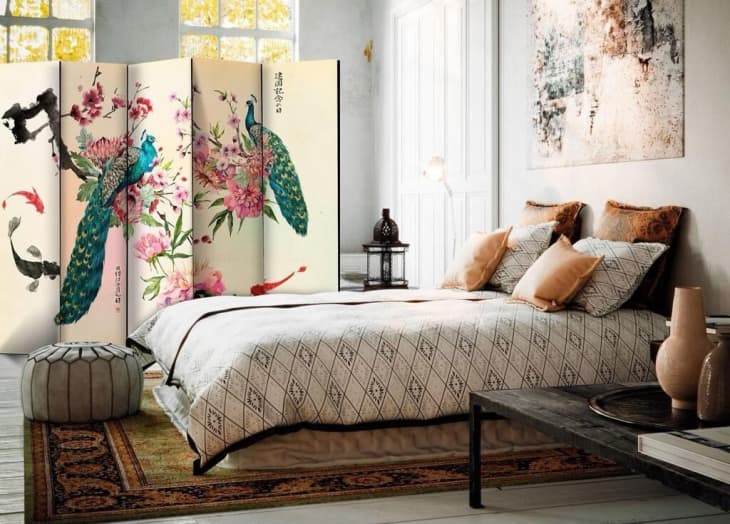 If you are an environment lover who only wants to use a natural and cost-effective room divider, a bamboo divider screen will make the best choice. One of the major advantages of using a bamboo screen is that it surely divides the space but doesn't block the natural sunlight.
You can either make the bamboo divider screen look vintage or show your creative thoughts on it. In every way, the bamboo divider will look really attractive and appealing. Additionally, you can easily create the dividing screen to a size that fits your requirements.
Quick Tip: it is suggested to place a bamboo divider at a place that has the maximum light to keep it in its best form for the maximum time.
4. Shelving Unit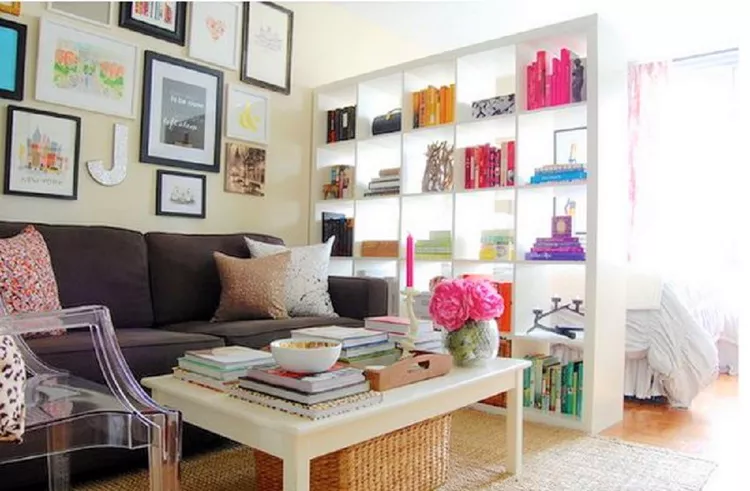 What can be a better idea than to use a shelving unit as a part of your DIY room divider idea? Besides the available shelves, using a separate shelving unit in your room beautifully creates individual space in your room. Additionally, you can decorate it just the way you want to make it look even more beautiful and attractive.
You can either use everything of the same color on the shelving unit or can try the mix-and-match trend. A shelving unit gives you enough storage space while enhancing beauty. Make sure that you perfectly secure the shelving unit to avoid any problems.
5. Slat Wall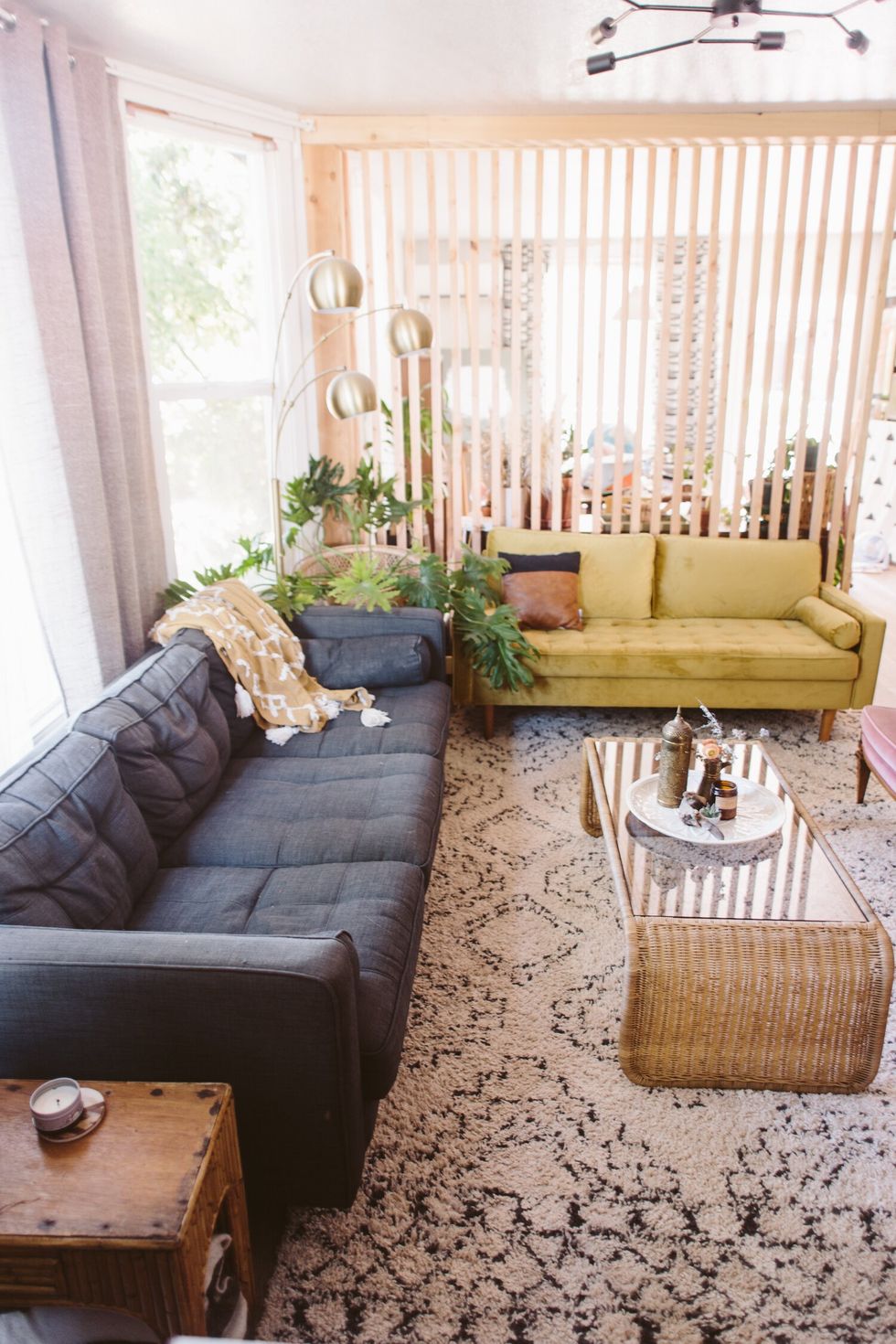 Do you want to divide your living space without making it too close or suffocated? If yes, you should definitely try the slat wall divider idea. A slat wall gives an evident separation between the spaces without actually blocking any of the paths.
Slat walls make an ideal choice for smaller rooms where you want to maintain stylish decor and optimal space management. Moreover, it allows natural light and freshness into the room while ensuring a cozy feel. You can obviously choose the style and color of the slat wall according to your room style to make it even more attractive.
6. Rope Wall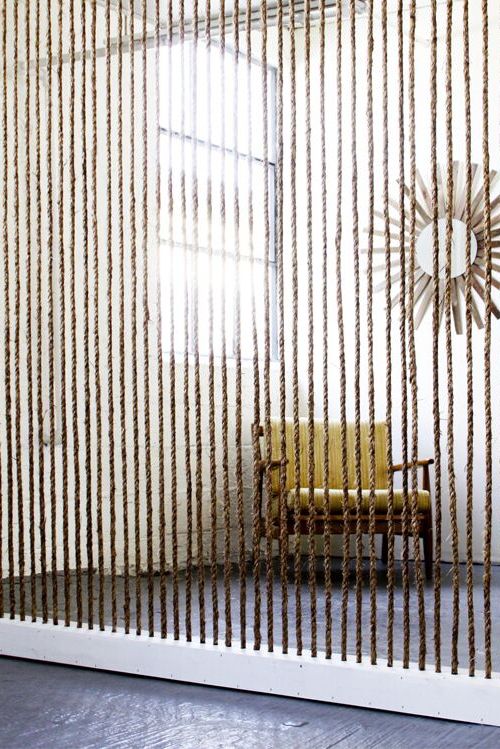 If you have a creative head with innovative thoughts, you will definitely love the idea of using a rope wall as the DIY room divider. Just imagine how beautiful the room will look with a stylish rope wall that catches everyone's attention.
A rope wall is an extremely inexpensive solution to simply divide the room while maintaining light, freshness, and visibility without any compromises. By carefully placing the rope wall in your room, you can aesthetically add texture and a visual treat that will never run out of style. To enhance the beauty, you add different decorative elements to the rope or can keep it casual and natural for a vintage look.
7. Salvaged Window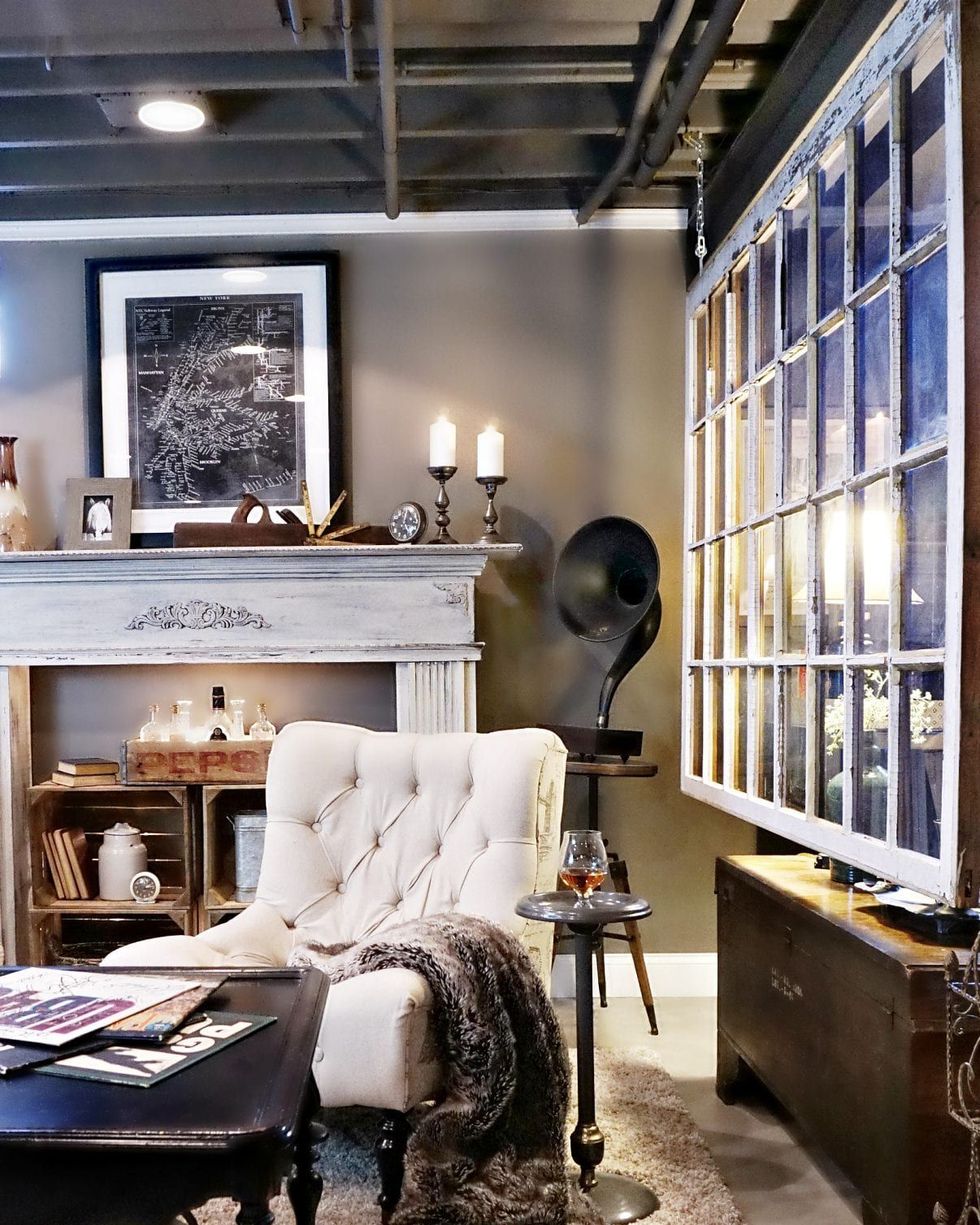 Salvaged windows are the perfect room divider that adds charm, style, and appealing fashion to your room. This particular room divider is suitable and looks good in every possible room and space arrangement. Moreover, you can showcase your creativity with its design and decoration.
It is pretty simple to have a salvaged window in your room. All you need is 2 eye bolts attached to the window, corresponding screws to the ceiling, and a hanging wire. This window not just ensures maximum privacy but brings natural light, peace, and freshness along.
8. Coiled Wire Fabric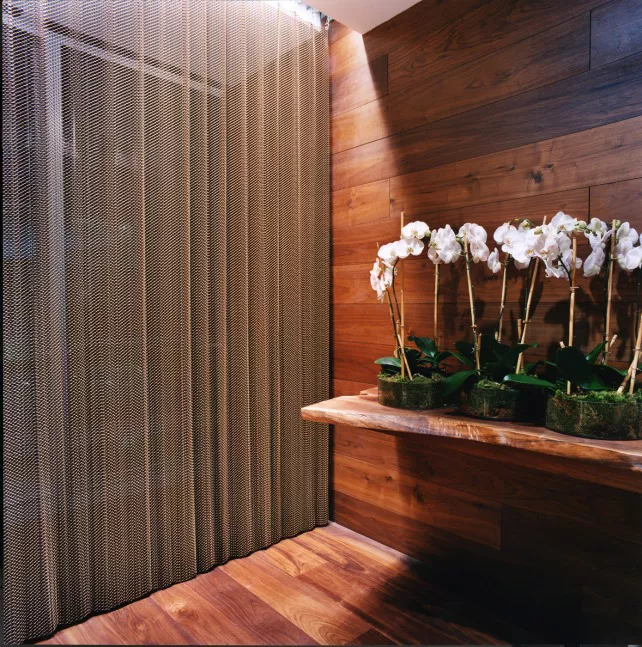 If you want a lightweight and breathable room divider but do not want to make the obvious choice of using a fabric, a coiled wire fabric divider is all you need. This DIY room divider may look like a casual fabric, but it isn't. However, it ensures all the expected benefits along with adding its own attraction.
This coiled wire fabric easily drapes to hang like fabric creating individual space in the available room. You can customize its shape, color, design, and style to make it suitable for your room decor at an affordable price range.
Quick suggestion: you should opt for neutral colors to allow the natural light to pass through to keep your room fresh and shining.
9. Wood Pallet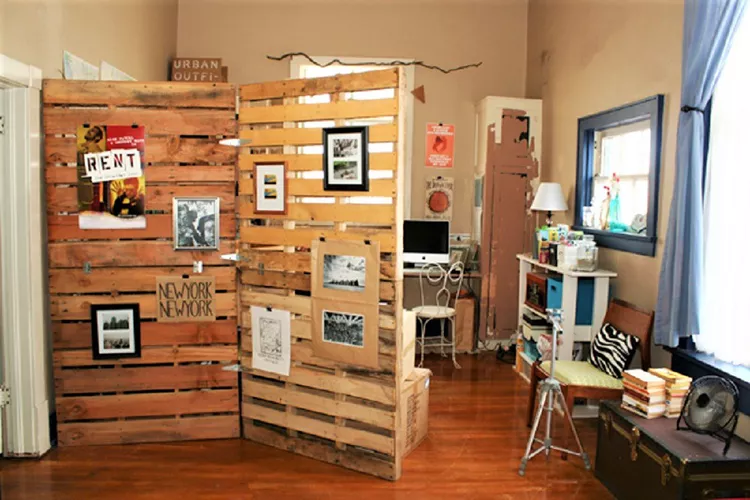 Wood is one of the evergreen materials that can be used in any form or style to decorate houses. Not just is it less expensive, but it also lasts for the maximum time when taken the best care of. The wood pallets can quickly be put together without any expensive tools or accessories.
A wall pallet is a wonderful idea to divide a big room into smaller ones according to the need. One of the best additions you can make with this wood pallet wall is to add extensions of any kind and shape. Thus, on one side, it can act as a wall, while on the other side, it can serve as a storage space.
10. Hanging Window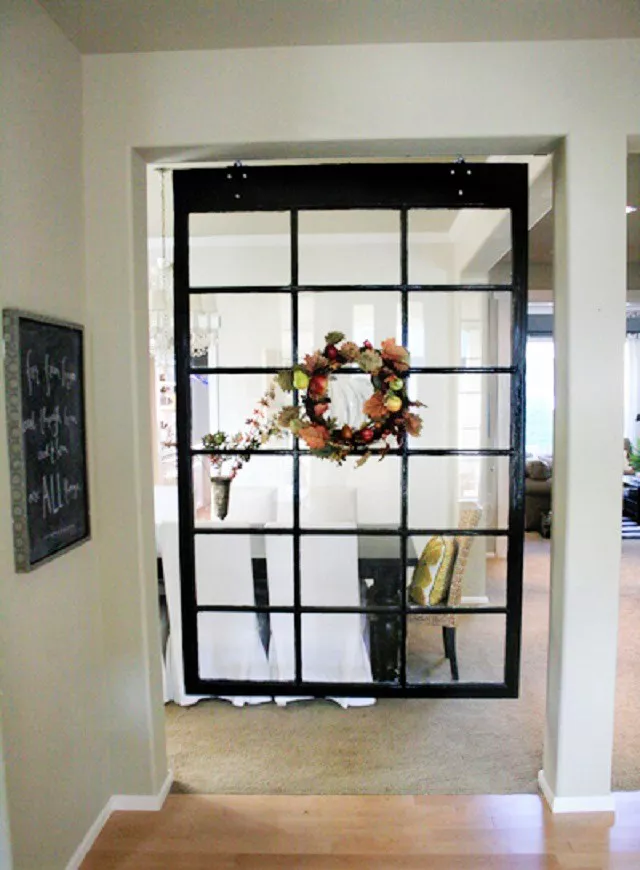 Yes, we are actually talking about a hanging window. The idea of using a hanging window as a DIY room divider is so popular that it attracts many interior trends. Moreover, this innovative, stylish divider is now a part of almost every modern home décor idea.
You can use this idea of a hanging window to keep the surroundings bright, open, and spacious. It is super simple to have a hanging window in your room; just simply use a barn door track to mount the window to the ceiling. It can be said that this window simply does the trick to catch every eye and make your space super stylish.
11. Lath Boards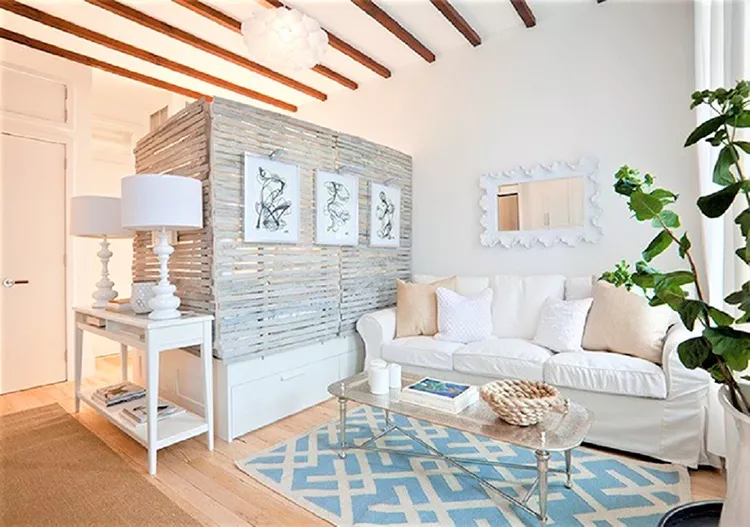 If you want to combine traditions with a modern, stylish touch, you can try using the lath boards as a room divider. The rough outer surface of the lath board can beautifully complement the soft and light surroundings of your room. However, you must choose the right combinations to attract the maximum number of eyes.
Lath boards are pretty simple to create and can be used in minimum space to give you the desired privacy. They make a wonderful option to keep the surroundings natural while maintaining their roots in the traditions. You can enhance its beauty by adding some decorative pieces to the divider.
12. Curtain Divider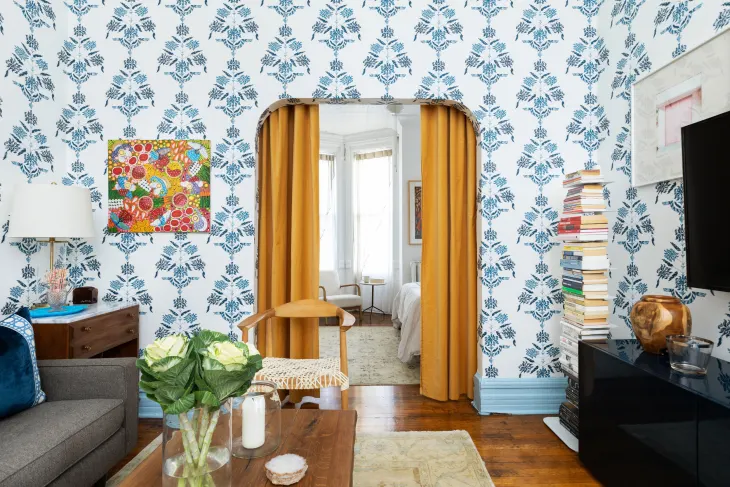 Using curtains as a room divider is one of the old-school and evergreen ideas. All you need is some beautiful curtains, a hanging rod, and some hooks to be sorted for this DIY room divider idea. Moreover, you can anytime experiment with the curtains to add different colors and attractions to your room.
If you are one of those who doesn't prefer pricey room dividers, using a curtain divider will be the best choice. You can add different elements to your curtain to get a more loyal and beautiful final look.
Quick Tip: make sure to use a good quality curtain to avoid any hassles or awkward see-through situations.
13. Decorative Divider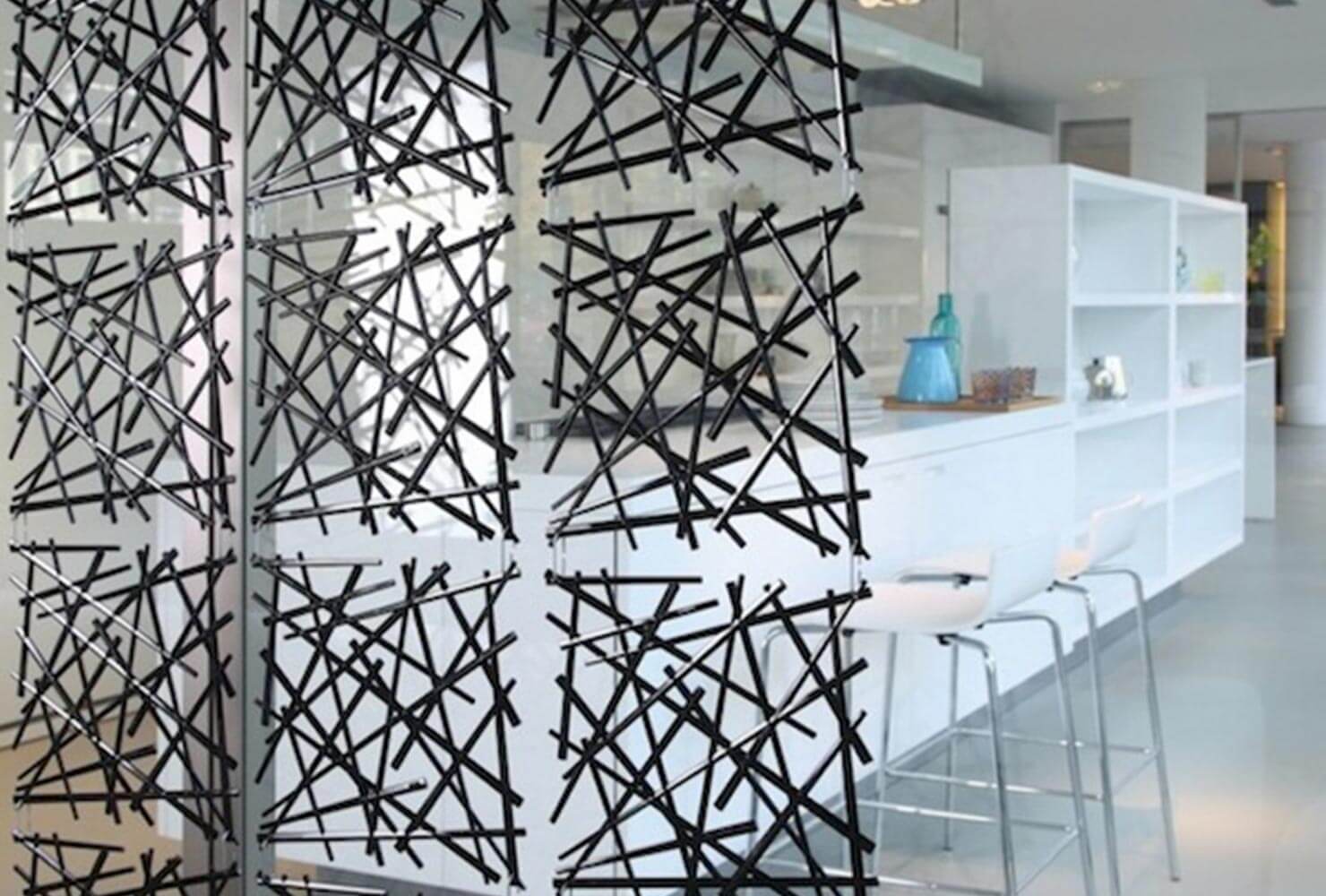 Doesn't it make sense to try a DIY room divider idea that not only works as a divider but also as a decorative piece? Yes, you can have a divider that also serves as a decoration for your room. You can also hang them from the ceiling to have your own attractive room divider.
You can use your imaginative thinking and creative thoughts to create a masterpiece decorative divider. Moreover, you don't need to buy any expensive accessories as you can innovatively use the items available to you. However, you should make sure that the decorative divider should be lightweight so it doesn't block the natural light and air.
14. Foldaway Dividers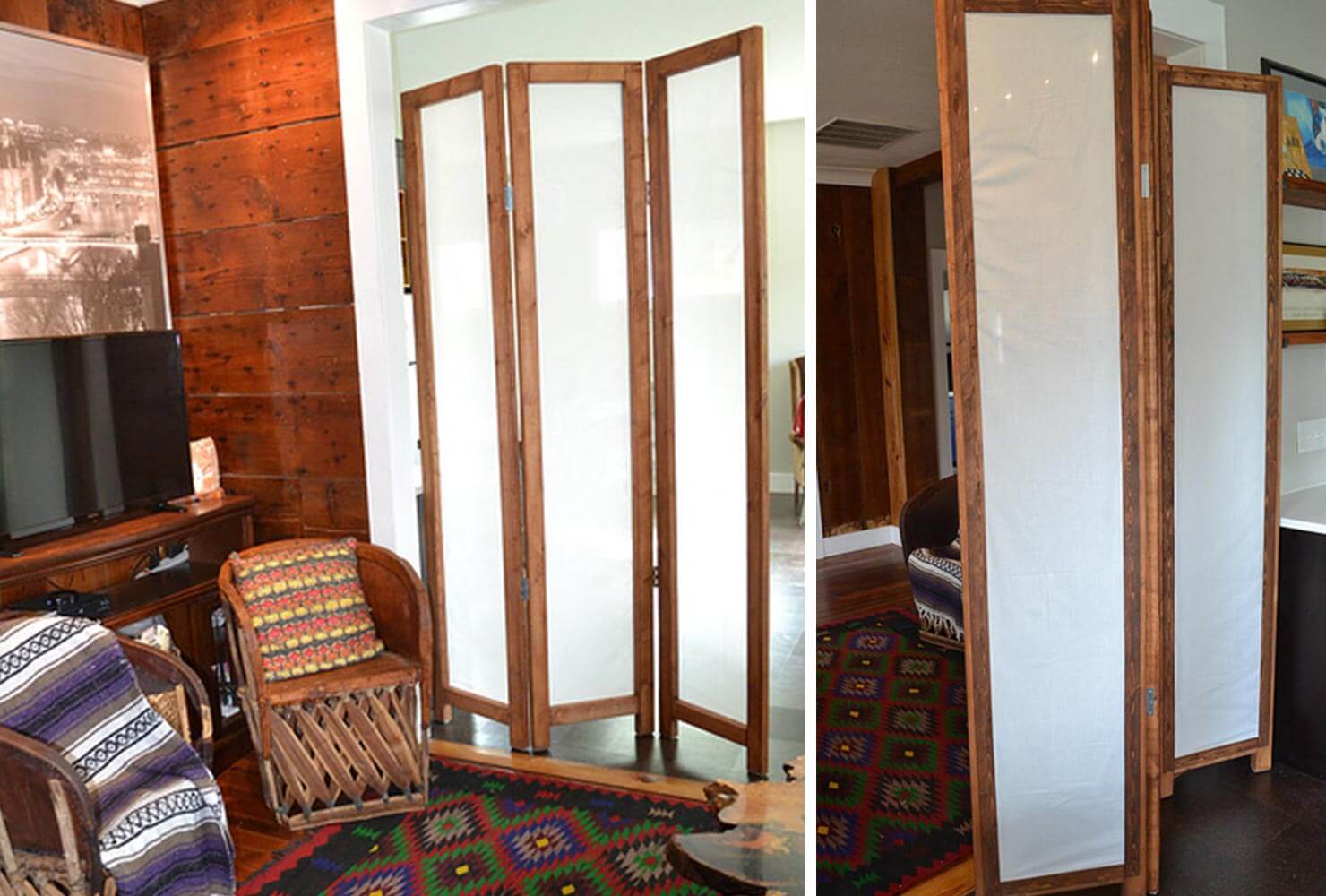 The foldaway dividers provide unlimited ways to divide and style your room without any hassles. You can either try a readymade foldaway divider or can customize one according to your need at an inexpensive cost. Trying a foldaway DIY room divideralso opens the scope of additional storage in the room.
The best benefit of using foldaway dividers is that they beautifully serve their purpose of dividing the space. Afterward, they can be folded and slid away when not in need of separation. Thus, you can have complete flexibility and freedom to use the available space according to the need of the hour.
15. Well-Styled Walls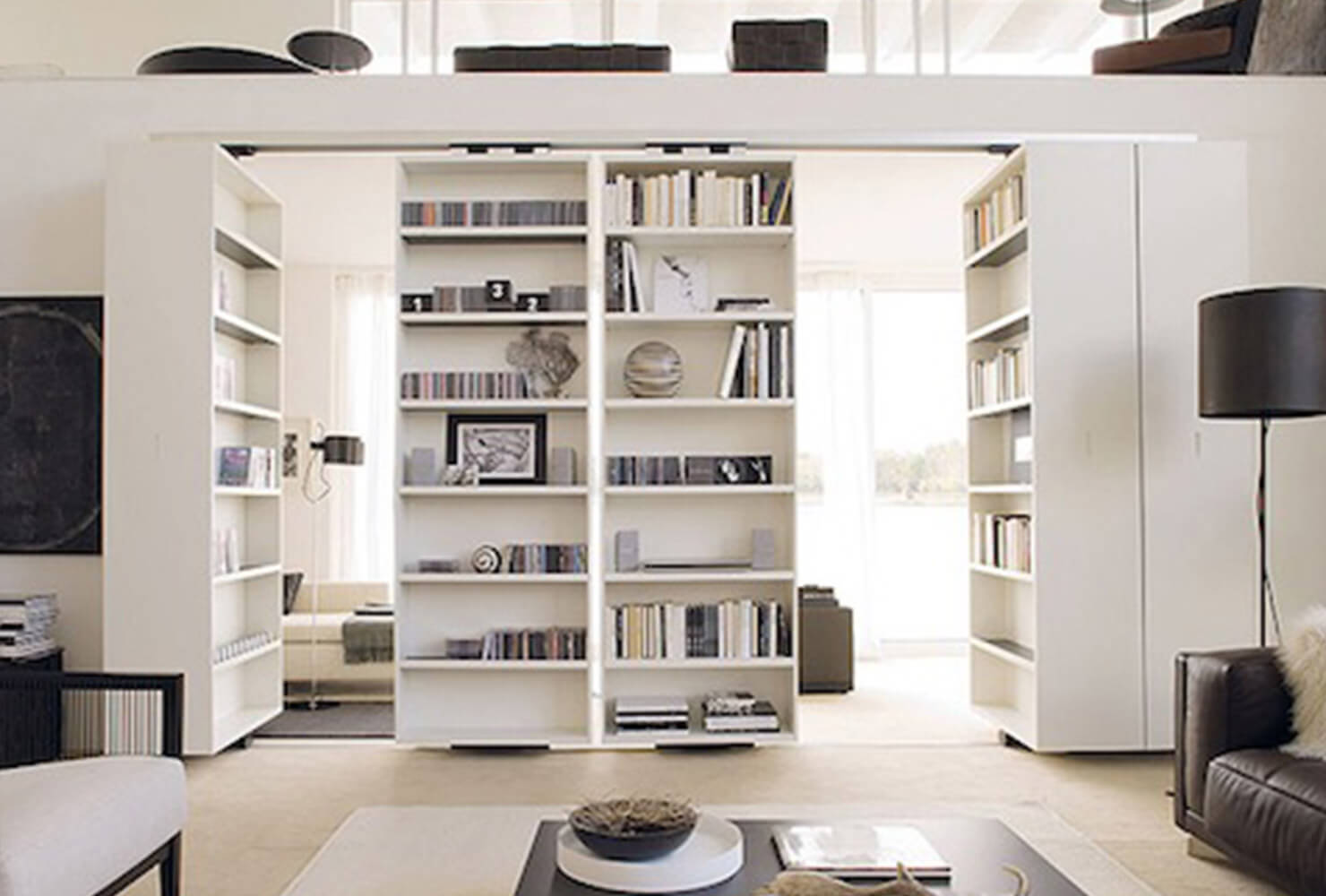 Nothing can be a better idea than to use beautifully styled walls for room dividers. This is a clever way of dividing the space without randomly buying and accommodating stuff in your room. Moreover, you can style the walls in any number of ways always to have the scope of the experiment.
The only concern with this idea is that you will get a permanent wall at a desired place to work as a divider. However, adding to its qualities, you can customize the entire space in the walls to keep every item of your choice. The wall divider also works best to store books, decorative items, paintings, etc.
16. Bookshelf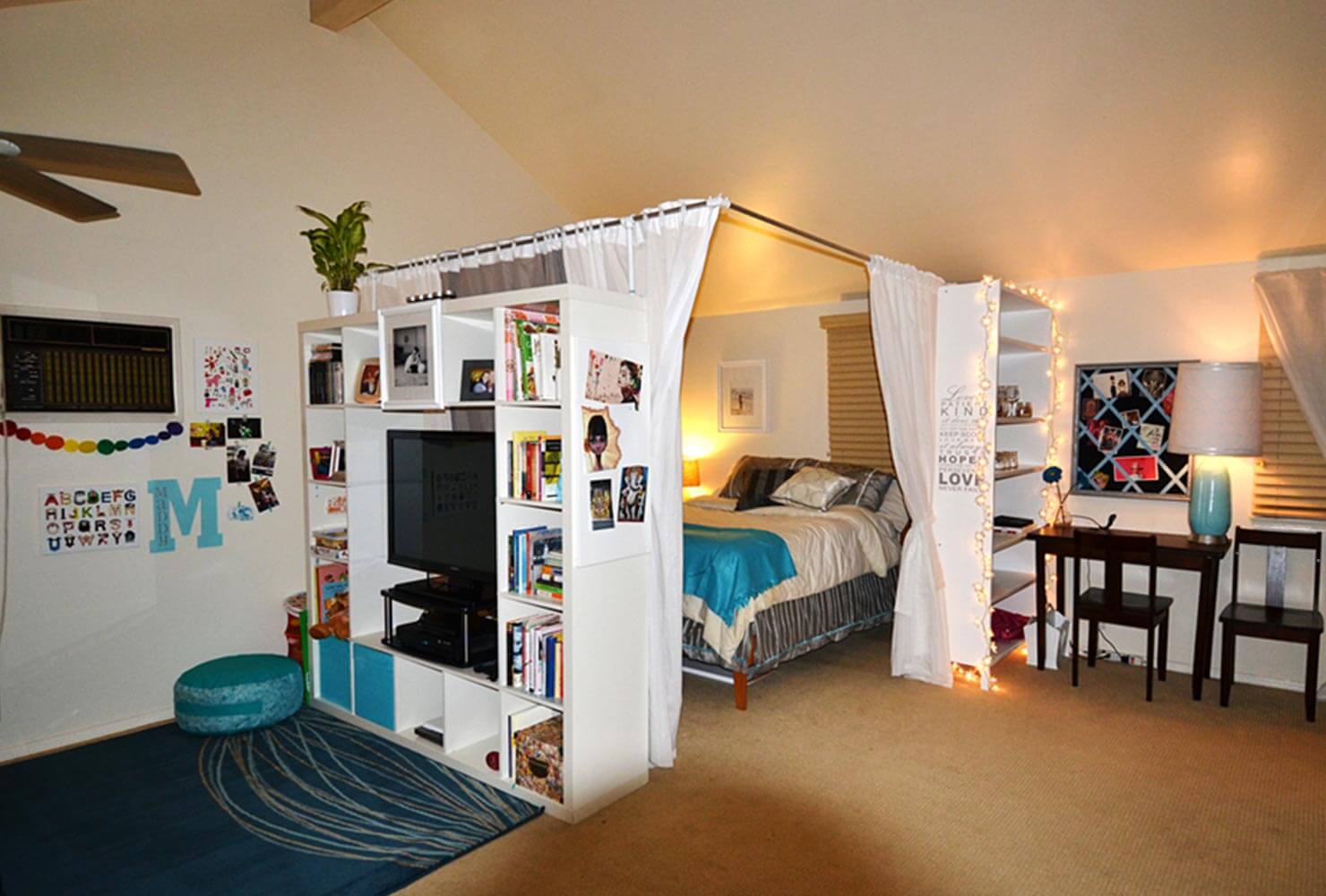 Why settle for a divider that can just accommodate 1 or 2 of your favorite books? You can have your own bookshelf that can be an attractive and practical DIY room divider idea. You can create a beautiful partition from ceiling to floor with a customized bookshelf or wall of books in your room.
For book lovers, this can be nothing less than an idea to paradise where they can display all of their favorite and treasured books. You also have the option to rearrange your books every now and then to create a new vibe in the room.
17. Plant Wall Divider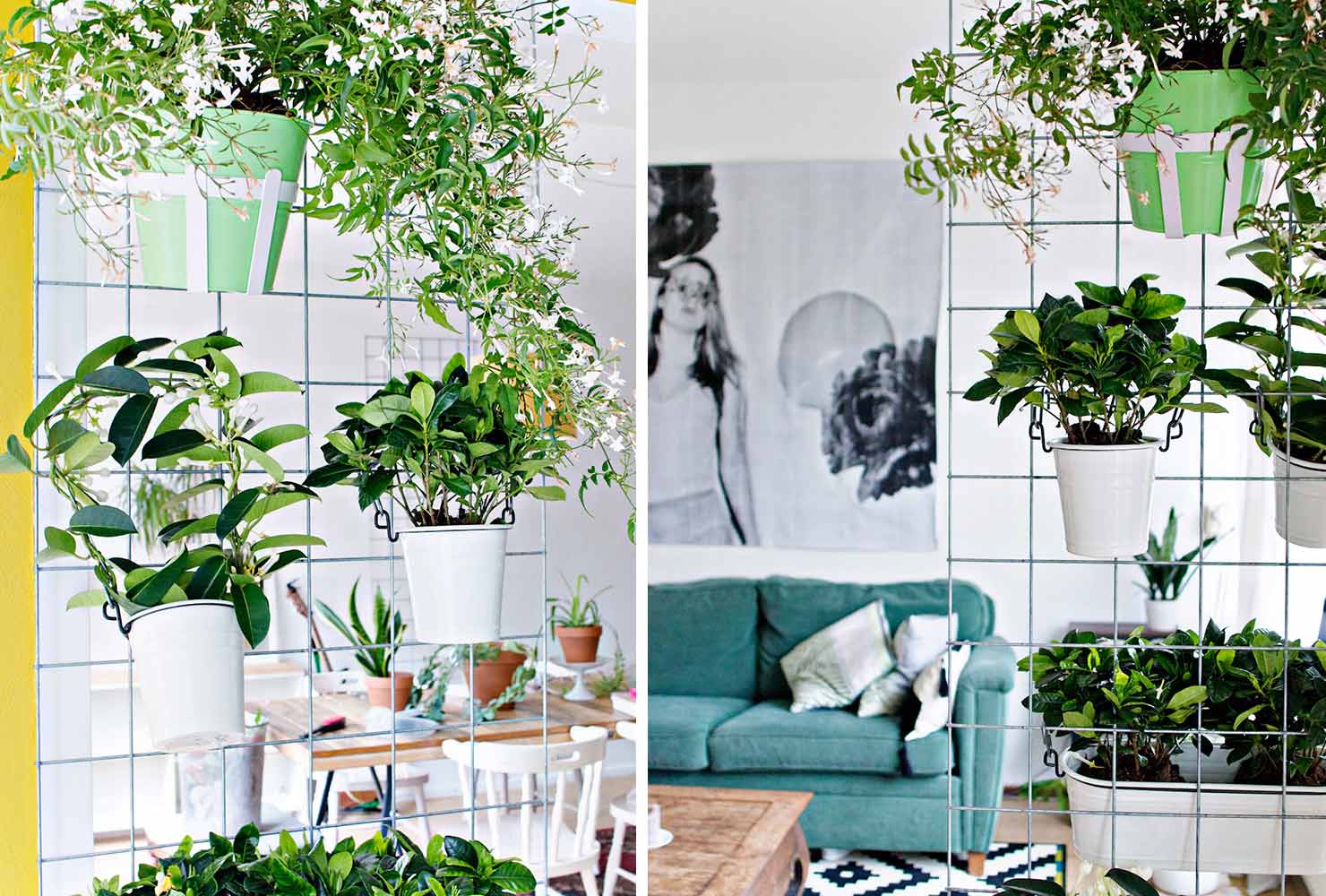 Gone are the days when you had to use plant or tree wallpaper to get a natural vibe in your room. Today, you can use a plant wall divider that can very easily enhance the beauty of your place with natural vibes.
The whole idea of using this room divider is to use original plants on a temporary wall to separate the available space. According to the experts, plants are home accessories that can never go out of style as it is loved by everyone. The vertical plant wall is the perfect way to proudly display all your favorite plants while enjoying the privacy that you need.
18. Geometric Room Divider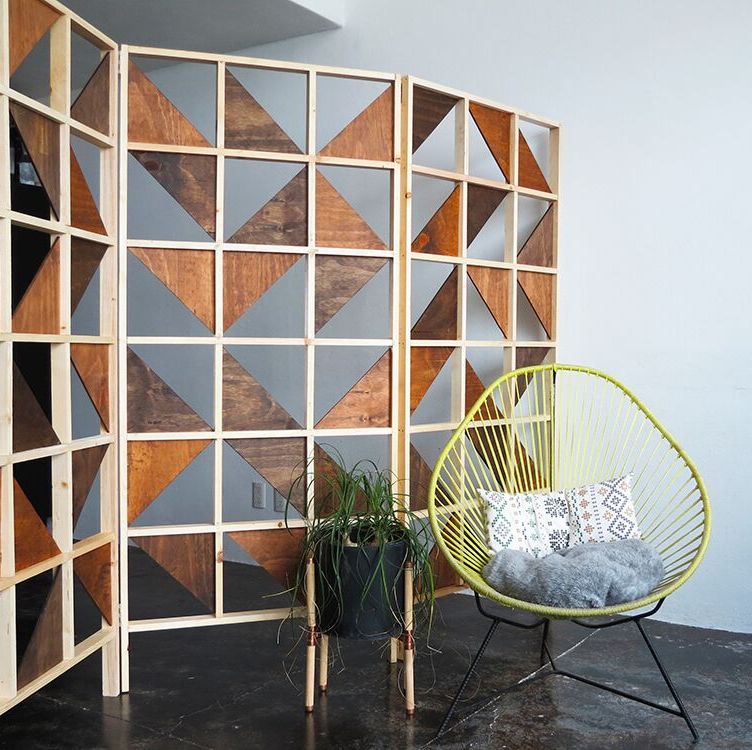 Geometric room décor is specially designed to combine practical use and stylish attraction. This striking beauty works as a divider when needed and then can be easily folded when in need of storage. This geometric divider is all you need to brighten up your room without any extra elements.
What really makes it appealing as a DIY room divider is the fact that it can easily go with any home decor. Moreover, no matter if you have a traditional interest or prefer modern elements in your room, this geometric room divider is loved by everyone. You can easily move it from one place to another; thus, it can be used everywhere and anywhere.
19. Gold Fretwork Divider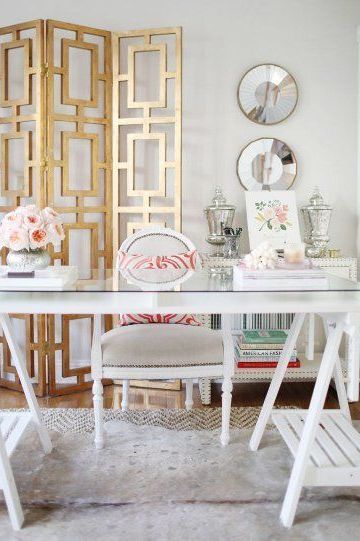 If you are one of those who are true to their traditions but also want a remarkable attractive presence, a gold fretwork divider is your choice. This room divider is both classic and vintage yet brings a charm to the room. It has all the qualities that can amazingly attract all eyes.
This room divider can add an instant glam quotient to the room without being too flashy or tacky. As it is painted in gold color, you are advised to use it beside neutral or light colors to let its beauty shine and enhance even from a distance. Believe us or not, this gold fretwork room divider is getting you all the compliments you want.
20. Hexagon Folding Screen Divider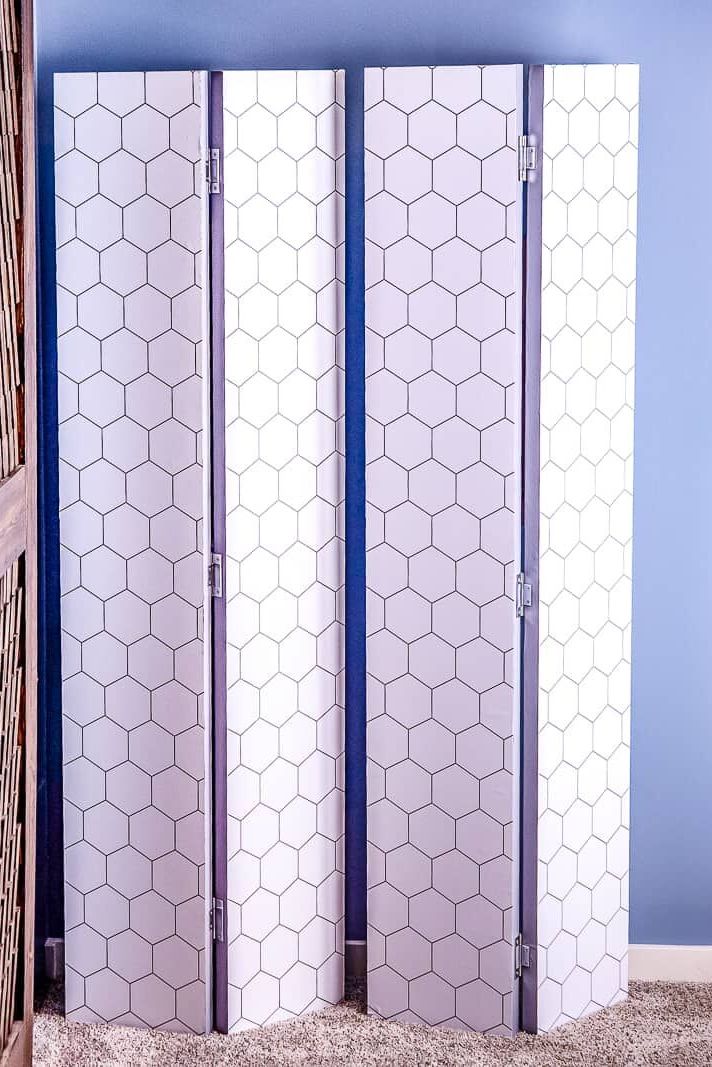 Folding screen room dividers are a big hit for this season. Many traditional and modern room décor styles accommodate DIY room dividers with folding screen ideas to make a lasting impression. This hexagon folding screen is also one of them but with added beauty and style.
This room divider upgrades its style with a sticky hexagon pattern wallpaper. You can choose any style of wallpaper according to your preference; however, this hexagon style goes with everything. You can also use it as a center of attraction for the next party or event at your place and get all the compliments.
21. Beaded Curtain Divider
If your idea of having a room divider isn't about having high privacy but rather having visual attraction in the room, then the beaded curtains will be the best choice. The beaded curtains are vintage, simple, attractive, and inspired by the 60s and 70s style.
You can use the foam balls as the beads that are hung on cotton cords or thread. You can accommodate as many threads and strings as you want and like in your space. Add some dazzling lights to the beaded curtains to further enhance their beauty and charm.
Final Thoughts
It is always the small elements and touches that make a bigger impact in the room. These various DIY room divider ideas can make a larger impact to change the entire outlook of your place. These room divider ideas can act as a temporary partition wall, ensuring the same benefits without adding any bulk.
These room divider ideas will make you forget everything else, as they are the easiest ways to define your room. The possibilities of using your favorite room divider idea are endless; it all depends on your creativity. Which DIY room divideridea do you like the most?
Let us know in the comment section.
Frequently Asked Questions
How to Choose the Right Room Divider?
To make sure that you are working on a good DIY room divider idea, it is important that it fits perfectly. For this, carefully measure the length, width, and height of the divider when specially designed for a particular place. You should also consider the stability of the place where you want to have your room divider.
What is the Most Inexpensive Room Divider to Have?
The most inexpensive room dividers that you can try are curtains. There is a wider variety of curtains available in the market that can be used according to liking and preference. Additionally, you can opt for an inexpensive yet beautiful curtain rod for an artistic and practical style.
Do You Really Need a Room Divider?
A room divider is the best way to preserve the privacy of your room while adding a styling statement. You can try different types of room dividers depending on the size of your room. Folding dividers, curtains, hanging windows, etc., are some of the popular choices.
Can a Room Divider Make Your Space Smaller?
You have to be careful with the DIY room divider ideas, as any wrong decision can ruin the vibe of your space. Generally, the dark and ceiling-to-floor room dividers make the room appear smaller than usual. Make sure that the chosen room divider doesn't cut off the available space.
How Can You Prevent a Foldable Room Divider from Falling?
To ensure that the foldable room divider doesn't fall apart, you can use stabilizing brackets, hooks, and straps. Moreover, you can also use other decorative elements with the room divider to have equal additional support from both sides.
How to Clean the Room Divider?
Just like everything else, even your room divider should be cleaned. You can use a soft brush and liquid soap solution to brush through the required areas lightly. Make sure you don't over-rub the area, as it can ruin the quality and beauty of the room divider.