The exterior look of the house is as important as the interiors. People will stop by to see the well-maintained border plants, lush greenery, outer color, texture, material, and design. The image of the house will form the first and last impression, even before anyone enters your home. The exterior of the house should not only be decorative in purpose but should be made of durable and reliable material to avoid repetitive renovation.
The front door not only functions as a vital entry point to the house but also creates a positive impact on the guests that showcases your style in detail. Front doors are accompanied by decorative materials like door mats, name plates, customized decorations according to the event, and souvenirs. One of the ingenious pieces of windows on the front door is a sidelight that elevates the front door impression and gives an aesthetic look. On one or both sides of a door, sidelight windows are small, vertical openings.
Here are 21 front-door ideas with sidelights that are budget-friendly and can be customized according to your requirements.
1. Decide the Configuration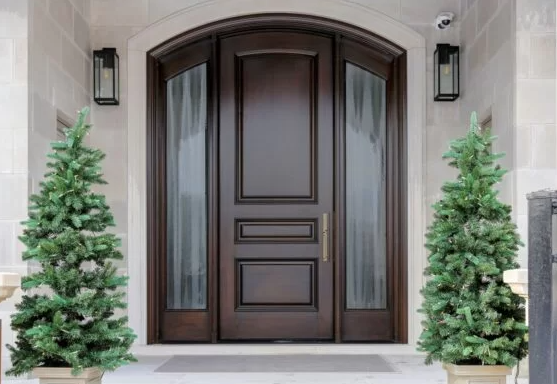 On a house with a broad facade, wide pillars, or many huge windows, a standard-sized door may look disproportionately small. A door will have more presence overall and can be brought into balance with other significant architectural elements nearby by adding sidelights.
The main advantage of adding sidelights to a door is that it allows for more natural light. A room can feel open and welcoming thanks to the warmth and beauty that natural light brings.
While shortlisting the layout of sidelights, you should also decide where they should be placed, like a single door with a left or right side or with sidelights on both sides of the door. You can go creative with the front door and its sidelights to create a decorative look. A single door in a spring-line shape with 2 sidelights or a double door with single sidelights on either side can look aesthetic.
2. Shortlist the Style of Sidelight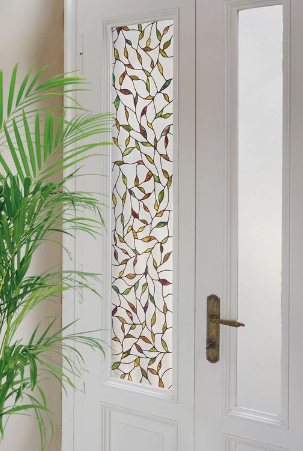 The main purpose of a sidelight in the front door is beautification and allowing ample light inside, which is not feasible if there is just a wooden door. Having transparent glass will hinder your privacy, as anyone from outside can peep. Instead, use translucent glass or add some vinyl cling, a window film that comes in different colors and shades. This will offer privacy, a decorative look, and entry of ample light. Changing the pre-existing sidelight can be out of budget. Other than keeping the glass entirely transparent, you can select sidelight style in different manners, like a full-light permissible sidelight, which can further have divisions from one to nine contemporaries.
Other decorative materials can include adding blinds or curtains customized to the sidelight. This will be beneficial in maintaining privacy when you are out of town and using them to block extreme sunlight or outer lights.
3. Treat Your Sidelights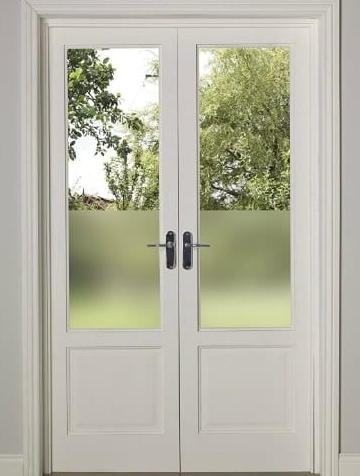 Having single or two sidelights in the front door helps elevate the appearance of the house both from the inside and outside. You can either leave the sidelights plain and transparent for a classic and rustic look. But if you want it to be unique and eye-catching, there are many options that can be executed.
Frosted glass spray is one of the most common DIY and hassle-free treatments for sidelights. Plan on applying three to four applications, and make sure to tape off the surrounding area carefully. For the fumes, you'll also need sufficient ventilation. Furthermore, you can always change the shades of frosted glass from colorless to matt blue, etc.
Other than decorative purposes, sidelights are vulnerable to breaking down and invading the unknown. You can consider treating your sidelights with plexiglass or security window film to strengthen the glass.
4. Sidelights with Grills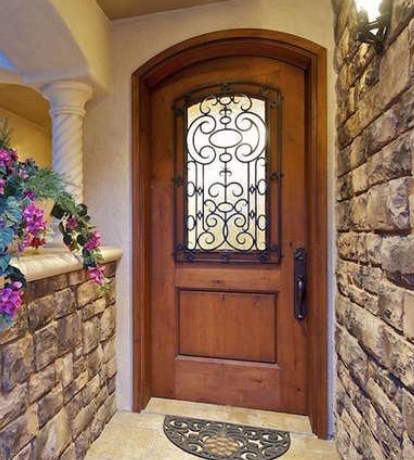 As the sidelights are built of glass, which can be easily broken by anyone, their maintenance increases. Instead, provide the sidelights with grills on the outer side for protection. This comes with the advantage of not only being a decorative piece of the front door but also making the sidelights functional.
While traditional sidelights are fixed and incapable of opening or closing, some contemporary doors feature fully functional sidelights. This provides you the provision of a good amount of light and ventilation.
For entry doors, wrought-iron aluminum grills are a common decorative element. Popular choices for decorative grills include decorative glass door inserts. These inserts can be used to offer some seclusion to a door or window or to create a distinctive appearance. There is certain to be a wrought-iron aluminum grill that is ideal for your home, as these grills come in a wide range of styles and patterns.
5. Creative Sidelights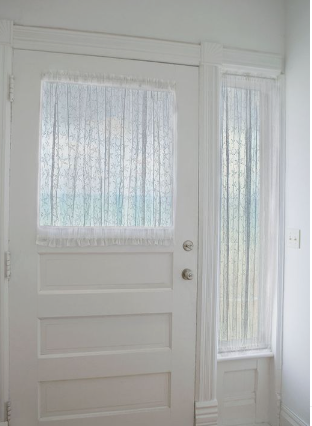 You will be using the front door as a source of home decor, welcoming your guests, and making a statement even with minimal work. You can make the sidelights decorative without going out of budget.
Beautifying the sidelights can elevate the house's appearance as it is the first view from the exterior. You can use a white lace cloth, cut it into the size of your sidelight, and stick it with glue prepared from cornstarch and water. This type of cover helps prevent sidelights from being completely open and allows required light to enter. Moreover, this makes the place look more vintage and rustic.
Be creative with sidelights. Use the glasses to paint or draw some flowers or patterns so it remains for a longer time and looks decorative. Furthermore, you can add some nice polaroids or photos on the sidelights, so they can be seen from the inside. If your sidelights are divided into squares, you can use the window bars as an individual picture frame
6. Etched Sidelights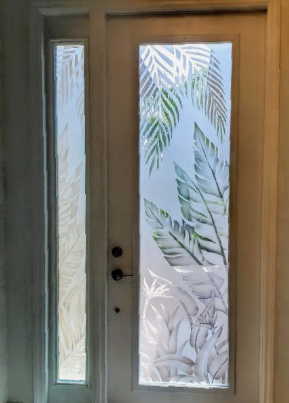 A sort of decorative door glass that can be utilized to enhance a front entry is etched glass sidelights. They are produced by etching a design into the glass, which allows for a wide range of aesthetic options. Depending on the design, etched glass sidelights can be used to give your home an elegant or rustic appearance. They are a terrific method to increase curb appeal. Etched glass sidelights are available in a wide range of colors, so it's simple to pick one that matches the design of your house. Etched glass sidelights are a terrific option if you're searching for a solution to improve curb appeal or just want a stylish door that stands out.
The natural transition from the surroundings or something you like a lot can be reflected in the sidelights. Tropical glass etching is one such art where different designs can be brought to your home. Design trends include palm trees, birds, and ocean elements.
7. Stained Sidelights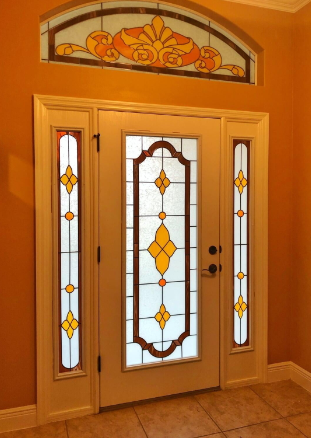 Stained glass is frequently used in front doors that have sidelights and a transom. Glass is shaped and colored in various ways, then led together to create a design. Traditional and modern designs are both available for stained glass door sidelights. They can be transparent or frosted, and they can be ornamented using different methods like etching or beveling. Glass door sidelights have a number of useful advantages in addition to being aesthetically pleasing. They provide the entry of natural light, which can reduce the need for artificial lighting. They also offer security and ventilation. The size, style, and function of the door should all be taken into account when choosing stained glass door sidelights for your house.
The size of the sidelights should match that of the entrance and the neighboring windows. They should also reflect the homeowner's individual style and blend in with the house's architecture.
8. Split Doors and Sidelights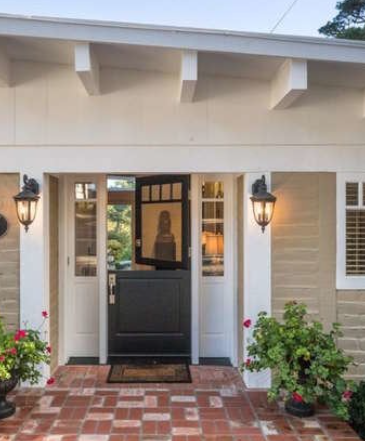 Different types of innovation and efficiency can be added to the front door and sidelights. The entry point can be made the focal point with few changes. Split doors and sidelights are a great way to make the front area look decorative and functional at the same time. Homeowners don't have to worry if they have small kids and pets. This type of door can help them from rushing outside. Additionally, they usefully contain young infants and animals while allowing for air with the top half open. Furthermore, you can choose to leave the lower sidelights completely transparent for your furry friends and toddlers to enjoy the landscape through the window.
The split doors and sidelights can be a great option even if entry doors are not typically utilized for them. They provide a little more security because you can unlock the top part to welcome guests while keeping the bottom half shut.
9. Covering Sidelights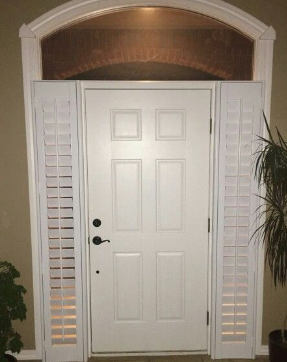 Sidelight windows can be tough to cover due to their narrow width and long height. Every homeowner has different needs and visions as to how they want their windows to look, function, and feel. There are different types of shades that can be used to cover the sidelights as and when required.
Cellular shades are a great choice to cover the sidelights yet provide enough light when required by their top-down mechanism. Light opaque filtering to let in light while preserving privacy. This unique structure is capable of effective noise cancellation, heat insulation, and heat preservation. It can efficiently store interior heating in the winter and effectively block outdoor heat in the summer, conserving electricity.
Other great options for covering the sidelights are Nantucket shades. During the day, the people standing outside will not be able to see through, and at night, it is vice versa. Furthermore, there are several innovative options when it comes to shades like shutters, split tilt, and fabrics.
10. Sidelights with Greenery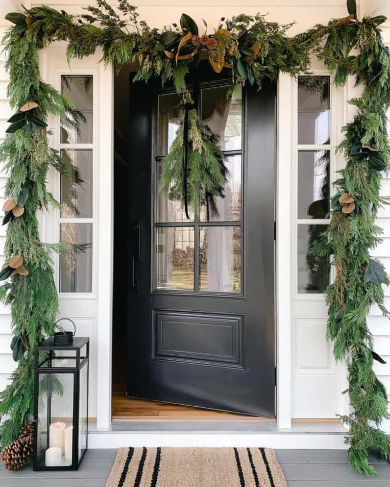 You are designing your home in accordance with the look, material, style, and design that you've planned a layout. Although front door window coverings typically don't attract much attention, they do add a touch of sophistication and beauty to practically any front entrance.
Window treatments might, for instance, add movement or a minimalist appearance like sheers. A trendy resurgence is being made by natural materials like wood and certain coverings that give fascinating texture.
Your open space may be home to many shrubs and decorative border plants. You will be using them on windowsills, hanging baskets, and by the patio. Why not make a wreath and garland that covers the sidelight and the center of the front door?
Not only will this look seasonal and beautiful, but it will also be budget-friendly. You can use fresh leaves in an arched shaped or hung loose. Dried grasses, like pampas, can also give a farmhouse look and stay for a longer time.
11. Mirrored Film Sidelights
When you have a home project to decorate, you should definitely consider front door window covering ideas to spruce up, provide privacy, and improve the curb appeal of your house and porch. When you think about it, your front door conveys a lot to loved ones, friends, and guests who approach your porch or stoop. It creates a lasting impression, and many of them will surely copy the ideas. Sidelights are an integral part of the front door decor if you are considering giving it a provision.
Self-adhesive window mirror film, especially for your front door and sidelights, provides both seclusion and curiosity to a range of surfaces. The film filters light and eliminates glare, allowing you to see much more clearly.
In addition to offering privacy, the reflective mirror finish is attractive from both the inside and the outside. The self-adhesive film is simple to apply and may be moved about or taken off as needed.
12. Sidelight Decor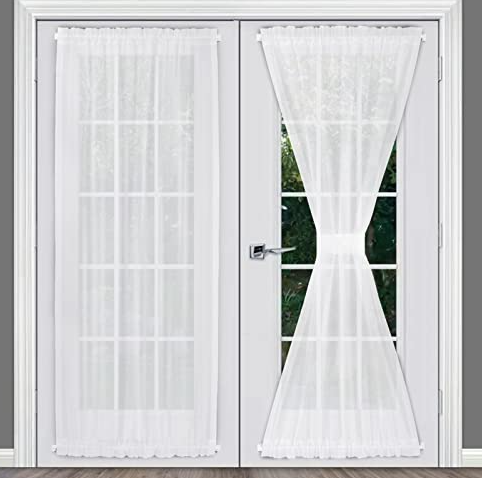 One of the simplest methods to upgrade your doors' style is with door glass inserts, often known as sidelights or sidelines. Door glass inserts can enhance a stunning door by including a decorative component. There are many different decorative door glass insert styles to pick from so you can create the ideal look for your house.
Sheers are ideal for glass doors because they soften the image while showcasing the architectural details of the door. Sheers offer your home a soft, whimsical feel and let in filtered natural light. Machine washable and requiring little ironing, sheers are simple to maintain. They're a timeless method to make your room feel brighter, cozier, and more elegant, and we believe they'll never go out of style.
Furthermore, you can add eye-catching signs and boards about your family members and pets. Add some decorative lights for the evening, which will add aesthetics to the space.
13. Sidelight Accessories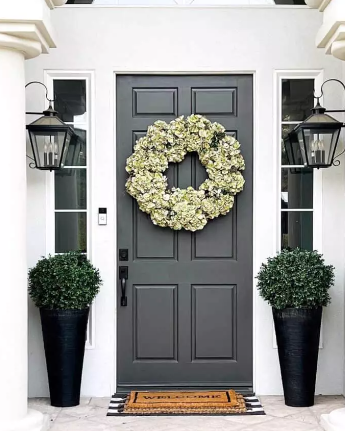 When you have ample space in front of the door, use that area to incorporate symmetrical decor and accessories items. You can also focus on minimal changes like Hardware, such as your door knob, deadbolt lock, and doorbell can be upgraded or cleaned. You can consider metal polish to assist in removing tarnish if you don't want the money or inconvenience of replacing the hardware.
Your front door and sidelights might be painted in a brand-new color or just updated. You'll love the shine that recently painted walls add.
Get a fresh doormat for every season. A planter on each side of your door would be a good idea. You can add dry and tall grass vases on both sides to act as a curb for sidelights. You can consider several compact evergreens that have a traditional appearance and need little upkeep.
14. Roman Shades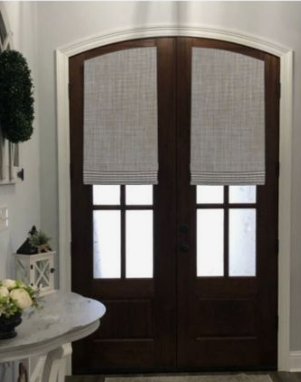 Roman shades can be mounted over the glass of your door in a simple manner, whether they are top-down, bottom-up, or traditional Roman shades. You can use a broad Roman shade that can neatly fold away when not in use or cover the entire door when extended if there is enough space between the ceiling and the top of the door's frame.
Blackout shades are cordless and may be opened to let in light as needed. With the help of sturdy hardware, the Romans may be put outside or inside, thanks to pre-drilled holes in the headrail.
It's time to add a touch of your individual style to your window. Roman shades for doors, door shades, kitchen blinds, and window blinds are all suitable applications. Blackout shades limit light while shielding you from harmful UV rays, resulting in a quiet yet airy ambiance.
15. Faux Wood Blinds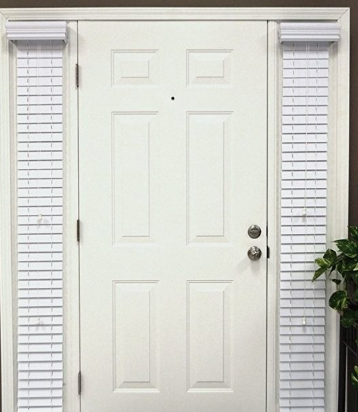 Faux wood blinds mimic the appearance of genuine wood but are made of sturdy polymer materials rather than actual wood. But don't be fooled into thinking that things lack the attractiveness of real wood because of that. In fact, the opposite is true. They resemble real wood in appearance.
Additionally, faux wood blinds come in a vast choice of designs, hues, and wood grain finishes. They can also be found in neutral and white colors. Even teak imitation wood blinds are available for the ideal finishing touch.
The main distinction is that faux wood blinds are moisture resistant, unlike real wood blinds, and as a result, do not warp or deteriorate when exposed to humidity, making them perfect for high-humidity environments. Furthermore, they won't crack, chip, peel, or yellow over time.
16. Real Wood Blinds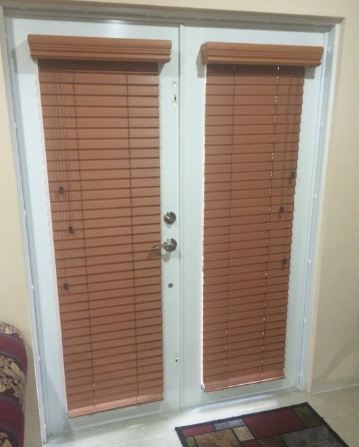 The attraction of real Wood blinds is difficult to beat when it comes to window coverings. Wood has a texture that is warm and rich, giving it a classic charm. In addition, wood works nicely with any wooden furniture, making it a stunning addition to homes with modern architecture.
Without a doubt, wood blinds have a beautiful appearance, but they also have a drawback. Installing real wood blinds in spaces like the bathroom, kitchen, or laundry room is not advised because they cannot handle heavy humidity. Real wood begins to distort or deteriorate after prolonged contact with dampness.
Wooden blinds only require a simple dry dusting with a clean cloth on a regular basis. Water should not be used for a deep clean to avoid damage. Instead, you should use a soft cloth that has been lightly treated with furniture polish or lemon oil to clean wood blinds.
17. Plantation Shutters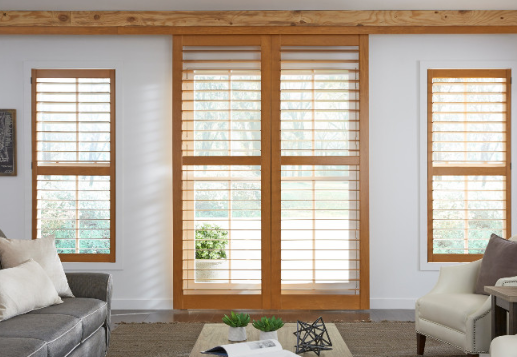 One of the numerous benefits of installing Plantation shutters for sliding glass doors is that they feature a traditional, timeless style that isn't likely to go out of style.
Natural wood, composite, polyvinyl chloride (PVC), and aluminum are just a few of the materials that are available for plantation shutters in a wide range of hues, textures, and materials. To match the rest of your design, you can even custom paint or stain your wood shutters.
Plantation shutters are available with modern features like invisible tilt and motorization that go nicely with home décor trends like contemporary, minimalist, and transitional, whether you're seeking to complement certain elements or achieve a modern look.
Plantation shutters are constructed from robust, long-lasting oak or composite materials. You don't need to be concerned about your shutters fading from exposure to the sun because composite materials do not peel, warp, or fade easily.
18. Zebra Blinds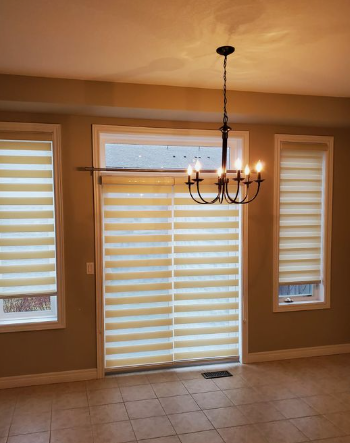 Zebra shades, often referred to as transitional shades, combine features of various well-liked window coverings to give you a variety of alternatives for regulating light and privacy. They also appear fashionable. As you'll see, if you comprehend them, these cutting-edge window treatments have a lot to offer.
Zebra blinds are incredibly adaptable and may be used on any rectangle window in a room to regulate natural light and privacy. They open with a gentle tug to provide soothing light into your house for your everyday activities and close quickly at night when you don't want the neighbors looking in. To enjoy some light and reduce distractions when working from home, you can lower the top of your top-down/bottom-up zebra shades or fully raise them while watching your garden outdoors. Their streamlined, minimalist style blends seamlessly into both traditional and modern interior design.
19. Motorized Shades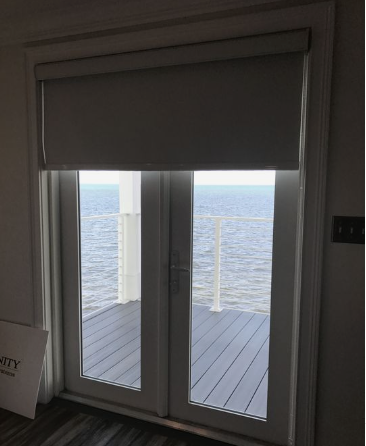 Motorized window treatments are attractive and adaptable, complementing a variety of interior designs and environments. Without the help of professionals, motorized window coverings can be installed quickly and affordably.
Longer service life and improved performance are ensured by the waterproof, robust, and easy-to-clean design. You can use them to have better control over the lighting and temperature.
With the touch of a button or a tap on your phone, you can tilt, open, and close your window coverings when using motorized blinds and shades. The ultimate in convenience, remote-controlled blinds and shades are ideal for difficult-to-reach windows. These cordless shades are the safest option for homes with young children or pets. Connecting your motorized shades to your Alexa will transform them into intelligent blinds.
20. Efficient Sidelights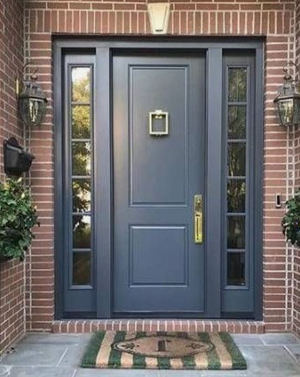 The sizes of custom single doors, double doors, and entrance doors with sidelights and transoms vary. In order to make the best decision for your house and your budget, make sure you measure a front door with sidelights. Different types of wood, some more expensive and rare, others more accessible and less expensive, can be used to create custom wood entry doors. Additionally, supplies for stains are more expensive than those for painting. Additionally, prefabricated entry doors with veneers of metal or plastic will be less expensive than handcrafted wood doors. Your cost will likely be lower if you decide against using glass for your front door's outside. The kind and quantity of glass used will also have an impact on the cost.
21. Sidelights with Security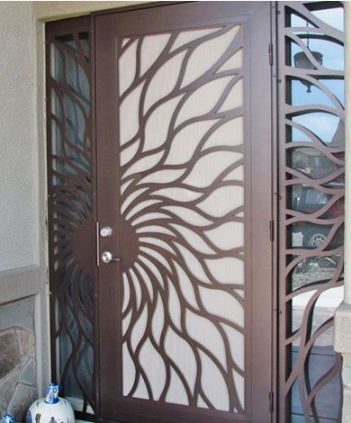 You may be concerned about the security of an entry door with sidelights as a homeowner. Knowing that front doors with sidelights can be just as secure as front doors without sidelights should give you peace of mind.
A front door with sidelights can be made more secure in a number of ways, such as by installing hurricane-impact glass, which can withstand strong winds and force. Along with quality door hardware and locks, you can also choose to install motion sensors, doorbell cameras, and adequate external lighting. It is also true that the rear of the house, rather than the front door, is where most home burglaries take place.
Without sacrificing style and craftsmanship, there are various alternatives for safety and privacy.
Conclusion
A custom-made wood front door and sidelights can be exactly what you need if you're seeking a distinctive approach to enhance the appearance of your home while maintaining your sense of style. They are long-lasting, well-made, and of high quality.
To build a door that is distinctive makes a strong statement, and is truly a work of art, you can combine and contrast various materials, designs, treatments, and hardware.
You want a front door that complements your style while still being strong and secure. Both single and double doors with or without sidelights or a transom are possibilities for custom front doors. Transoms and sidelights can definitely improve the curb appeal of your house.
Learn more about front doors with sidelights in this article to help you decide if they're the best option for your upcoming project.