There are very few things that can be compared to the beauty and comfort a fireplace provides while also creating a warm and welcoming living room. Additionally, putting a TV into the fireplace wall design is a common decision in the present era, when technology plays a significant part in many aspects of our life. It adds practicality, a fireplace, and a TV which makes an attractive center point in any space. There are several fireplace wall ideas with a TV that may improve the appearance and feel of your home, ranging from clean and minimalist designs to rustic and eclectic styles.
In the article, we'll look at 21 creative and inspiring fireplace wall ideas with a TV that offer a variety of styles to accommodate different tastes and preferences.
Things to Consider Before Positioning Your TV Above the Fireplace
A TV can keep you entertained for hours, and a fireplace can provide warmth and charm to any space. However, what if you want both in the same area? There are a few considerations you should make if you plan to position a TV above a fireplace.
To start, make sure the fireplace is the room's main attraction. The TV will compete with the fireplace for attention if it is too big or too bright.
Second, ensure the TV is positioned correctly with respect to height. You'll have to crane your neck to see if its too high. You'll have to slump if the height is too low.
Third, check to see that the TV is attached correctly. If it's not, it may fall and hurt anything.
After considering all the factors, you may begin to think about how you want to design the fireplace wall. Here are some suggestions:
Using a neutral color, paint the wall. This will assist in making the fireplace the room's main attraction.
Insert a mantle. Add photographs, candles, and other decorative items that can be arranged on a mantle.
Hang the art. The fireplace wall may be given color and interest with the artwork. It will add more life and make it even more attractive and give it an aesthetic look.
Add plants to have a more greener look. The fireplace wall may become more natural looking with plants around it.
Install built-ins. Books, DVDs, and other objects can be stored in those areas.
Make sure to pick a design that blends in with the rest of your house, no matter how you decide to decorate the fireplace wall. You may design a lovely and useful area that everyone will enjoy with a little forethought.
Here Are Some Unique Fireplace Walls with TV Ideas
1. Modern Fireplace Wall with TV
This modern fireplace wall has a clean, simple layout. A straightforward black mantle surrounds the fireplace, and the TV is positioned on a free-standing shelf. The entire result is sleek and modern.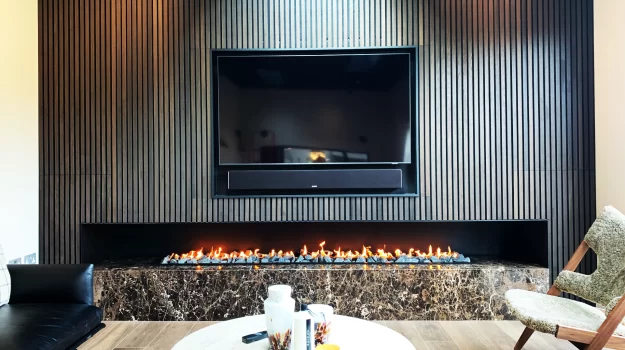 2. Traditional Fireplace Wall with TV
This traditional fireplace wall has a more elaborate layout. A white marble surround encircles the fireplace, and the TV is positioned on a carved oak mantel. The whole result is classy and elegant.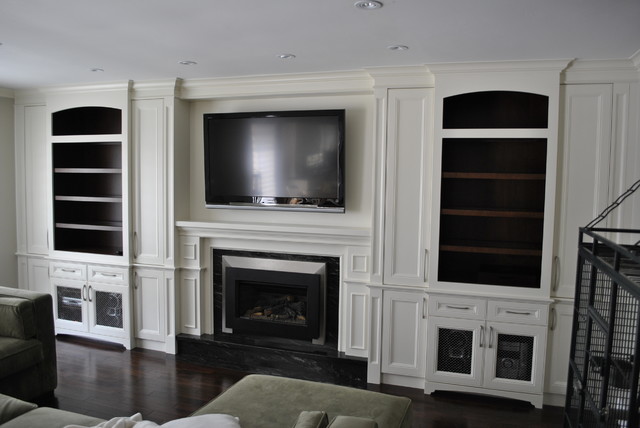 3. Rustic Fireplace Wall with TV
This rustic fireplace wall has a cozy, welcoming layout. The fireplace has a stone surround, and the TV is positioned on a mantel made of salvaged wood. This would make your living space very appealing and relaxing.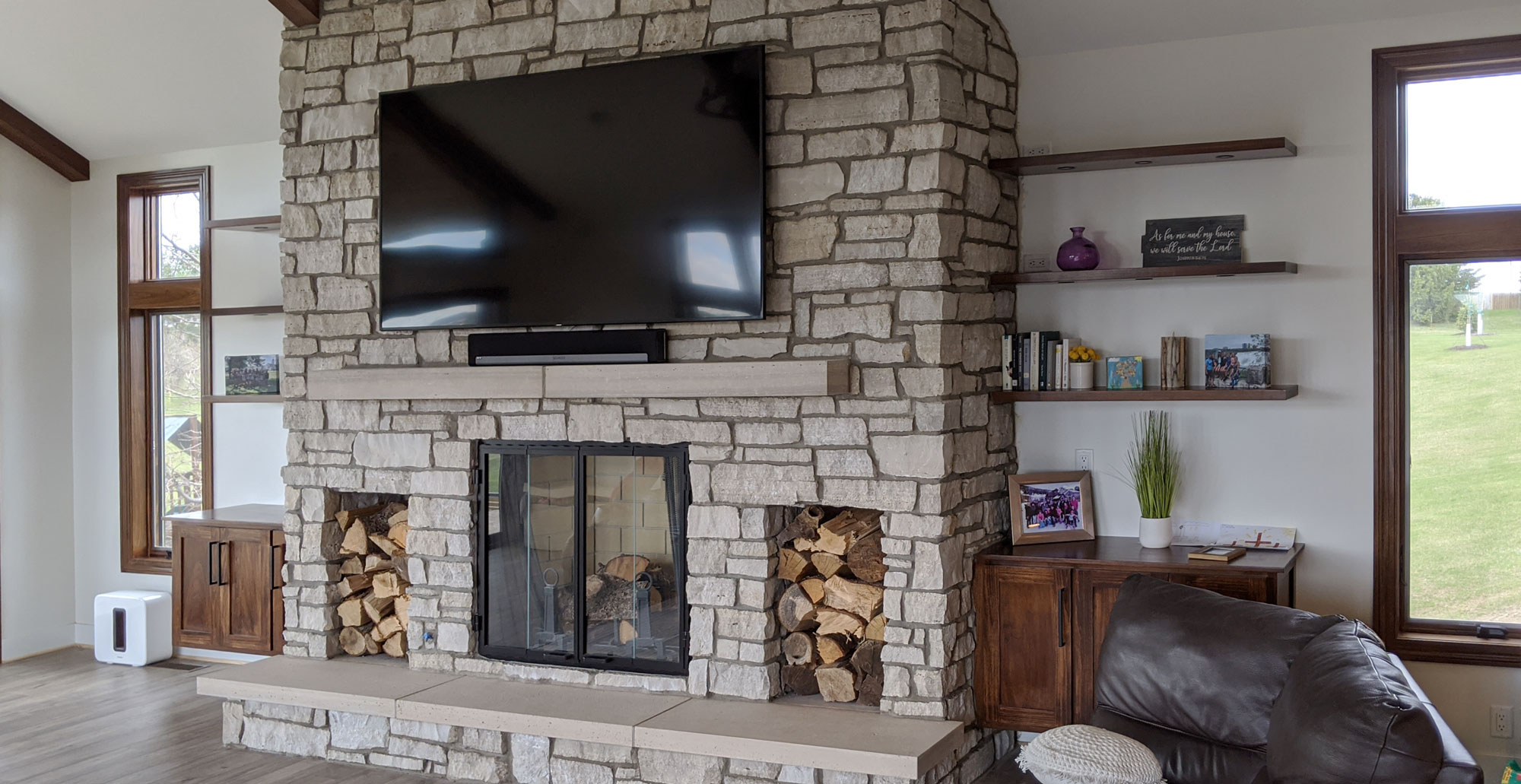 4. Contemporary Fireplace Wall with TV
This contemporary fireplace wall has an appealing and stunning design. You can choose to go with the fireplace enclosed by a glass surround in vibrant color, and the TV is positioned on a free-standing shelf. The entire result is fashionable and distinctive. Another creative option is to cover the fireplace wall with contemporary tiles that includes bold patterns or textures. For a contemporary and creative focal point, you can also choose to pair it with a wall-mounted TV.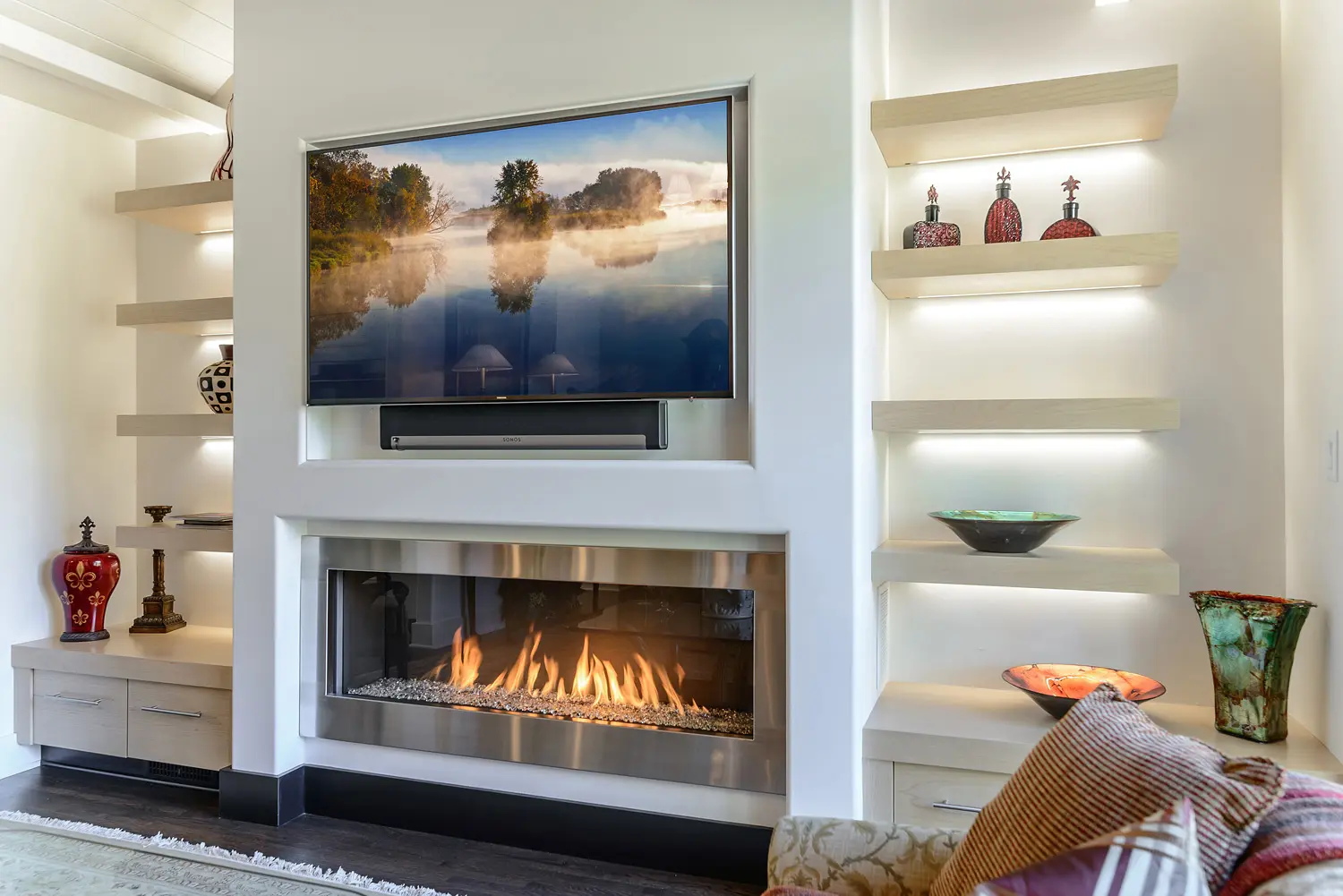 5. Minimalist Fireplace Wall with TV
This minimalistic fireplace wall has a simple, clean, and uncluttered design. The fireplace is enclosed by a white brick surround, and the TV is hung on a straightforward wall bracket. This makes your space understated, elegant, and refined and has a touch of class look to it.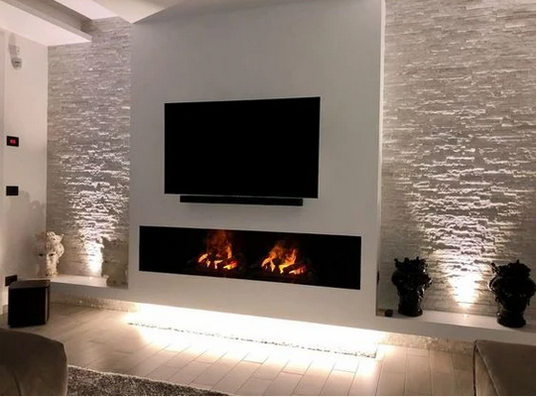 6. Coastal Fireplace Wall with TV
The design of this fireplace wall by the seaside is unhurried and warm. The fireplace is encircled by a blue and white tile surround, and the TV is set on a white shiplap wall. The result is pleasant and beachy overall.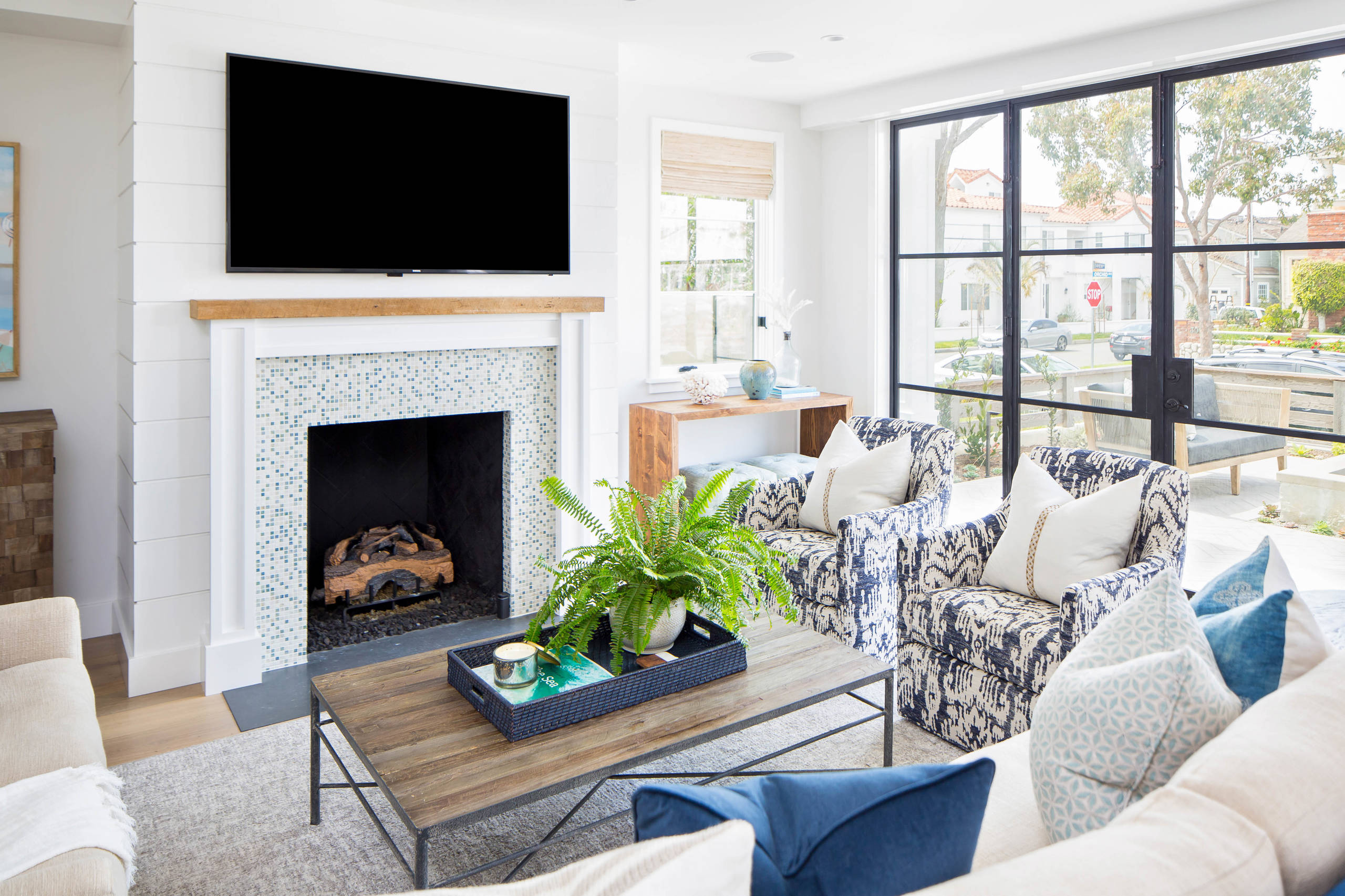 7. Mountain Cabin Fireplace Wall with TV
This mountain cabin fireplace wall has a very warm and appealing decor. You can choose to have the fireplace surround, and the TV can be positioned on a rustic wood mantel. The entire impact is warm and welcoming.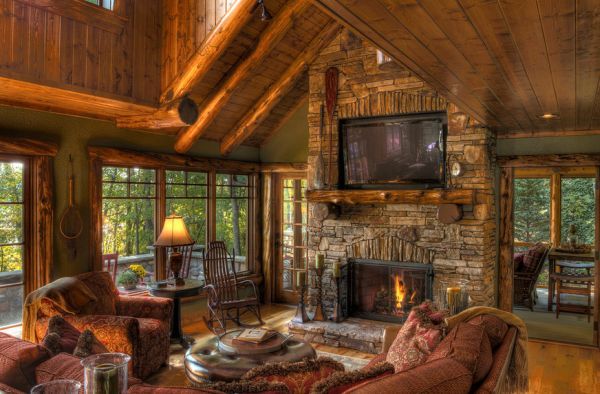 8. Modern Farmhouse Fireplace Wall with TV
This modern farmhouse fireplace wall has a chic and useful layout. A white brick surround encloses the fireplace, and the TV is positioned on a free-standing shelf. The entire result is understated and refined.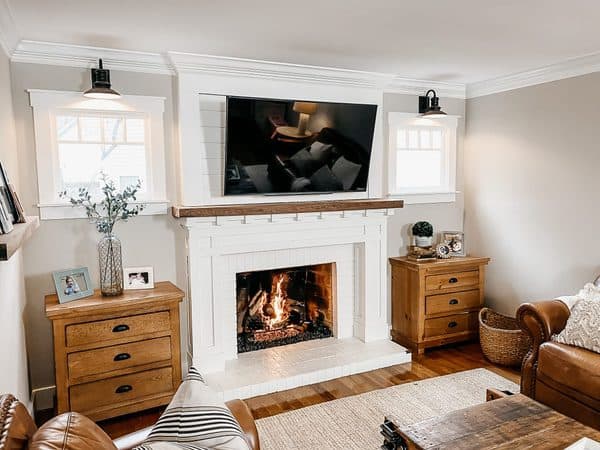 9. Traditional Farmhouse Fireplace Wall with TV
The style of this vintage farmhouse fireplace wall is cozy and welcoming. White brick surrounds the fireplace, and the TV is fixed to a carved oak mantel. This leads to the creation of a space that is inviting and relaxing.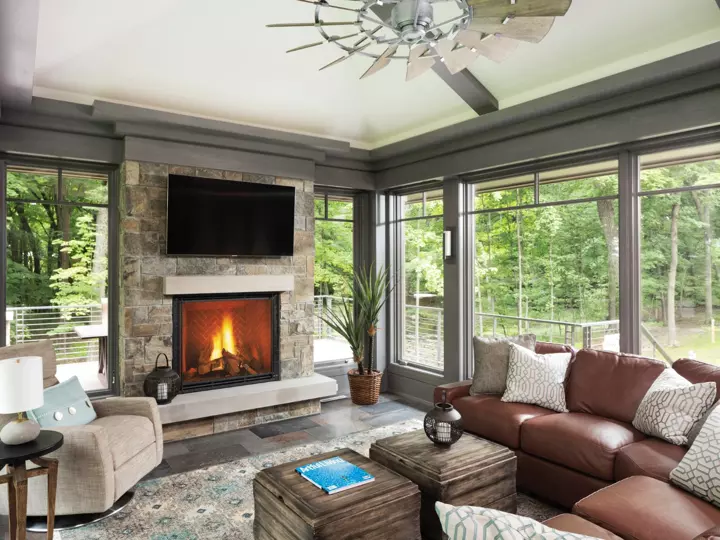 10. Modern Industrial Fireplace Wall with TV
This modern industrial fireplace wall has an attractive and bold appearance. The fireplace has a brick surround, and the TV is set on a metal wall bracket. This makes your living space look fashionable and distinctive.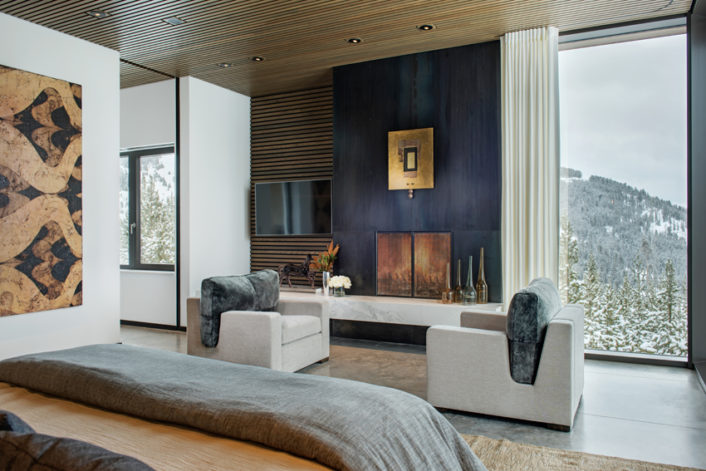 11. Built-In Shelving
With built-in shelving on either side, your fireplace and TV are framed. This layout not only offers storage but also establishes a focus on showcasing literature, works of art, or ornaments. You can choose to put any items on this shelf which you think may be important in the living room.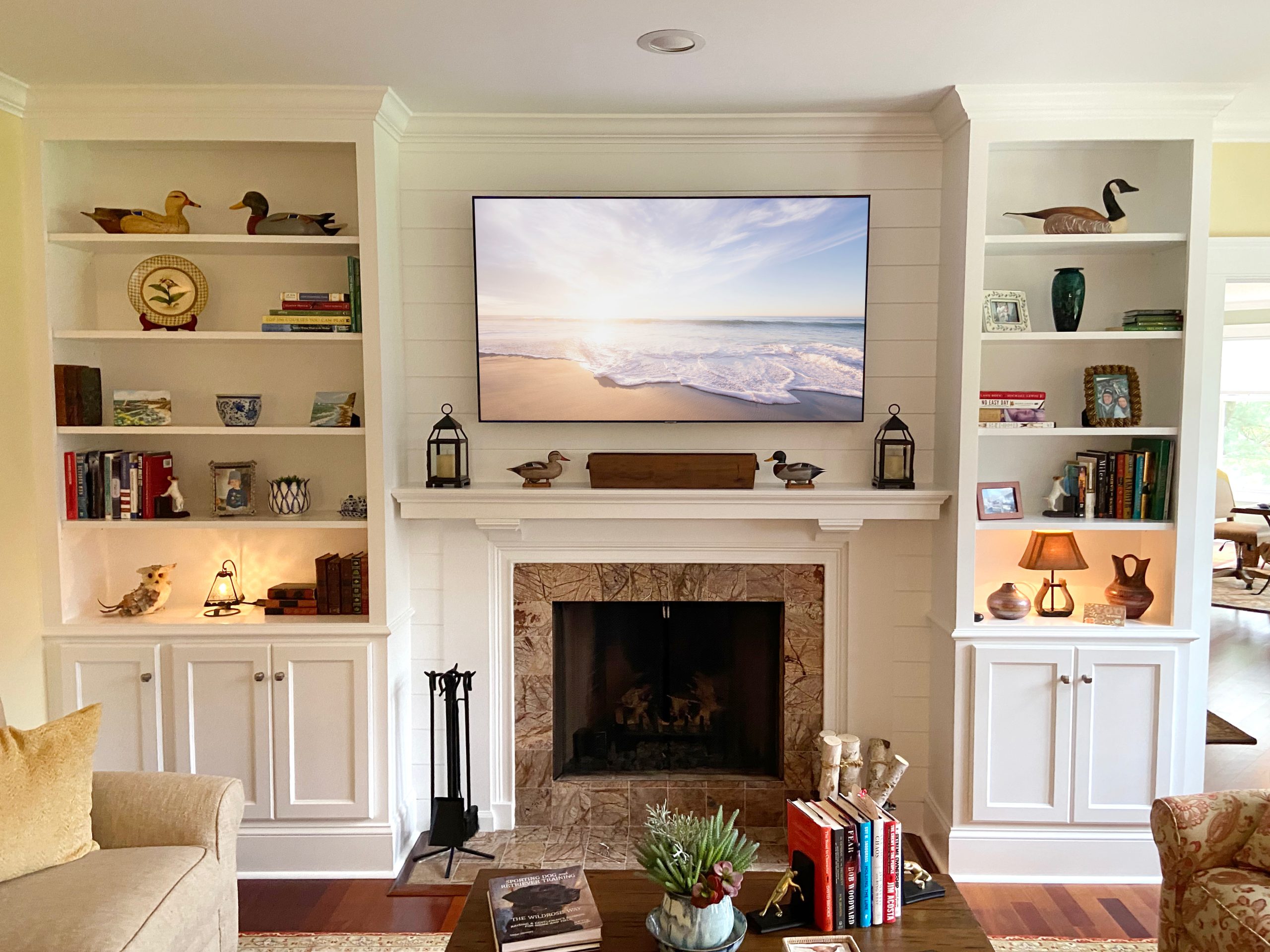 12. Floor to Ceiling
By extending the fireplace and TV wall all the way to the ceiling, you can make a big and bold statement. To add aesthetic appeal, choose a textured or patterned material, such as stacked tiles of salvaged wood.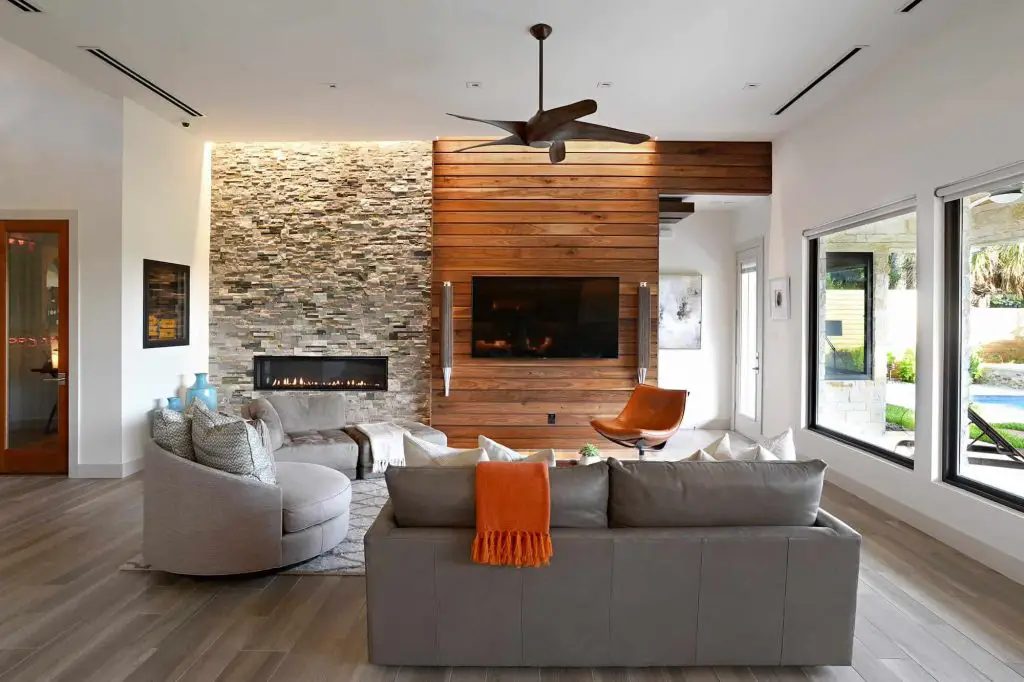 13. Floating Shelves
Install floating shelves above your TV and fireplace to showcase your artwork, plants, or sentimental items. This style keeps the wall looking smooth while giving it depth and volume.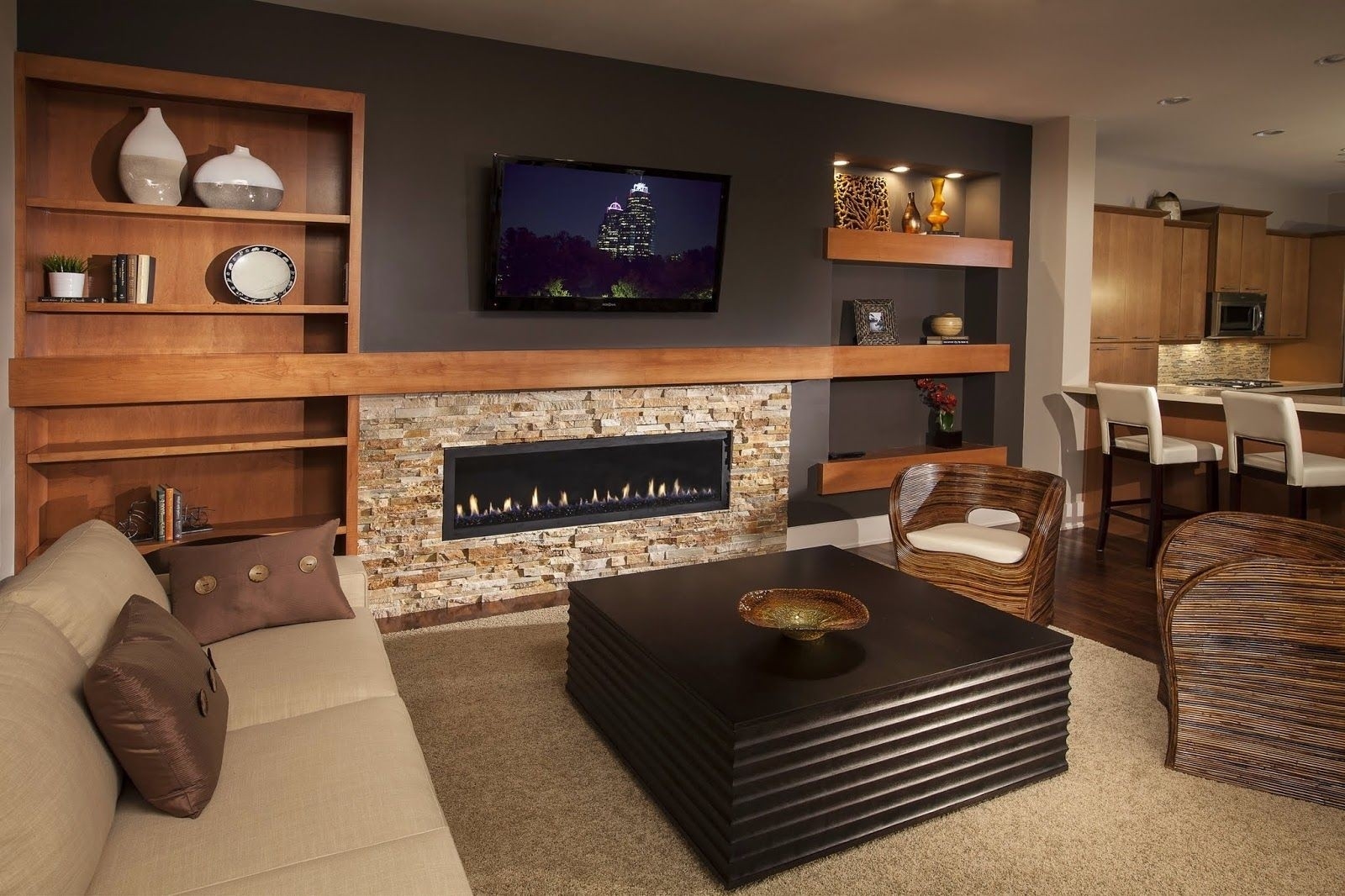 14. Double Sided Fireplace
Choose a double-sided fireplace to divide two locations while allowing them to both take advantage of the warmth and atmosphere. To serve both locations, mount a TV on one side of the fireplace.
15. Barn Wood Charm
Clad your fireplace wall with repurposed barn wood to embrace its rustic allure. In order to merge old and modern components, mount the TV on the barn wood.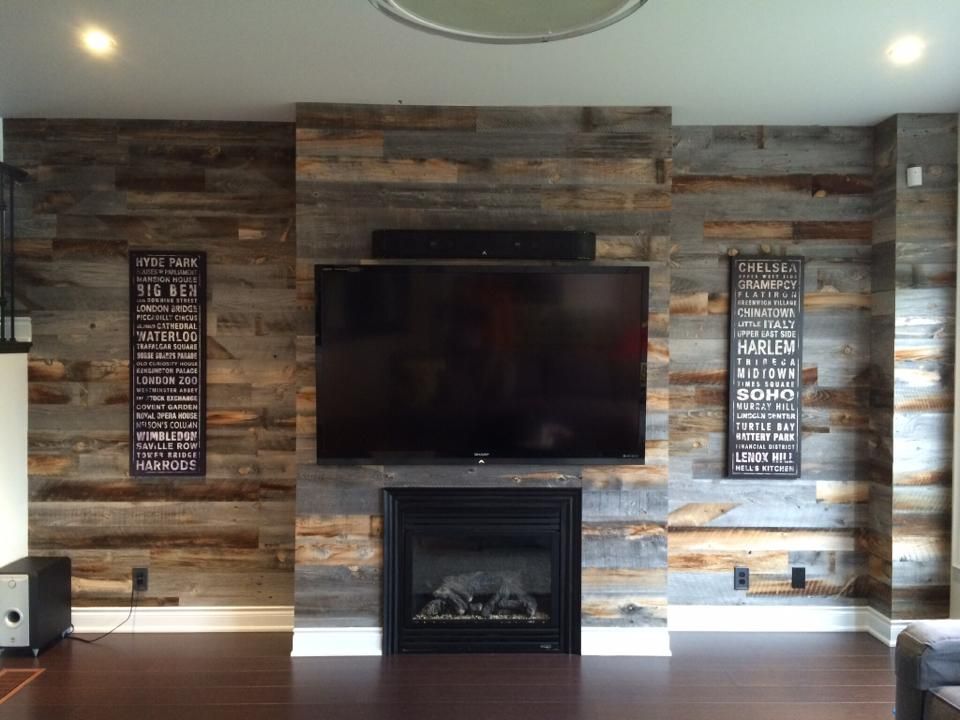 16. Mirrored Elegance
To give the appearance of a larger room, install a wide mirror wall behind the TV and fireplace. The reflection improves the room's overall design and adds a dash of glitz.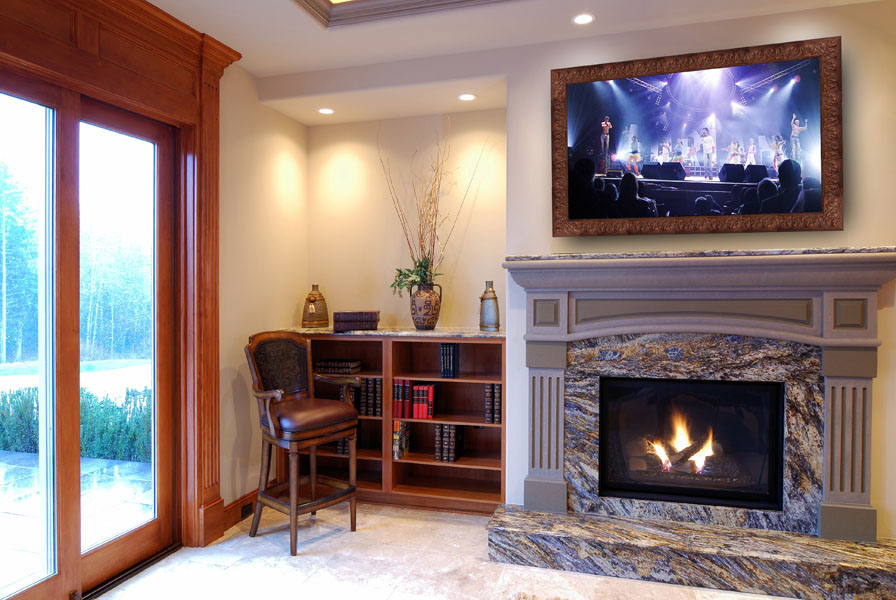 17. Sliding Barn Doors
Place sliding barn doors on either side of your TV and fireplace to frame them. With this design, you can hide the TV while it's not in use, giving the room a more rustic feel and also a very cleaner experience.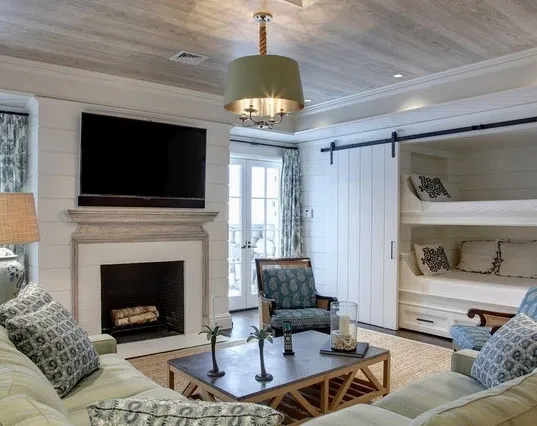 18. Stone Veneer
Apply stone veneer to the wall surrounding your fireplace for a less expensive alternative to full stone. Install the TV into the stone veneer to seamlessly combine technology and the environment.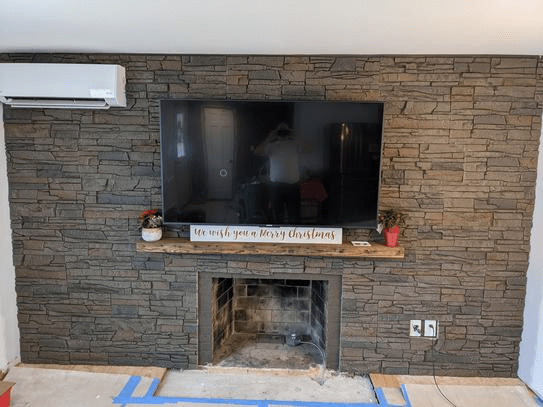 19. Backlit Panel
Install a backlit panel behind the TV to illuminate the screen and produce a pleasant glow. For a modern and streamlined appearance, combine it with a simple fireplace design.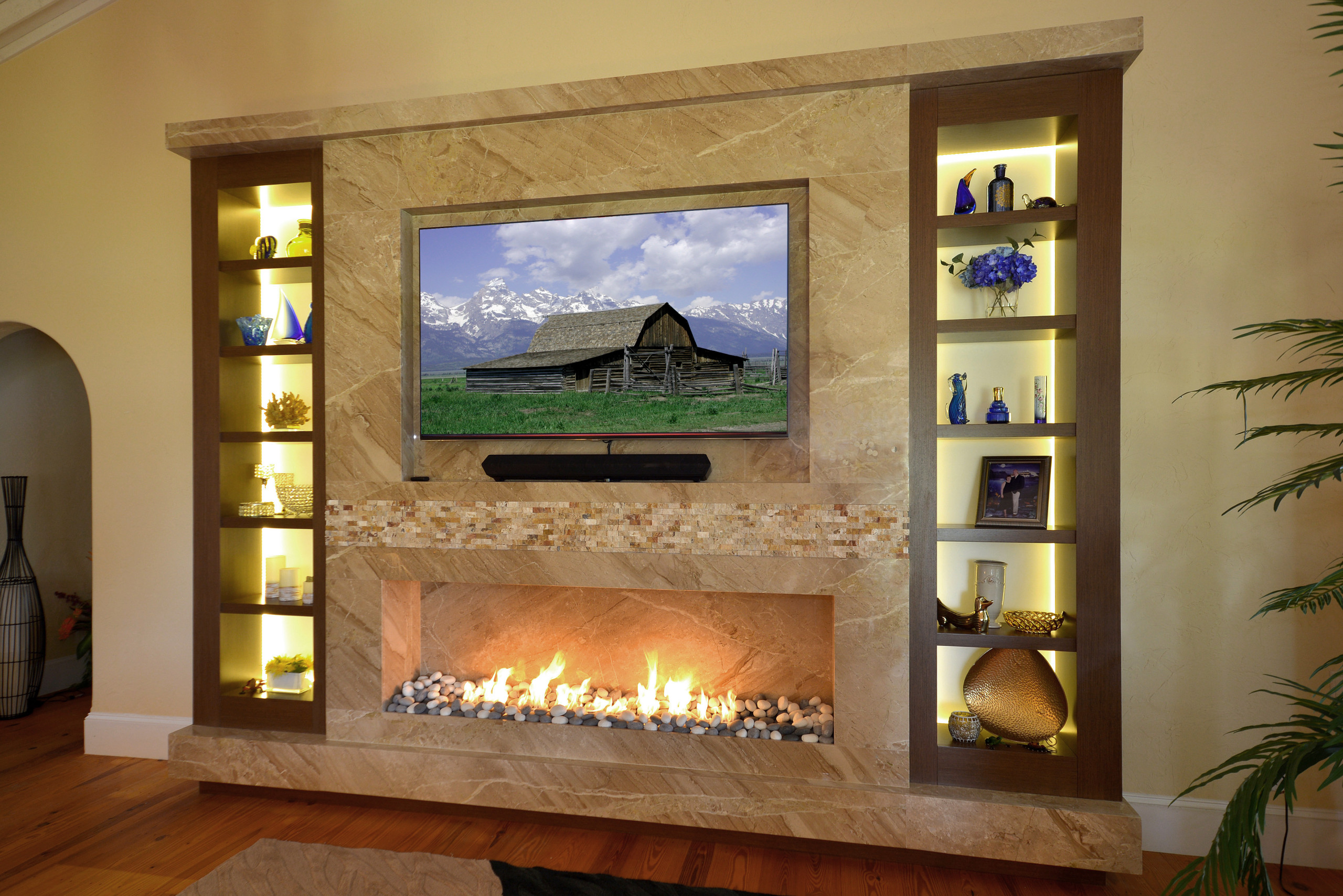 20. Custom Media Center
Create a custom media center that combines the TV and fireplace into a single, functional piece. This arrangement provides plenty of storage space while putting emphasis on the entertaining area.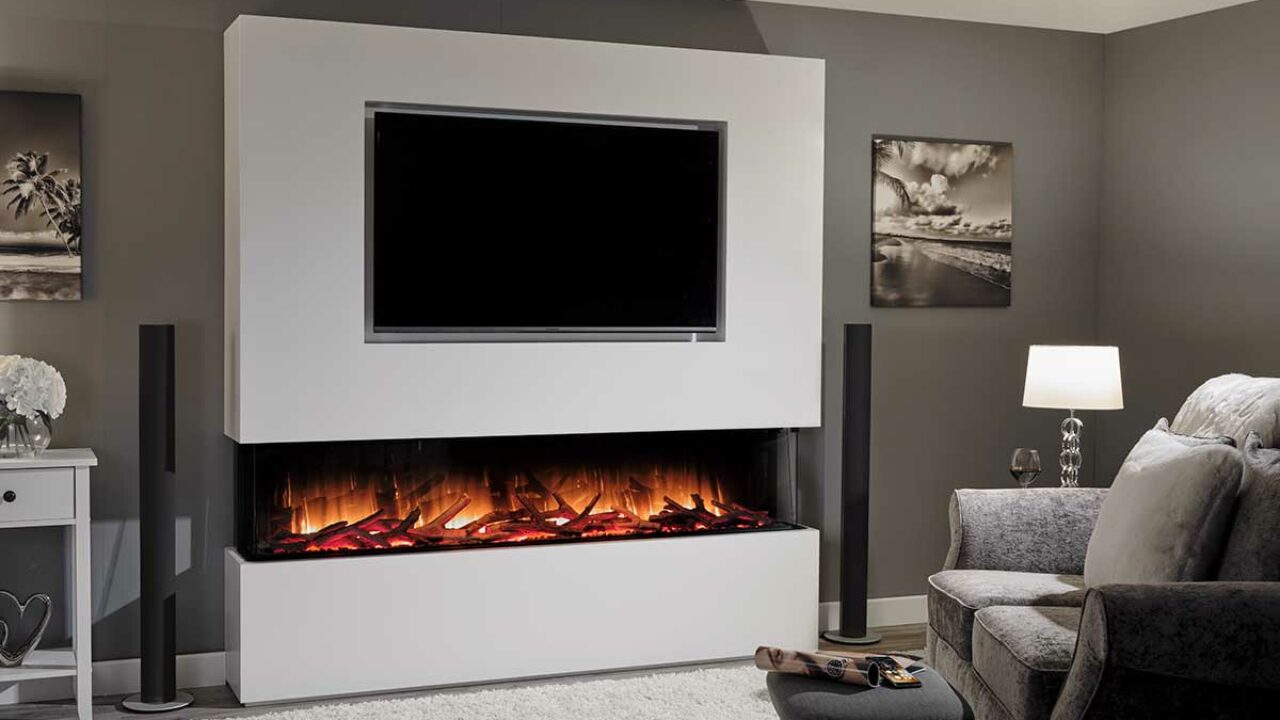 21. Shiplap Charm
To give your fireplace wall a warm, farmhouse-inspired appearance, utilize shiplap paneling. To create a seamless fusion of old and modern components, mount the TV inside the shiplap.
Some Additional Tips for Decorating Your Fireplace Wall Along with a TV
Pick a TV that fits your room's dimensions. Too big of a TV will drown out the fireplace, while too tiny of a TV won't be easy to view.
Think about the viewing angle. Ensure that everyone in the room can comfortably observe the television.
Pick a reliable and safe TV mount. A poorly mounted TV installation may be a safety risk.
Cover the wires and cords. There is a variety of techniques to hide cables and wires, including routing them through walls or utilizing cable covers.
Decore the area beside the television. Make the area more appealing by adding accents like plants, artwork, or other decor.
Conclusion
This article's fireplace wall ideas with TV demonstrate the versatility and creativity that can be accomplished when fusing traditional warmth with modern technology. There are styles for every taste and choice, whether you want a modern, minimalist aesthetic or a rustic, cozy setting.
You can turn your fireplace wall into a spectacular focal point that blends the charm of a roaring fire with the entertainment options of a TV by implementing these suggestions or ideas.
Consider these options and set out to design a compelling fireplace wall that would reflect your own taste and improves the ambiance of your living area. Try them now!