We all have loads of items in our kitchen, and every year, they just keep on adding. We end up increasing our kitchen utensils, devices, or any other equipment without giving away the old ones. But unfortunately, our kitchen space remains the same. We find ourselves stuffing certain things here and there just to not have them in front of our eyes, consuming space and making the kitchen look untidy. Some of us are very particular about having our kitchen space clean, and a rising list of items clearly plays against it.
We often plan on renovating our kitchen area as it becomes unclean and untidy very quickly due to our 'extraordinary' cooking skills, leaving splashes all over the place. Both of these problems can be single-handedly solved by beautiful-looking floating kitchen shelves.
So get ready for royal and classic-looking kitchen shelves for better storage. Know more about them in this article.
Floating Kitchen Shelves Ideas
The floating kitchen shelves idea is becoming popular among interior designers due to its ease of installation, lesser use of the kitchen space, and stylishness in the kitchen. But you do not need a professional to suggest it to you. You can choose one for yourself and install it over the weekend.
You can use several types of materials for building your floating kitchen shelves. Some of them include glass, rough-cut wood, softwood, metal, etc., as per your convenience and choice.
Whether you are building a completely new kitchen or just renovating your old one, you must not miss out on this stylish decor and storage idea of a floating kitchen shelf.
Here are 21 top ideas for floating kitchen shelves that will help you to renovate your kitchen and give it a modern look and feels. Choose the one that is best for your decor.
1. A Couple of Shelves
One might think that when they have to implement the idea of floating kitchen shelves, they need to install tons of them in their kitchen to make space for storing things. But that's not true! You can just place the two-three shelves in your place, maybe replacing the kitchen cabinets, and they would be enough to do the work.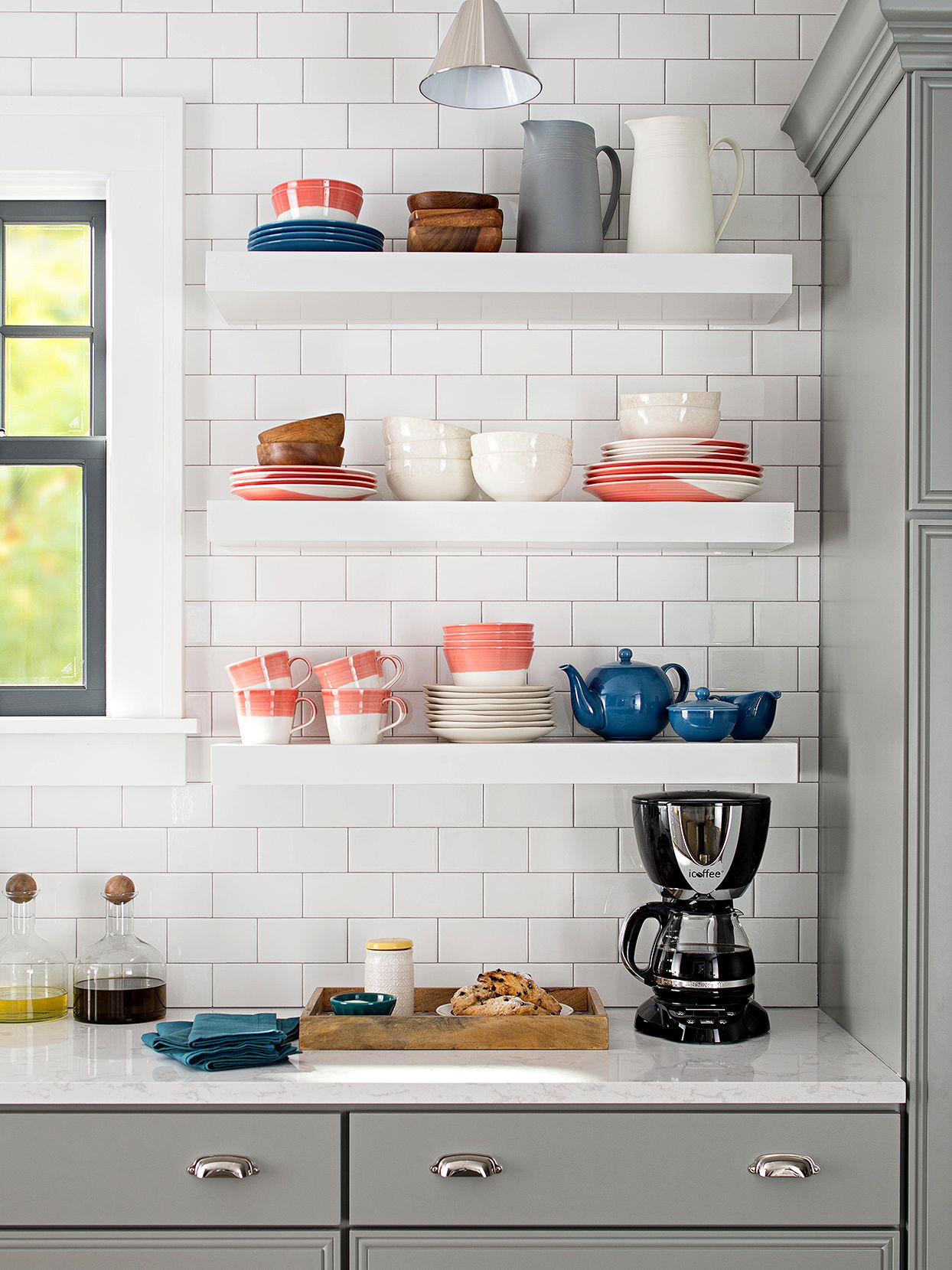 This is a great idea if you have any wall space remaining in your kitchen that can be filled up for tidy storage of your kitchen items. A smaller number of shelves not only helps with storage but also makes it easy for you to clean and maintain them. This idea will make a countable impact on your kitchen. It helps to decorate the walls with your beautiful showpieces or dinner sets. So, no need to hide your kitchen china anymore. Get them out and place them on the shelves for everyone to see and admire.
2. Coffee Bar
I am sure that most of us are coffee enthusiasts. We wake up every morning to have that first cup of coffee that puts our body into motion and brain into work. What can be better than making a coffee for yourself every morning? Making coffee in your coffee shelves corner of the kitchen!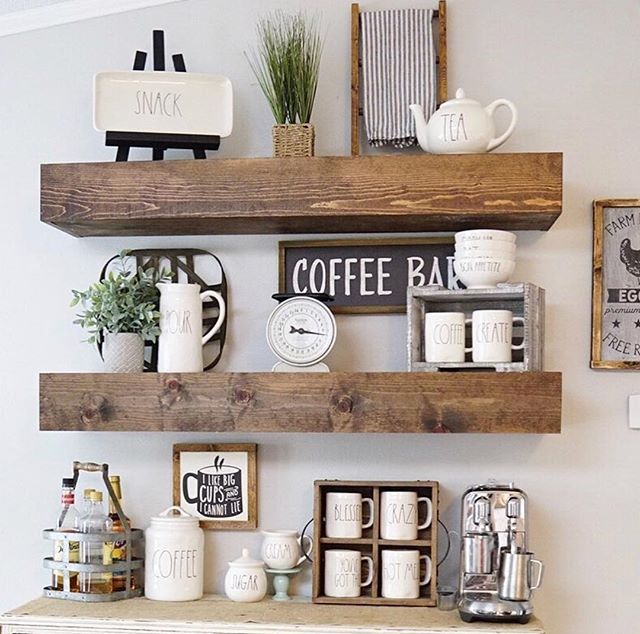 You can dedicate an entire coffee bar for yourself by installing shelves and placing all the materials required for that, like the coffee mix, powder, sugar, cream, coffee maker, and all that you need. You can just add a few shelves on the wall where you have your coffee maker placed.
This will make the coffee bar your sacred place in the morning. Apart from being a convenient coffee-making place, it will give a rich look to your kitchen and keep it tidy. The most interesting part about creating a coffee bar is that you can install it anywhere and not just in your kitchen.
3. Steel Brackets
If you have a lot of space in the kitchen but very less on the kitchen wall, or if you just want loads of storage shelves in your kitchen, this is the best way you could go with the floating kitchen shelves idea. You can install the shelves in such a way that the breadth of the shelf is attached to the wall rather than the long side. This ensures the usage of lesser wall space and huge storage space with shelves.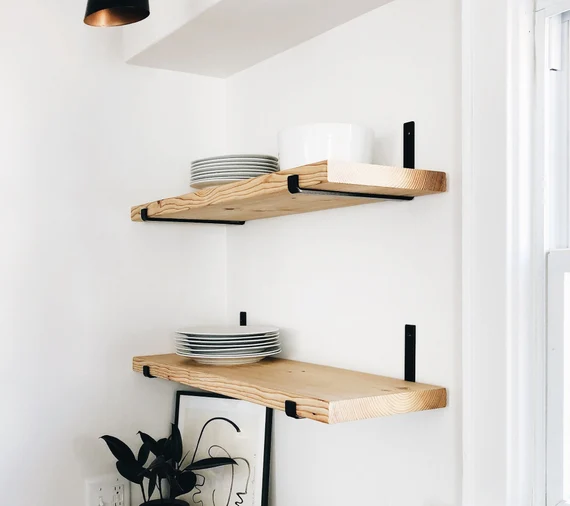 So as you can see, the entire weight of the shelf and items kept on it is carried by the little wall hinge. In such cases, to ensure the safety of the shelves from falling, you can use steel brackets that will support the shelf. This will help your space look well-curated and modern, along with giving huge space for storing your kitchen items and decorative accessories.
4. Above the Sink
If you notice, in most households, there are cabinets installed above the sink to keep all required items like soap, cleaner, dishes, etc. The cabinet consumes huge space not just on the wall area but also on the storage part and cabinet door, which hangs forward. You can eliminate this style and create a better space that is more airy and spacious. This will help to loosen up the space occupied by the cabinets and make them look neater.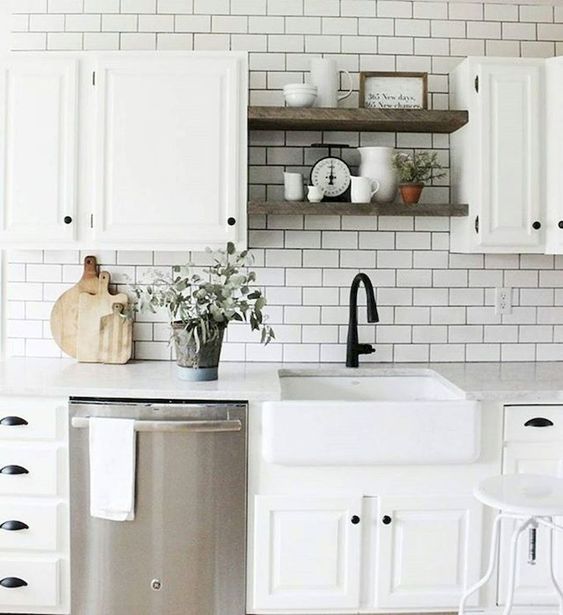 Thin shelves must be used as kitchen sink items that do not consume much space. It will make your place look more organized. Further, they are easy to clean and maintain as compared to the cabinets. You can make the space look good and elegant by placing some small house plants on the shelves. It can be used to place other regularly required items like plastic cases, liquid soap, etc.
5. Use the Corner Space
Usually, we see that the floating kitchen shelves are placed in empty spaces on the walls in the center, leaving some space at the edges. In the corners of the wall, we place kitchen cabinets for storage. But if you want to eliminate the idea of cabinets in your kitchen, you can stretch your shelves to the end of the wall, creating a right angle with the adjacent wall.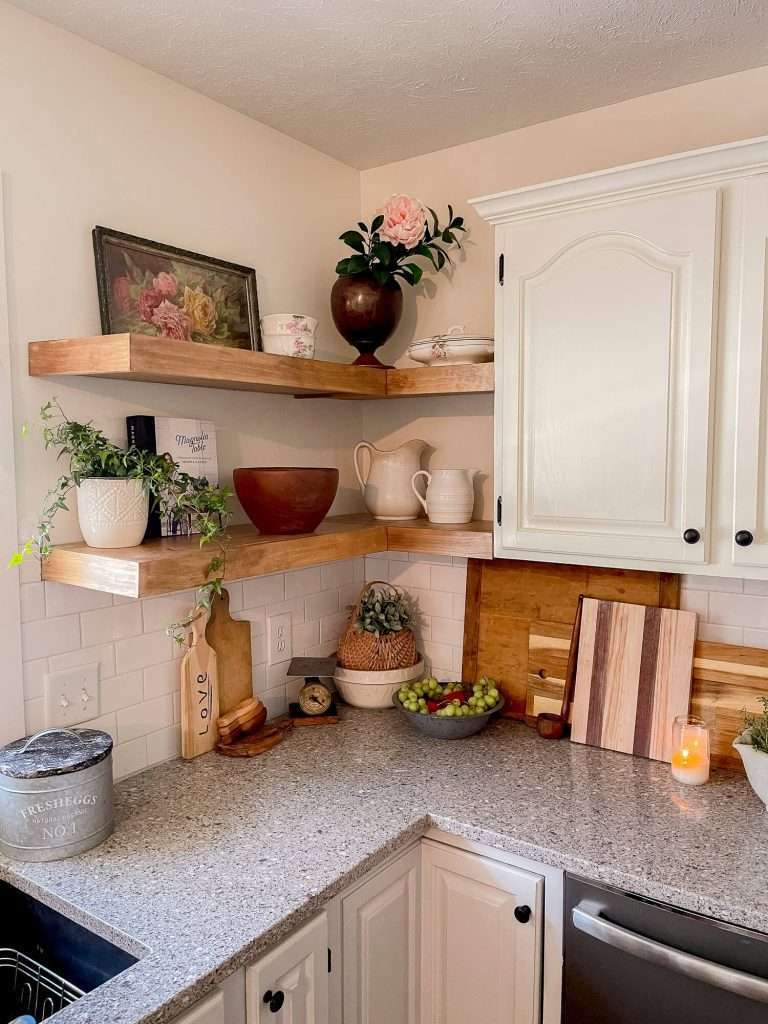 This corner is the place that won't get much attention from anyone as it is hidden from direct view. So you can fill this place with items that are less attractive or not of much use in the kitchen. You can use the items that are huge so that they cover the corner space on the shelf. Also, the corner part would not demand a lot of maintenance and cleaning from you for months.
6. Remove Cabinet Doors
If you just want to make some changes to your kitchen decor, this is the way to go with it. This is an option that requires low effort and minimal expenses. If you have kitchen cabinets installed at various places, you can turn them into floating kitchen shelves with a few changes. This can be done by removing the doors of the cabinets. The cabinets have shelves that can be turned into floating open shelves. If your cabinets do not have shelves, you can remove the doors and add a few shelves to the basic ones.
To add extra glamor and make your place look interesting, use a dominant and bright shade to color the wall in between the shelves. This will help you in significant transformation in your kitchen just by doing a minimal change.
7. Shelves In Unusually Shaped Spaces
Small kitchen areas not only require better management of kitchen items but also require unique solutions for storage space. In such conditions, open shelves can do wonders to accommodate your important items like dishes, cups, glasses, and others that you require frequently and have to keep within reach for everyone. In these places, bulky cabinets can take up huge space, so they must be replaced by floating kitchen shelves.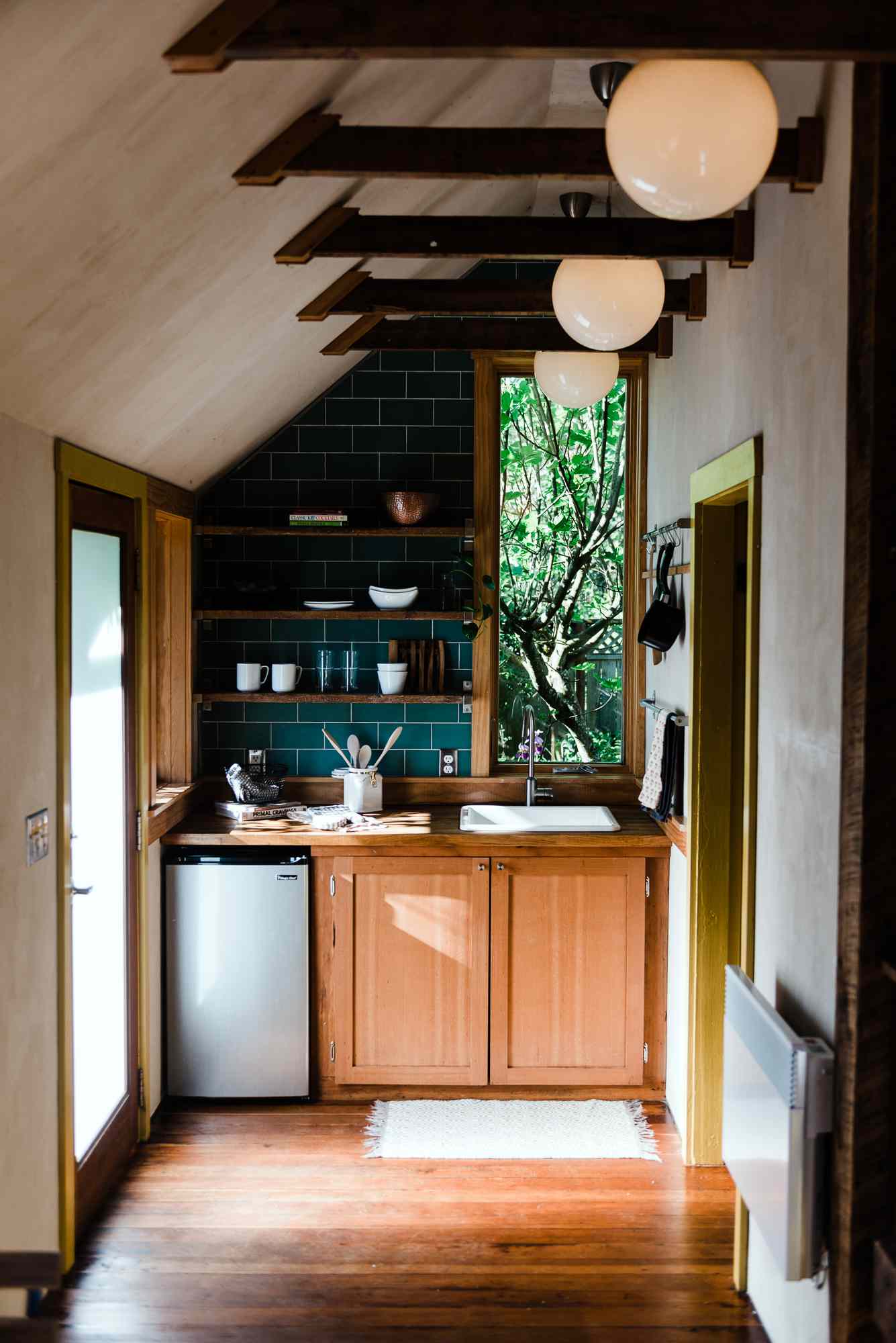 This idea of wooden shelves works well even if you have an unevenly shaped place like a half wall and slanted roof. You can place a few of these shelves to make your kitchen look like a well-planned space.
All you have to do is build shelves in the shape and size of your wall space and stretch it till the end of the wall.
8. Above Your Windows
You don't always have to replace your kitchen cabinets with floating shelves. You can also install these shelves at places you didn't think of storage at all.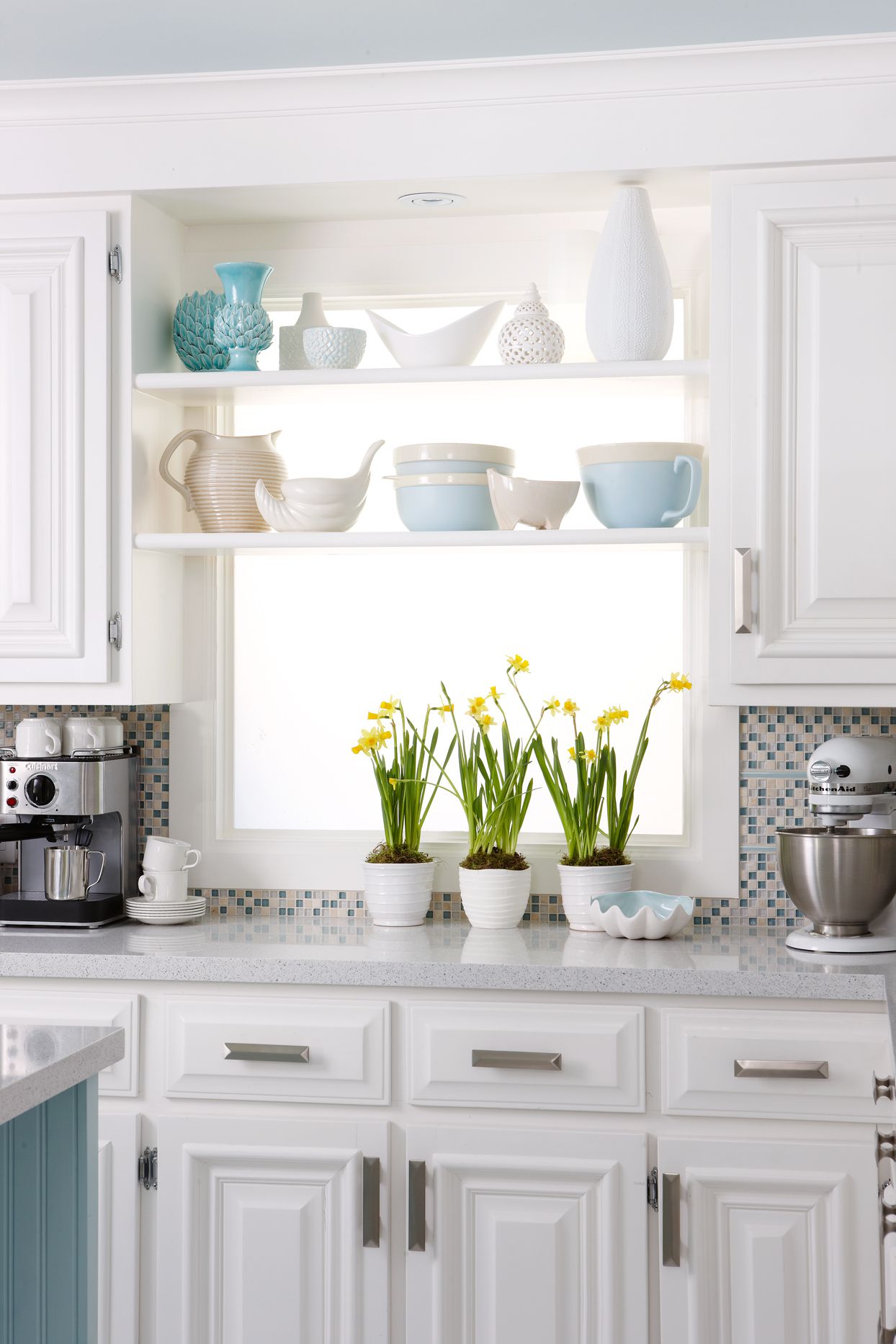 Floating kitchen shelves can be installed above the window to store different items and stuff that can enhance the beauty of your space without compromising on anything. You can use this place to store your houseplants and to keep beautiful showpieces that will dramatically elevate the beauty of your kitchen. Further, you can create wall hangings hanging from the shelf till the end of the window. It will give a classic look to your kitchen decor.
You can also keep your unique and beautiful kitchen appliances or unattractive parts of the place if your window is located in a place that is not easily noticed by anyone who comes in. This will enhance your storage and decor of the kitchen.
9. Playful Decor
We usually go for simple and classy decor ideas for our kitchen spaces because it is not a place where people hang out. But cooking enthusiasts know how much beautiful kitchen decor matters. So instead of choosing a plain, white colored background, you can experiment with the decor with colorful walls and beautiful decor ideas with flowers, themes, or even paintings.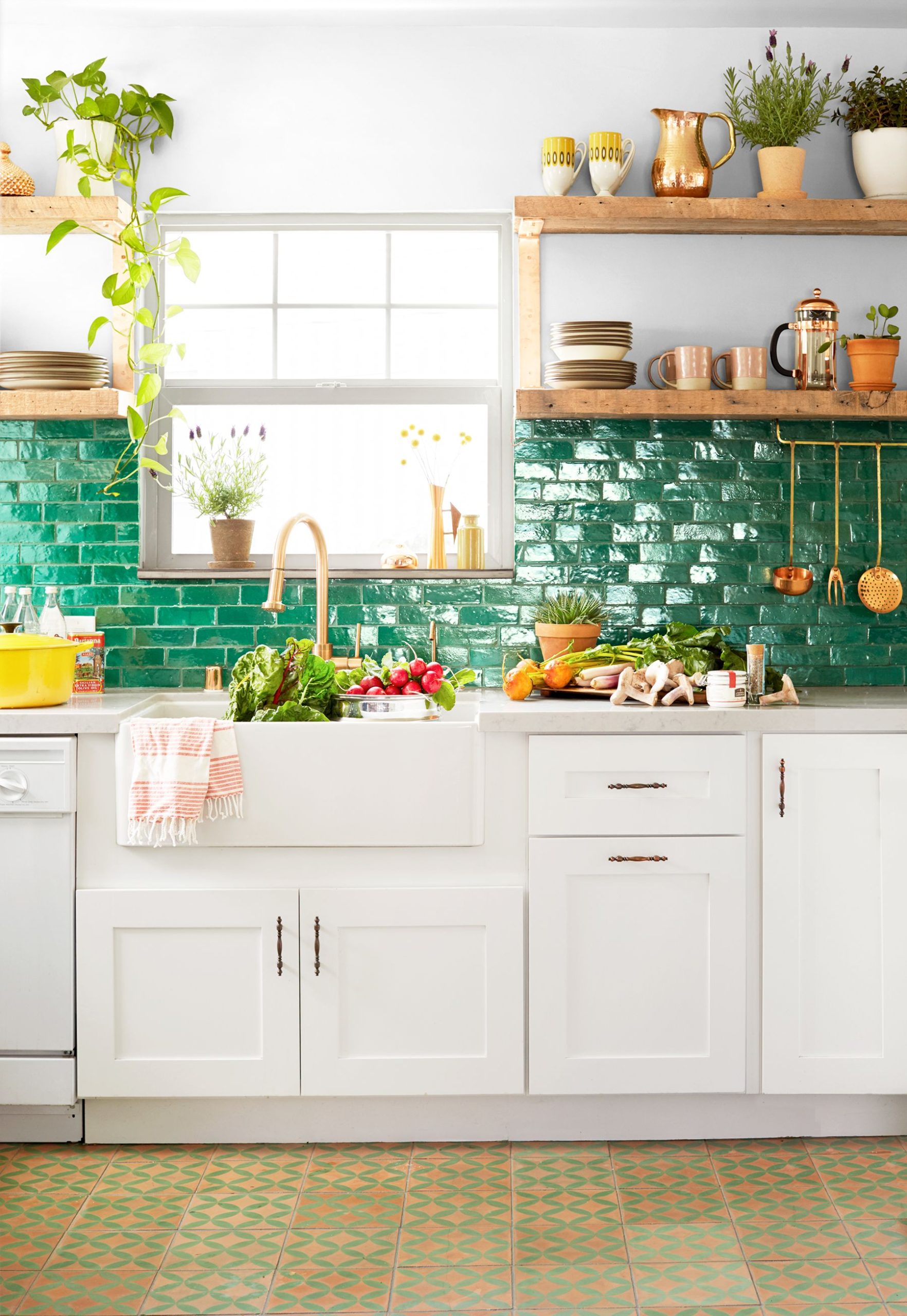 Before installing the shelves in the kitchen, you can create a backdrop of beautiful and colorful wallpaper that complements the shelves. A radiant backdrop creates a huge impact on your kitchen decor. You can place items on the shelf that are in contrast colors with the background. It will create a vibrant-looking kitchen. Further, using dark colors can help you by making it easier to maintain and clean the space, as the spots and splashes from food will not be easily seen in them.
10. Standalone Shelves
If you don't want to get in the process of mounting shelves on your walls or even removing the doors of your kitchen cabinets and yet need more storage space, this is the best idea for your house. You can buy or build a standalone shelf for your kitchen that helps you in storing various items and houseplants. You can keep this shelf in a small space or a corner in your kitchen. This piece has four to five shelves which ensures a lot of space for your appliances and items.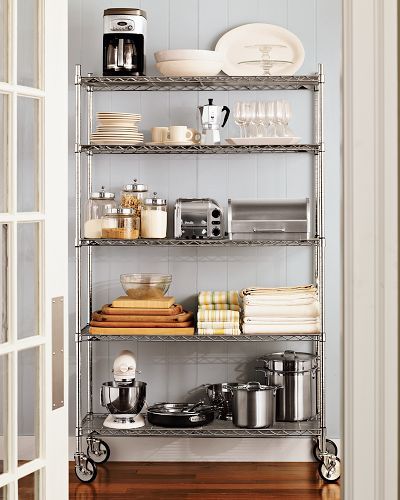 Further, it is a great addition to your kitchen furniture as it takes less space and turns out to be excessively useful for storage and looks. You can use any color or shape of the shelves based on your kitchen interiors. Its shelves are created from top to ground. The ground area is not easily visible; hence you can store any unattractive or unwanted items in the lower part.
11. Create Cozy Shelves
If you have a small kitchen space, do not worry. Just eliminate your cabinets and mount floating kitchen shelves in a close and cozy way. All the things that you need are close, just within reach of your hands.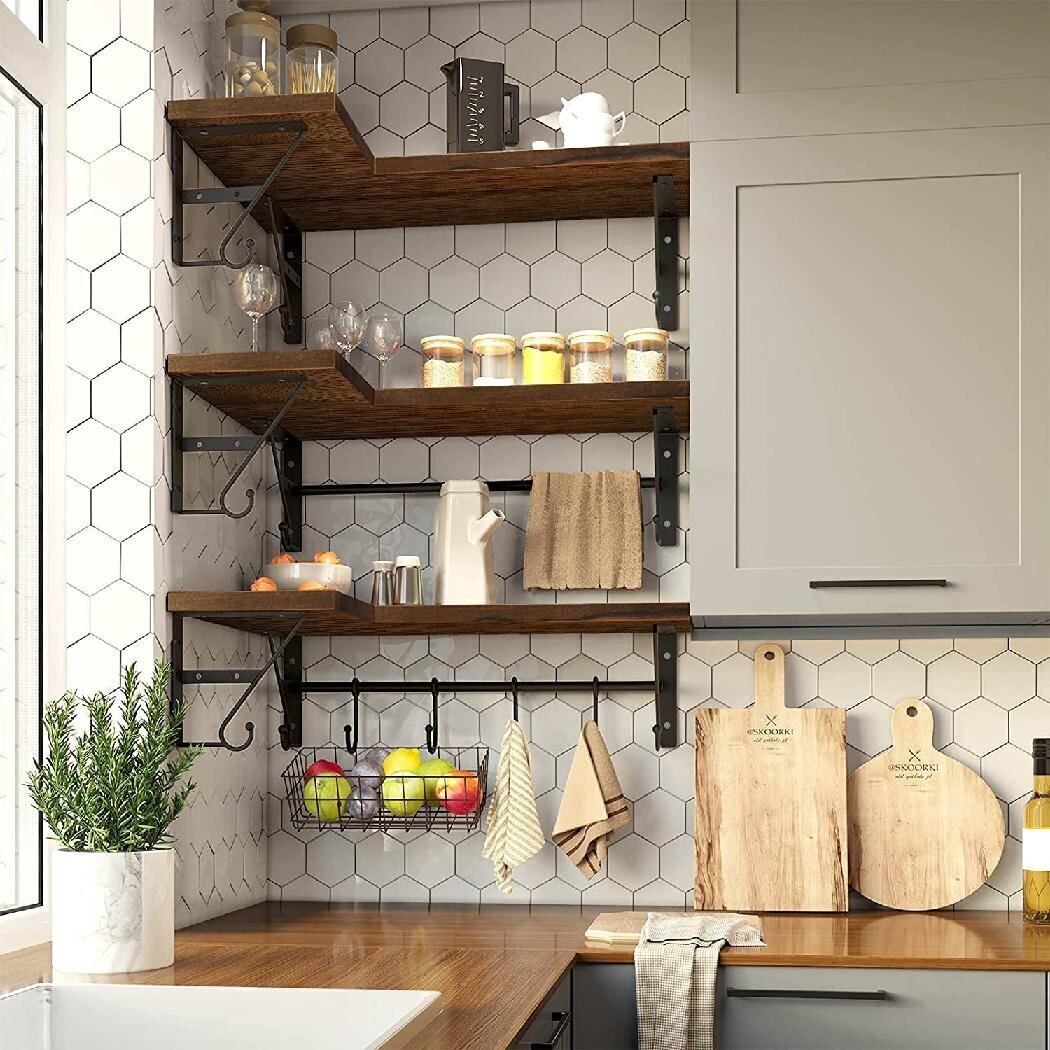 By creating smaller and compact shelves, you can make efficient use of all the small spaces in your kitchen. This setting makes your place look cohesive and sleek. This will eliminate the need to store utensils and appliances away from the kitchen table. Everything will be stuffed neatly in one place, creating a well-defined kitchen set in your house.
12. Pair Them with Tiles
You can create your kitchen setup in the way you want just by taking inspiration from the floating kitchen shelves ideas. You can create a backdrop of any type, whether you want a plain surface of the wall, decorative wallpaper, or just tiles. The benefit of using tiles instead of other options is, they are easy to clean and maintain.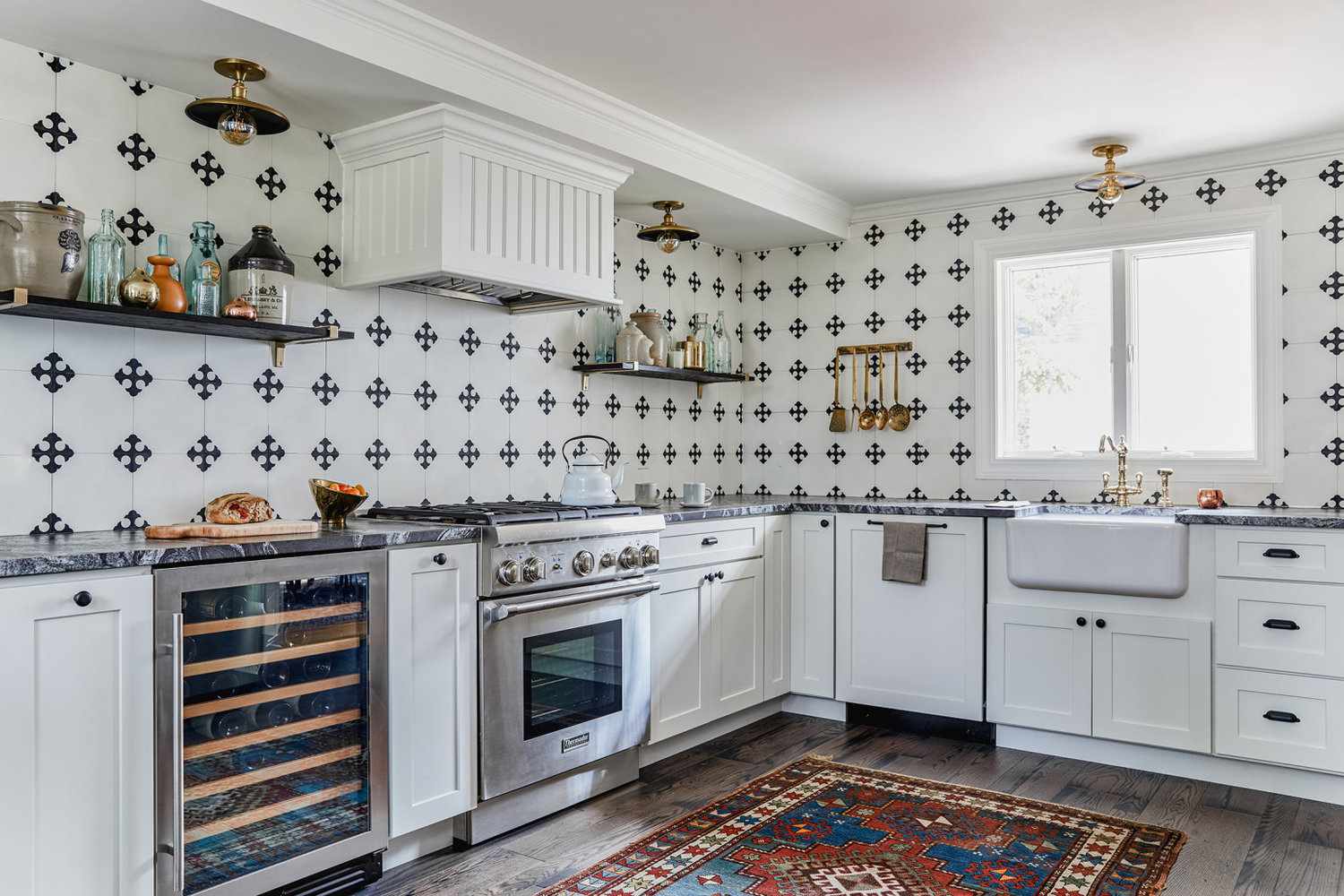 Whenever they get dirty, they can just be cleaned with a cloth and soap water. If you create a backdrop of the tiles in your kitchen and place your floating shelves against it, ensure to pair them well in parallel with the tiles. This will enhance the beauty by making it look classy and rich.
13. Blend in The Shelves
If you don't like the look of the floating kitchen shelves but need them anyway for your storage, we have a solution for you as well. You can blend the shelves with the color of your wall.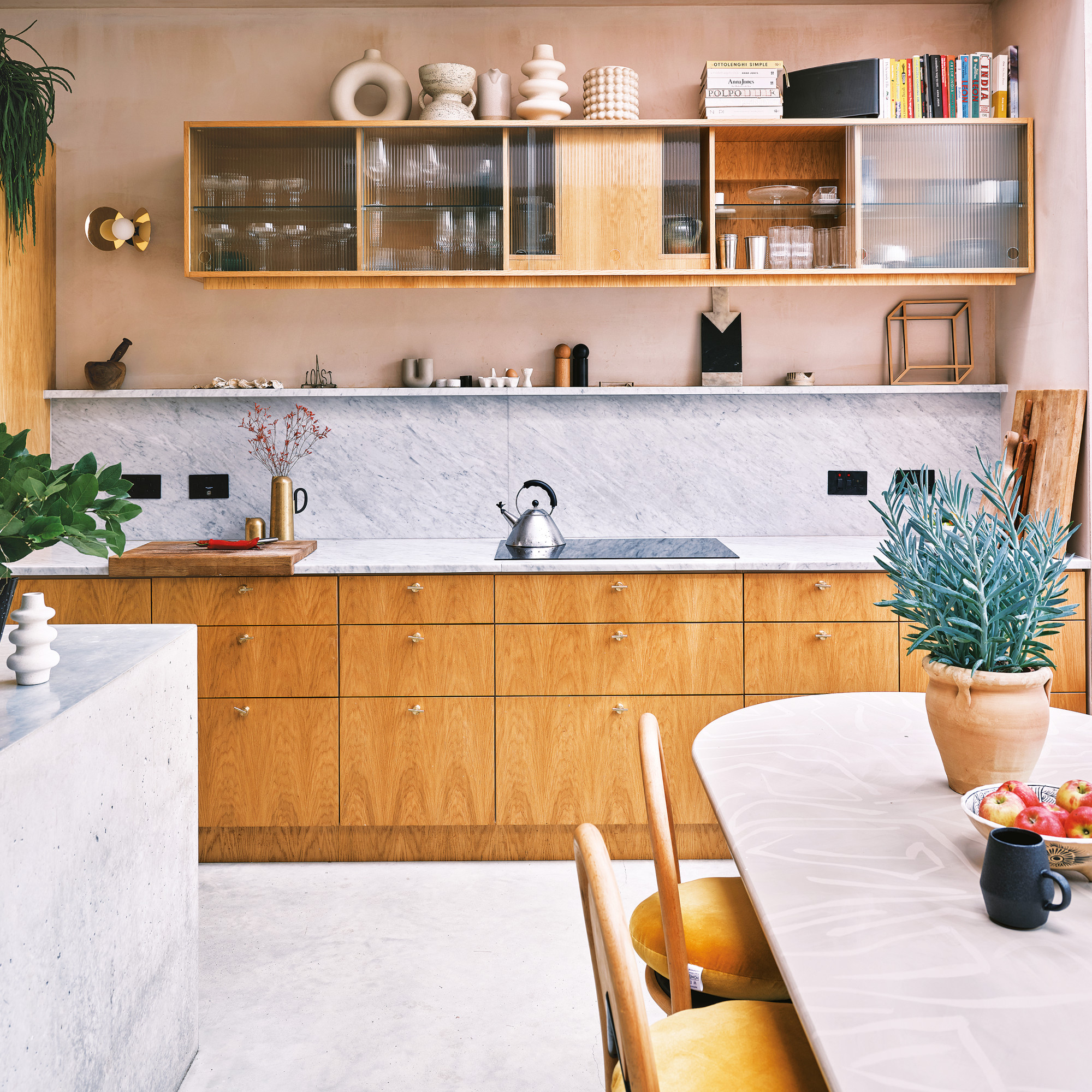 When they are of the same color, even though not completely, you can make them look a little hideous. Anyone would not be able to notice them at the first glance. This works better if you use dark colors for your kitchen. Also, blending it with your backdrop wallpaper design is a great idea.
14. Minimalist Dining Table
You can create floating shelves on any wall of your kitchen and create a minimalist dining table for your family. You just need to put on some chairs or stools around it to make it complete. This saves on a lot of the cost of buying a dining table in your house. Further, if your house is small, this idea will save the space of a dining table.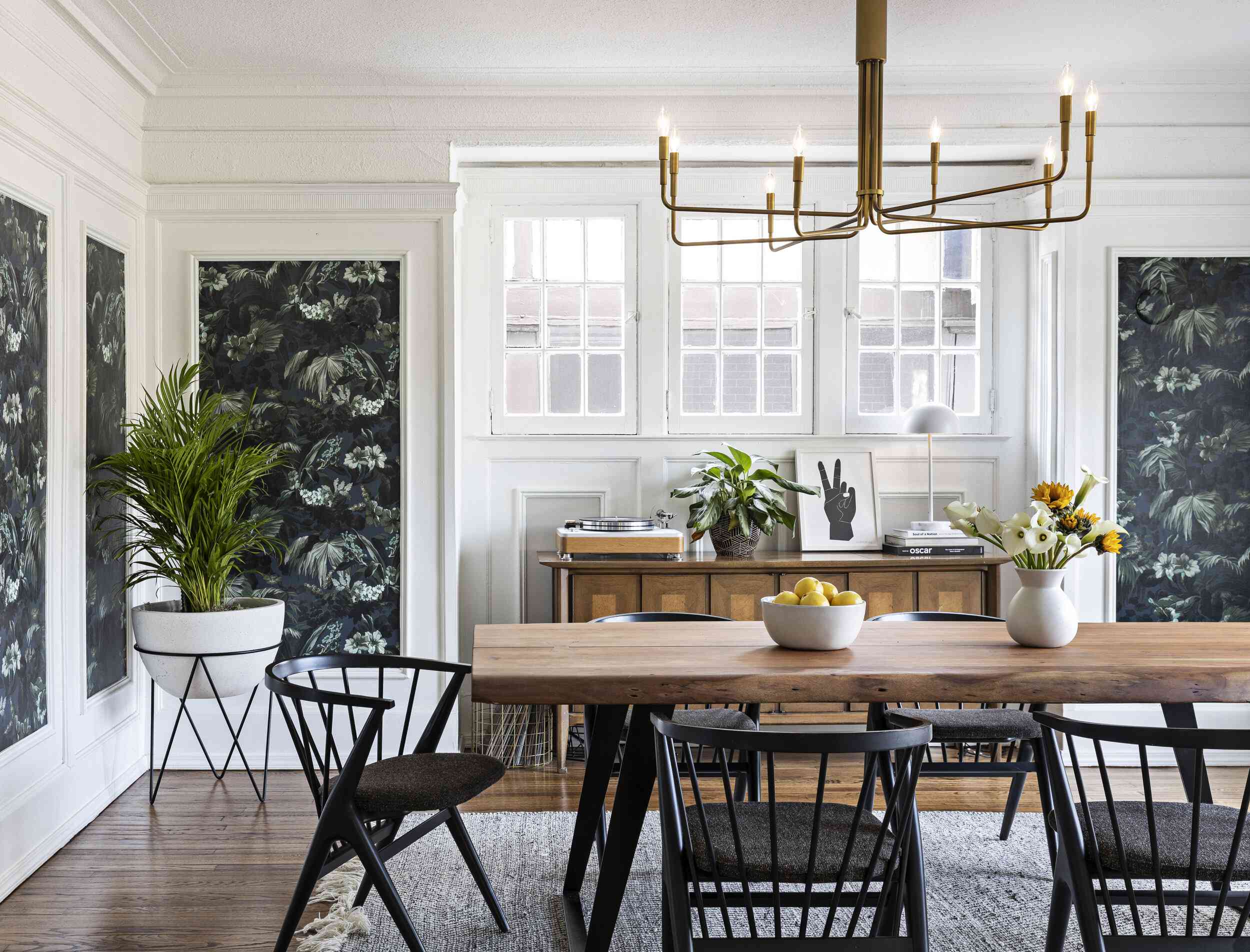 It is a minimalist design concept that is very efficient and cost-effective. Also, it serves the purpose well for your house. A wooden piece of shelf hinged on the wall, at the breadth, is a great dining table solution.
15. Hanging Shelves
If we are talking about storage problems in the kitchen with the help of shelves, you must not ignore hanging storage options. Everyone has pots and pans in their kitchen whether they cook or not.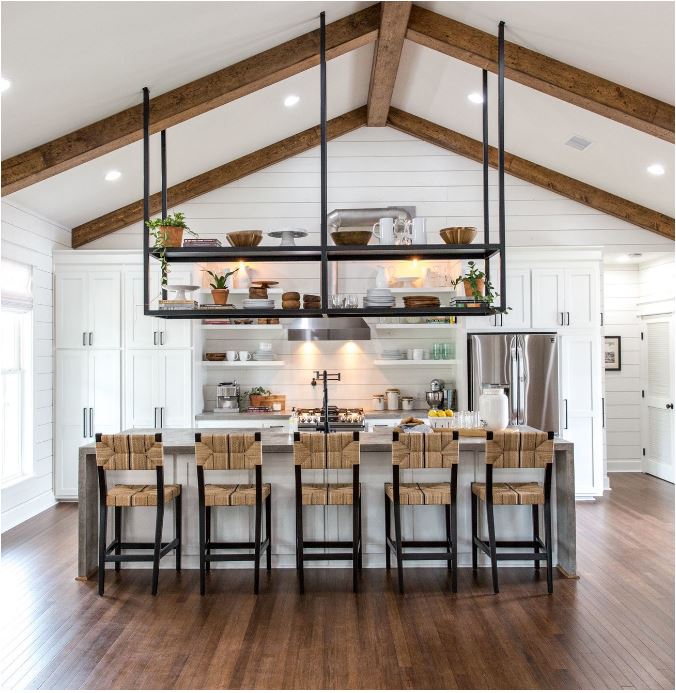 So if you don't mind displaying your pots and pans, here is an idea to save your space. You can go for a hanging rack that can hold all these utensils and appliances in the kitchen. It will free up a lot of space in the cabinets. Further, it creates a unique focal point in your kitchen.
16. Window Shelves
If your kitchen has a great view from the window, ensure you make complete use of it to decorate your place naturally. This can be done by just making the window big enough to give a direct view and sunlight in the kitchen. But don't worry. You can come up with a storage solution even in this.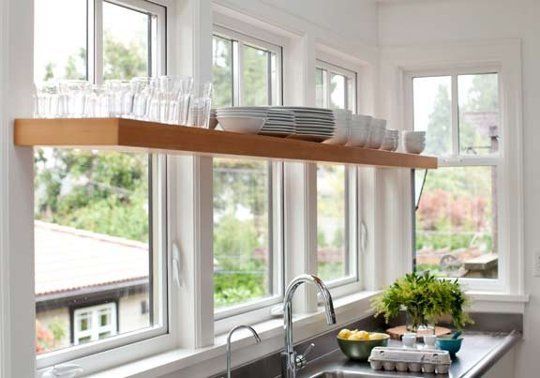 . In such cases, you can just mount a couple of shelves against the window. Here you can store anything as the point of attraction is the window screen. Small decorative items and houseplants in the center would help you add great beauty to your kitchen.
17. Wooden Shelves
The major benefit of using wood to build shelves in your kitchen is that you don't have to put a lot of effort into making them look good. You may have any type of decor, wall paint, or design. Wood goes well with all of them.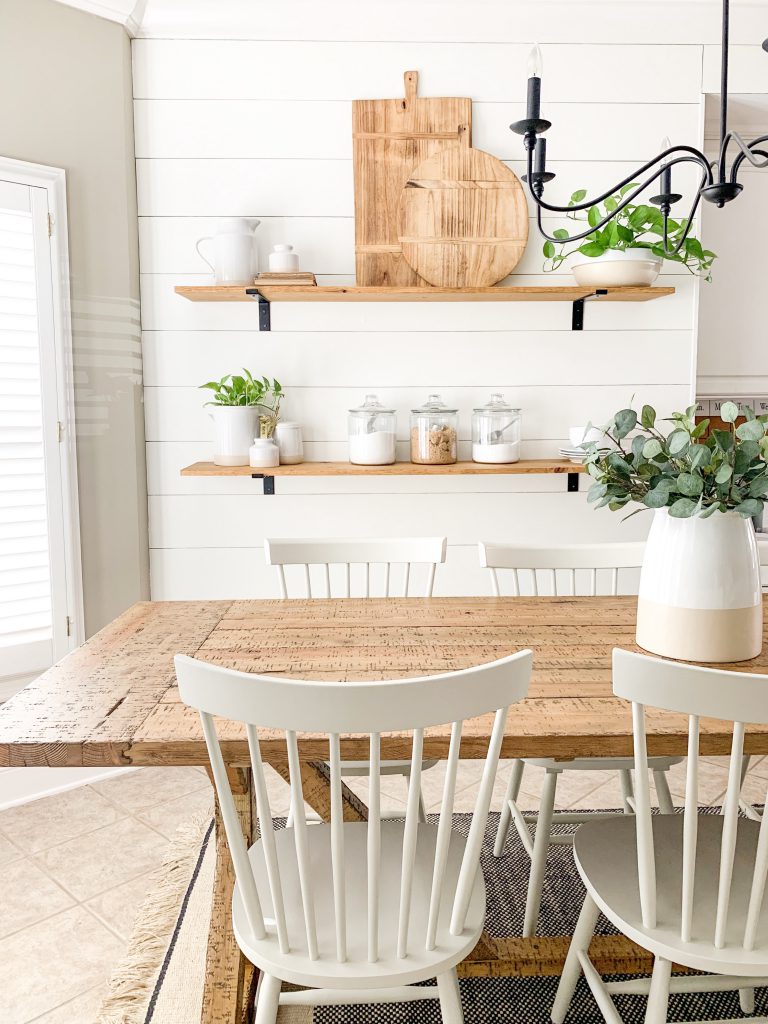 It gives a rich and rustic feel to the place. Further, it is the easiest option to install. You can place any type of appliance or item on them, and it will create no harm to your kitchen decor.
18. All White Kitchen
The best part about painting an all-white kitchen is that everything you use to decorate the space takes a dominant place. Whether you keep your utensils or mount a shelf, they will stand out and gain complete attention in the kitchen. It will enhance the look and feel of your place instantly.
Further, using some green houseplants adds to its beauty. However, it will not allow you to keep your place untidy or unclean because of its bright, attractive nature.
19. Decor Purposes
You can build shelves in your kitchen not for storage but just for decor purposes. Undeniably, they add a classy and elegant look to your kitchen. So you can use a corner of your place and mount a couple of shelves. It will make a great view if you mount them in alignment with your fridge, table, etc., on the other side of the room.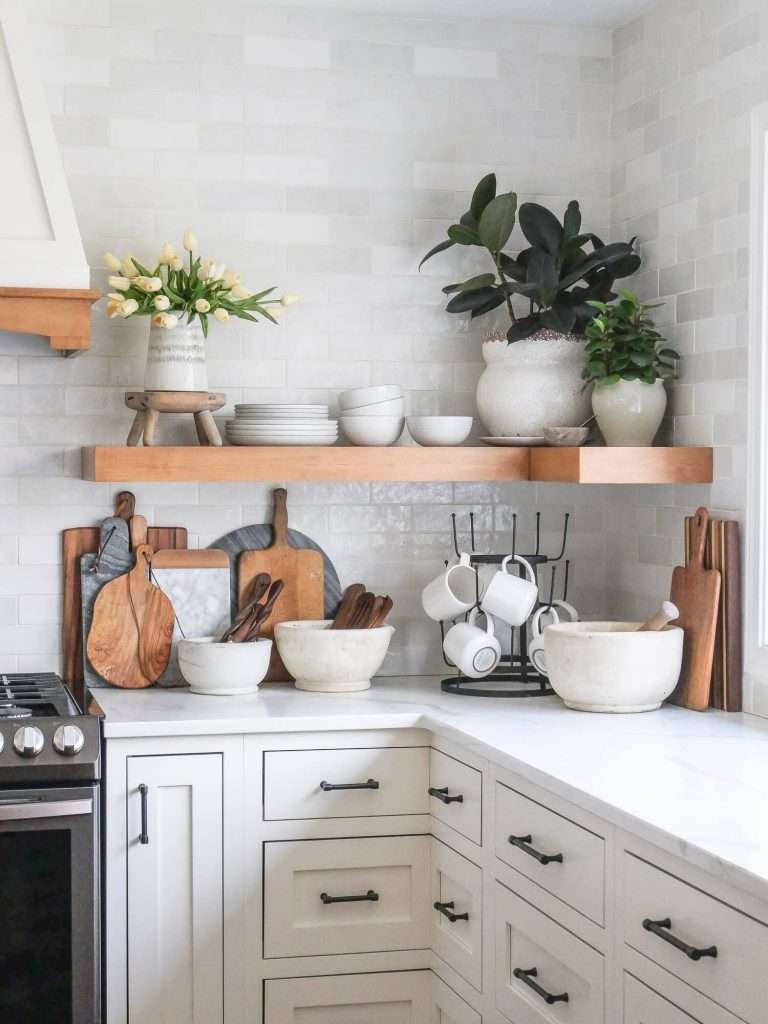 You can place your plants and decorative items in this place and enhance its beauty. Using wood for making shelves does the work of aesthetics just by being mounted.
20. Symmetrical Layout
If you have a big kitchen platform attached to the wall, you can symmetrically mount the floating kitchen shelves on both sides of the wall to add beauty to it. It makes your layout look perfect and elegant.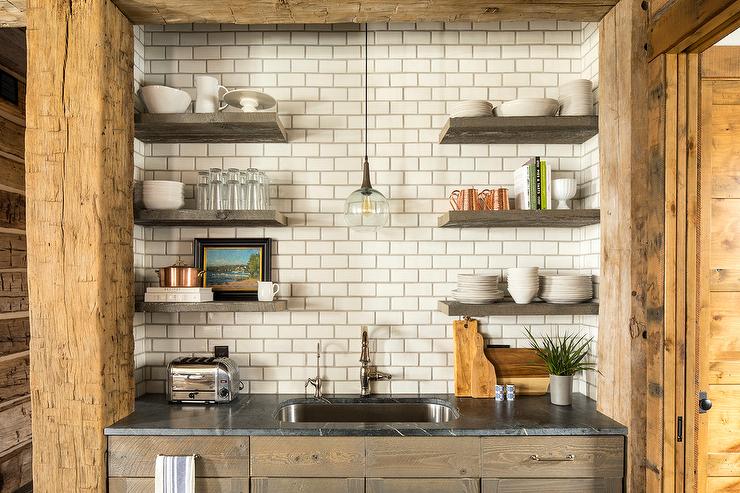 It instantly grabs the attention of anyone passing by the place. Further, keeping items of the same size on both sides can enhance its beauty.
21. Using Both Sides of Shelves
You can use your kitchen shelves from both sides- upper and lower. On the upper sides, you can place all your stuff at equal distances and use it for storage.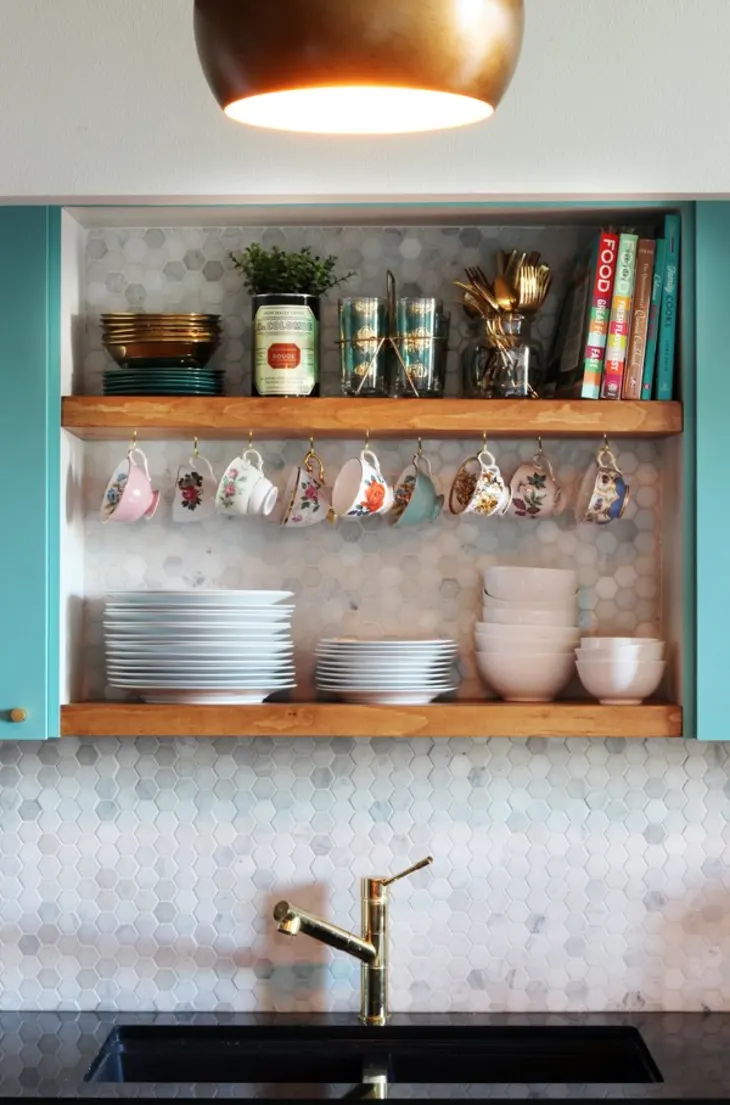 But on the downside, you can add some hooks or tapes that can hold your items like cups, spoons, pots, and others. This way, you can use the floating kitchen shelves with high efficiency. This enables you to make double use of the single storage space.
Conclusion
The floating kitchen shelves idea is gaining popularity in solving the issues with storage in small or huge apartments. They help the homemakers to keep their place clean and tidy and look elegant in their kitchen. If you don't want to get rid of your kitchen cabinets and yet want the shelves, you can choose any corner of your house and install a standalone shelf or mount a few on your own for decor purposes.
You can use these 21 ideas for implementing floating kitchen shelves as given, or you can just take inspiration from them and use your creativity. Tell us about your experience with floating shelves in the comments.