The humble pantry has evolved through the ages from where the bread was stored to where the silver was polished to an organized storage space for your food supplies and kitchen gadgets.
And while that evolution has been underway, a similar one has also unfolded for pantry doors. Some people prefer an open pantry, which makes the kitchen and storage area flow seamlessly together. However, with swing, sliding, and pocket doors making an appearance, people appear to be spoilt for choice.
How do you enjoy the best of both worlds, though? Just put glass into your pantry doors, and you'll feel open with the privacy that doors can give you.
Glass Pantry Doors to Upgrade Your Space In 2023
1. Cafe-Style Swing Doors with Glass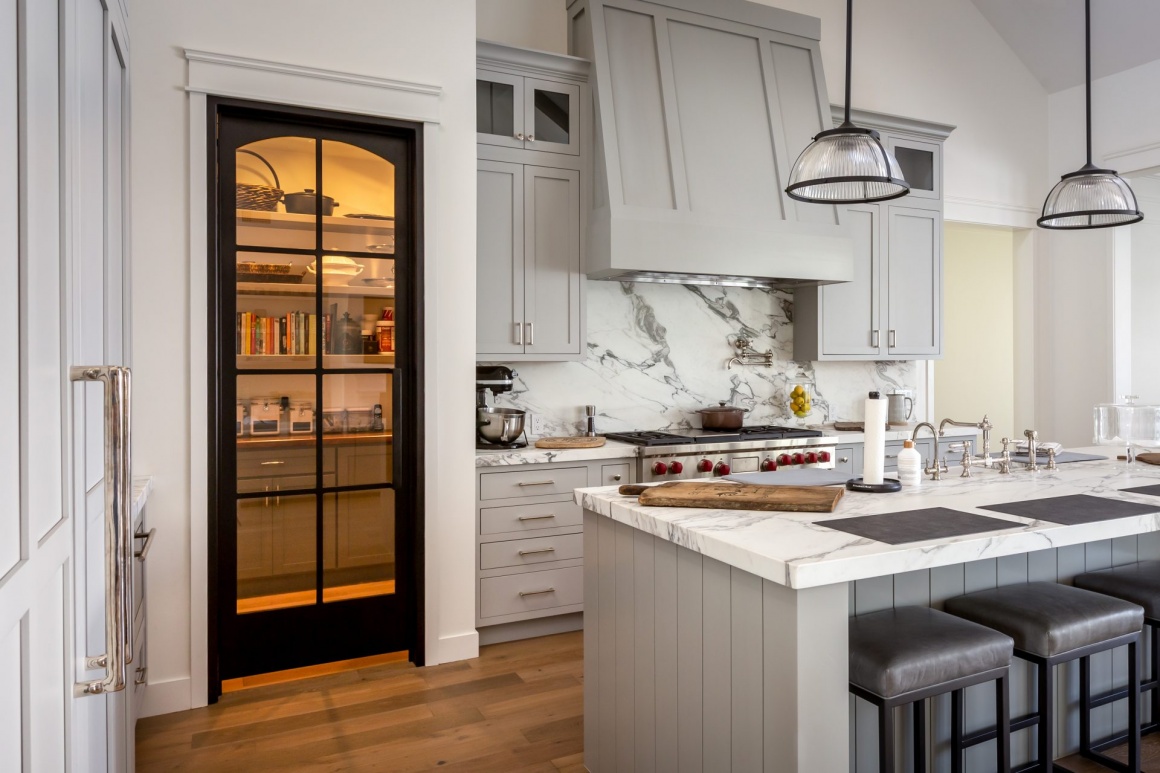 When you have a large kitchen and a roomy pantry and want to create a statement more than a partition, this style is a lovely one. Easy to open and close even with full arms, with large clear glass panes that leave the pantry open to light, these cafe-style glass pantry doors add a strong statement to your kitchen. The cool white fixtures and walls of the kitchen provide a stark contrast to the black doors, and the use of warm yellow lights in the pantry gives you a feeling of coziness associated with good food. The clear glass from top to bottom gives people a clear view of your pantry, so stock it up and add all the kitchenware you would like to showcase!
2. Narrow Double Doors with Frosted Glass in White Door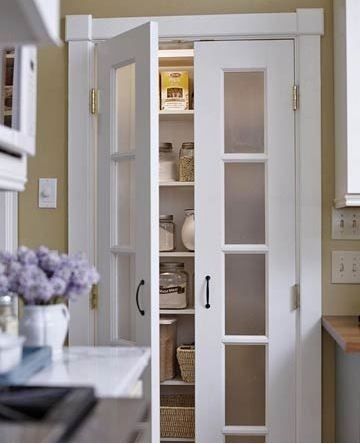 If you have a smaller pantry, which is more shelves than an actual room, these doors help save space and create a cozy environment. Done in white to suit the white and beige colors of the rest of the kitchen, the color also helps add to the illusion of openness and cleanliness. A light frosting prevents a clear visual of the insides of the pantry. Done in simple panels from top to bottom, the light frosting also allows lights into the pantry. The double doors allow you to open only one or the other as required. Since they extend outwards, you can stock the shelves as close to the door as you need to save space without worrying about leaving room to open. Tasteful black handles and golden hinges complete the overall look.
3. French-Style Halfway Clear Glass Pantry Doors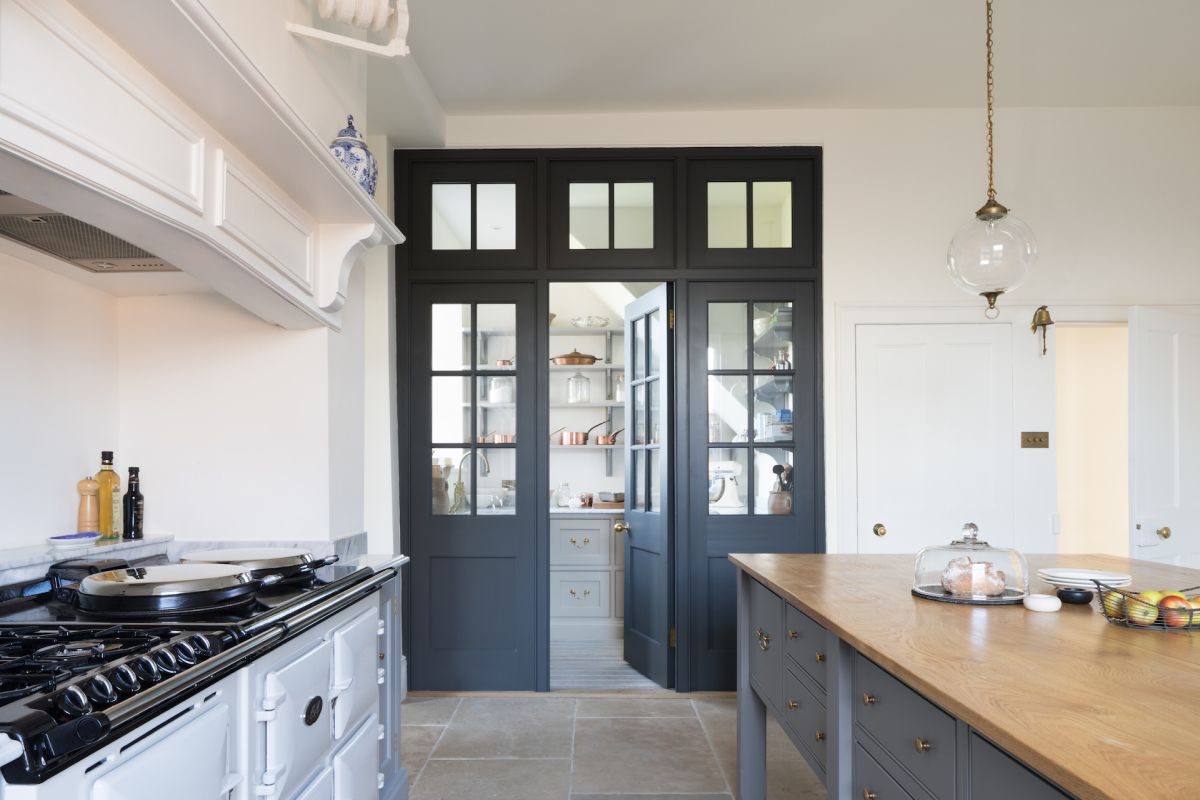 It's time to go Continental with your pantry doors if you've tried a contemporary interior decor look! Black French-style pantry doors match your stovetops and provide a solid contrast against the cooler whites of your kitchen. You might not want to have glass panes from top to bottom if you have large doors. That's when this look comes in handy. Go in for clear glass, but from halfway upwards. That gives you all the viewing room you need without making an already large kitchen and pantry area seem enormous. Clear glass atop the doors allows light into the pantry, or if you have windows in the pantry, it will also enable that light into the kitchen.
4. Wooden Frame Pantry Doors with Clear Glass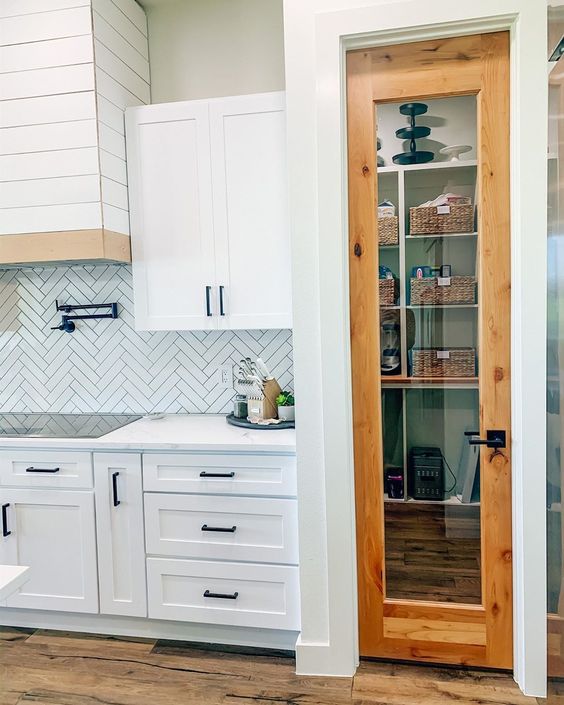 If you've used up every spare inch of space in your kitchen for countertops, storage, and more, you might be posed with a tough challenge when putting in pantry doors. Rather than a sliding or pocket door, go in for a narrow wooden door to match the gorgeous polished wood of the kitchen floor. Put in a clear glass in the center, and let the wood form a frame around it. You'll be able to make optimal use of a very small space, yet a thin wooden door doesn't restrict the overall feel of the room. It's a perfect fit in most kitchen styles, a lovely blend of modern and traditional.
5. Wrought-Iron Pantry Doors with Glass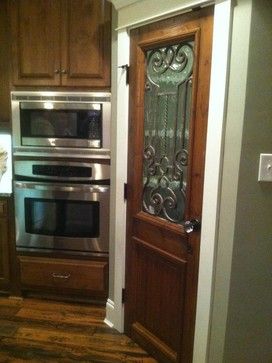 Nobody said anything about pantry doors having to look dull, right? Why not let it look like something off a movie set or even a fairytale? A wrought-iron door, with decorative work, against clear glass can add a touch of whimsy to your kitchen. You can use this design on swing doors when you have plenty of space or on sliding doors if you have some restrictions. They might need a little more maintenance or touching up from time to time than an ordinary pantry door, but you're sure to feel that it's worth the effort when you see how it transforms your kitchen.
6. Ribbed Frosted Glass Sliding Pantry Doors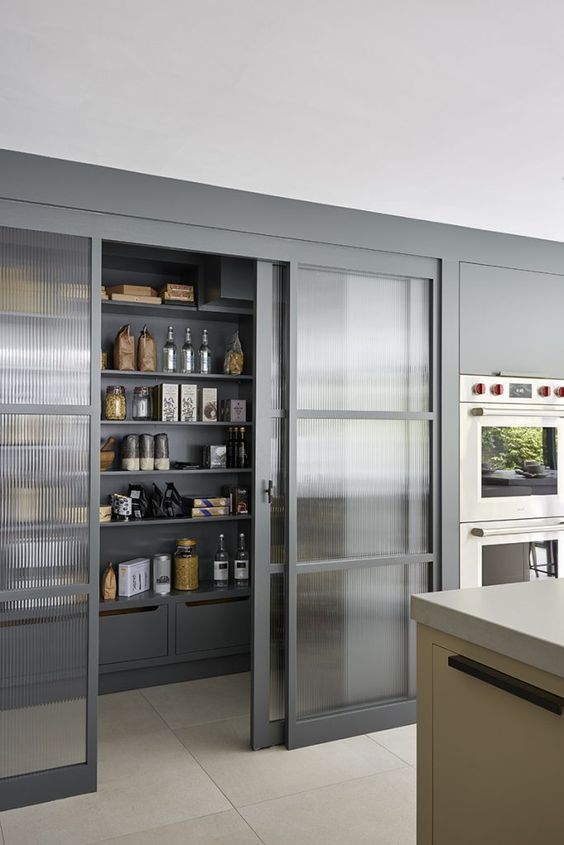 Sliding doors aren't just a necessity when you run out of space. They can also be used in larger kitchens, adding a touch of stylishness and efficiency to the room. When paired with ribbed or textured glass, you have privacy even if the stores are a mess while allowing light to filter through. Elegant in black, they act as a visual barrier to your kitchen storage while effortlessly blending into the style you've chosen to adopt for your kitchen. A simple utilitarian handle with a built-in lock can keep your things safe while helping you maneuver the doors even while carrying a load.
7. Pocket Doors with Frosted Glass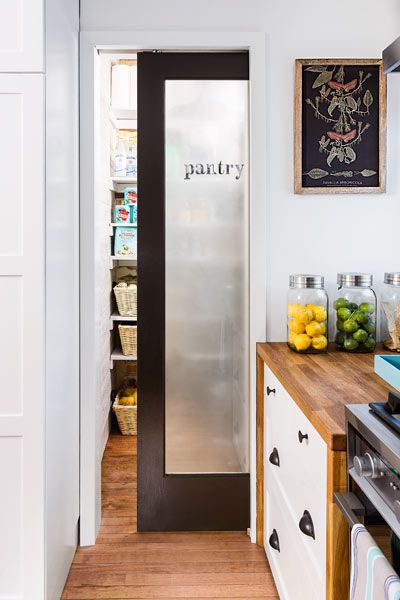 Pocket doors have been around for a while now, helping us save space and add barriers where we wouldn't have had any room earlier. If you are working in a small area but still want to close off your pantry, try putting in a pocket door. It moves smoothly into a channel fitted into the wall, making it the perfect in-built door design. Add a single, large frosted glass panel from the top to the midway point. This will help bring light into the space and give you an attractive visual break. Follow the same lighting for the pantry's interiors and provide the kitchen with an added whisper of warmth.
8. Barn Door with Frosted Glass for Pantry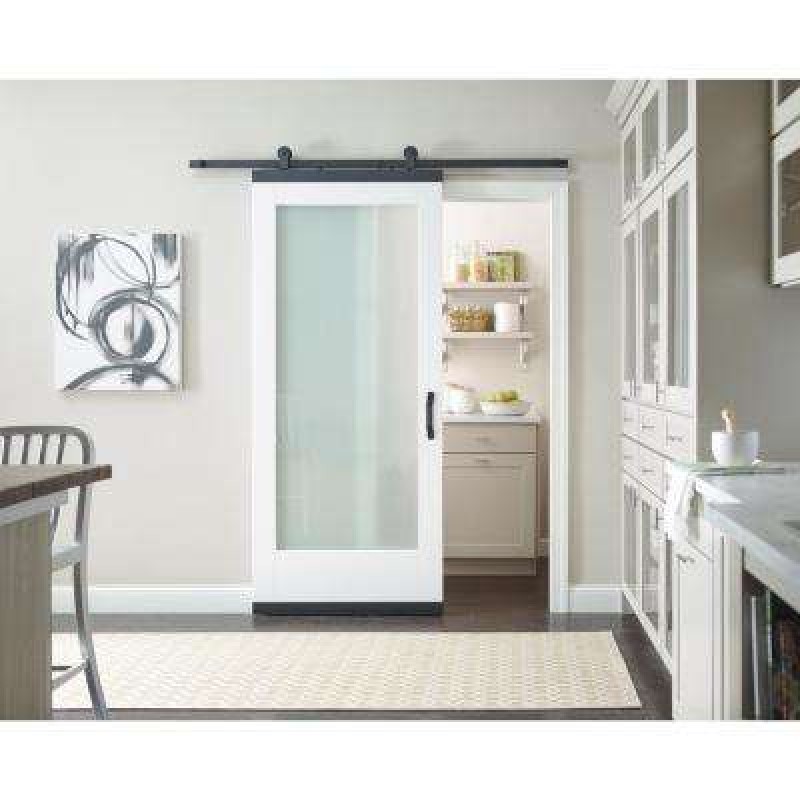 In open-plan kitchens, your pantry entrance might be wider than the traditional space for a door. What happens if you'd rather not put in double or bi-partition doors? You might want to give the barn door design a go. This is a popular look, mounted on a top channel and sliding smoothly across the doorway. You could turn it into a modern or more contemporary design by putting in a frosted glass panel to run the length of the door. Bring the light into the pantry, cut the clutter, and look fancy simultaneously. That sounds like a sweet deal!
9. Patterned Frosted Glass in a Wooden Pantry Door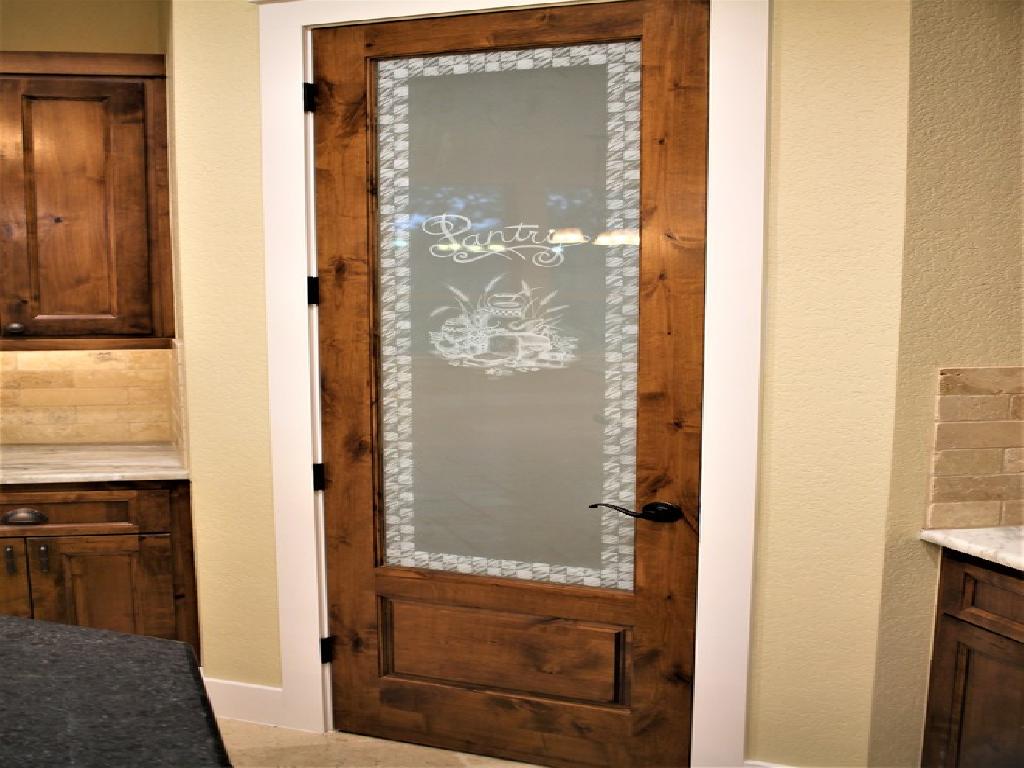 A rustic theme kitchen is also no reason not to bring in a couple of modern touches. If you've gone in for cherrywood or walnut stain finishes for your cabinets and doors, you might want a change in the pantry. Add a patterned frosted glass pane with pretty border scrollwork. Pick a design that suits you for the center – a kitchen symbol, funny caricature, quote, or even a sign that says pantry. You'll love to see how this brightens the inside of the room while making your kitchen look bigger and airier.
10. Quatrefoil Frosted Glass In a Transitional Kitchen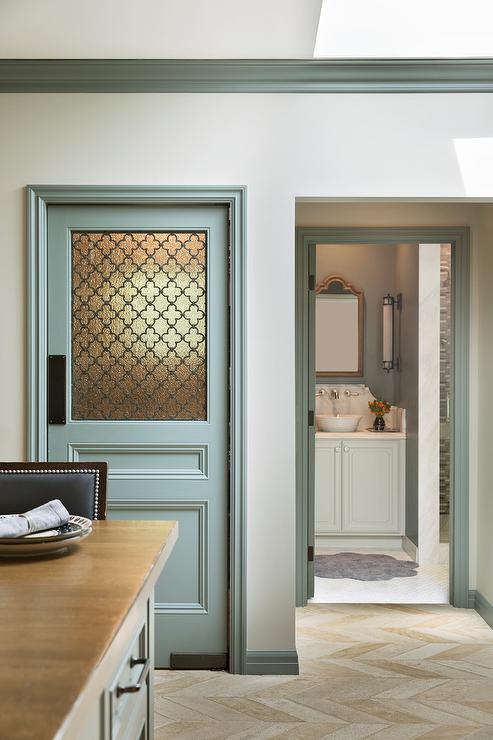 The quatrefoil pattern is traditionally a symbol of good luck and is said to mirror a four-leafed clover. Bring this luck to your homes by incorporating this design in the kitchen, which is the heart of the house! A simple green-grey pantry door can be elevated with this frosted pattern, and suddenly your kitchen seems more welcoming. The geometric design is soothing to the eye, while the frosting allows light from within to filter through without giving away the secrets of your pantry. Complete this subtle door decor with a modern-style metal handle, and enjoy your elevated kitchen design!
11. Leaded Glass Pantry Door for Cottages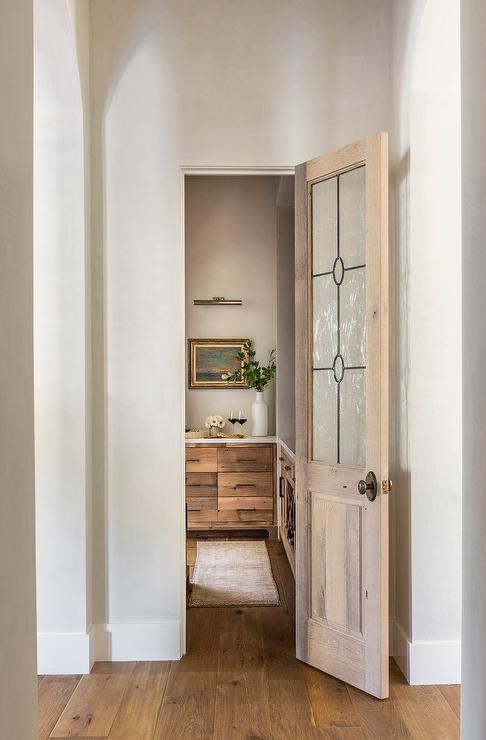 A country home or a cottage should have little rustic touches that reinforce the laid-back nature of country living. Still, with modern-day conveniences, you can blend these touches with concessions to more contemporary styles. This leaded glass set in a wooden frame that hasn't been polished is the perfect blend of rustic and modern. Old-time cottages have fairly spacious pantries, almost like rooms rather than storage units. With leaded glass windows, open up your kitchen as well. Put in an old-time brass knob for the door, and enjoy the ambiance of country living.
12. Kitchen Symbols Etched Glass Pantry Doors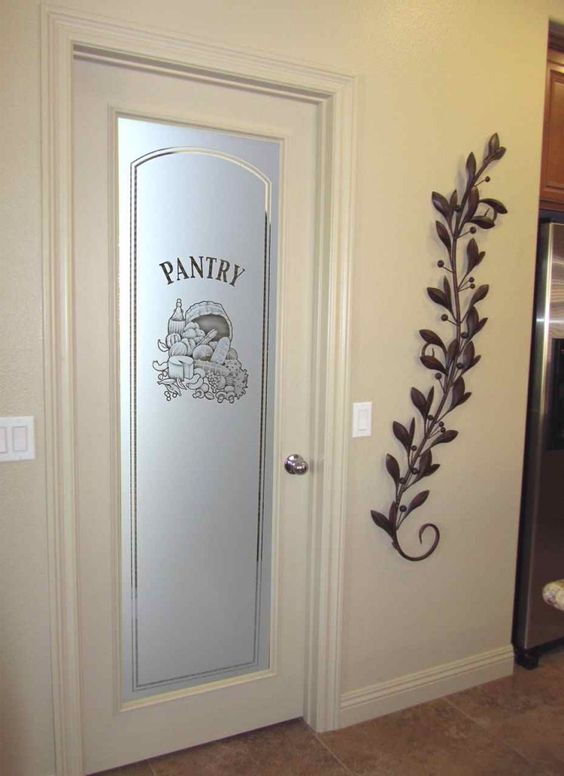 There are times when simplicity can be tedious and times when it can be classy. If you prefer a simple, no-frills look for your kitchen, you don't have to settle for a boring pantry door. Framed in wood, try an etched frosted glass to close in the storage space. Pick a sturdy wood – birch, maple, cedar, or oak, depending on your cabinets. You can have a simple "pantry" to show where the door leads or dress it up with some artwork. Get an etching of bakery products, kitchenware, pots, pans, or anything you feel announces just what your pantry holds. A simple handle to match the cabinetry, and your pantry door is ready!
13. Flower-Patterned Etched Glass in Wooden Door
Tired of boring, staid-looking doors and want something different? With etched glass options, your imagination can be the limit. If you have white wood doors, use white or light grey etchings. A darker wood could go better with grey etchings to highlight the glass. Pick out a fanciful pattern, and let your pantry door be a statement in itself. A flower pattern like this one gives the rest of the room a nice flow. You could go tropical with coconut trees, imitate nature with feathers, or try a modern look with geometric patterns. The spaces in the designs allow the light to pass through, while the soft frosting gives you the privacy you need.
14. Nature-Themed Etched Glass Set in Wooden Pantry Door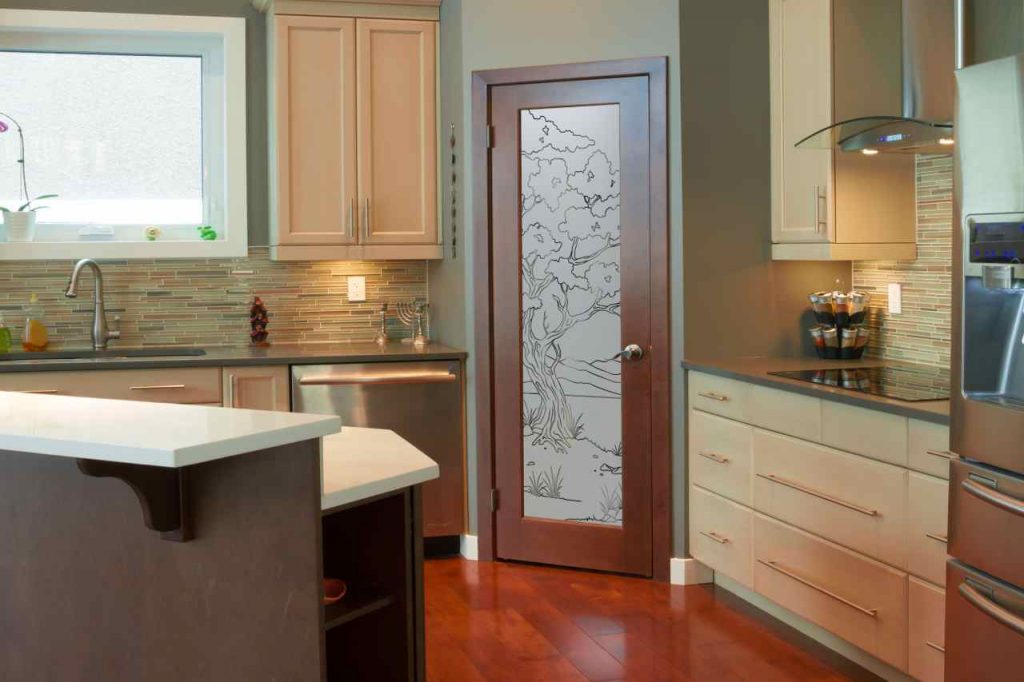 People sometimes have varied interests and like to have them reflected in everything they do. If gardening is your passion, why not bring that to life in your kitchen? You might not have the space or inclination to place pots around the room, but you could still show your love for nature with a frosted glass pantry door. Let the glass take up the bulk of the space; the wooden part of the door can serve as a frame for the artwork held within. A pretty bonsai etching is unexpected, engaging, and something families and visitors will surely love. Try other nature-themed etchings like orchids or vineyards if you are a wine connoisseur, and let your interests speak for themselves.
15. Modern Hotel-Style Etched Glass Swing Doors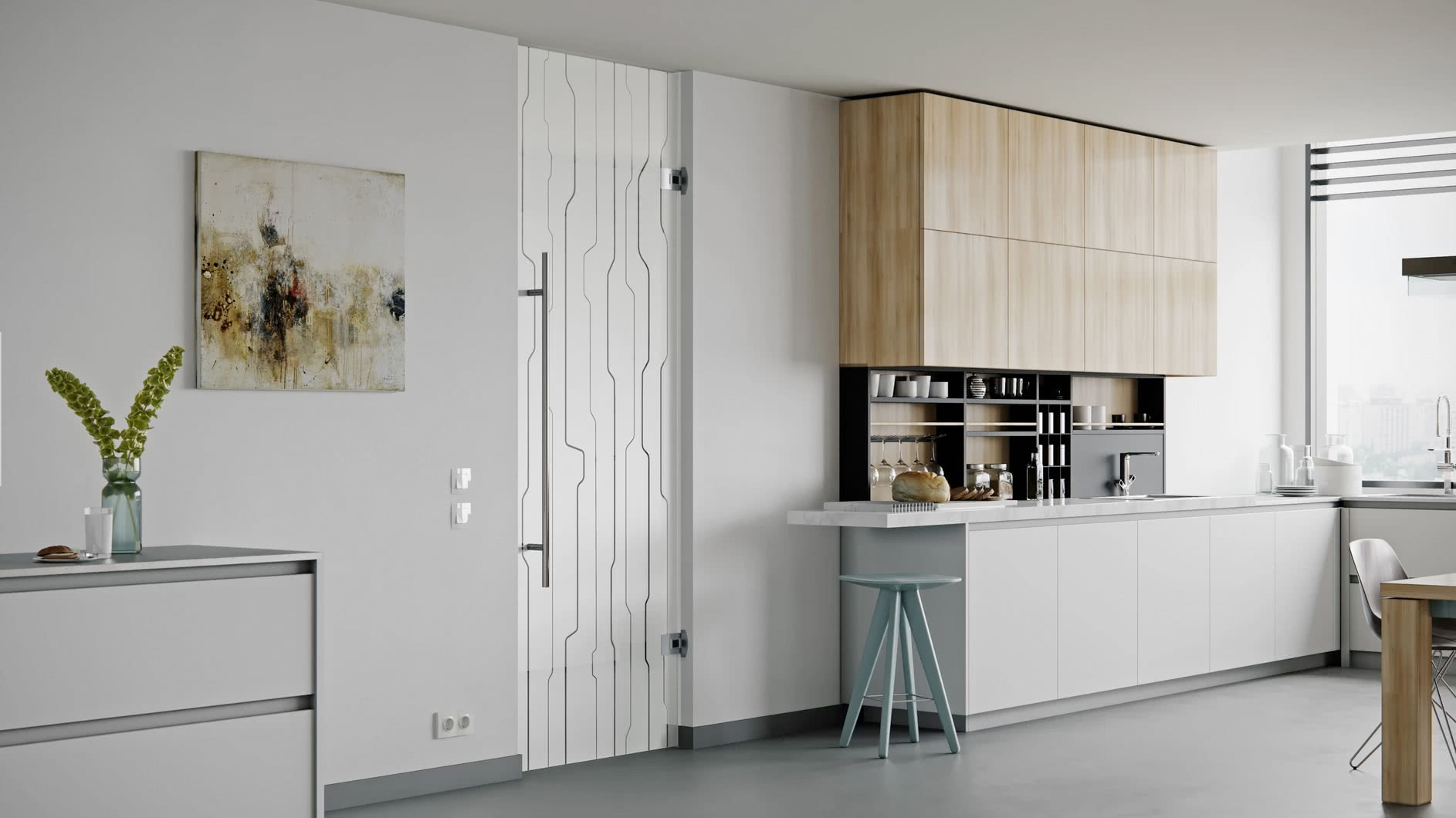 Have a lot of space and want all the light you can get in your pantry? Rather than going for wooden or metal doors with glass panels, why not make the entire door glass? Put in these hotel lobby-style glass doors with frosted glass. Since the doors take up so much space, frosted glass is an excellent choice to give you privacy and offer a muted view of the pantry. Patterned etchings bring in the illusions of borders that a wooden or metallic door would otherwise provide you. Attach large, utilitarian handles to grip the glass better, and the perfect hotel-style pantry is ready to be set up!
16. 3D Patterned Pantry Glass Door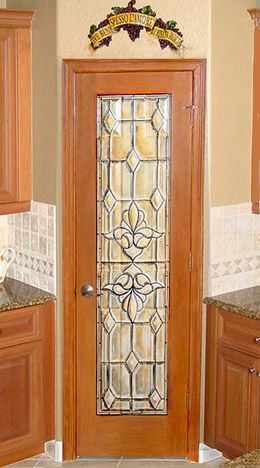 Apart from plain frosted glass or even etchings, is there a way you can give your door an exciting look as well as feel? Say hello to glass pantry doors with 3D patterns, which are lightly colored as well! This can combine the practicality of simple designs with the whimsicality of floral patterns. Keeping to the kitchen colors of black, white, and beige or brown, the light coloring adds both are detailing for aesthetics and enough of a block for privacy. Top the door with a motto or quote that is a family favorite or suits you the best for fun, interesting pantry glass door.
17. Stained Glass Swing Doors with a Wine Motif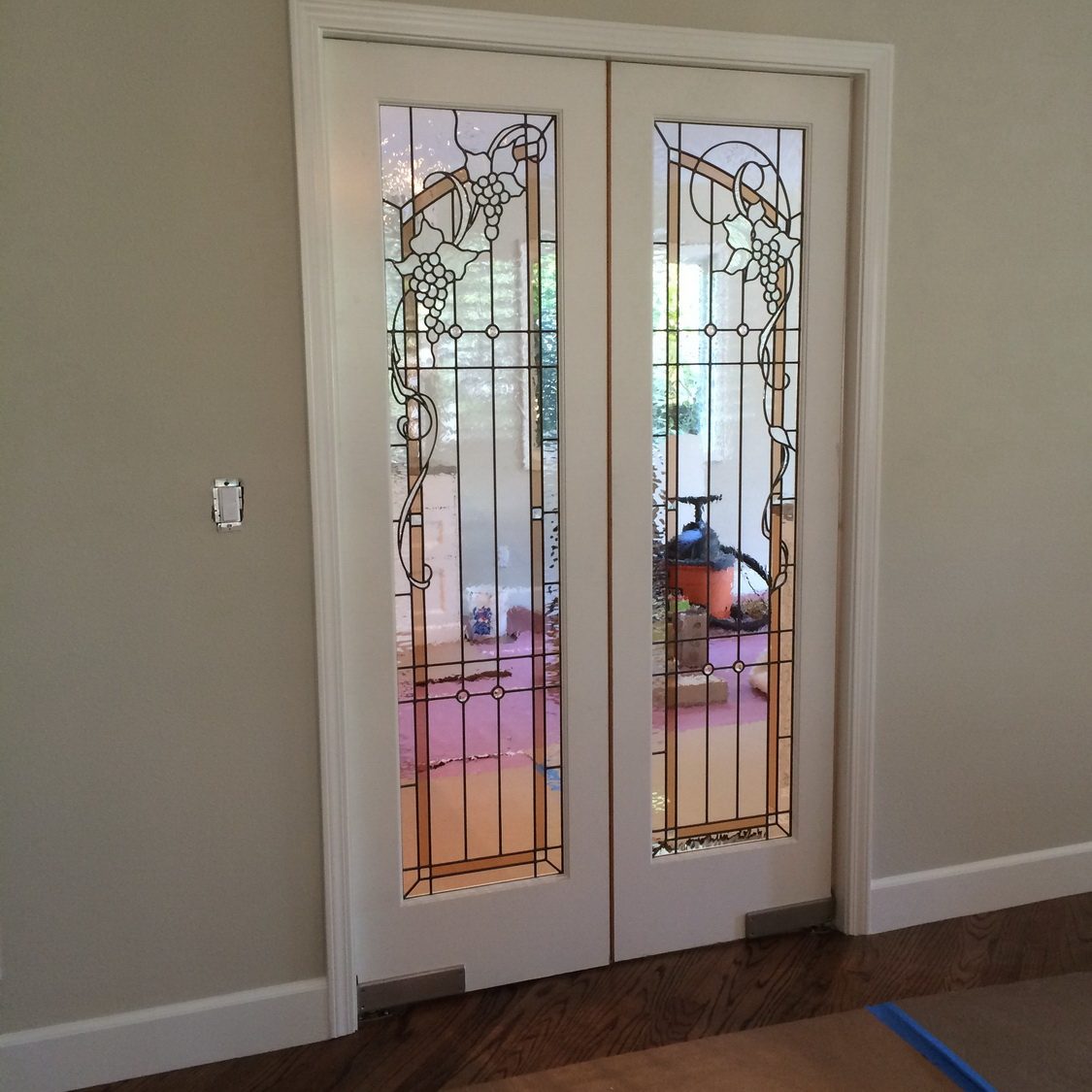 Did you always think that stained glass is only for churches and cathedrals? Think again! These lovely artistic glass panels can be perfect for your pantry doors. With a white wood frame, these pantry doors swing open and closed quickly without a handle. A delicate wine motif in red, purple, and orange shades brings the vineyards into your home. These glass panels can be used for your pantry doors or wine cellar doors if you have one. Since most of the color is concentrated at the bottom of the glass panels, light filters through the top very easily.
18. Curved Silver and White Stained Glass Doors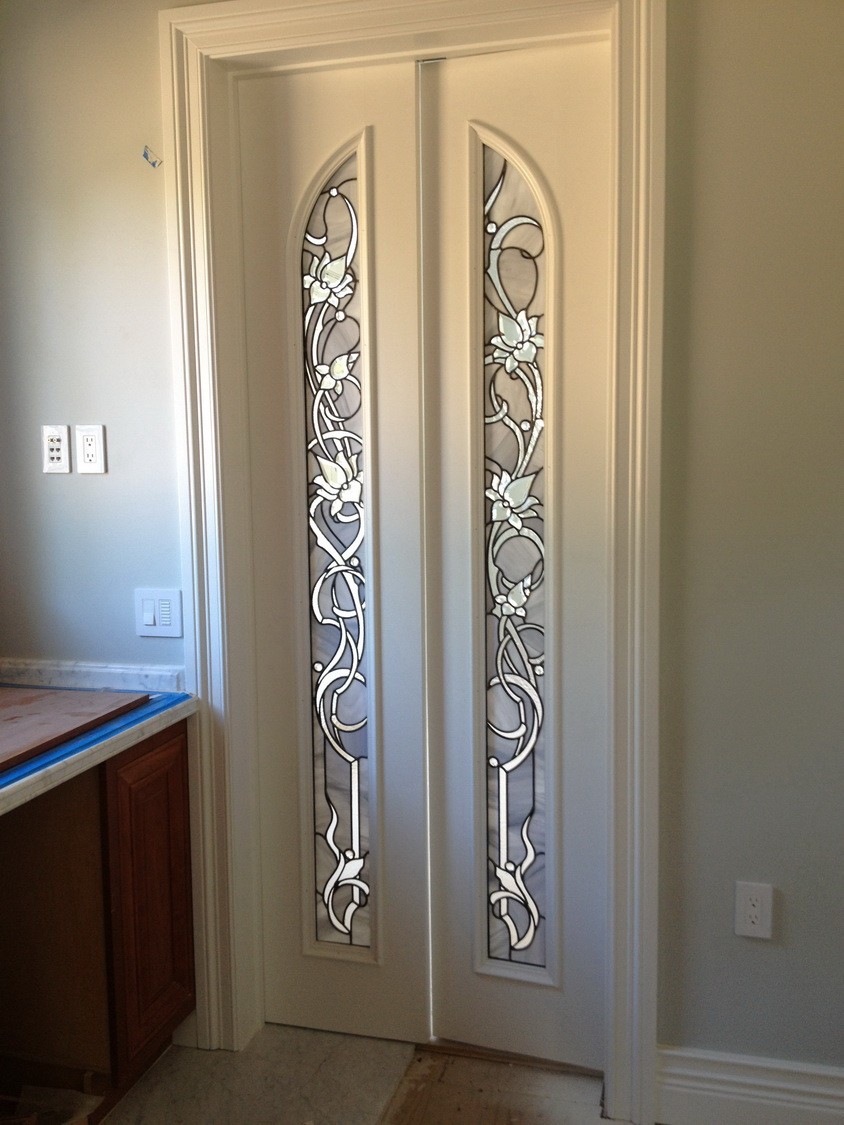 What if you'd like etchings and stained glass all in one pantry door? That's fine; you can have it! This door is done in muted taupe, edging towards beige. But what sets it apart are the two curved halves of the stained glass panels set in each door. The silvery stained glass flowers look like something from a dream or storybook. The borders are done with black etchings on frosted glass. How does that impact the overall effect? You get privacy, thanks to the frosting on the glass, light, etchings, and a touch of the quaintness that every kitchen needs, thanks to the silvery flowers.
19. Classic Black and White Geometric Leaded Glass Doors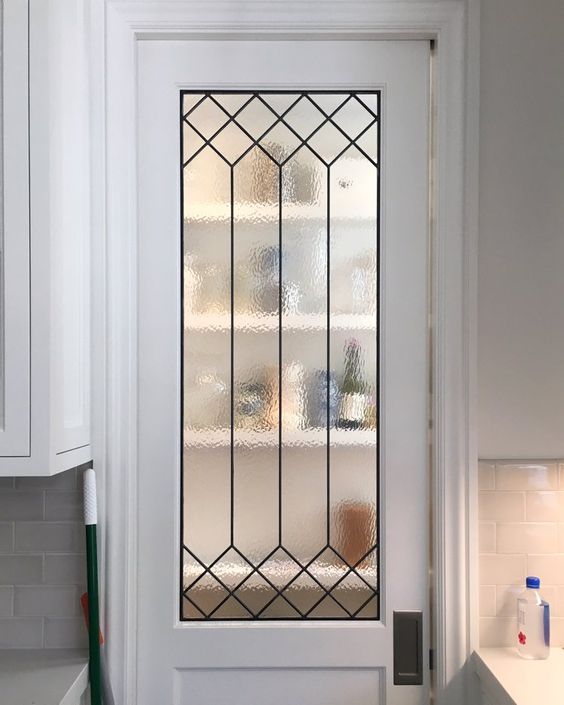 If insulation is one of your major requirements from a pantry door, then leaded glass could be your best bet. You can double or triple-glaze it to make it more energy efficient, with the gaps between the layers adding to insulation and keeping the temperature of the pantry constant. Generally seen as the more sober cousin of stained glass, leaded glass panels are still a perfect "period piece" to add to your kitchen. The regular geometric patterns of the cames and the frosted nature of the leaded glass make this a popular and affordable choice for pantry glass doors.
20. Ranch House Screen Pantry Door with Storage and Textured Glass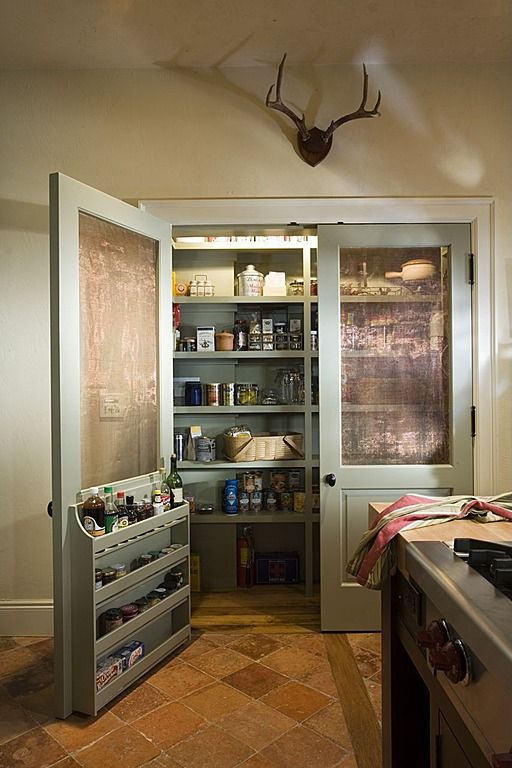 Got a farmhouse or ranch house pantry to outfit? We have the perfect doors for you! This no-nonsense industrial green pair of screen doors are the best ranch-style kitchen choice. The double doors are wide enough to span an open pantry and create a break comfortably. Not only are they fitted with textured glass across half the length, but the lower inner halves of both doors have in-built storage space. What a lovely blend of privacy, design sense, and practicality in one set of doors! Let light into the pantry, block it off from prying eyes, and stock regularly used groceries, sauces, and spices in the doors so they are easily accessible!
21. Beach Cottage Dutch Door Pantry with Ship's Window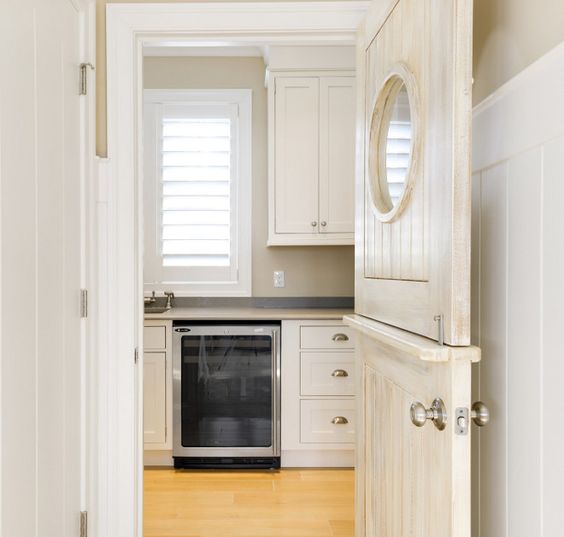 Are you looking for fun ways to do up your beach cottage to make it look quirky yet useful? Make a start with the ideal glass pantry doors! Ditch the thought of going for regular doors – single, double, pocket, sliding; they're all overrated. Instead, put in a Dutch door. Include a ship's window-style clear glass pane on the top half. This glass lets you look into the pantry and let light stream in effortlessly. This is a great choice, especially for those with curious kids or pets who love exploring the pantry. Keep the lower door closed, and you can still access what you need with the upper door open!
What's Your Choice of Glass Pantry Doors?
Do you have a secret favorite glass pantry door? If you plan to redo your kitchen or change things around, share this list with your partner and show them how much of a difference a little glass can make! Remember, though, that glass pantry doors need some TLC – polish the glass with a vinegar mixture, wipe it down once a week, and remove sticky fingerprints as soon as they appear. They're simple steps but can keep your kitchen and pantry looking like a million dollars for years!
Go ahead now, and save this list because it has everything you need to find the ideal glass pantry doors. Share it with your friends and family as you hunt for ideas to make a house a home.
And lastly, we always love hearing from you, so drop your comments, questions, ideas, and thoughts below; let's talk!