21 Creative Limewash Brick Ideas to Revamp Your Fireplace
Brick fireplaces tend to look tired after several years of use. If you've just redone your interiors or have purchased an old house, can you punch up the look of your fireplace? Of course! Limewashing brick is an incredibly easy and cost-effective way of buffing up your fireplace. An ancient Roman technique, limewash (a lime putty made with crushed limestone, water, and pigments) is strong, durable, and easy to apply.
From modern to rustic, traditional to funky – there are a lot of looks you can experiment with when you limewash your brick fireplace. If you want a natural look that brings the best of the outdoors into your home, we've got some inspiration here to get you started!
In the meantime, if you are going DIY on this project, here are some tips before you actually reach for the paint.
Limewash Brick Fireplace Ideas for Added Natural Texture
1. Fall and Winter Decor-Ready Limewashed Fireplace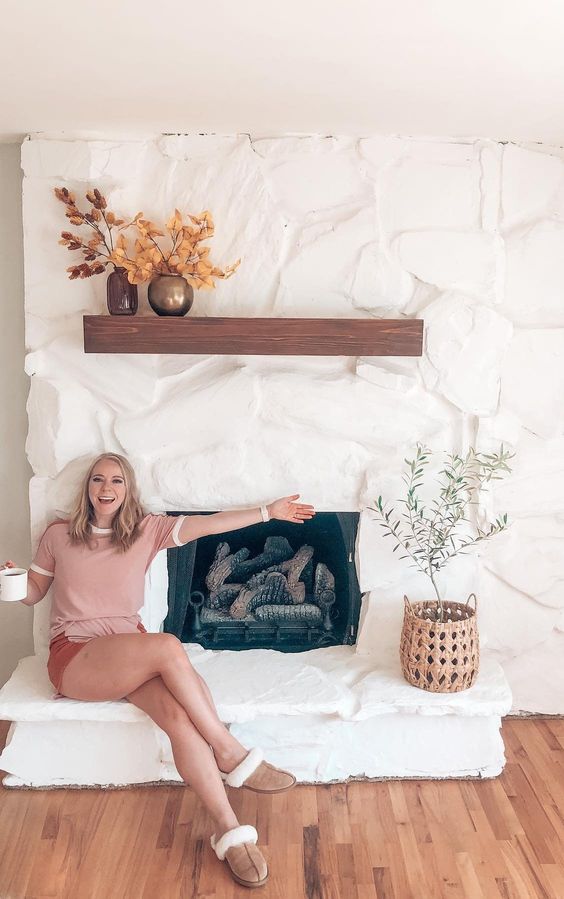 Why stop at just limewashing the brick fireplace when you have a whole wall that you can use as an accent? Pick a pure white that will serve as a lovely foil for the gorgeous russets and browns of autumn and the evergreens of winter. Take it up a notch with a short stained wood mantel shelf, throw in some metal vases, and wrap the look up with a nice wicker-basket-style log holder or pot holder. You now have a perfect blend of a modern look with hints of tradition, which is just how to welcome the holiday season! Light a roaring fire, and your new fireplace will be your favorite hang-out spot.
2. Retro Finish Cozy Brick Fireplace Limewash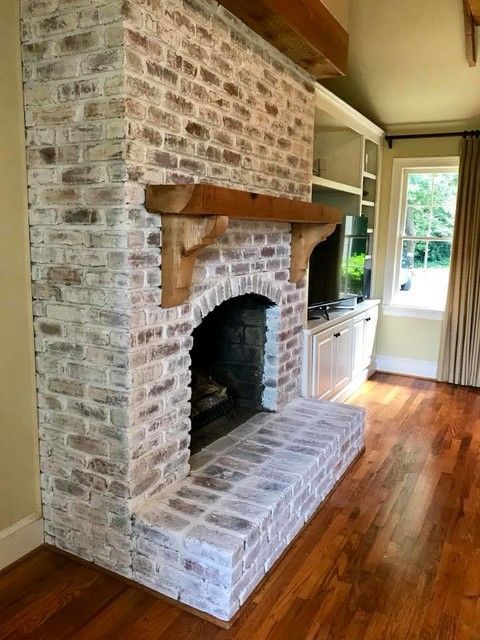 A family room should have a cozy-looking fireplace, shouldn't it? Take inspiration from this rustic-looking high fireplace, with a wooden mantle shelf placed on wooden brackets. The ceiling molding echoes the wood tones to create a sense of harmony. Throw in an option for storage with built-in cabinets on one side. You can keep this limewashed brick fireplace bare or toss around some cushions, a log basket, some family photos, and a vase to add a touch of personalization. If you have a family room with a window that allows the sun to hit the fireplace, you are going to want to try this style for sure!
3. Modern Farmhouse White limewash brick fireplace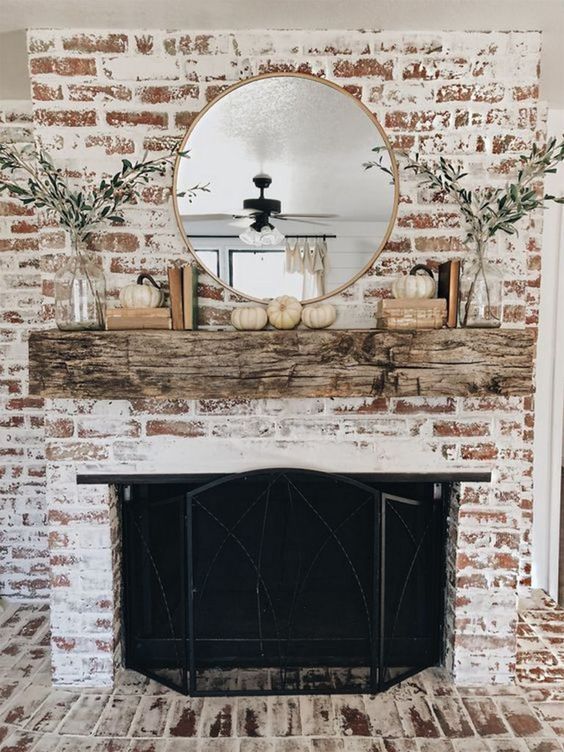 Another stunning example of the modern-traditional blend, this farmhouse fireplace is an excellent choice if you have a bright, airy living room. Limewash it to add a splash of light, and boost it with a rimmed mirror. Incorporate a gated fire guard if you have kids or pets or would like to hit a few retro notes. Finish the look with a shelf made from natural wood, echo the colors of nature with the decor, and you have a winner right away! Remember to limewash the bricks on the floor surrounding the fireplace as well for that perfect finish.
4. Outdoor Patio Limewash Brick fireplace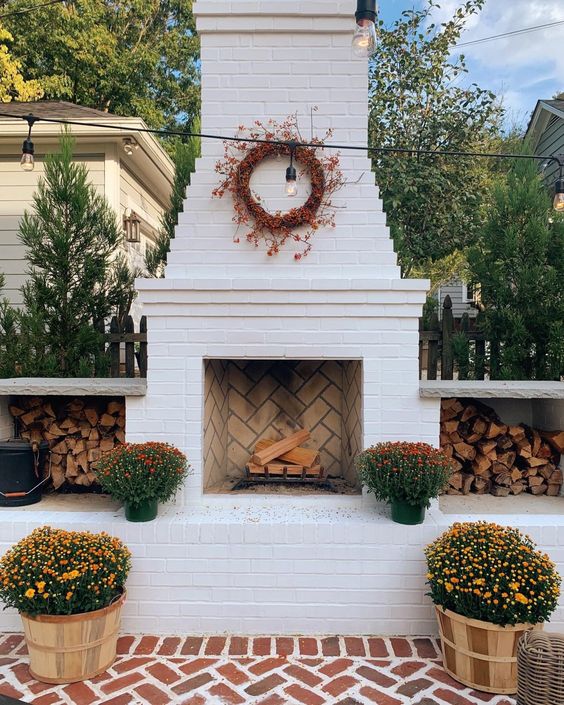 Time to get your neighbors fired up about how incredible your patio fireplace looks! Here's a glimpse of a completely limewashed outdoor brick fireplace with a chimney. Ample storage space for logs flow on either side, though you might want to consider closed storage if your area has inclement weather frequently. Throw in some cheerful flowering plants to remove the illusion of severity and starkness. Retain your original floor, especially if it is brick, for a nice contrast that allows your newly limewashed brick fireplace to take the limelight.
5. Floor-To-Ceiling Brick Fireplace in a Townhouse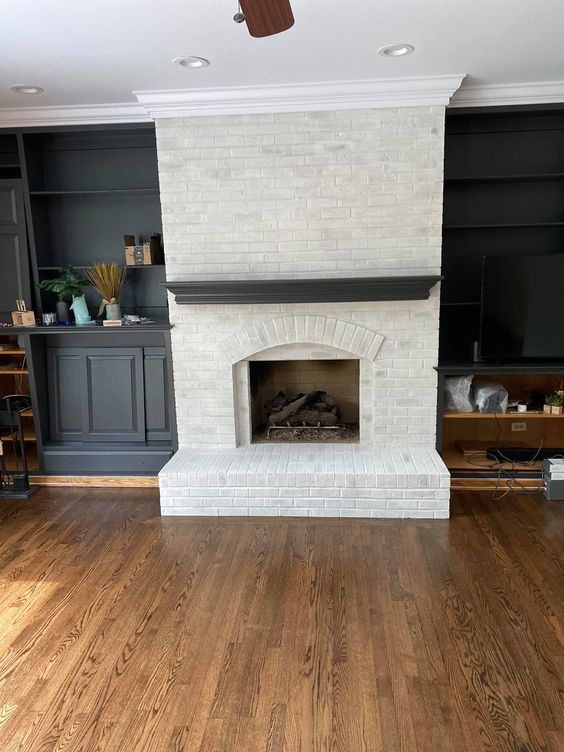 Have a fireplace in your townhouse that wants redoing? Just limewash it to recreate this lovely black-and-white look that can be both cozy and contemporary at the same time. A simple black mantlepiece can be echoed by the storage units and shelves on either side of the fireplace. That's a great way to combine utility with style, right? Use the same crown molding across the ceiling for an undisturbed finish, and paint the hearth as well. You can choose to keep it bare (and reserve it for toasting cold feet) or add a couple of cushions or a single metal vase to create a splash of color for emphasis.
6. Faux Farmhouse Look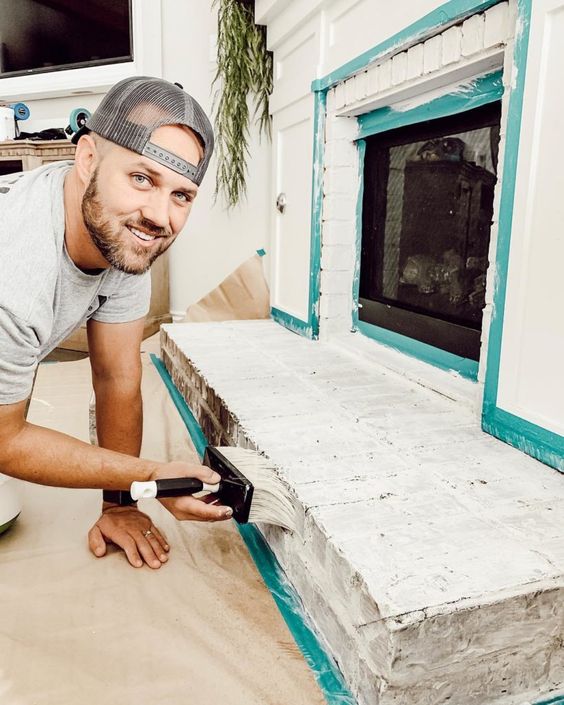 Want to bring a touch of the farmhouse into your space? Try this rough and ready hand DIY limewash for your brick fireplace. Add an accent trim – blue, green, or even a deep rose really helps to play up the stark white of the limewash. You could match the color of the trim with the colors of your couch, cushions, or other prominent furniture pieces to bring the theme together. The result? A lovely faux farmhouse feel, which is excellent for bringing a touch of the countryside into the more mundane city space. If you are looking for a spark of sophistication, detail the molding of the metal with angles and lines rather than going for a more elaborate or intricate design.
7. Full-Length Fireplace for Elegant Townhouse or Manor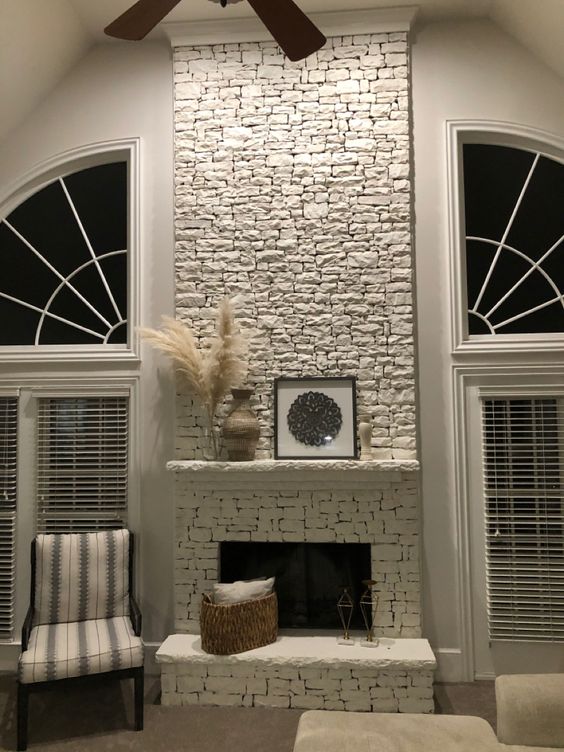 If you've splashed out or inherited a refined, elegant townhouse or manor, you'll be welcomed by a feeling of space. High roofs, sweeping hardwood floors, and even a fireplace that spans a considerable length from base to ceiling. Use limewash on the bricks to create a cool look to complement your decor, with a faint distress to mark the bricks and bring in a feeling of authenticity. A stone mantlepiece could add to overall charm, and when left uncluttered with an oversized vase or as a base for a dramatic piece of modern art, it could become the sensation at your next party.
If your fireplace is flanked by windows, skip the curtails altogether and go for blinds. This reduces the focus on the windows, mutes harsh sunlight, and allows your limewashed brick fireplace to take center stage.
8. Family Room Fireplace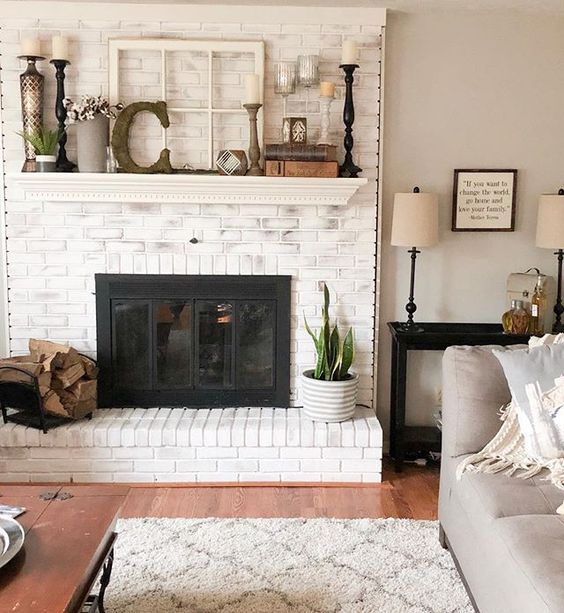 Want to reverse the dinginess of the fireplace in the family room? A limewash for the brick is the perfect way to brighten the room. Add a touch of austereness by opting for a jet-black fireguard grill to contrast the milky white of the limewash. Tumble logs into a metal holder and add a cheerful houseplant on the hearth to offset the starkness of the guard. Go for a fussy mantelpiece finishes with border scrolls and molding. Crowd it with knick-knacks and personal paraphernalia for a perfect blend of casualness and family feeling. Think pictures, heirloom decor pieces, silly or memorable gifts, and the like. Follow the theme with thick rugs or carpets and throw pillows, and you'll have a family room no one will want to leave.
9. Contemporary Outdoor Limewashed Brick Fireplace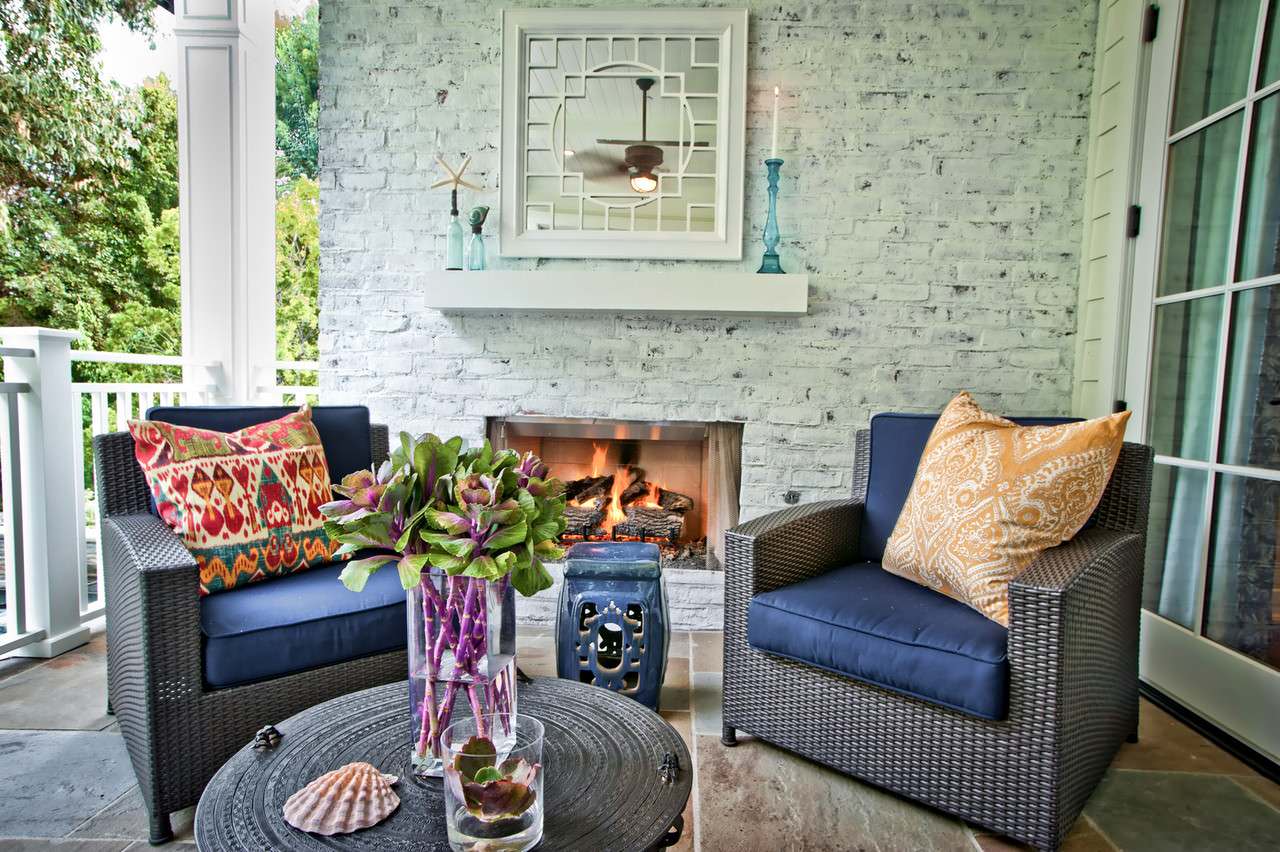 If you have enough sitting room on your patio and have decided to make it a heated one with a brick fireplace, this one's for you. Limewash the entire brick wall containing the fireplace, and match the porch railings and pillars. Add in a smooth white wood mantle shelf without any fuss or furbelows, and jazz them up with a couple of unexpected or quirky home decor pieces. Remember to choose something that won't be affected badly by the elements. Paint the window trim to match the limewash, and you have a classy porch you'd like to live in through fall and winter. If you don't yet have a patio fireplace, here's your sign to get one!
10. Double Storeyed Brick Fireplace Limewashed and Festival Ready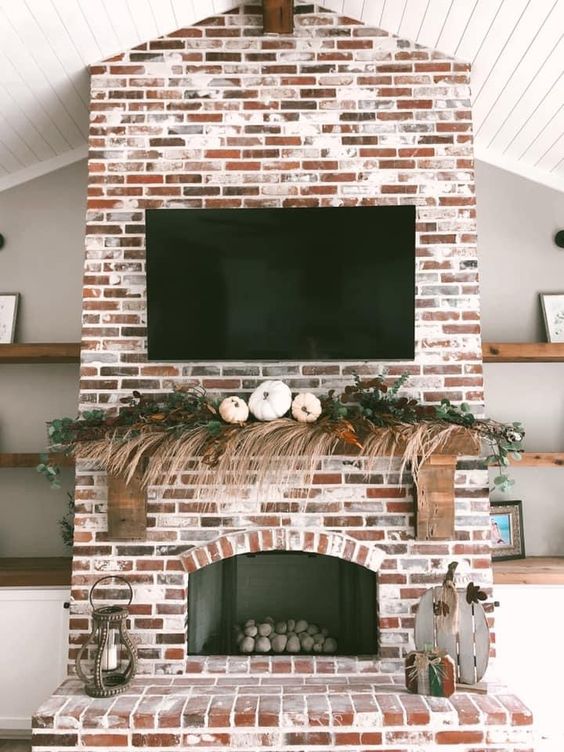 A brick fireplace should be the focal point of a room. It has the presence and the majesty, and once you limewash it, it draws the light as well. If your fireplace is floor-to-ceiling, you can limewash it entirely and then turn it into a split-level to be easier on the eye. With a distressed finish right down to the hearth, it exudes the comfort of home. A simple wooden mantlepiece can act as the divider between two stories, and you can use it to create a season-specific decor. A wall-mounted flat-screen television is a good use of space, and the limewashed brick in the background serves as the perfect foil to help it stand out. Built-in wooden shelves on either side continue the mantle theme while adding to the storage and display space you need.
11. Edge to Edge Full Wall Brick Fireplace
When you have an open plan home, with the living room and kitchen opening into each other, this is a lovely use of an entire wall. Limewash the entire brick wall and the space above the mantlepiece as well. You could add further character if the wall is textured, like a stone wall. Holding up a well-grained, natural wooden mantlepiece can be more limewashed brick, creating a 3D effect. Don't clutter either the mantle shelf or the hearth. Instead, pick out one or two bold decor pieces – antique or modern, depending on the rest of your decor. Let these pieces draw the eye of anyone who enters the house, and they won't stop admiring your fireplace upgrade!
12. Raised Modern Brick Fireplace with Classy Edging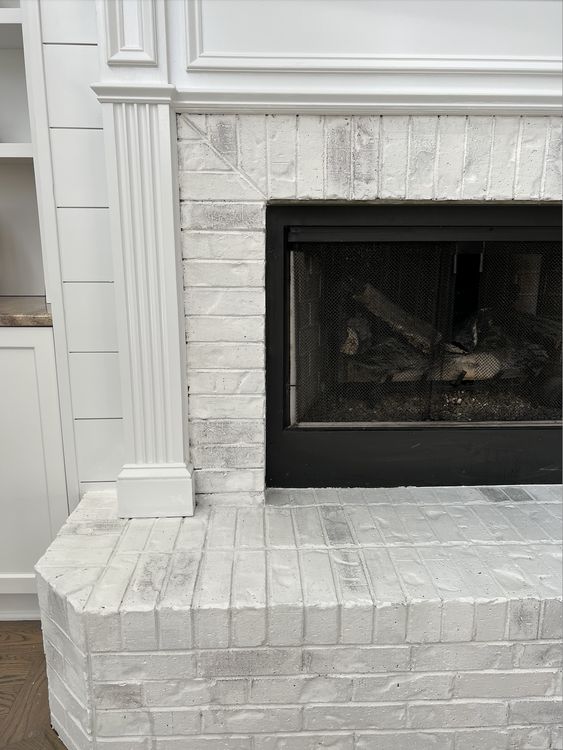 In most modern homes, the brick fireplace is more functional than decorative. Still, that doesn't mean you can't give it a facelift and make it add a touch of class to your home. Limewash the brick thoroughly with the faintest distressed touches. Add some classy scrolled edges with pretty molding, and limewash the raised hearth. An uncomplicated grate can be painted matte black in harmony with the surroundings. If you don't want a mantlepiece, paint the top half of the wall in a matching shade of white and continue the scrolled molding to create a border. Simple, classy, and elegant; who said DIY limewash has to look countrified?
13. Seamless Storage Cum Limewash Brick fireplace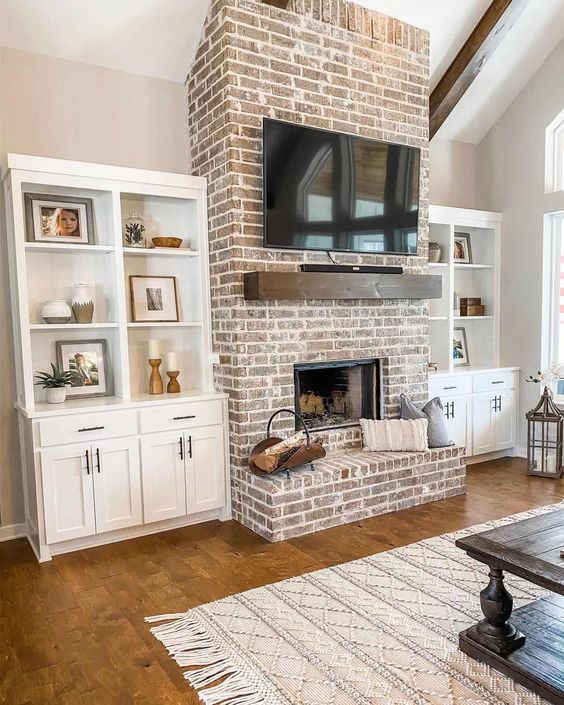 If you've blended display units, storage, and your fireplace in the family room, here's an idea you could try. Whether you have white or black storage units, limewashing the brick in the fireplace will blend with either look. If you have white cabinets, go for a more distressed finish, while black cabinets will do better with more of a white finish for a dramatic look. Toss some cushions and a log basket on the hearth. You can opt out of a mantlepiece, choosing instead to go for a wooden bar to create a divide. Put in a painting, a family photo, or even a flat-screen TV above to make the best use of the space while retaining the feeling of a family living room.
14. Cool Modern Living Room Fireplace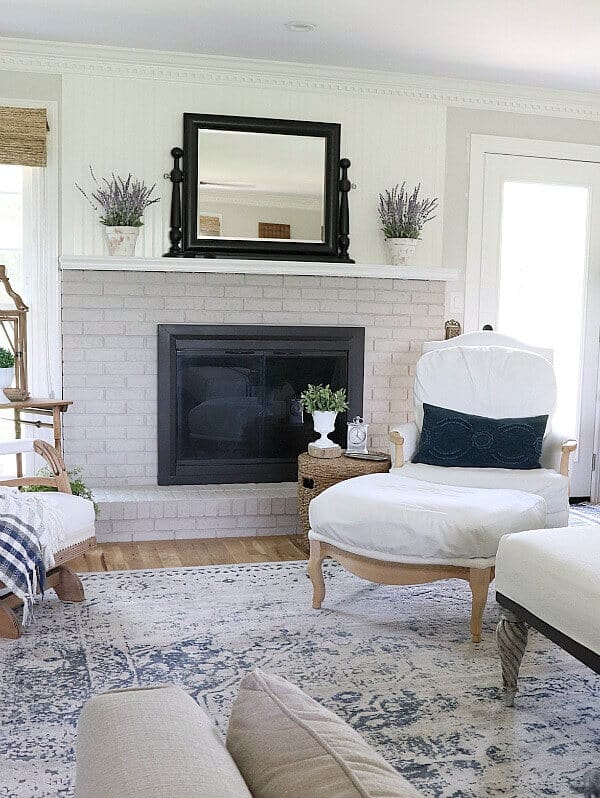 Ultramodern black and white home with cool walls, chrome finishes, and bold black-and-white furniture? You just need to limewash your brick fireplace to match; use several coats of limewash to get a smooth, even white look. Create a simple white divider with a mantlepiece. Straight lines work better than fussy molded finishes. Use some decor pieces – black vases, white potted plants, and a metal log holder. Finish up with an accent piece like an antique swing mirror with a black frame that reflects the coolness of the room and makes your space appear bigger. If your rugs or carpets are white, allow for space between the hearth and where you place them to help them stay pristine for longer.
15. Gas Log Brick Fireplace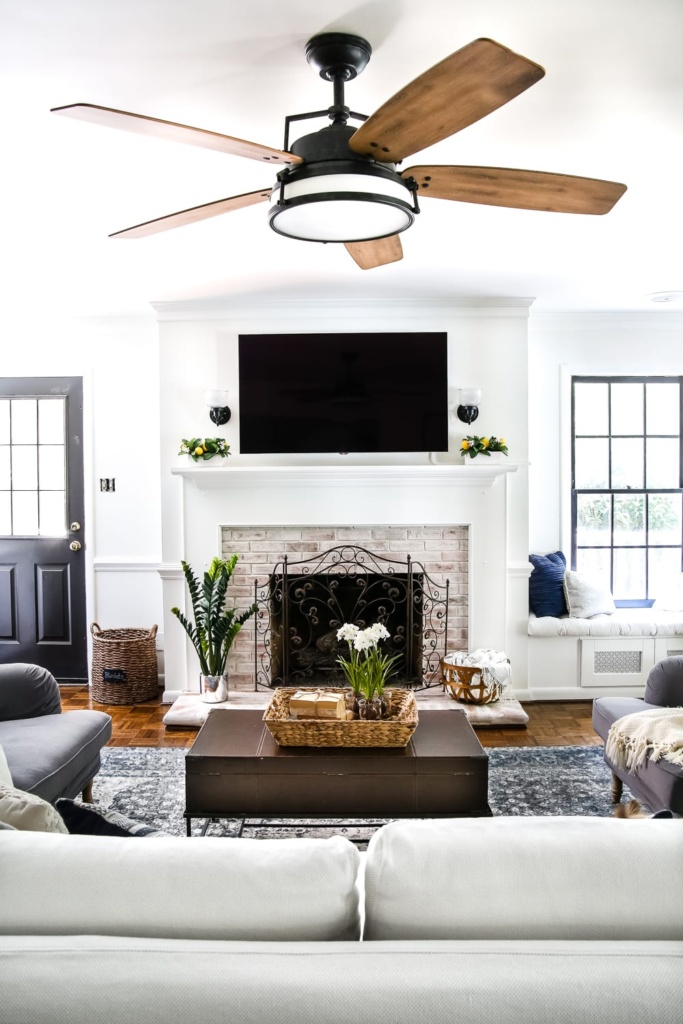 Time to upgrade your gas log fireplace? We've just the thing for you. Limewash the brick and reach an even pure white tint. Add a bit of distress to the finish, just enough to show hints of the brick below and give the room character. Put in an elaborate metal grate painted jet black and pair it with a simple mantle piece with clean lines. Echo the room's decor in terms of highlights like indoor plants or cheerful vases. Wall mount your television above the mantlepiece and set them off with scone lights. Continue the white theme in the areas flanking the fireplace to create a sense of harmony, balance, and quiet elegance.
16. Limewashed Brick Fireplace in The Bedroom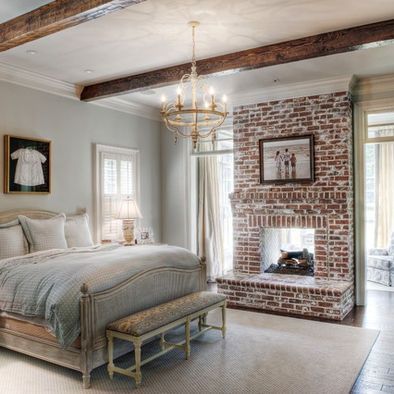 Got a fireplace in your bedroom you'd like to do over? Limewash can help you out here as well! Apply the limewash to the brick, then scrub well for a highly distressed look. Continue the style in the hearth as well for an uninterrupted flow. Don't clutter it with knick-knacks; instead, keep it clean and empty to create an illusion of space. Create a brick mantle, limewashed as well, for a built-in divider. Use the area above for a large family photo or a soothing painting you love. Top this with a simple ceiling crown molding to finish the look. To keep the style harmonious, you could opt for a white-grained wooden finish bed or even a classic black metal frame.
17. Townhouse Living Room Fireplace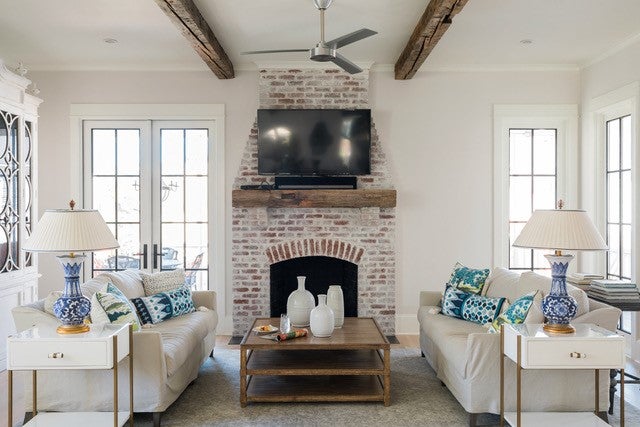 Worried that a smaller space might not look too good with a limewashed brick fireplace. Put your worries away. This look combines the classy tones of the white limewash with the rustic finish of a bricklayer peering through to add a focal point to the room. Keep the rest of the room in shades of white to add to the illusion of space and openness. Pick up the hint of strength with the wooden beams, simple mantelshelf, and a center table. Don't clutter your space with a hearth or a fussy mantle with accent pieces. Add a television, which is more of a practical choice than merely decorative, and let your brick fireplace brighten up your room!
18. Limewash Recessed Fireplace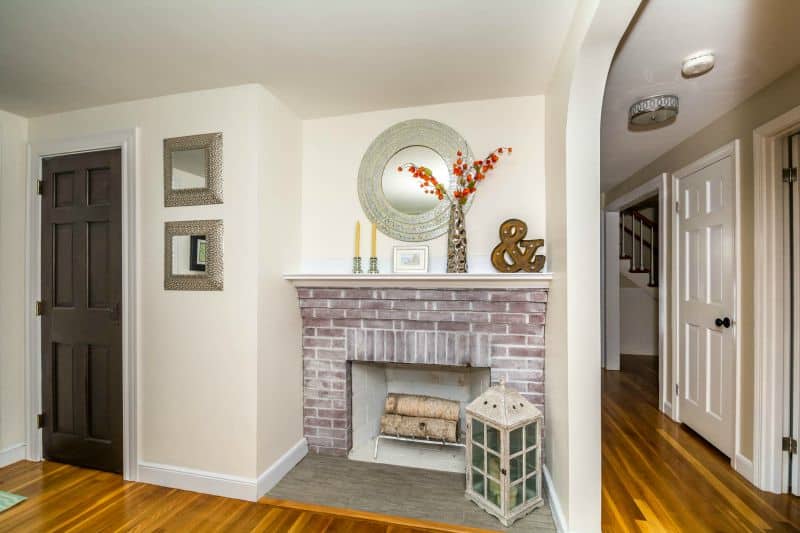 Sometimes, your brick fireplace doesn't have to be in the living room or bedroom. Instead, tucked into an alcove, it heats the area around it generously, sending warmth into the rooms that open off it. Is it worth limewashing such a brick fireplace? Definitely! It's a simple and quick job; limewashing, touches of distress for the finish, and you have a blend of white and brick peeping through. Add a bold wall hanging – like a ship's clock, a metal framed mirror, or a modern art painting on the wall above. Opt for a wall-to-wall mantle shelf topped with simple and fun doodads; you've just transformed your fireplace from purely functional to pretty and practical!
19. Open-Plan Farmhouse Family Area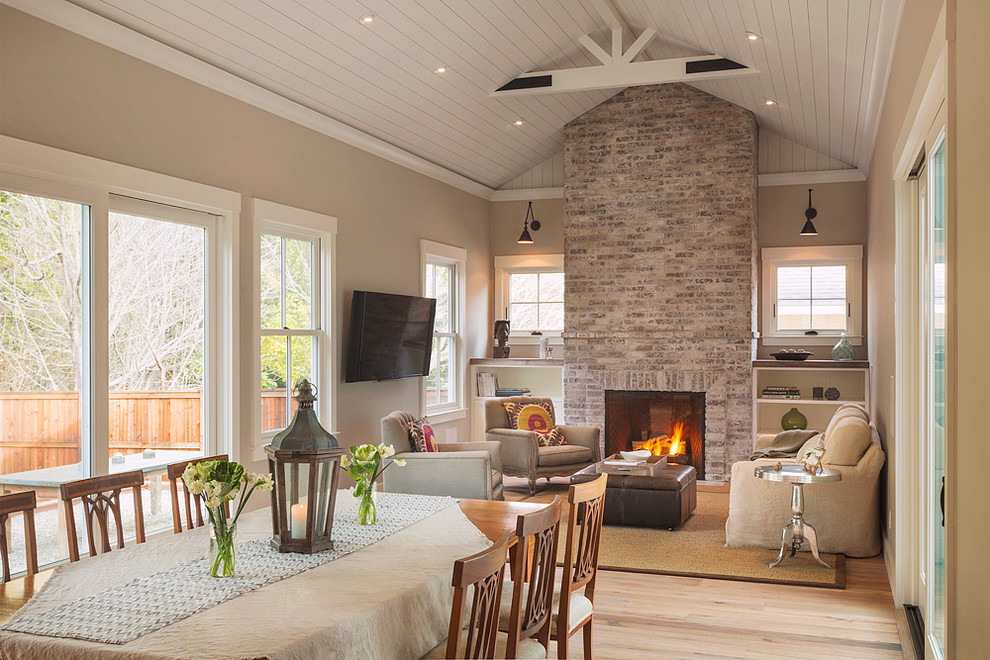 With an open living area in a farmhouse, a dingy, dirty fireplace can really be a mood killer when you gather around at the end of a long day. Add a touch of limewash to the fireplace, allowing the brick to peep through. With built-in shelves on either side, you have plenty of storage and can completely eliminate the need for a mantle shelf. This creates an uninterrupted floor-to-ceiling limewashed fireplace that instantly opens out your room. Leave your windows without curtains to let in natural light and watch your fireplace glow!
20. Small Home Brick Fireplace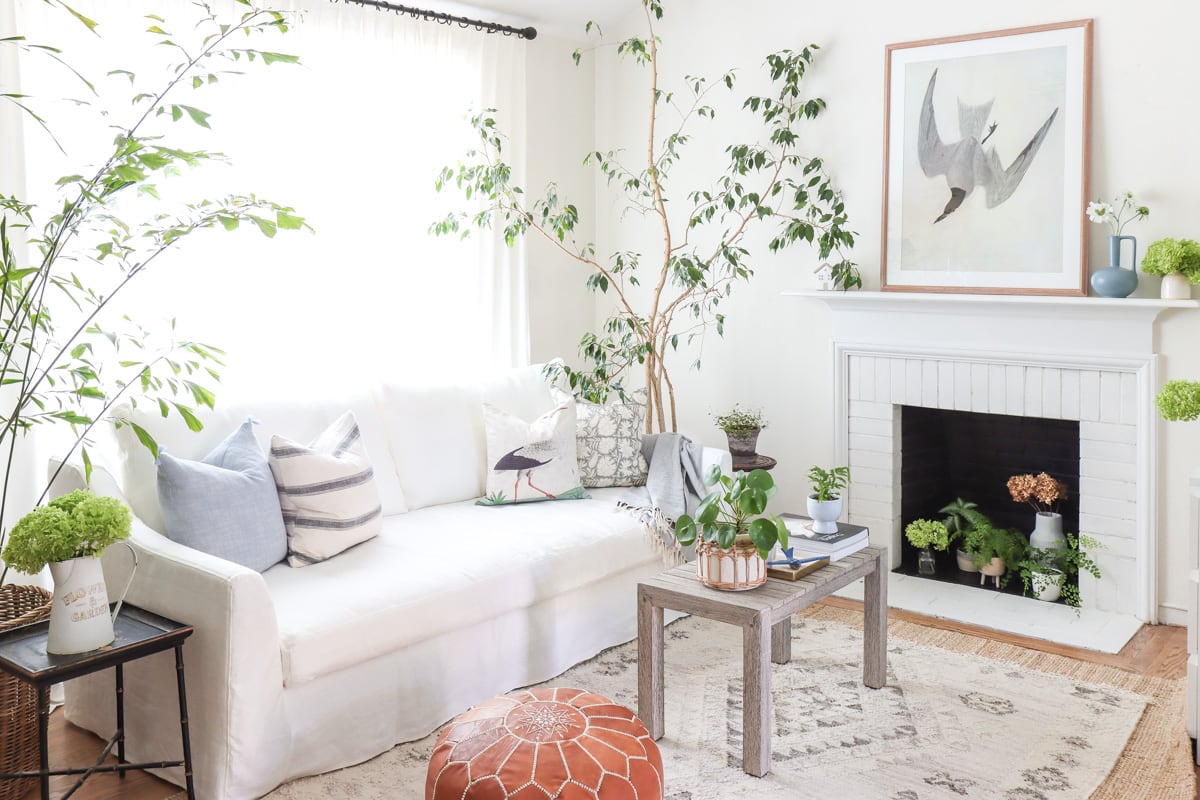 Make a small room look bigger by limewashing the brick fireplace. Yes, you can! Go with a perfect white limewash and scatter plants around the hearth and mantel. Add a larger-than-life painting or picture, and you've just succeeded in opening up a small living room!
21. Farmhouse Living Room Fireplace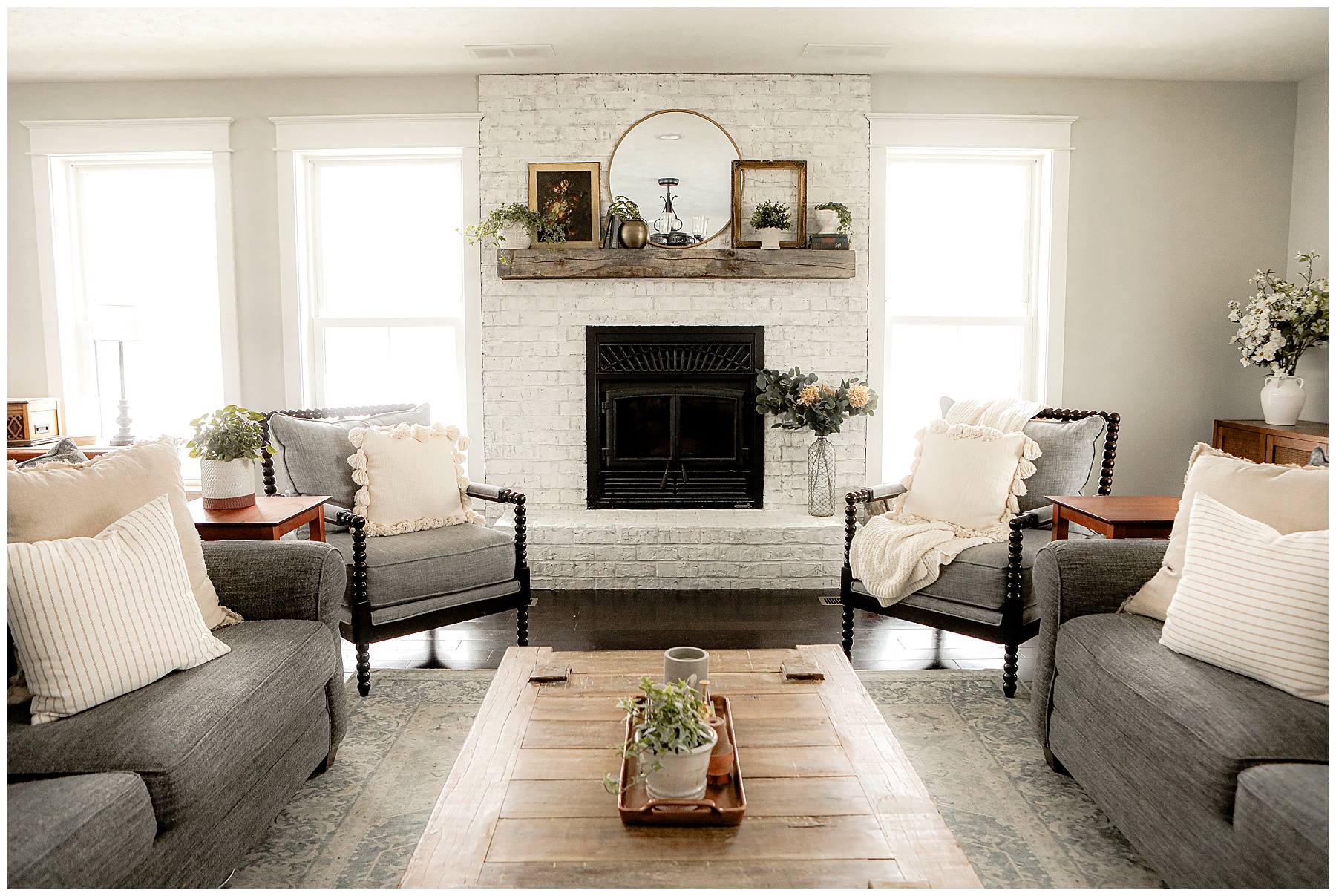 A brick fireplace set in a wall between windows is just waiting for some limewash to brighten it up. Allow a little bit of natural brick to show up, and add a wooden mantel shelf. Throw in seasonal flowers and a couple of potted plants, and you've just brought nature indoors as well!
Tips to Limewash Your Brick Fireplace
Clean the brick before you start. You want to get rid of ash, sooty residue, dust, or anything else that's going to hamper your application of limewash.
Prep the area. Especially if you've just redone your interiors, you won't want to deal with a limewash-splattered floor, walls, or mantlepiece. Put down drop clothes, tape off any wooden accents or mantelpieces you have, and move away any knick-knacks you have around the space.
Dampen the brick. You want the limewash to catch hold well and last, right? Use a spray bottle and dampen your brick before you start the actual limewash layer.
Slap on the limewash. Stop to spray the brick and keep it damp as you go. Cover the entire fireplace with limewash, and then let it dry for about half an hour.
If you want a distressed look, this is the fun part. Use the spray bottle and buffing cloth or rags to wipe away limewash from the bricks, or parts or bricks, as you choose. Keep an eye on the overall effect and keep going until you have the look you want.
Ready to Limewash Your Brick Fireplace?
From the living room of your townhouse to the casual family room of your farmhouse, from the coziness of the master bedroom to the breeziness of your patio, where are you going to jazz up the fireplace with limewash? With the inspiration you have at hand now, you know fireplaces don't have to be dirty, dingy, or dark. Limewash can brighten them and your room up instantly. Whether you want to go for a pure white look with several coats of limewash, a slapdash feel with a little distressing, or a blend of traditional and modern with a planned distressed look, the result will be fabulous!
So gather up your limewash, rags, spray bottle, brushes, buckets, and drop cloths, and hit that fireplace! If you've been inspired by any of the limewash brick fireplaces you've seen here and done your DIY stint, we'd love to see the final result.
Let us know in the comments below. And if you have any questions, comments, tips, or tricks you'd like to share with us and the community, go right ahead in the comments section!