21 Disco Ball Decor Ideas to Bring Shimmer and Shine
Are you looking to add a touch of glitz and glamour to your home decor but can't find a way? Your search ends here. We have just the idea for the right decor theme that will help you make your space interesting and elevate your decor game. Disco Ball Decor is making a comeback and in the grandest ways, and this is what you should try too.
Disco balls have been a great staple in all dance clubs back in the 1970s. This time, they are having a resurgence but not just in clubs but also in homes. They are one of the most unexpected decor trends that really have taken everyone by storm.
Thankfully enough, it is pretty easy to incorporate these disco balls into your home and living spaces. Yes, we know they are shiny, attractive, and big statements, but trust us, you can incorporate them into your decor with these 21 Disco Ball Decor Ideas.
1. Use the Shiny Power of a Disco Ball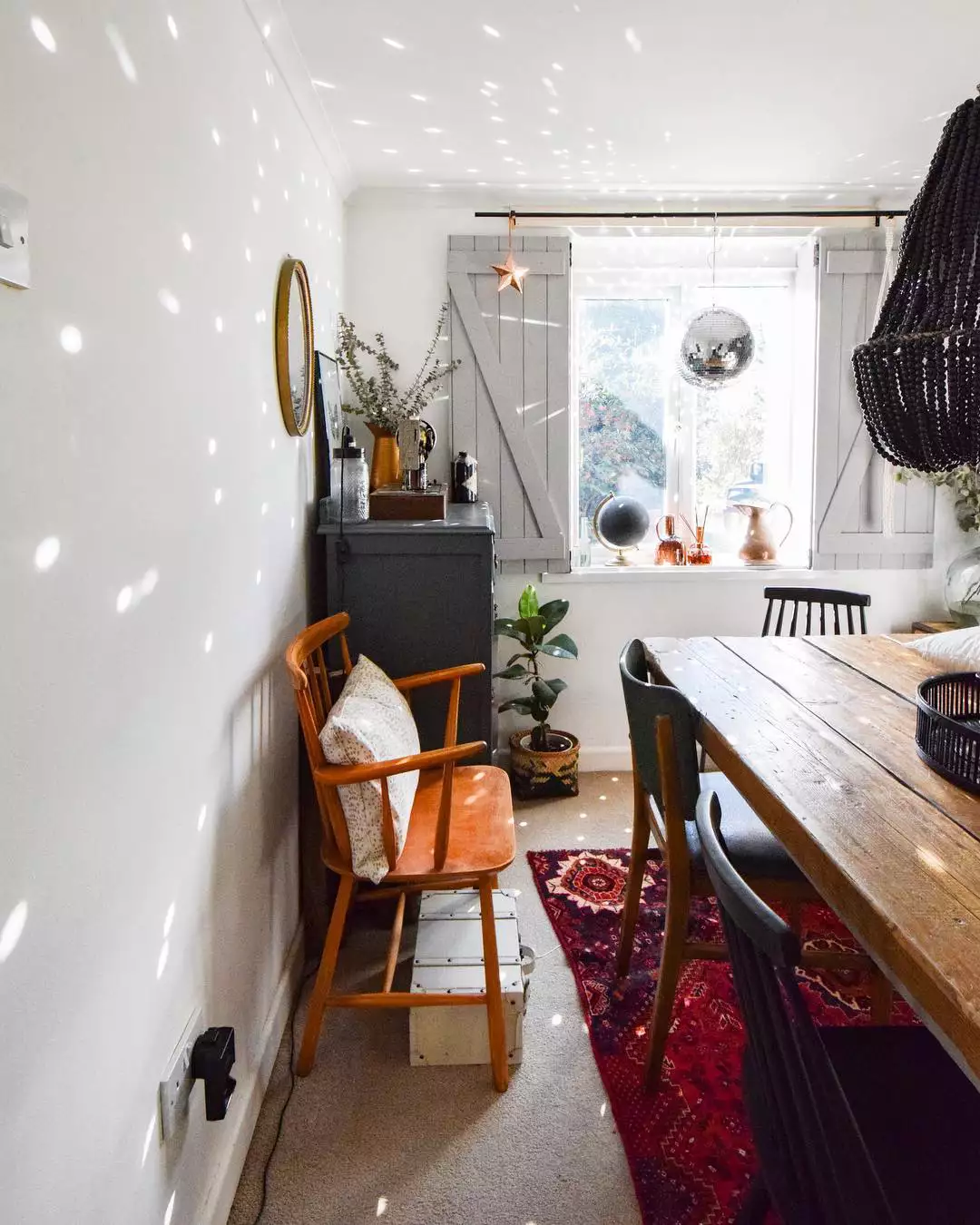 Disco Ball has been a decorating element for ages. While many believe that it came around in the 70s, truthfully, they have been around since the 20s. They are a big part of the club culture, and over the years, the decoration and design industry has learned to use them as stylish decor pieces, even in intimate spaces like homes.
One of the best features of a disco ball is how shiny and reflective it is. You can use this quality to bring some sparkle to your room. Just place your disco ball near a window so it reflects the natural light all across the room, bringing sparkle to your room and life.
2. Place It on The Floor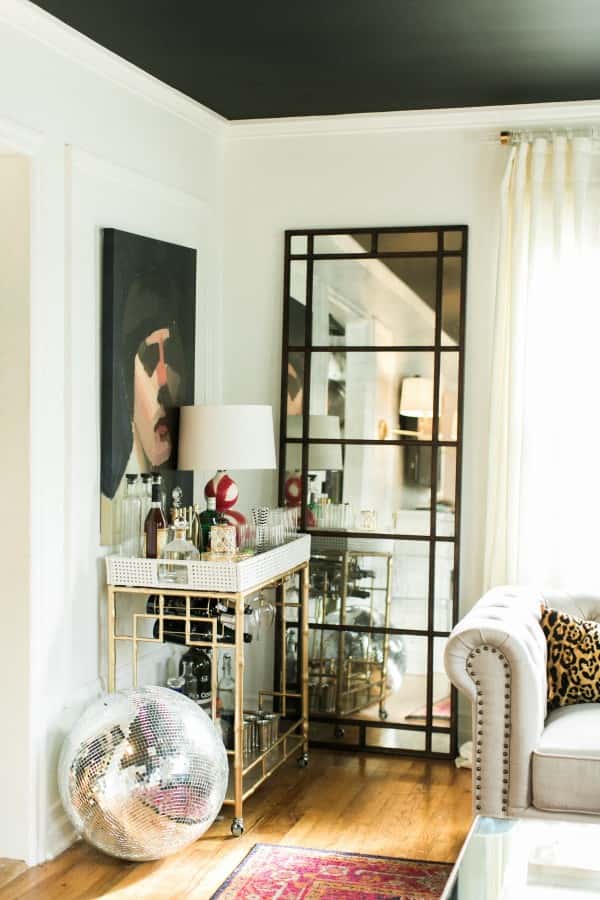 Break the pattern. We are so used to seeing a disco ball up in the ceiling that placing the disco ball on the floor would make a great disco ball decor idea. This will be unexpected and have a great visual impact on anyone who sees it. It is a great idea for anyone who has high ceilings and cannot reach them.
Surprisingly, if you have a low ceiling and are afraid that hanging a disco ball will take over all other decor elements, this technique works for you too. The main idea here is to put the ball in a place where nobody expected it. Basically, surprise them all.
3. Sparkle Your Home Office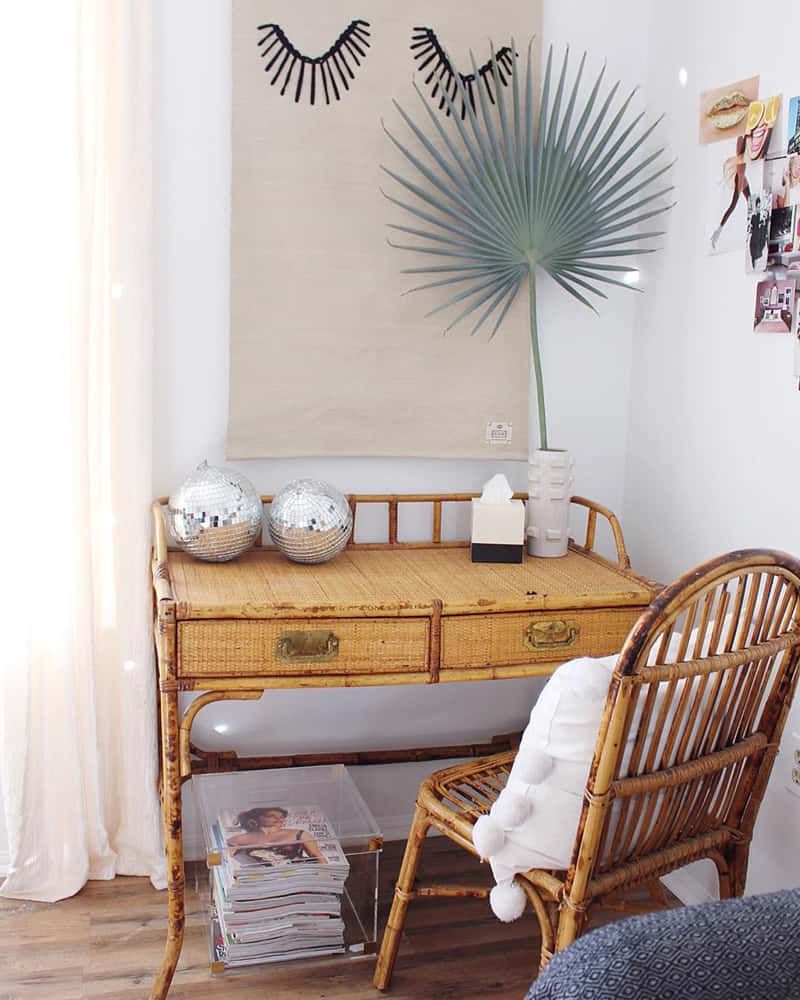 Functional spaces like your home office can get very boring. It is time to amp it up with some sparkle from a disco ball. This will not only give the working area a personality of its own but make it very interesting. Add some fun decorative elements like small disco balls on your desk. By doing this, you will bring some textural contrast to the space, and it will act as a constant reminder to shake things up and balance work with some fun times.
4. Make Use of Different Sizes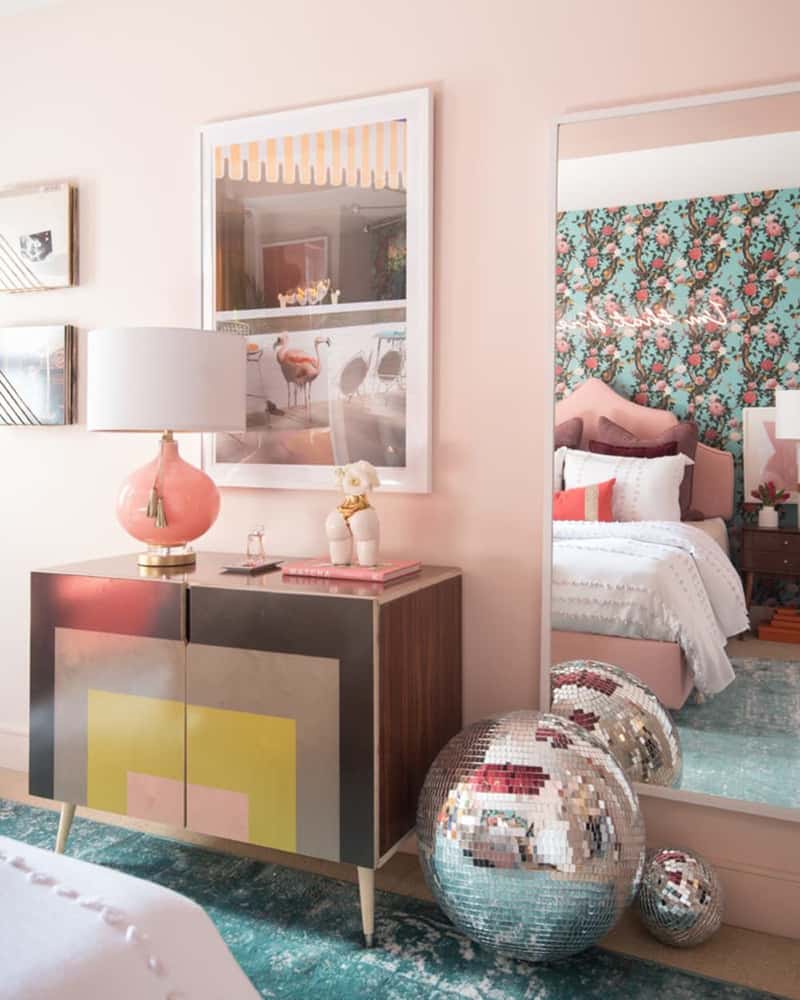 A great way to break the monotony of your room is by bringing in various disco balls available. You can place two disco balls of entirely different sizes together and add a glamorous effect to the room. Since the balls are different in size, they will immediately catch the eye, making it a great statement element.
5. Use It as a Planter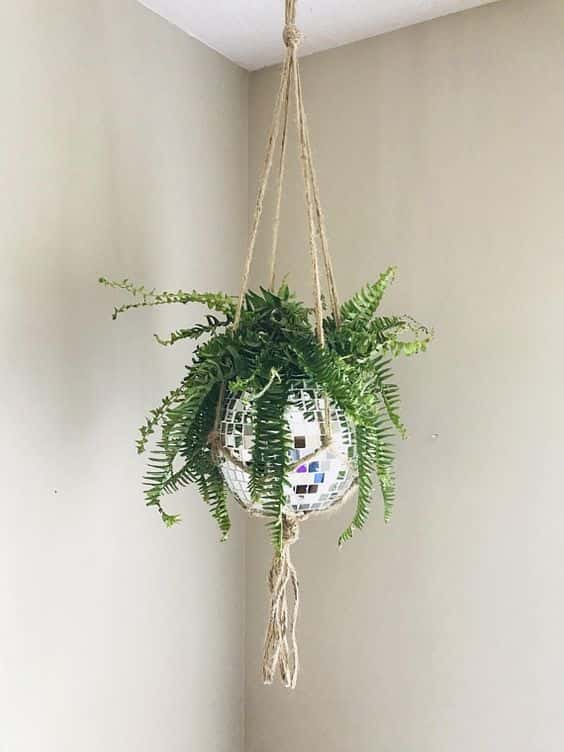 We have said this before; we will say it again, plants make everything better. Plants are generally a key element in any decor style, but would you believe it if we say you can incorporate disco decor with plants too? In fact, it is fairly simple. You can make things very interesting by making a planter out of your disco ball. Keep your favorite fern or succulent house plant in this planter, and you are good to go. It will give a shimmery effect and bring glamor and greenness to your home.
6. Fill up Your Side Table with Mini Disco Balls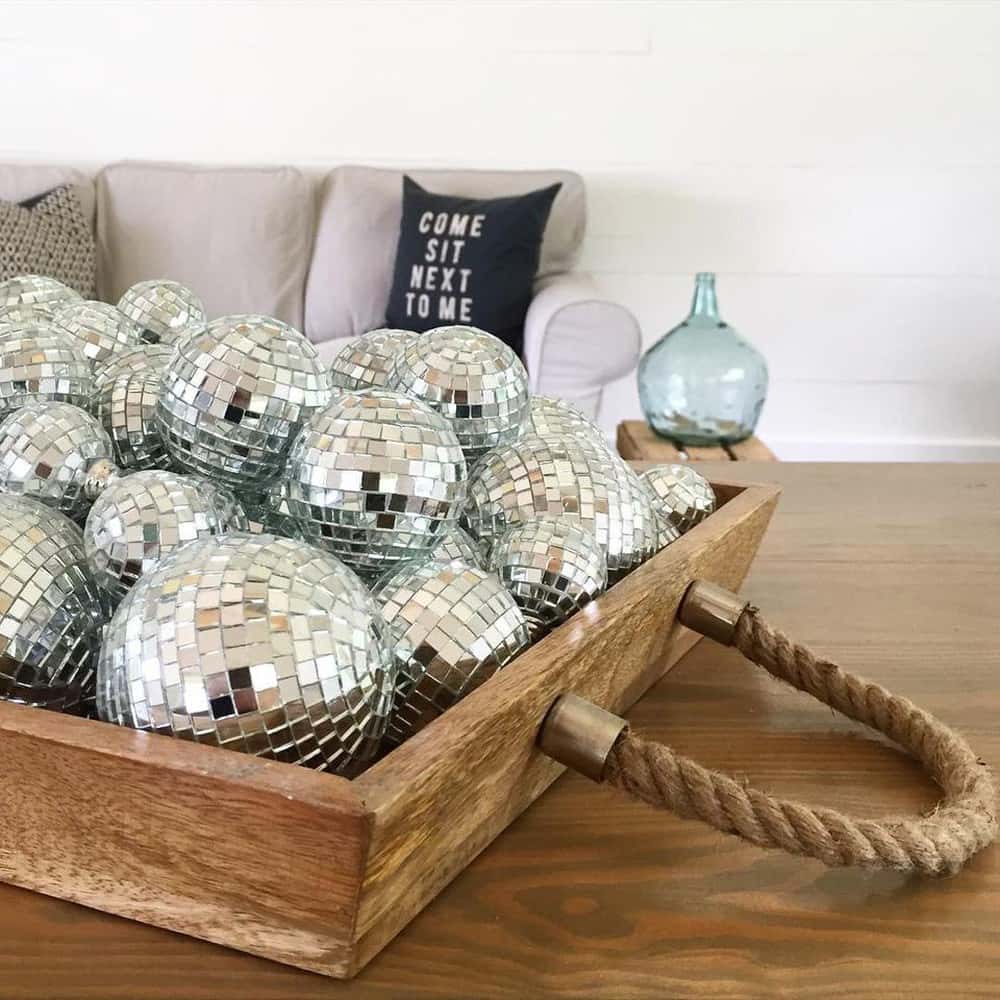 It is easy to incorporate some glitz and glamour of the disco balls by displaying them on your side table. You do not need full-sized balls, but instead of putting pine-corns, use mini-disco balls. Stuff them all in a bowl or a tray and put them all on display. This is their chance to shine; let them.
7. Make a Chandelier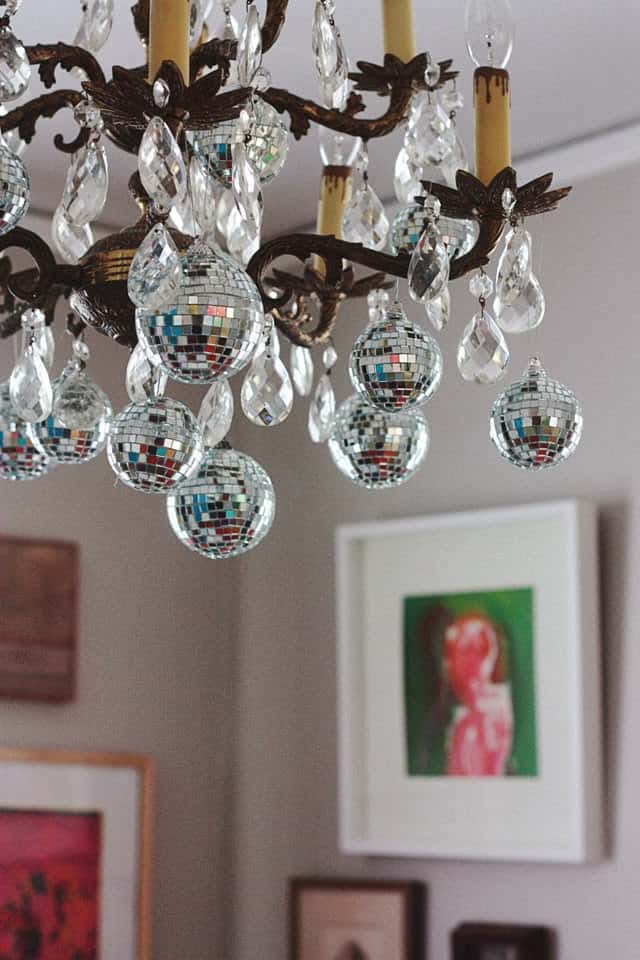 Elevate the look of your living room by adding disco balls to a statement decorative piece like a chandelier. You can hang small disco balls on the chandelier and elevate its look. This will add shine to it and boost the festive spirit in your space. It might be a different approach, but it is very practical and doable.
8. Hang It Over a Hammock Chair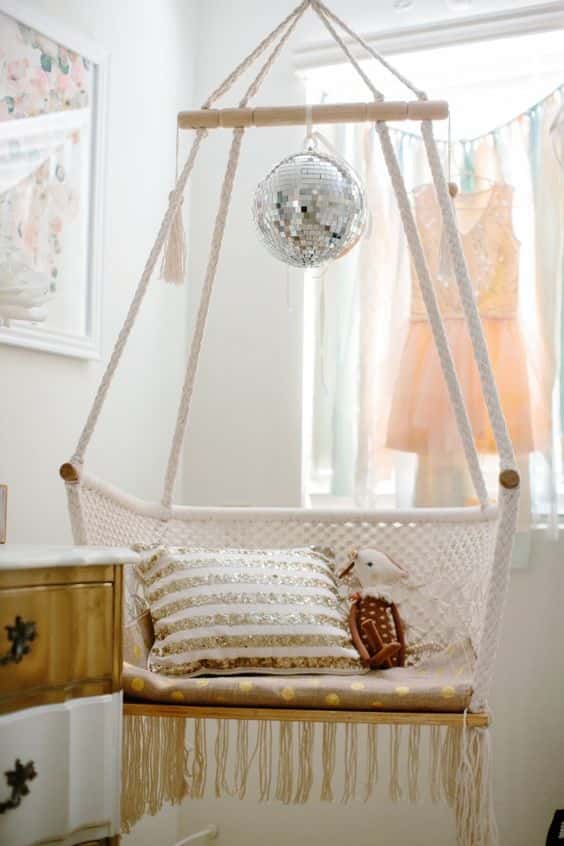 If you like hanging your disco ball but don't want to hang it in a very predictable place, like the ceiling, hanging it over a hammock seems like a good option. The addition of a disco ball will give it an edgy look and make it a part of your disco ball decor. This will amp things up in your room while maintaining the right balance.
9. Change the Color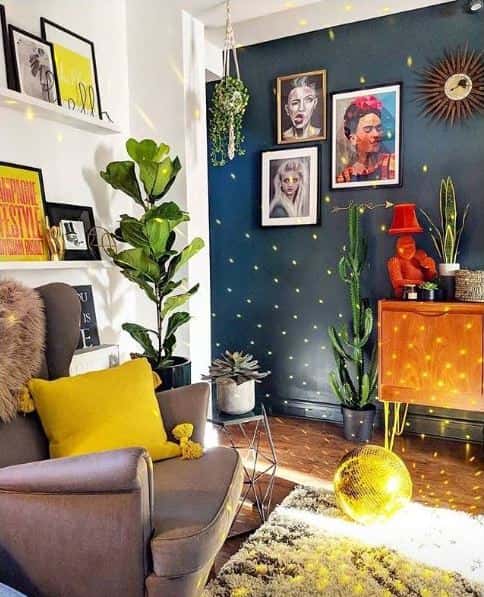 Traditionally using a silver ball is what we do. However, you can shake everything up by changing the color of your disco ball. Adding a golden disco ball will add great visual impact to your room and make it all gold and sparkly. It will also add a splash of color, taking your decor up a notch.
10. Casually Place the Disco Ball on a Chair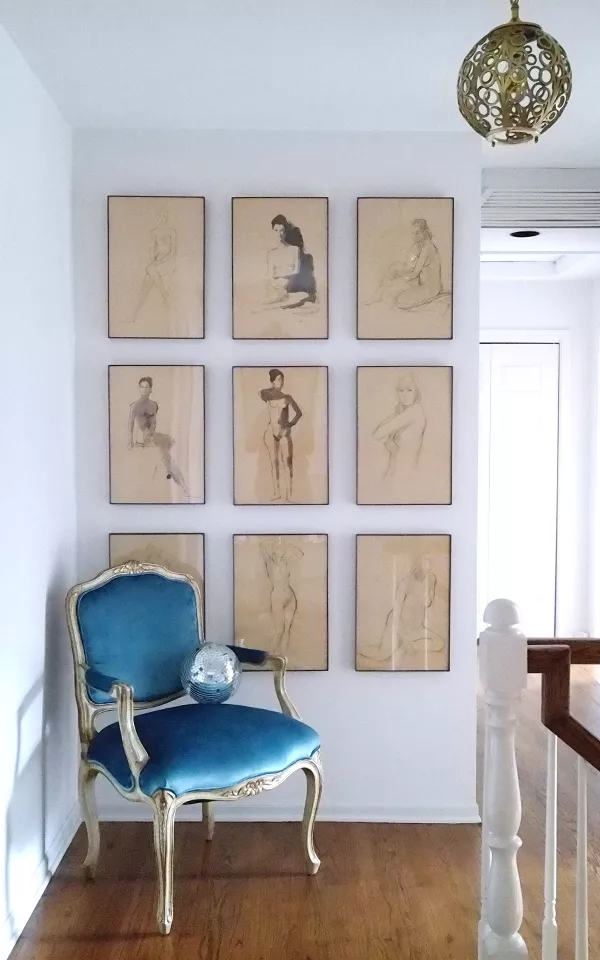 It is fairly very easy to incorporate Disco Ball decor in the existing decor of your home. One of the ways is to let the ball simply be. By that, we really mean leaving the ball on one of your chairs for display. Given it is such a statement element, it deserves a seat too. This decor style will get even more interesting if the chair is simply a classic or formal chair. Imagine the contrast you will be able to bring to your space with this.
11. Leave Some Sparkle on the Books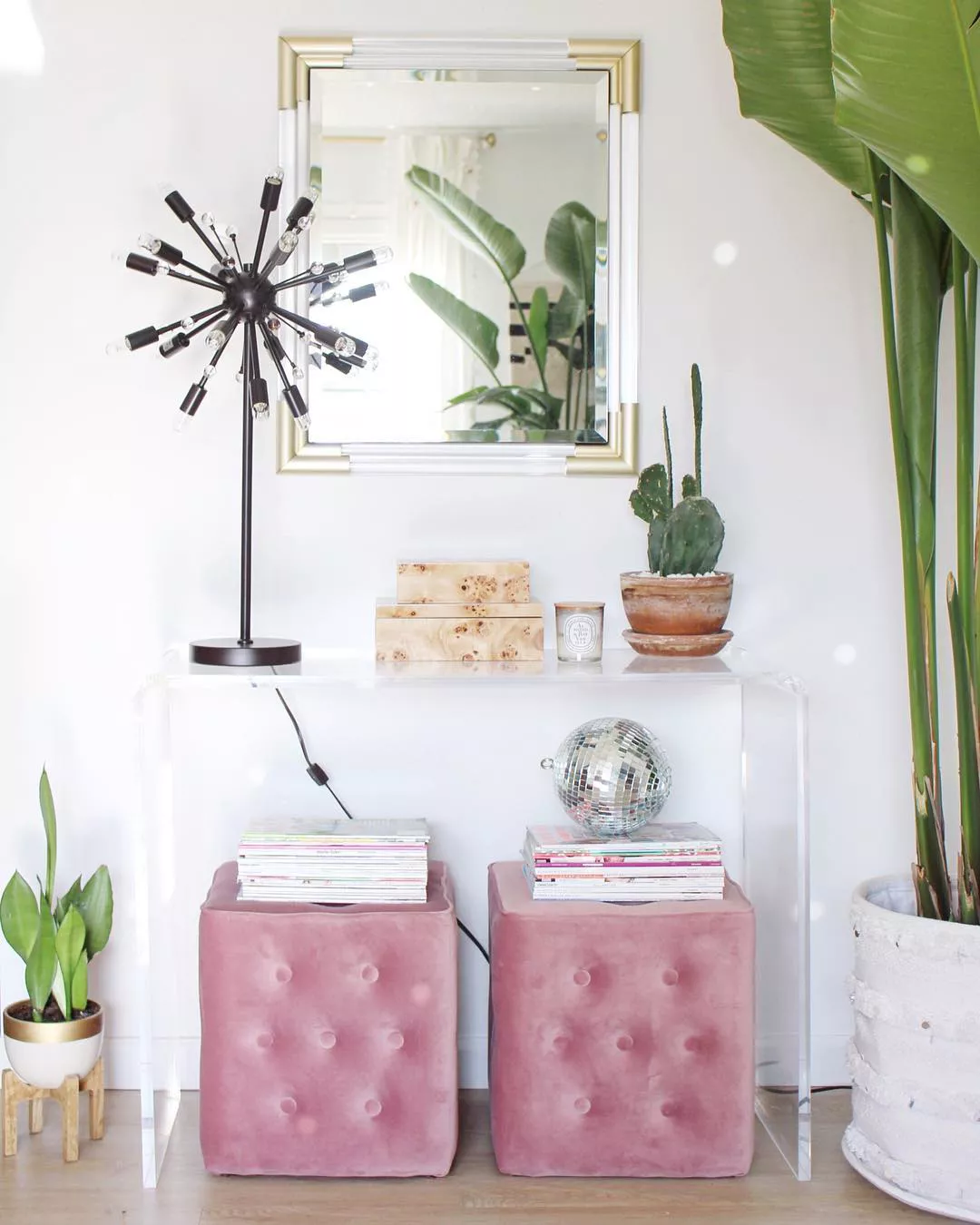 Another way to subtly use Disco Ball decor is by putting it in a place that many people like seeing or using anyway. You can put a disco ball on the stack of your books or magazines. This will give this stack an eye-catching element, and the metal will stand out over the soft colors and edges.
12. Hang Many Disco Balls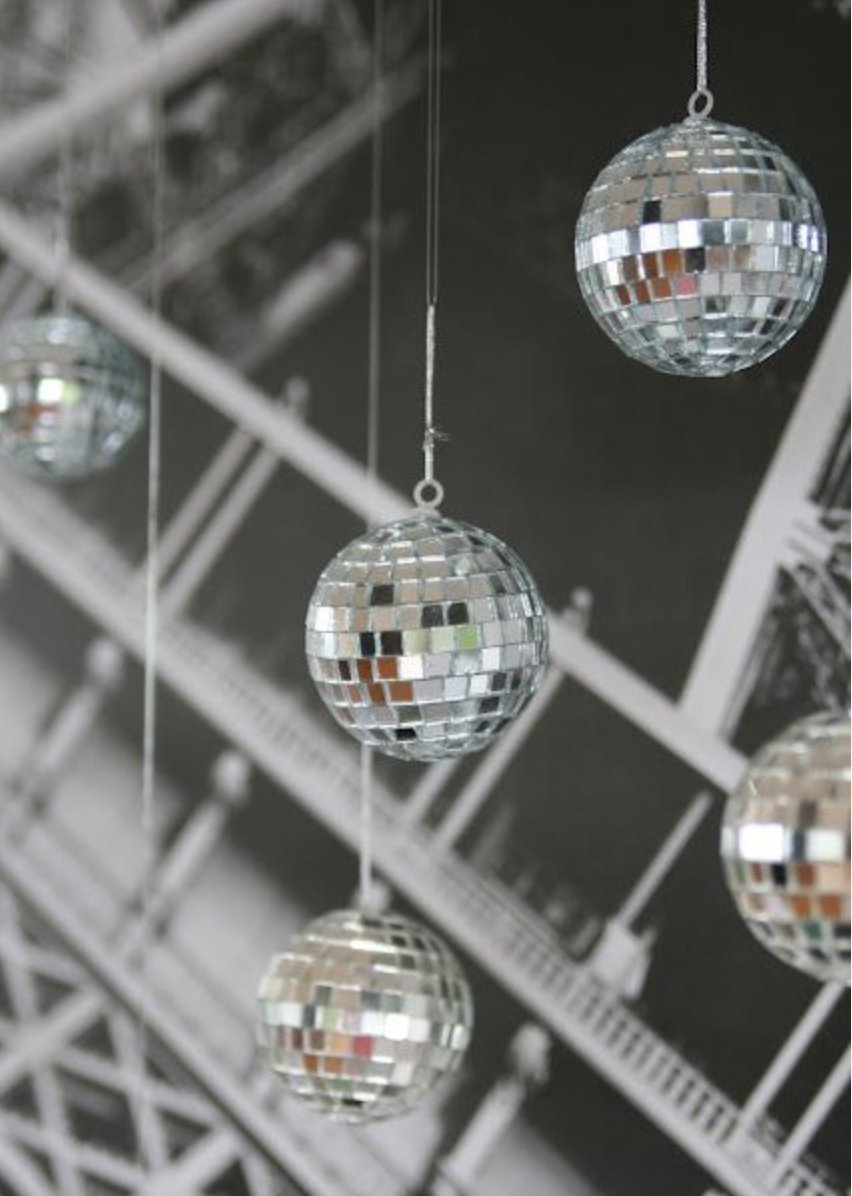 While Disco balls make a great decor element around the house, it is a better element for holiday decoration. You can take your holiday decor to the next level by hanging too many small disco balls from the ceiling. This will reflect a lot of light and bring everyone into the celebration mood instantly. If hanging them inside the house is too much, you can hang them in front of the porch and let it all be reflective and fun.
13. Use It as a Candle Holder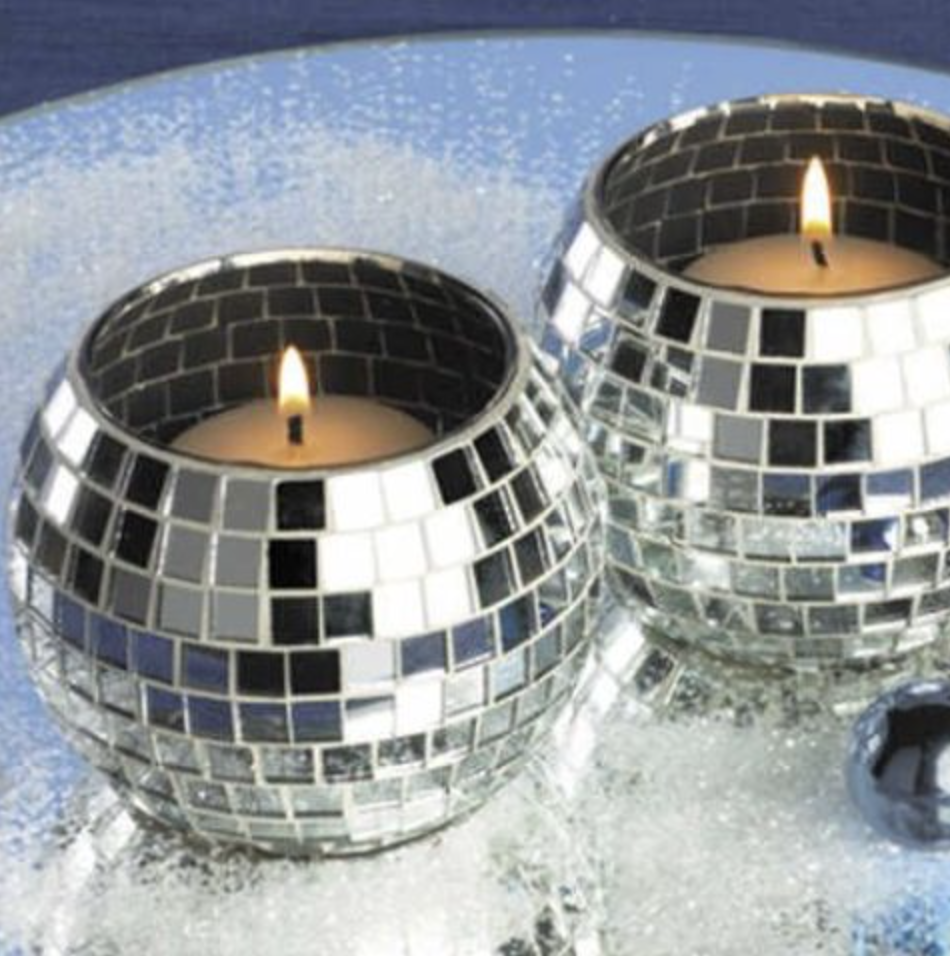 Candles are a big part of the holidays. There is rarely anyone who doesn't light at least one around that time of the year. You can bring some jazz to candles too. Just put them in a disco ball candle holder. Just like you put a plant in a disco ball, you can put a candle too. However, make sure you choose the right size for the right candle.
14. Make a Small Christmas Tree out Of Disco Balls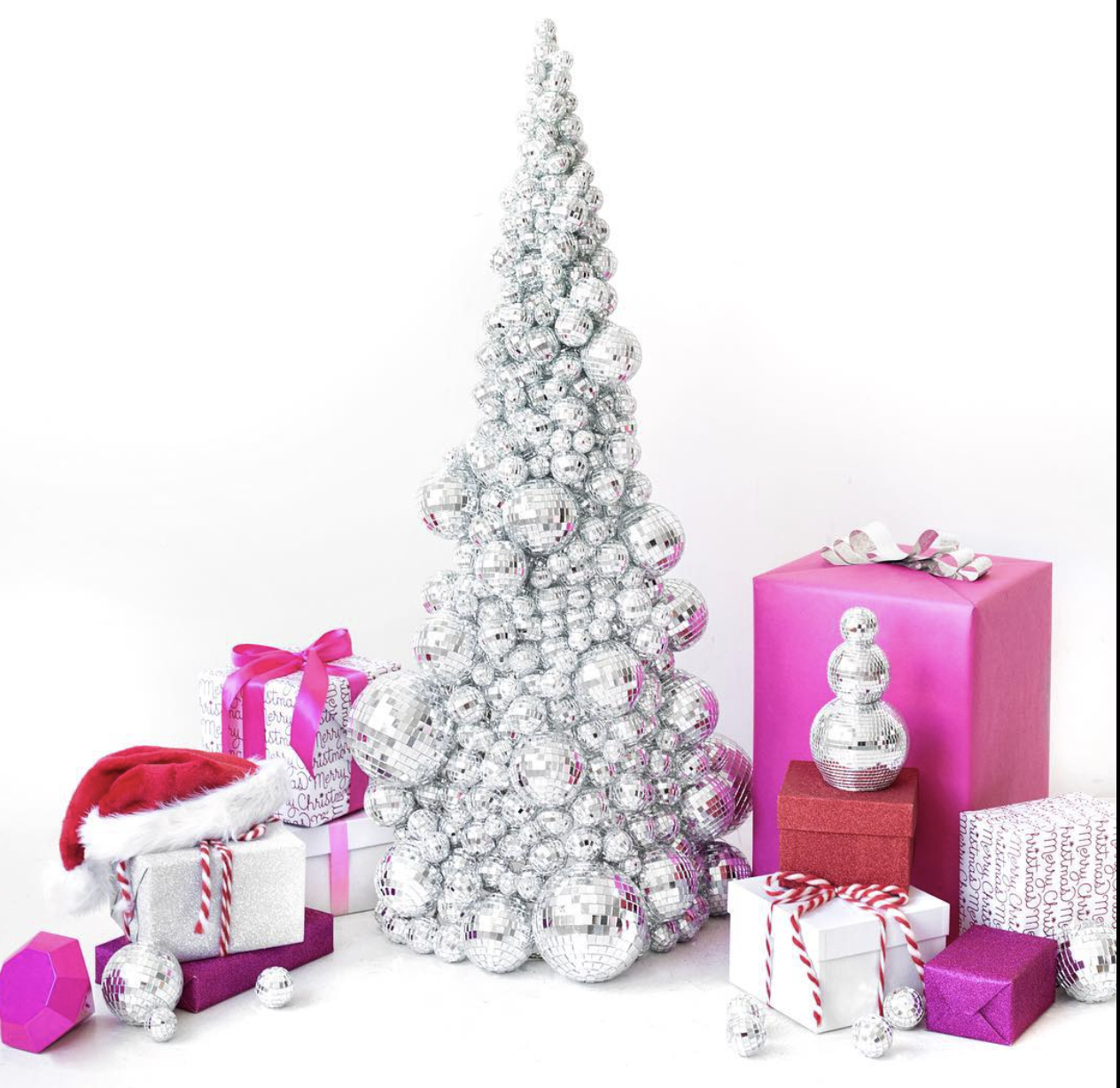 As you spread the cheer around the holidays, take things up a notch with a Christmas tree made out of just disco balls. This will be a great addition to your Christmas decoration and spread the cheer like never before. Not only this, but you can also use it as a centerpiece of your holiday dinner table. Just imagine small Christmas trees made out of disco balls, elevating the look of the table. One word- Beautiful.
15. Use the Disco Balls Around the Fireplace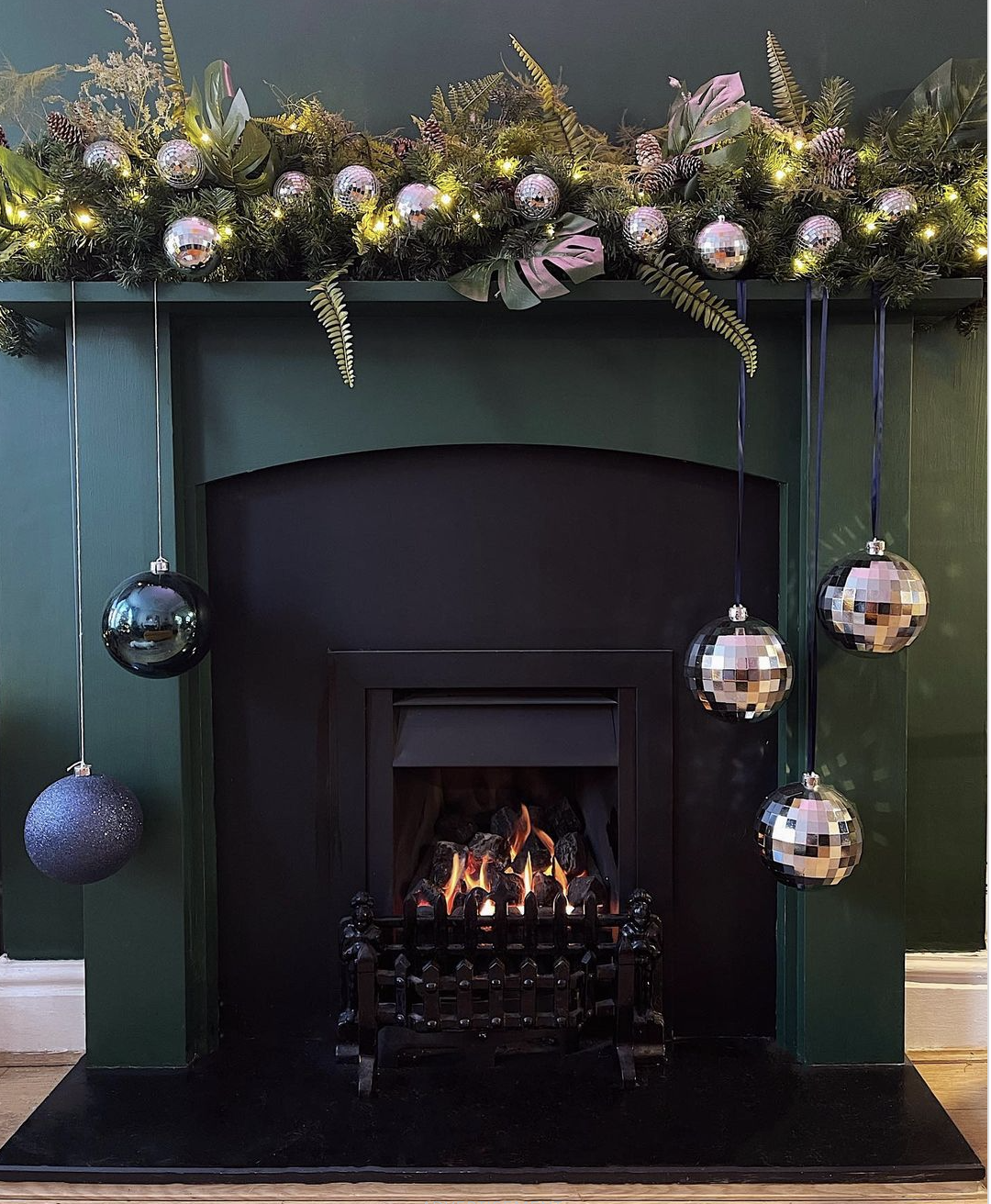 Another great way to use disco ball decor around the holidays is by using them to decorate your fireplace. You can easily make a garland with it. Instead of using silver balls, use small disco balls. This will give your garland an elevated look and add that jazz to your fireplace.
However, if you do not have a functional fireplace, fill the fireplace with disco balls. If you do not have wood, you can give it a chic twist to it. This is a great way to jazz up the whole place, indeed.
16. Make a Wreath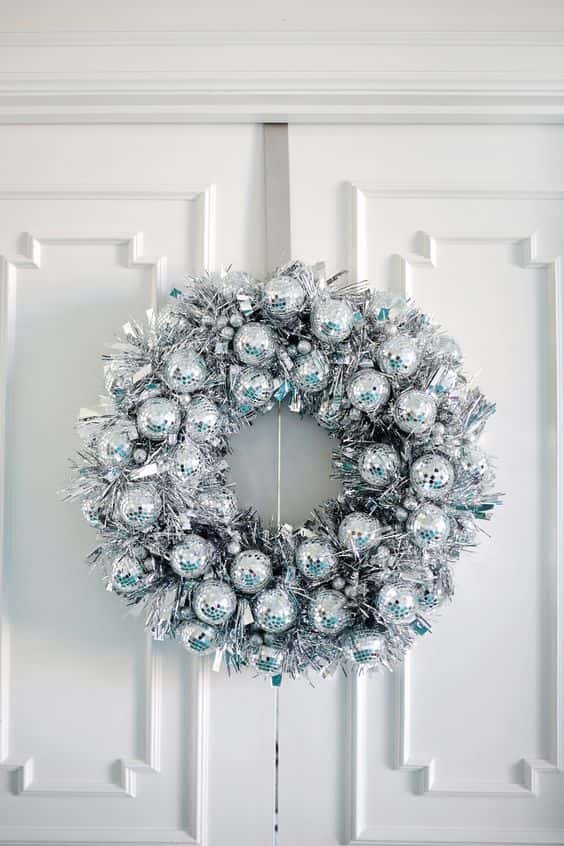 A garland is indeed an irreplaceable part of any holiday decoration. We come bearing good news because you can use disco balls there too. You can bring some glittery glamor with a disco wreath. This will put your guests in a party mood even before they have come in. Get your holiday fun started with a disco wreath.
17. Use It as a Tree Topper
Around holidays, if you have a Christmas tree, you will need a tree topper. Shake things up a little with a disco ball tree-topper. You will be able to turn your Christmas tree into a New Year's Eve element with this ball and keep the party going. It will look great, and did we mention it? Also, grab everyone's attention instantly.
18. Use It as Ornaments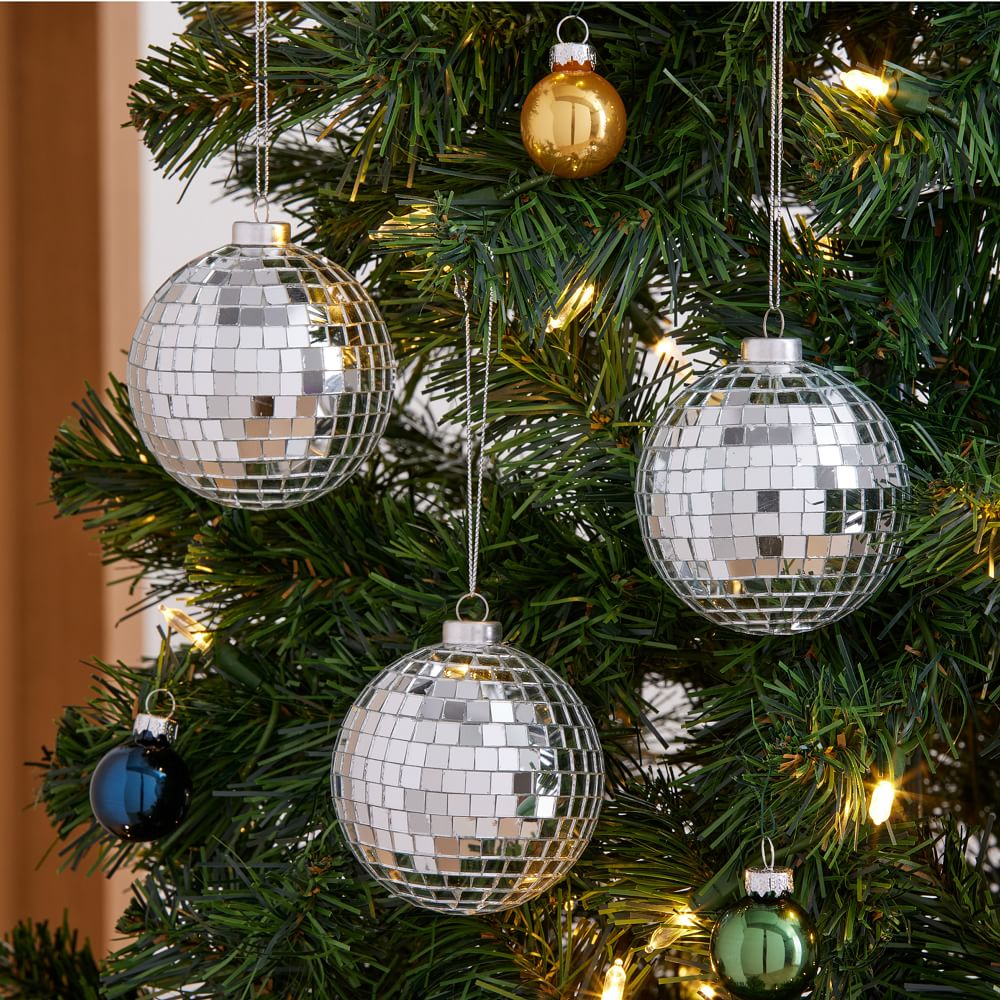 Why stop at the top when you can bring it down? What we mean is, decorate your tree with small disco balls. These will look ornate and bring charm to your Christmas tree. As an added addition, whenever light falls on the tree, it will reflect, making your Christmas tree the center of attention. This is a great way to make your Christmas decoration stand out rather easily.
19. Disco Ball Ice-Bucket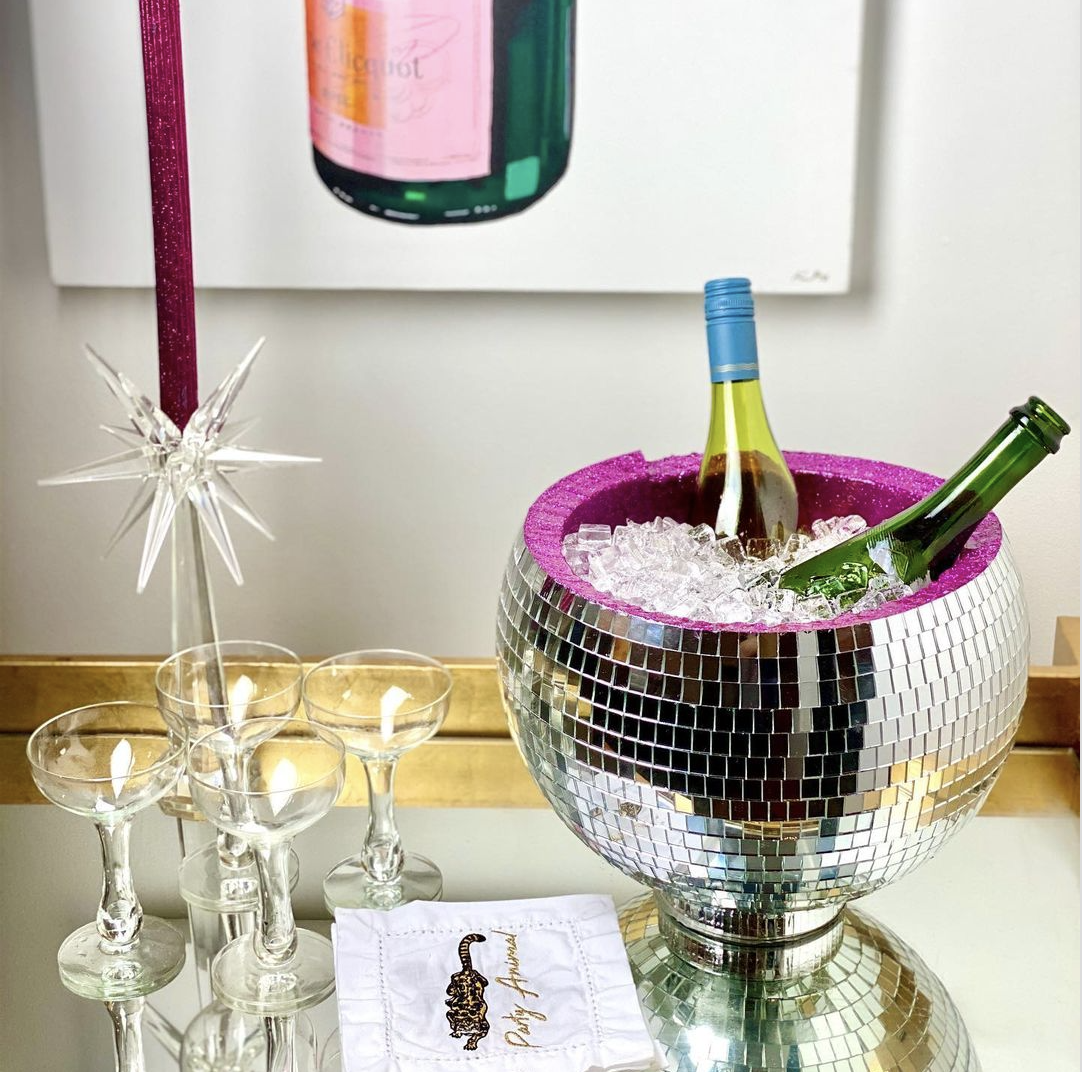 Looking to incorporate Disco Ball decor but want it to be functional? This is what you can do. You can use a disco cooler and give it a festive look while being functional. Imagine how good a disco ball in your bar cart would look. It will undoubtedly take your bar-table decor to the next level.
20. Take Inspiration from the Designers
You can take your Disco Ball Decor to the next level with this designer piece. This Kelly Wearstler melted disco ball sculpture. This is an accent piece, and it looks like it is melting off the table when placed there. The tiles under this catch the light and start to sparkle like a disco ball. This really is a statement piece that will catch everyone's eye, indeed.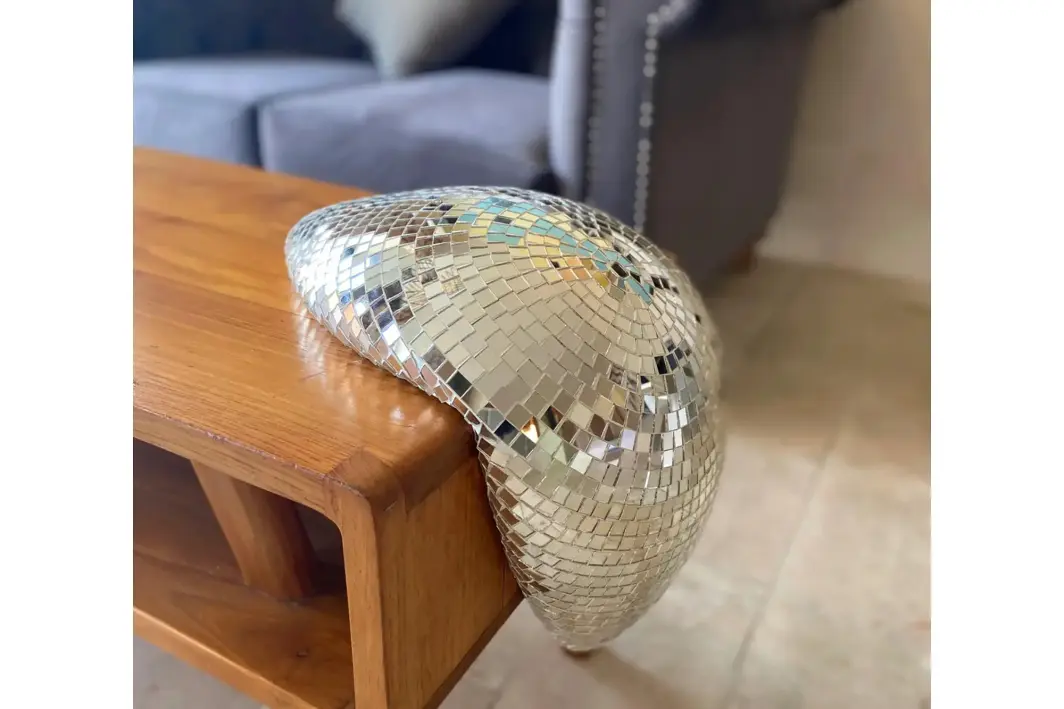 There is another way to incorporate these melting disco balls. It can be done by using a melting disco ball planter. Add this on the edge of any table or shelf, and it will make it up to be a very interesting addition to your space.
21. A Disco Ball Coffee Table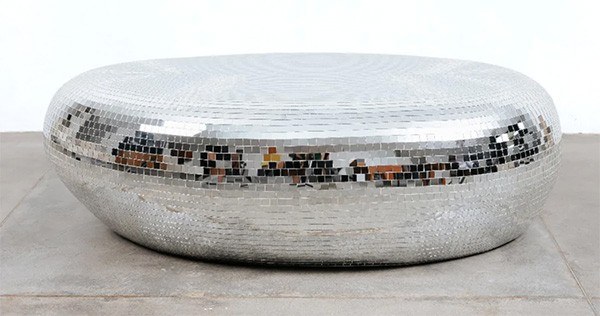 Last but not least is a disco ball coffee table. It is not a disco ball-shaped table but has a disco mirror that covers the whole table. It is a modern coffee table and surely makes all heads turn. It adds a touch of glam to your space, and because it features a curved silhouette, you don't have to worry about it feeling too edgy.
Reasons for Choosing Disco Ball Decor theme
Disco Ball Decor has made a comeback in the grandest way possible. From nightclubs, they have entered into people's homes, and there is a good reason why. If you are wondering why you should include Disco Ball Decor in your home, here are a few reasons that would help you make the decision.
Hanging a disco ball will make a normal room more interesting.
The mirror ball is capable of stealing the spotlight in your living room, which will be a great contrast to the muted hues. It becomes unanticipated addition to the space.
They can add a flash of fun to your home and give it a metallic touch which is very welcoming in terms of decor.
Things to Keep in Mind
While it is all fun to use a disco ball in your home, there are a couple of things that you should keep in mind when shaking things with this statement piece.
Find the perfect spot. Since it is an accent piece, make sure you do justice to it.
Disco balls can be both light and heavy, depending on their size. So, make sure you are securing them well and they aren't becoming a hazard to anyone around.
You can elevate your disco ball even further by lighting them up. You can use sunbeams, pin lights, and spotlights to take a look to the next level. Consider using multi-colored lighting to produce a kaleidoscope effect.
Some DIYs to Help with The Budget
There are a number of fixtures and ornaments available in the market when it comes to disco ball decor. However, nothing gives you satisfaction like the things you make. While it isn't possible to make everything in the above-mentioned list, here are some DIYs that will help you get the dream decor. As a plus point, it will also be light on your pocket. Check them out here-
DIY Discoball
You only need a few basic materials to make your own disco ball. Here is the list-
Wire Cutters/ Scissors
Mirror tiles
Styrofoam ball
Glue gun and glue sticks
Screw Hook (Optional)
Steps To Make Your DIY Disco Ball
Attach the hook to your foam ball. This step is skippable if you do not want to hang your ball and are planning to keep them on the floor or something similar.
Glue the mirror tiles to your foam ball with a glue gun. Continue till your ball is completely covered with the mirror tiles. Once it is done, let it dry completely.
Your disco ball is ready to be displayed in whatever way you want.
Tip: When you are making your own disco ball, make sure you choose the foam ball according to your need. Too big or too small might not do the job.
A Disco ball planter is a great statement piece to add to your disco ball decor. It is sparkly, groovy and brings a lot of fun to your space. The good news is, you can also make it at home, and that too very easily. You will need some basic materials and a little time. After this, you will have a beautiful disco ball planter made by you. Just follow these steps.

Materials you will need

Utility knife
Metal Straw
Pencil
Work Gloves
Disco Ball, made of solid foam
Plant soil
Macrame hanger

What to do?

1. The first thing to do is protect your hands. Since you will be dealing with small glass pieces, make sure you wear protective gloves before you start this DIY project.

2. Extract the mirrors: On a flat surface, use a utility knife to precisely cut ⅓ of the way down the disco ball and extract the row of mirrors. Remove all the mirror pieces in that one row.

3. Cut a line along the row. Sketch a line with the pencil if that works. After that, pull off the top and discard the remaining part.

4. Poke several holes in the bottom. These will work as the drainage holes that are necessary to grow the plant.

5. Add soil. Fill your planter with enough soil to plant.

6. Pot the plan. Make sure your plant fits properly in the disco ball planter and adjust as needed.

7. Place the disco ball planter in a macrame hanger and hang this beautiful plant that will dazzle everyone. However, make sure your macrame hanger is strong enough to bear the weight.

Final Words

Making its way from a nightclub to your home, a Disco Ball can be very elemental in any decor as it brings Jazz and pzazz to the room. They are fancy, shimmery, and everything you need to make your room interesting.

However, there are a few tricks and tips to make sure you are using this element correctly. Since it is such a big trend, it is easy to fall into a gaudy trap. Styling and showcasing this retro-inspired element needs creativity and subtility.

You have to be careful in order to avoid giving your room a gimmicky look with this statement piece. It is a part of the maximalist interior and can help you incorporate fun accents in your design and decor.

These really are the statement pieces that tell you- "Go Big Or Go Home." So, make sure you use them carefully. They make a great element in your home decor and a better one in holiday decor.

Have fun with them and get the party mood started.