21 Modern Mailbox Post Ideas to Upgrade Your Home's Exterior
A great way to make your home look more inviting is by accessorizing the curb. A mailbox plays an important role here. A great mailbox will not only attract everyone's eyes but also get you popular in your neighborhood. After all, Your curb is quite literally the first impression your guests get of you when they visit your home. You can leave a good first impression by making your curb look appealing, and your mailbox can come in handy here.There are many mailbox post ideas that are not only easy to use but also give your curb the fresh new look you might be looking for.
Here is a list of 21 Fantastic Mailbox Ideas and designs that are very beautiful and easy to use. From DIY projects to buying some very funky and interesting ones, there are a number of options available.
Check out all the great ideas that you can use to elevate the look of your curb.
1. Paint It and Make It Look Fresh
A great way to give your mailbox a makeover is by putting a fresh coat of paint on your existing mailbox. That will give your box a new look. You can even accessorize it by using a decal on the mailbox. This will not only personalize your mailbox but also give it a very pretty look.
Pro Tip: Match the color of your mailbox with your front door to give it a complementary look. This will make your mailbox look coordinated with other things in your decor.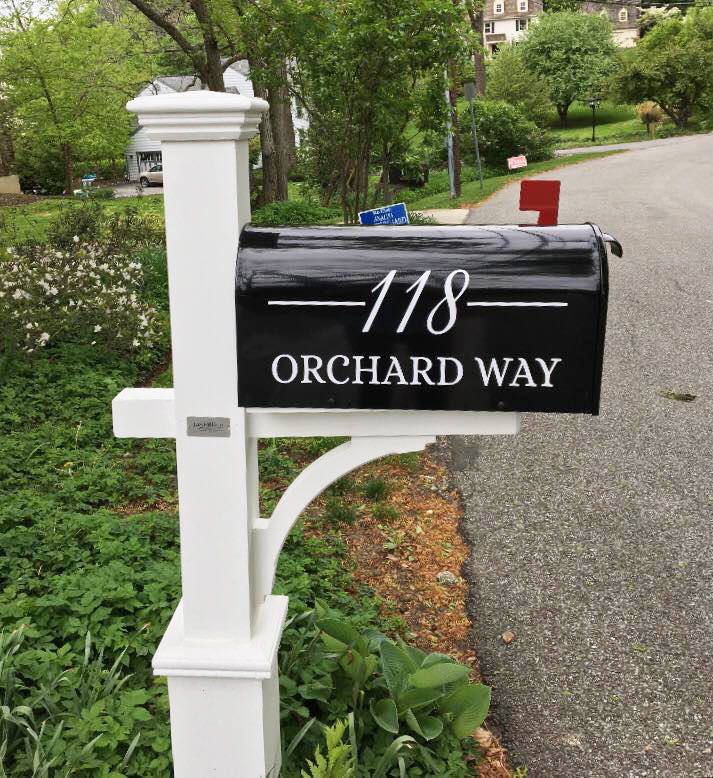 2. Give It a Pop of Pink
Ditch the boring. You can easily give your old boring mailbox a pop of color with some sweet pink and white stripes. You can use some spray paint to do it yourself and make your mailbox charming and give it a new look on a budget. Just grab some white and pink paint and make alternative stripes on one part of your mailbox. This will make it look very attractive. Especially on snowy days, it will pop and look very beautiful.
Pro Tip: When painting these stripes, you can use a stencil to be very precise and not mess the whole mailbox up.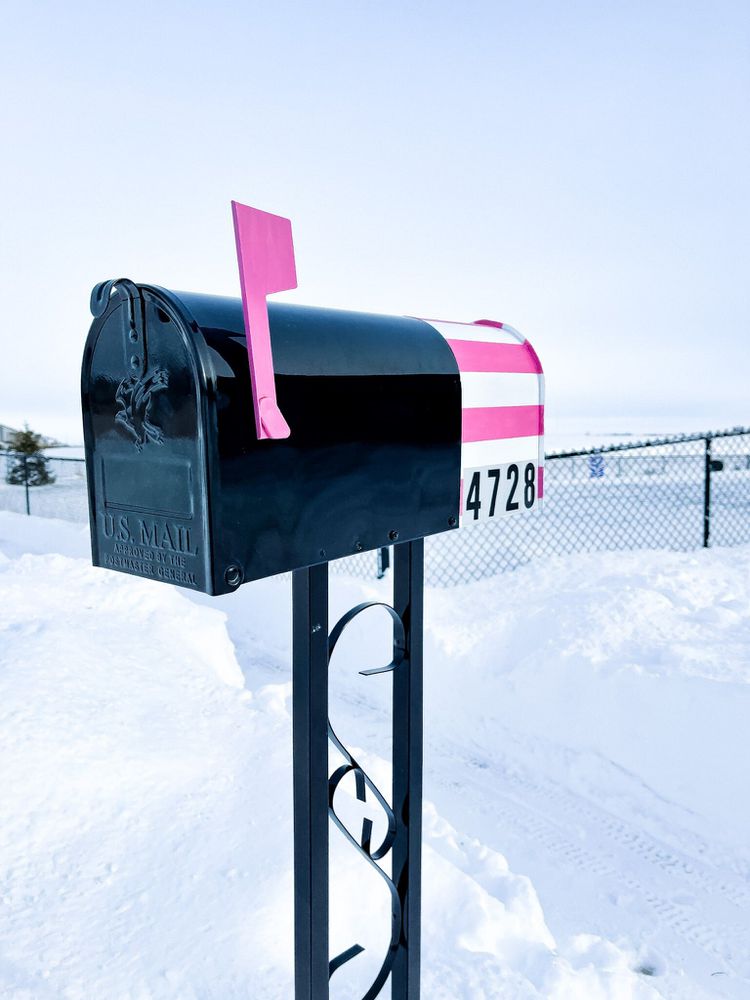 3. Paint It Yellow
Yellow is a cheery color that can brighten your porch up. You can add life and brightness to the mailbox by painting it yellow. This will make your dull porch beautiful, and this mailbox will pop. There are different shades of yellow available, so you can choose from them. As an additional tip, if you do not want to spend a lot of money to give your mailbox a makeover, you can just use spray paint and paint the mailbox yourself.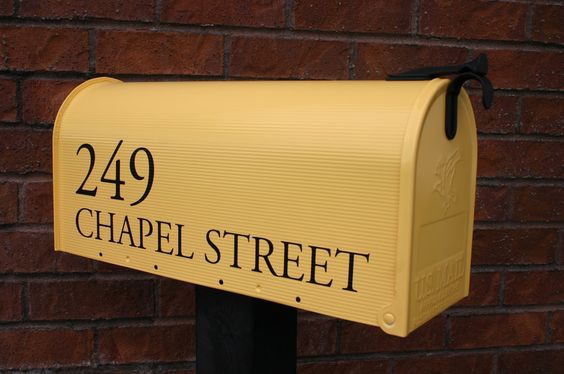 4. Add Flowers
You can make any place even more beautiful by potting some flowers around it. So, you can also put some flowers around the mailbox and make your and the postal worker's day. You can set up plant holders around the mailbox that you can buy anywhere, like a yard sale or a thrift store, and fit in around the box. This will be a very great mailbox idea to use and give your mailbox a good makeover.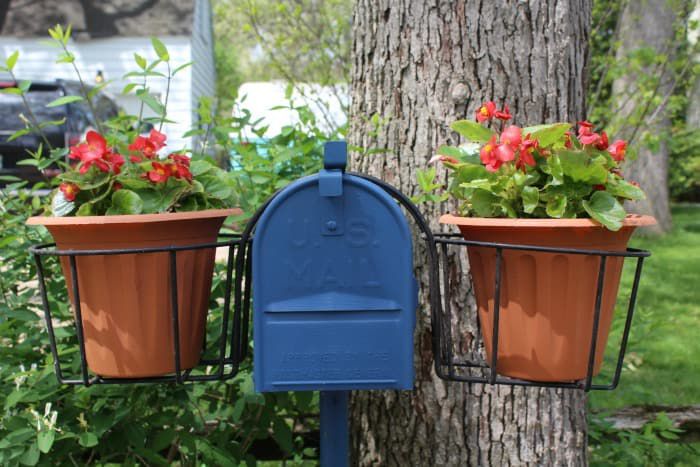 5. Make a Library
Another great mailbox post idea is making a little library on your mailbox. You can make a free neighborhood library that will not just make the postbox look beautiful but also add an additional element. You can use an old cement planter with a glass front and put some books in it. That way, one side of it will give you access to some books, and the other end will act like a mailbox.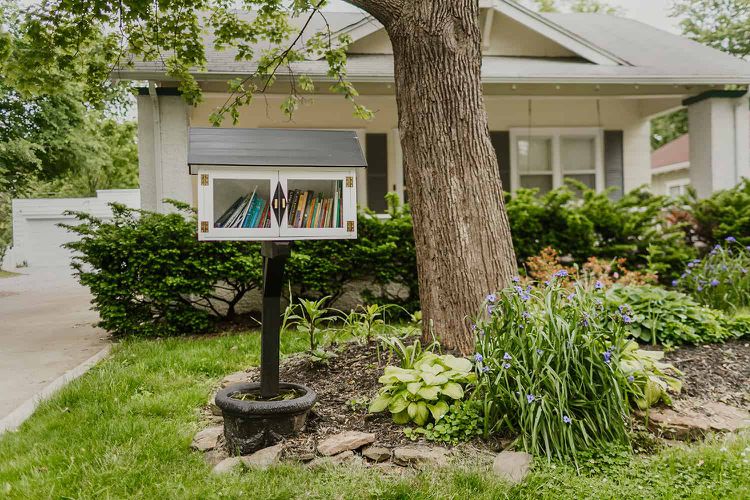 6. Put in Some Digits
Just because you are trying to beautify your mailbox doesn't mean that you cannot also make it more useful. Now, one way to do it is to write numbers in your mailbox. These should be used as a decorative element but will also make everyone's life easier. Oversized modern numbers are easy to read from afar and give your mailbox a beautiful touch too. As an added feature, you can also add some flower pots around or beneath your mailbox.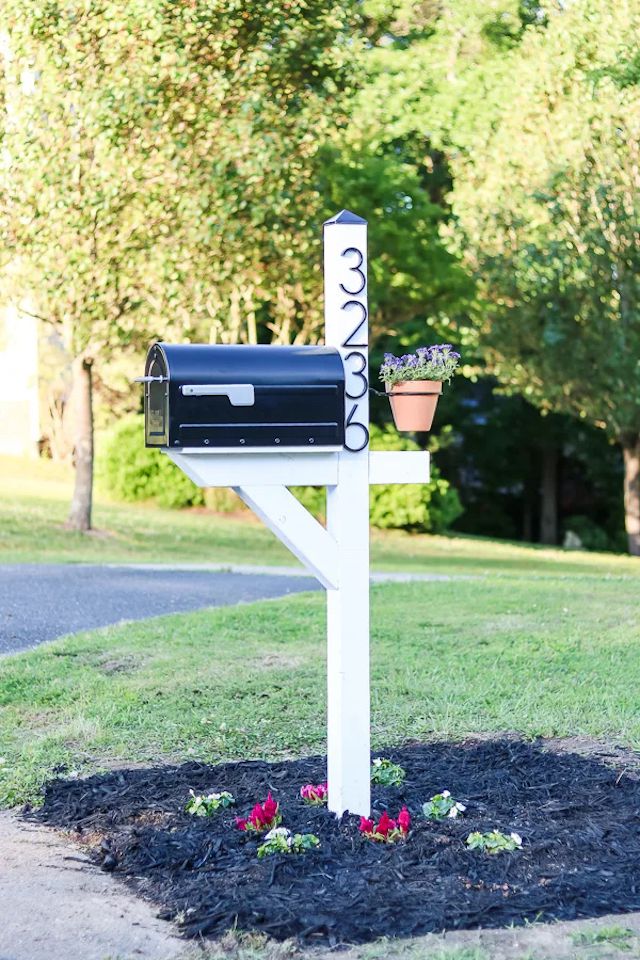 7. A Classic Sleek Mailbox
If you are not into very crafty and colorful mailboxes, you can opt for a simple, sleek white mailbox. This mailbox will blend in an all-white interior and will look very good and chic. If you are looking for one of these mailboxes, here is one you can look at. A Vsons Designs Store- Louis W American Aluminium Mailbox is made out of American aluminum and is coated with heavy white powder. It is sleek, modern, and can be easily wall mounted. This is a beautiful addition to your space and looks very chic at the same time.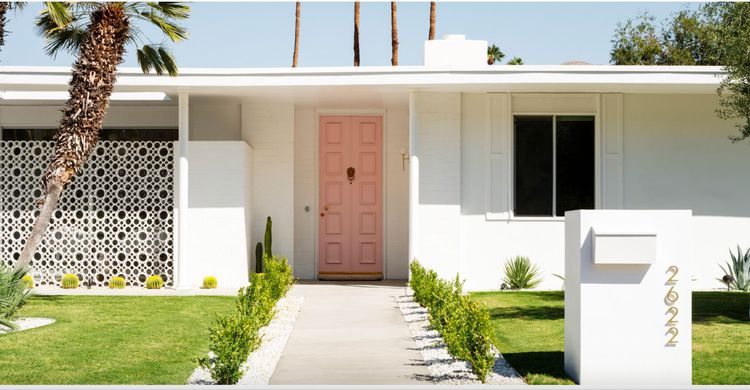 If you are also looking to elevate the look of this mailbox, you can emboss your house numbers in golden colors, and it will look very beautiful. The golden will shine through, and it will elevate the whole look all at once. It is easy and very fun to do.
8. An All-Year-Round Mailbox
A classic black mailbox on the front porch is a great mailbox to have on your porch. It is classic and also very customizable. A great way to decorate your black mailbox is by decorating it as per season. For instance, you can decorate it with a door garland in winter around Christmas. You can also decorate it with beautiful colorful flowers during summer. This will make it look different every season and make your porch more beautiful than ever.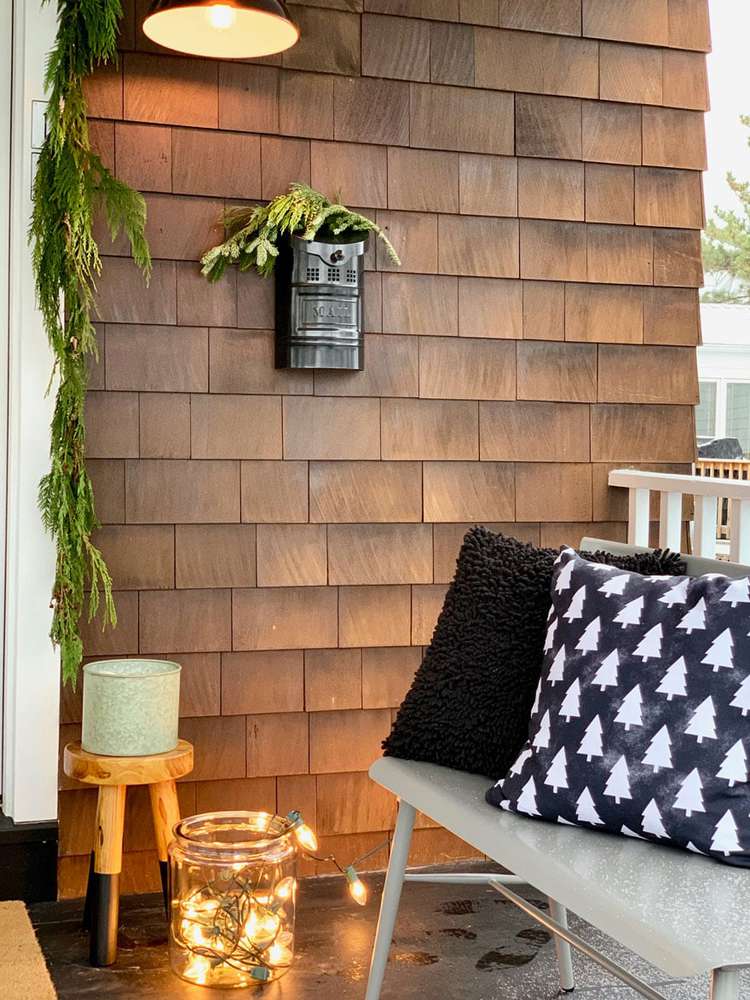 If you are looking for a simple black mailbox, here is one to check out. This black mailbox by Dalmbox is a big rust-proof postbox. It is made out of alloy steel and can be wall mounted. It is constructed with strong galvanized steel that is durable and lightweight. Since it is minimalist and simple, you can decorate it however you want, and it will pull off.
[amazon box="B09B1TJ65Q"]
9. Make a Funky Lining
You can give your mailbox a makeover for less than $10 or less by covering the mailbox with funky and beautiful wallpaper. This is a DIY project, and you can line the inside of a mailbox with a very fun wallpaper that will make it cheery and give good vibes.
For instance, you can use this Abyssaly Floral Peel and Stick wallpaper that has a boho mushroom print on it. This is a self-adhesive wallpaper, and you can line your yellow or red mailbox with this. It will look very good and give you a beautiful and funky feel. Since it is self-adhesive, you don't need many things. Just a pair of scissors, and you can put it in your mailbox.
[amazon box="B0BR9M63WY"]
10. Go Back to The Vintage
Are you someone who likes mid-century decor and want to bring it into your porch decor too? You can. You can go for a vintage mid-century modern mailbox that will catch everyone's attention. When doing so, look for materials like brass that give it a vintage touch. While buying it new could be a little expensive. You can look for pre-used ones and polish to give them a look like new ones.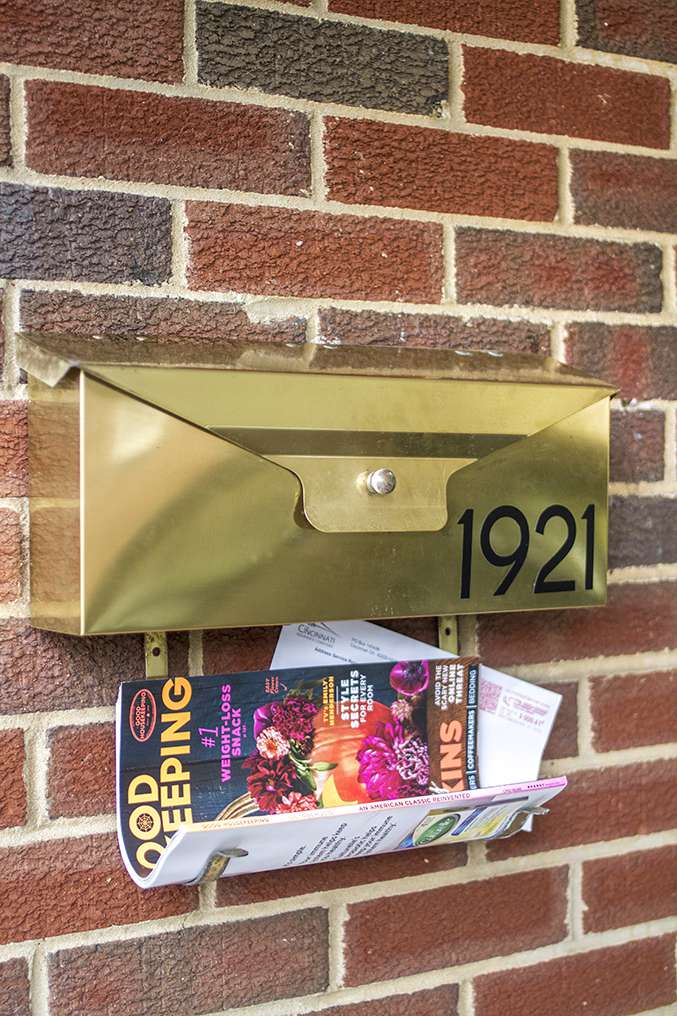 The Qualarc MB-500-PB Horizontal Brass and Lacquer Finish Mailbox is a great brass mailbox if you are looking for some options. It is handcrafted with gauge brass and copper that is coated with a Lacquer finish for protection. It is easy to clean and has durability.
11. Happy Home Mailbox
Many traditionalists often prefer classic mailboxes. A wooden post structure with a metal box makes for great mailbox post ideas as well. You can add reclaimed lumber to a metal mail post. To add a beautiful touch to it, you can also add some metallic numbers that will make it eye-catching. This is a great mailbox idea that is a mix of farmhouse and modern mailbox.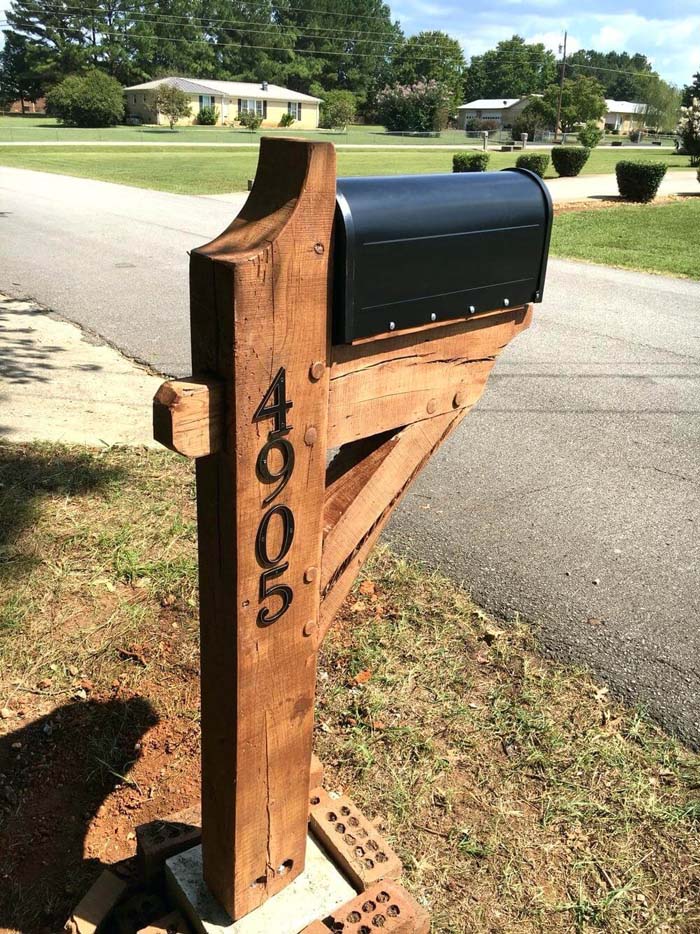 12. Use Repurposed Furniture
You can also decorate your mailbox with repurposed furniture. Take table legs that are a great DIY mailbox idea. The ones with curved wood legs are even better. You can put your mailbox on one of these legs and put it on your porch.
This is a very good mailbox post idea. You can paint it white in order to give it a modern look, but if you are looking for a rustic impact, just leave the wood in its original color or age to make it look rustic and vintage even. To elevate the look a little more, you can place it in a small garden with seasonal flowers.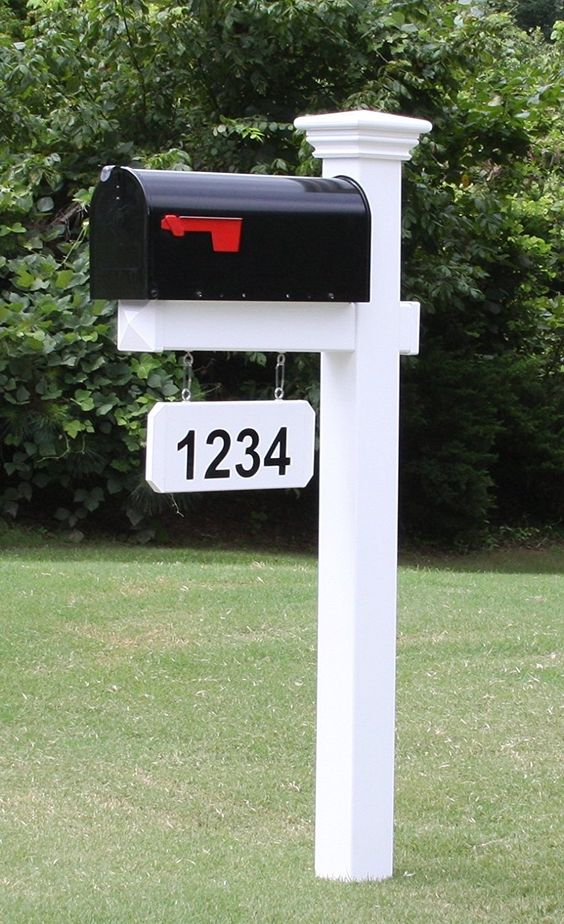 13. Fence-Inspired Mailbox Post
Climbing flowers brings a lot of appeal to your front yard. You can incorporate this effect in your mailbox ideas very easily too. You can use a ladder or the lattice support that can be used for climbing perennial or annual flowers. These flowers can climb up to the mailbox and look beautiful. As an added part, you can make a raised garden bed, and your flowers can additionally grow there too.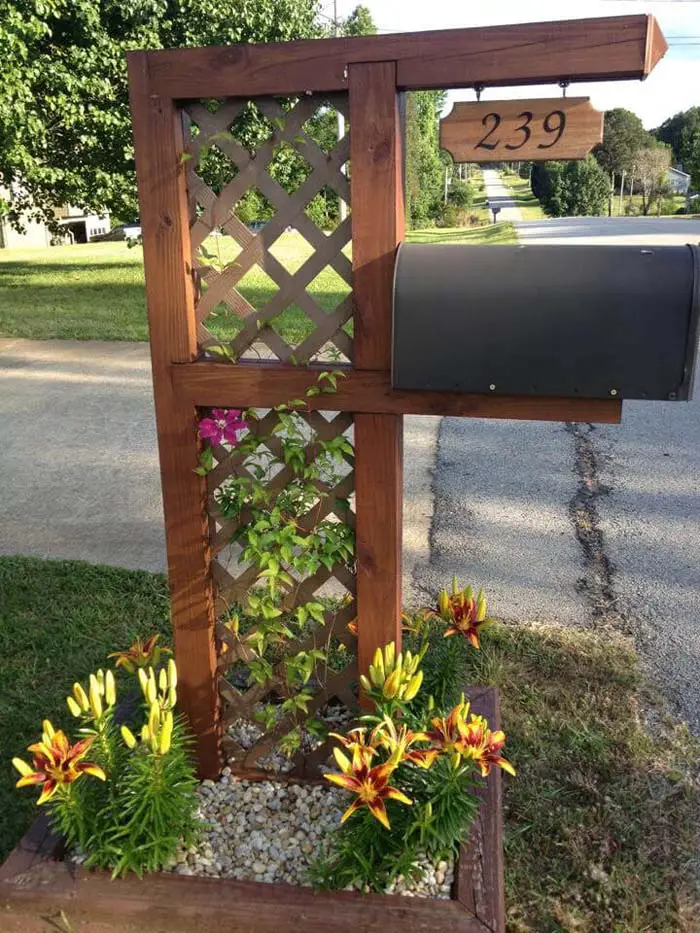 14. Modern Farm Style Mailbox
Made out of stones, this mailbox is a great addition to your front yard. You can easily make a farmhouse out of farmhouse materials. You can also place a low structure on both sides of the mailbox, and you can grow small flowers on it. The middle part of this structure can be used as a mailbox. You can add an iron closing to this mailbox to give it a vintage look. You can also add some brass number tags to make it better looking.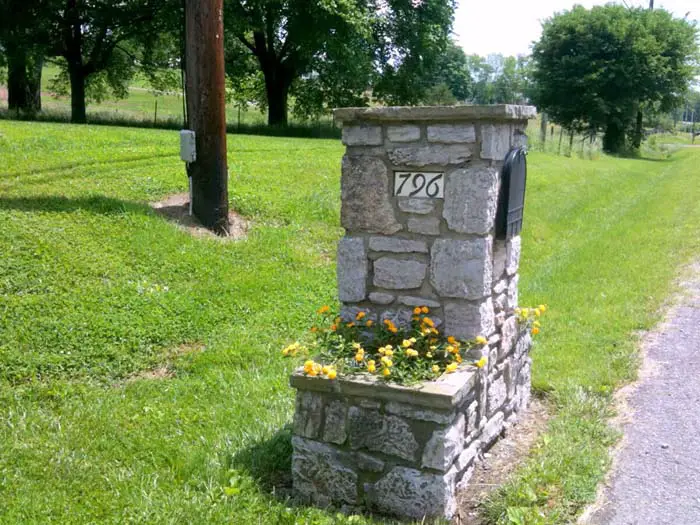 15. Vintage Bicycle Mailbox
Another great mailbox post idea is the vintage bicycle that can be used as a mailbox and a planter. Use an old bicycle that does not get used much and looks vintage and adorable. You can park the bicycle backward and put a letter box on the backseat and a flower pot in the front basket. You can also color this bicycle with a bright, vivid color that will be easy to distinguish and complement the flowers you have potted.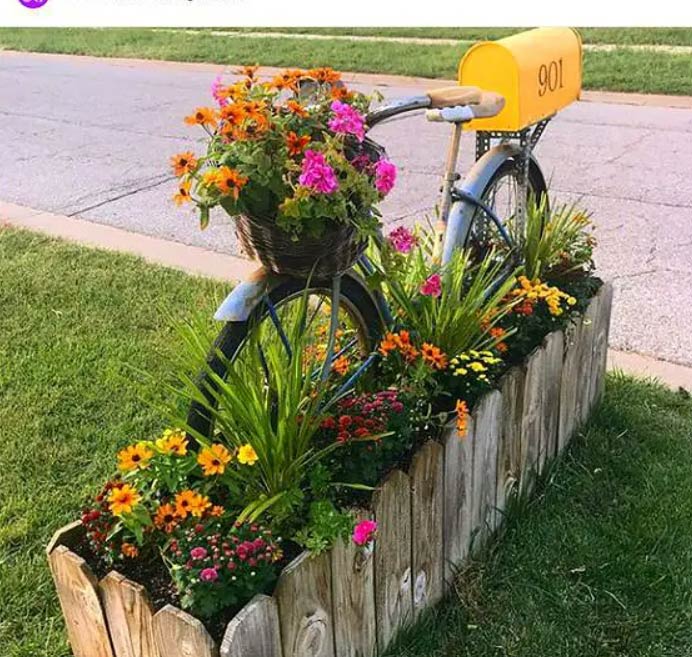 16. Mailbox that Rises from Rock Garden Base
You can give your mailbox a decorative function by adding a planter on the base of your mailbox and making it a great visual. The solid pedestal can be made out of concrete stones, and you can elevate the look of this by adding a wooden post peeking out of its center. Add a traditional metal box to this post, and you will be good to go. This is a great addition to your front porch.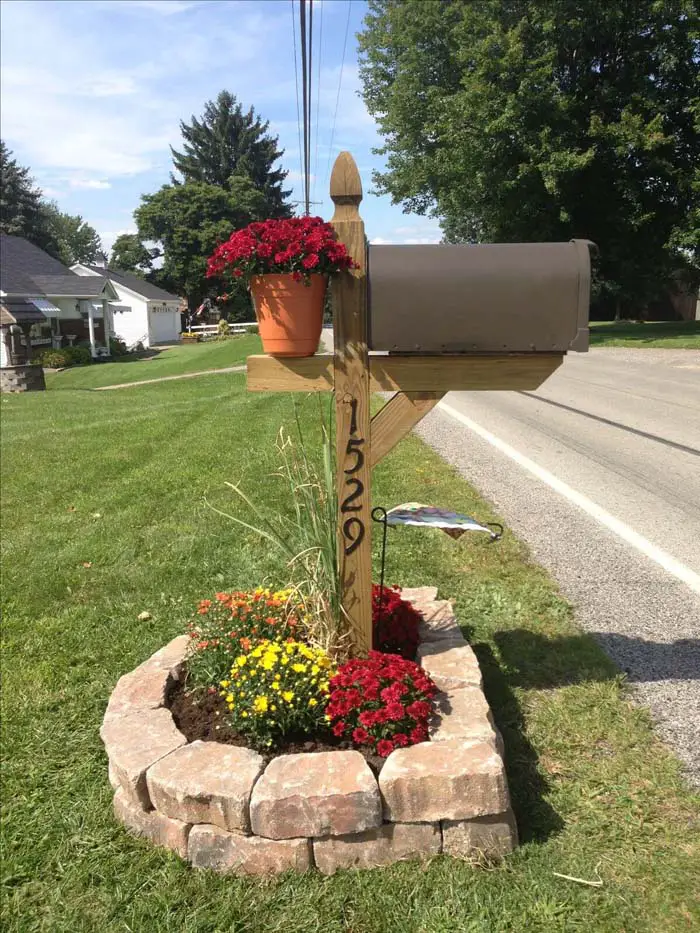 17. Make a Mailbox Stand with Reclaimed Woods
Let your mailbox be raw and beautiful. Give your mailbox this look by adding some reclaimed bricks, stones, and confer blocks that will help you customize your mailbox for many years. You can also add a planter section to this structure and grow seasonal flowers here. Nothing makes a structure more beautiful than flowers. So, let them grow.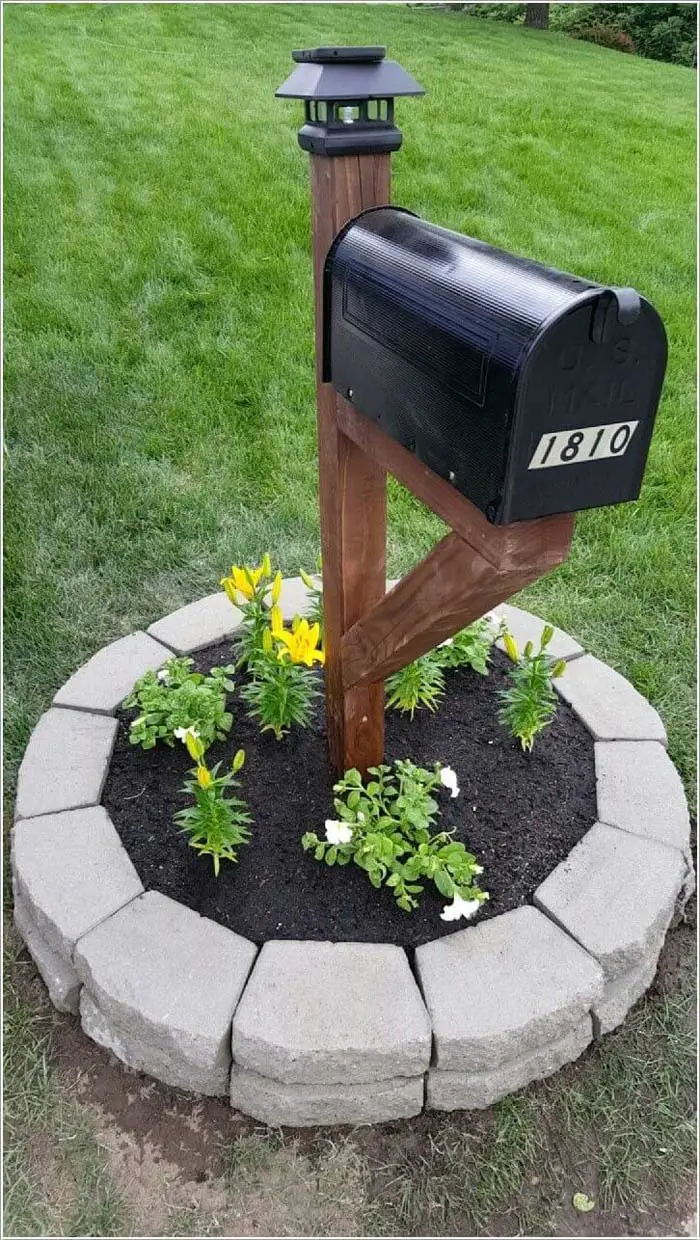 18. Mini Home-Model Mailbox
A very cute idea to add to your mailbox post ideas is this mini home model mailbox. You just have to be creative and get a mini model of your home to be made. You can install this on the post, and it will replicate your home. This will be a very personal box and bring a lot of creativity to your porch. Given that it will look just like your home, everyone will at least wait a second and appreciate it. So, you can take this leap and make your mail post very pretty.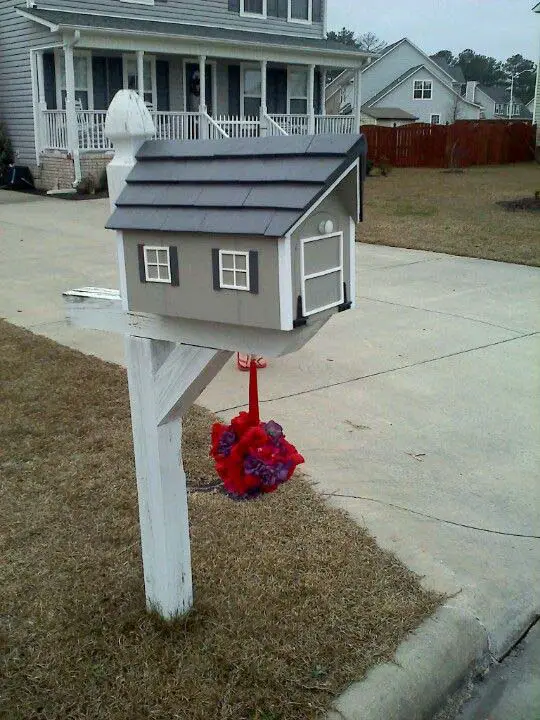 19. Get Some Geeky Mailboxes
If you are nerdy and want to include your interest in your decoration, you can choose your favorite character or any element from your favorite book to make a mailbox out of it. Just find a mailbox that goes with your interior and just run with it. For instance, if you love star wars, you can choose R2D2, Darth Vader, and Death Star mailboxes to add to your porch. Or, if you like Lord of the Rings, maybe you can get a hobbit or a dragon mailbox. This will be fun and let your personality shine through.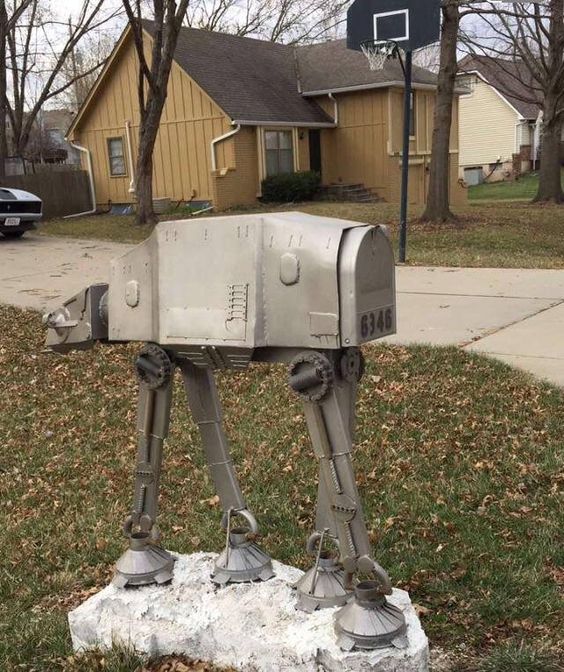 20. Use the Whiskey Barrels
There are multiple ways to use whiskey barrels and repurpose them. One of those ways is by using them as a flowerpot that has flowers and also supports a mailbox post. Use a rustic barrel to store the soil and plant flowers in it. Also, put the mailbox in a way that it can support it. The foliage with the blooms will start to cascade down the barrel and create a beautiful natural landscape right in your porch. This is a DIY project that will look very beautiful.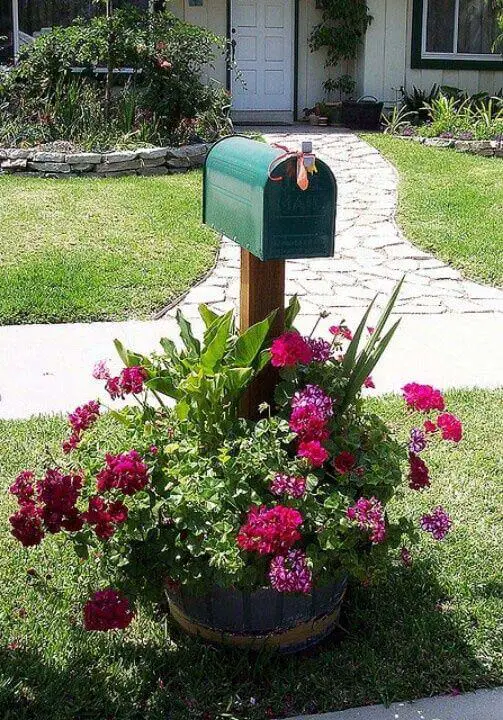 However, there is another way to use the barrel as your mailbox post ideas. If you want to want to repurpose it in a way that it can hold your letters, you can do that too. Get a small barrel-like structure and make a mailbox out of it. You can also add some small metal tags to personalize this.
21. A DIY Striped Mailbox
If you really want to give your mailbox a makeover and want to do it yourself, you can easily do this DIY project to give your mailbox a new look. This DIY striped mailbox is colorful and a beautiful addition to your space. This mailbox gives you a perfect pop of color while also being light in your pocket. Since it is a great DIY project, it will be fun to get along with it too. Just follow these simple steps, and you will be able to make this beautiful mailbox.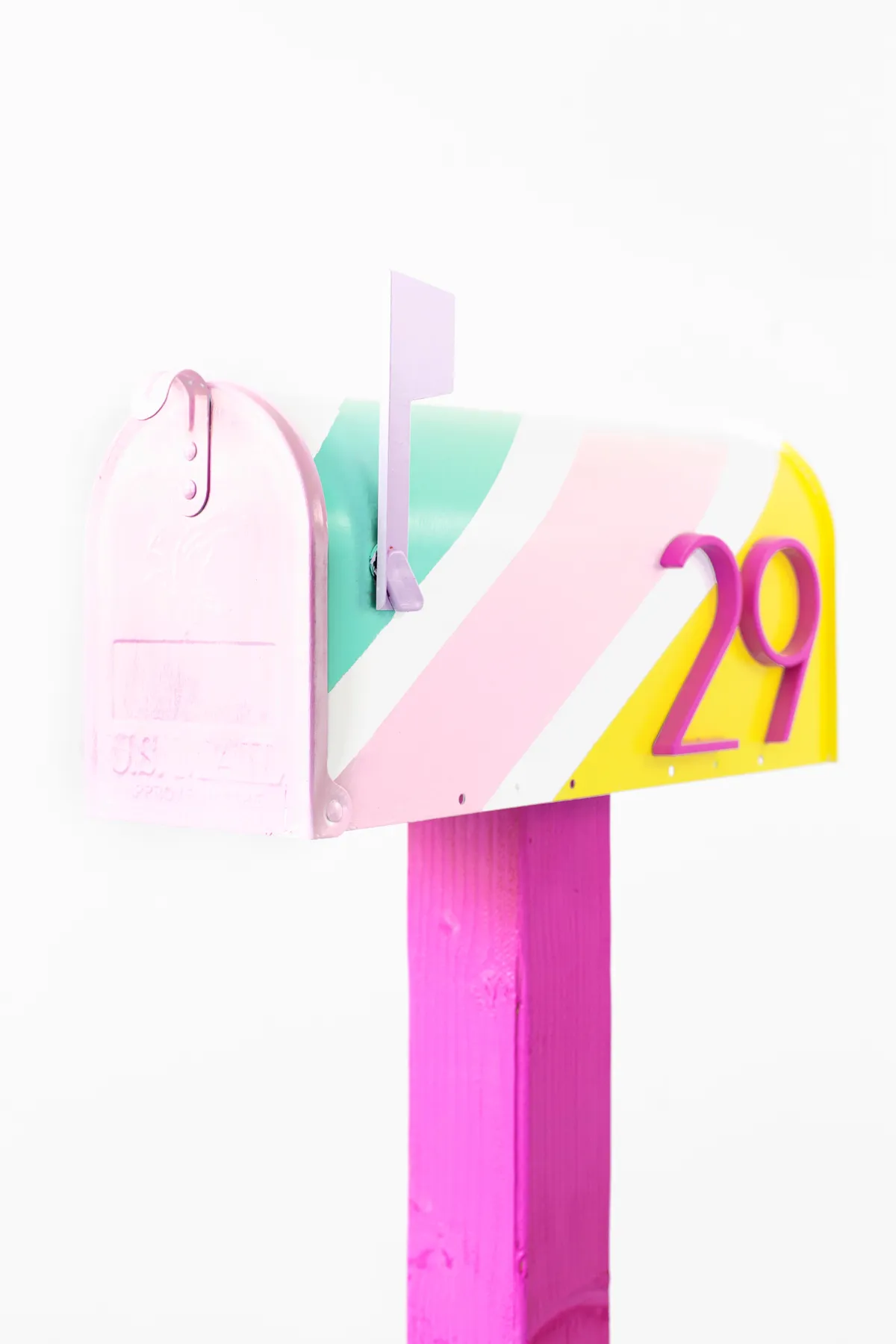 Is It Okay If I Decorate My Mailbox? What Are the Rules?
After reading all of these ways to decorate your mailboxes, we understand that you are excited. However, before you get to it, there are a few rules that you must know before you go ahead with the decoration.
1. Don't Obstruct Mail Deliver or Pick-Up
The United States Postal Service permits mailboxes to be decorated as long as they do not hinder mail delivery and pickup. You can only decorate full-use mailboxes that have a flag that indicates there is outgoing mail. Make sure your mailbox can open and shut very easily.
2. Don't Create a Safety Hazard
The USPS has not specified what a safety hazard is, but in common sense, do not use anything that has sharp edges or is too hot to touch. Anything that can injure the mail carrier can be avoided.
3. Say No to Advertisements
It is OK to decorate your mailbox, but you cannot attach advertisements, flyers, posters, or branded decals to your mailbox. However, you can very easily put up wallpapers and magnetic mailbox covers.
4. Check the HOA
Before you make any decision. There are many homeowners' associations that can be picky about what you can or cannot do. So, make sure you go through the guidelines before you put in too much effort.
Conclusion
For many people, checking their mail is a part of their daily routine. It is something that many people enjoy doing, and with these mailbox post ideas, you will be able to take your blah mailbox to wow. You can either go with a DIY project or choose something that goes better with your interior. These are easy to use and, come on, a lot of fun also.
The mailbox looks like a very small part of the curb, but we assure you it is one of the most important elements. So, do not overlook them, and make sure the outdoors of your home is just very beautiful. It is the time to transform your mailbox now.
Frequently Asked Questions
How Can I Make My Mailbox Look Good?
You can very easily decorate your metal mailbox with spray paints, monogram decals, vinyl numbers, and contact paper liners. You can add fun colors and patterns to your mailbox, and it will be pretty and good to go.
Can I Decorate My Vintage Mailbox?
Yes, it is very simple to decorate your vintage mailbox. You can just start by cleaning your vintage mailbox. Then, using spray paint, color the outside parts of the box. Now, it's time to decorate. Just cut up some flowers from different floral napkins and attach them to the mailbox using mod-lodge. Once this has dried up, cut up some fabric and put it inside the mailbox. Give it some time to dry and look finished. Once you are satisfied, you can easily install this vintage mailbox on your porch, and you will be good to go.
How Can I Personalize My Mailbox?
You can personalize your mailbox by decorating it however you want. Choose your favorite color and put a coat of fresh paint or add a fun pattern. You can add whatever unexpected details you want to add to your mailbox and make it look beautiful and fun.