Are you hunting for DIY fairy garden ideas, or may you love fairy tales and magnificent creatures? You will like the whimsical nature of a fairy garden whether you are a tiny kid or a grown kid!
You should construct your magical area for enjoyment or as an exciting conversation starter. Alternatively, you could design a fairy garden to enchant your kids. It doesn't necessarily need to resemble a typical backyard garden, either. Some fairy gardeners design landscapes with deserts, mountains, and underwater or farm settings. Some even construct whole towns. Here are 21 tiny gems that can brighten your landscape with charm.
What, therefore, distinguishes a fairy garden from a regular small garden? In any case, small gardens are always adorable. However, fairy gardens have an excellent and fantastical quality about them.
There's always the option to purchase a mass-produced plastic "fairy door" and attach it to a branch in your garden. Where's the pleasure in that, though? Wait for a slew of better ideas.
1. Fairy Rock Garden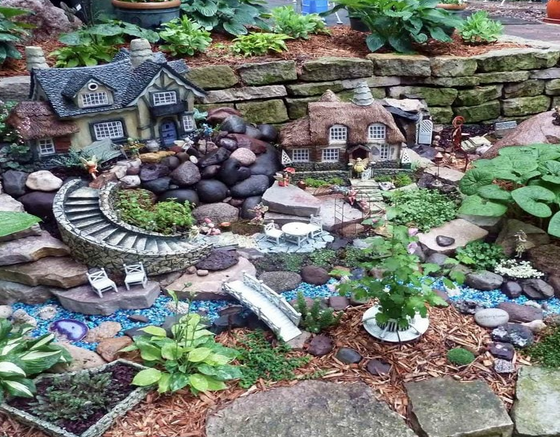 The reason for this fairy garden in an old wooden bucket is built on rocks as its foundation. Use a small watering can in the house to achieve the desired effect. Remember the mushroom-themed tic-tac-toe game as well. Create a miniature version of a conventional kitchen/dining room or set up an outside dining area for your young ones. Set up a rock where the fairies can have a glass of mead. Create a pathway through a fairy garden, a garden stream of tiny blue glass pebbles, a rocky beach setting or even a glow-in-the-dark scene using these small rocks.
2. Fountain Fairy Garden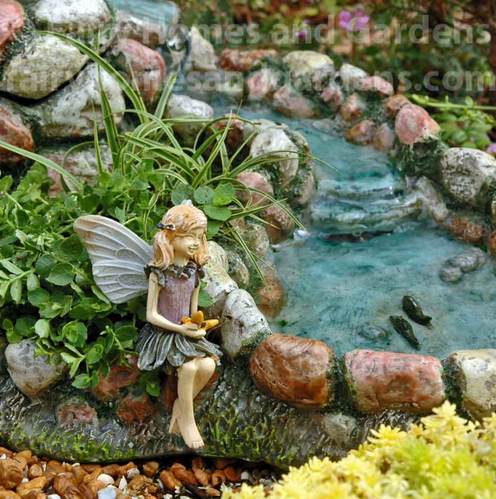 A water element enhances the appeal of a typical-sized garden landscape. The same holds for a water feature with fairy-sized dimensions, like a tiny pond. Using natural water, a sprinkle of bleach will help keep insects and algae at bay. If a natural pond is not your thing, you may create the illusion of actual water using a small mirror, blue-glazed porcelain, or even shimmering marble. When shells are turned upside down, water and a few tiny blossoms can be added; they make the ideal paddling pools for fairies.
3. Fairy Garden House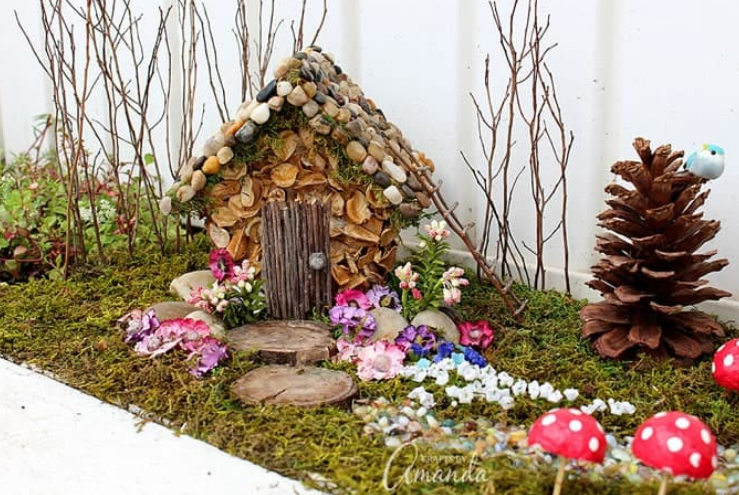 This homemade fairy garden home resembles a dollhouse, is constructed on a log, and features various floors with walkways and stairs. Small rocks and flowers round out the whimsical design. You can also purchase charming fairy garden kits. Use a matchstick and one flower to create a parasol in the shape of a flower. They might not be durable, but they look charming and are simple to construct. The young fairies will love this lovely fairy paradise in a planter as a getaway. White pebbles, slow-growing plants, a poppy-roofed home, and a few curious fairies are just a few of the miniature elements in this garden. Making custom furniture out of sticks and bark is simple and enjoyable.
4. The Animal Garden House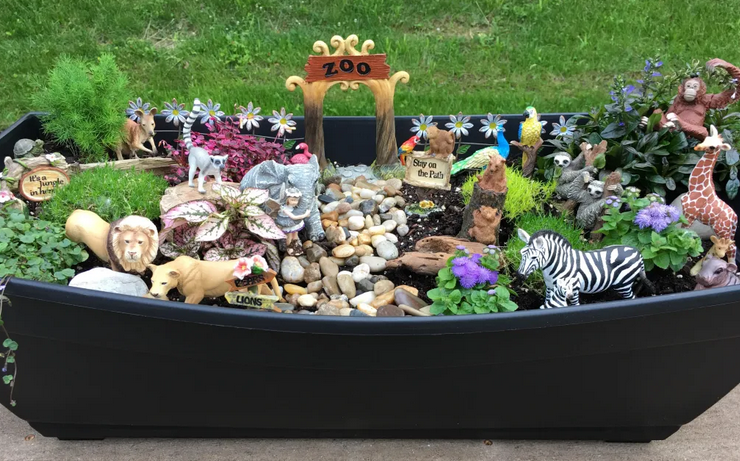 Imagine building a whole village or a woodland with horses, deer, and other creatures in your garden. You have a much larger canvas to display your creativity in a sizable outdoor fairy garden, and the options are virtually limitless. Dragons, crows and sheep, dogs, cats, and a wide variety of other animals are just a few examples of the creatures you can include. The garden will come to life thanks to these charming creatures. Incorporate natural items like pebbles, logs, and tree stumps to give the animals a natural habitat. These components might act as a concealing or resting location. Include tiny water elements, such as a birdbath or miniature pond. To offer the animals a calm haven. It might be as easy as a shallow water dish with some stones or tiny leaves floating around as decoration.
5. Garden Fairy Gnome House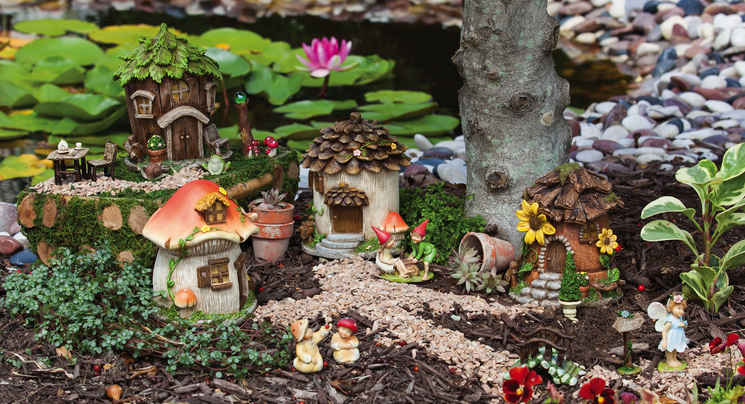 This homemade fairy garden hammers A gnome house into a tree trunk. Are you interested in adding a mysterious and enchanting vibe to your outdoor area? The ideal solution is a garden full of fairy gnomes. Bring up a few gnomes with red and blue caps that appear to be up to no good in a garden. Also, note the tiny steps leading up to the tree's side of the house. To reuse, search for recycled and used supplies. Alternatively, you might use modeling clay, icy pole sticks, wires, and other odds and ends to get creative.
6. Fairy Teacup Garden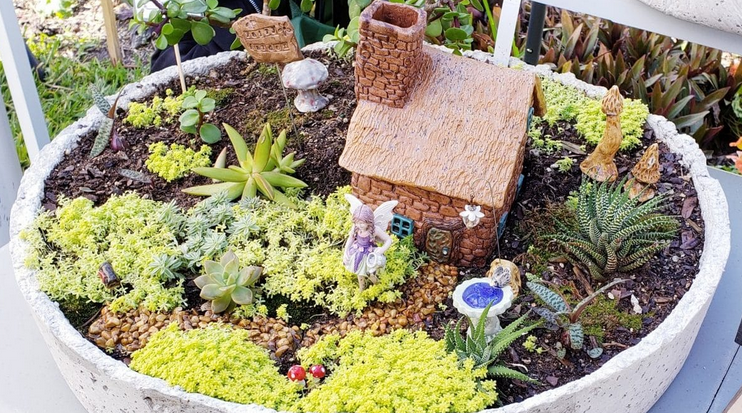 Imagine fitting your entire landscape into tiny teacups. Teacups in different patterns and colors will be ideal for this project. Your teacups will become a whimsical dreamland when you add little succulent plants, moss, pebbles, small branches, stone trinkets, and seashells. Transform worn-out or cracked teacups into charming fairy houses. Fill the cup with miniature succulents for foliage and embellish it with stone mushrooms, miniature patio furniture, tiny teacups, and fake plants. Your area is much better when creating a DIY fairy garden in a small container or a teacup fairy garden.
7. Terrarium Fairy Garden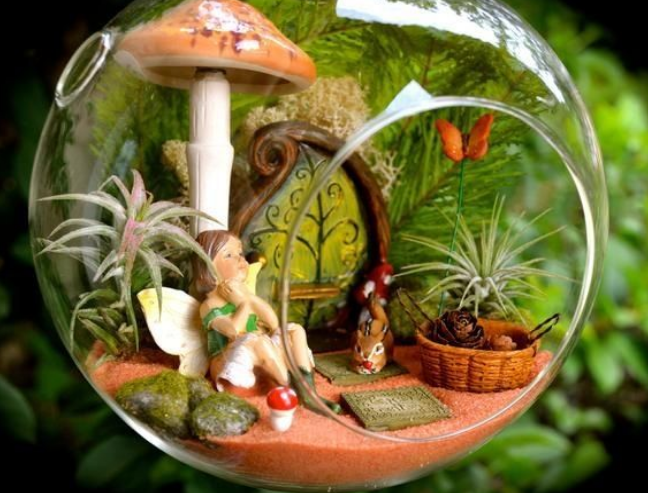 This terrarium-based DIY fairy garden is tiny enough to be kept indoors. So, locate a container and fill it with succulents and mosses, all thriving in terrariums. Planting red, pink, and yellow succulents in your country garden will entice fairies because they enjoy flowers. Make a distinctive tropical fairy garden that you can customize and style whatever you like. You don't always have to place your terrarium in a natural setting with succulents and plants. Rocks, pebbles, and tiny stone buildings will also do. Add oddly shaped stone houses, fairy toys, and decorative elements for a surreal atmosphere. Place your terrarium anywhere, but consider the plant's possible light needs.
8. Gothic Fairy Garden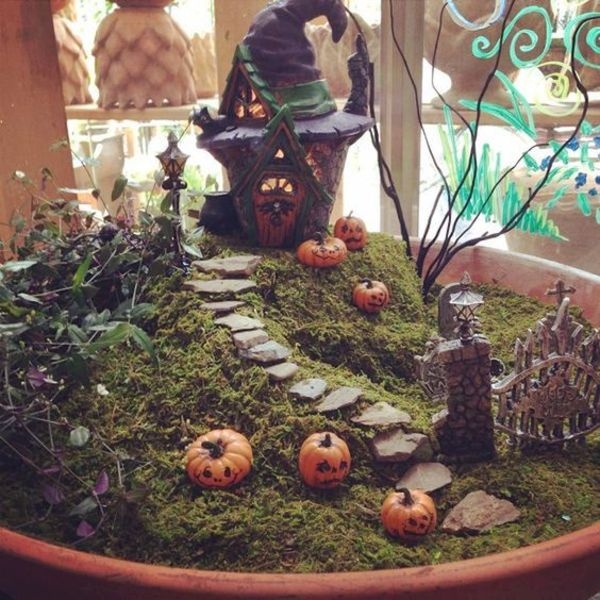 This Goth garden can quickly become the center of attention on Halloween. You only need a few spooky pumpkins, a dead tree, crooked stepping stones, and an unsettling home to give your fairy garden a Halloween makeover. Add eerie elements to your goth fairy garden, such as miniature gravestones, skeleton pieces, or tiny skulls. These ornaments generate feelings of darkness and mystery. Choose plants with dark leaves or blossoms that are black, intense purple, or maroon. Some appropriate options are black pansies, darkish petunias, black mondo turf, or dark houseplants. These plants will enhance your garden's gothic vibe and add drama.
9. Fairy Planter Garden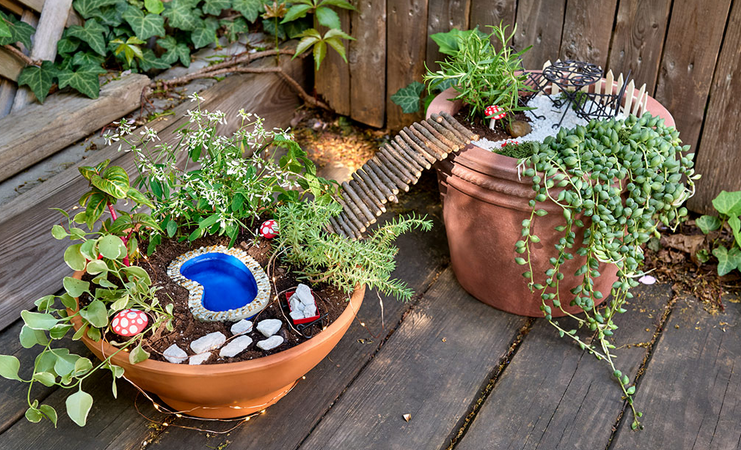 You may create a layered DIY fairy garden by gathering three flower pots. For the walkways connecting each level of an outdoor- fairy garden, use several sticks linked together with thin wire. You can make a trail with pebbles or marbles, but be careful not to go overboard by making everything incredibly little. It's advantageous to have a variation between the element's sizes. Compare little fairy objects with larger-than-life objects, such as a long flagstone road leading to a small fairy garden gate. This highlights how adorable the small landscape is within the bigger one. Your fairies will feel absolutely at home if you have a path made of confetti-colored pebbles, three or four little pink-capped toadstools for them to sit on, a clothesline for the pixie clothing, a straw basketry, lovely lampstands, and a beautiful pastel house.
10. Tropical Seaside Garden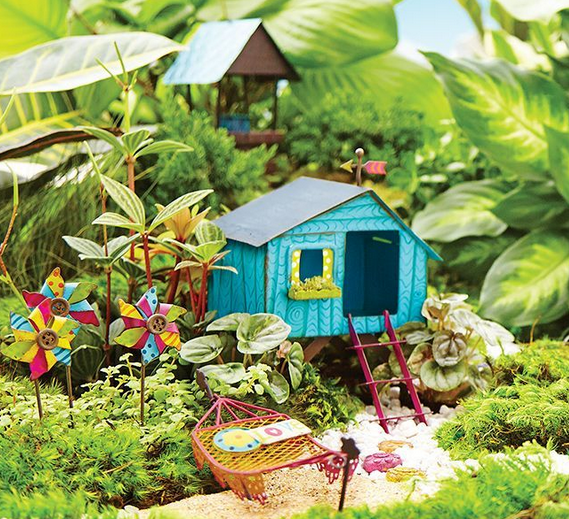 This tropical getaway is ideal for a tropical side garden because it includes sand, succulents, and pebbles. Use a vase of glass to house your seaside garden, and to add some autistic flair, add a pair of small flip-flops, a tiny seat, ladybirds and mushrooms made of clay, ducks, colorful faux moss, and some seashells. You can build a miniature fairy house and some furniture, such as a table, a chair, and a pond. Additionally, a fairy rests on a bench resembling a deck or beach chair.
11. Garden of the Sleeping Gnomes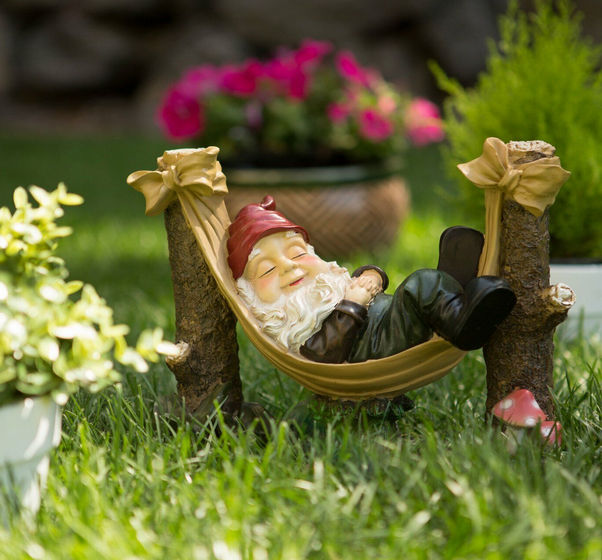 This gnome may be sleeping in his fairy backyard. If you want to duplicate the appearance of this gnome garden concept, try making a hammock out of some netting and stapling it into two strong sticks. You can swiftly create a tiny seat and resting net for your gnome and further customize it with little practical things. Remember to include miniatures for your fairy garden, such as gnomes, animals, and adorable little fairies. Make your accessories out of cap bottles, buttons, and rocks.
12. Fairy Garden of Tyres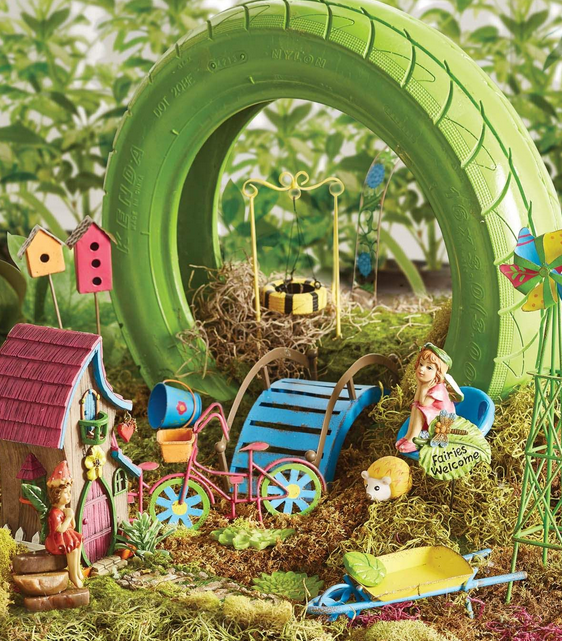 An imaginative garden can be created out of old rubber wheel tires. These recycled tires look great and are inexpensive, but reuse also contributes to environmental protection. Fix a tire vertically and surround it with ornaments like a wheelbarrow, a rainbow-colored windmill, a bicycle, a wooden bridge, outdoor seating, fairy ornaments, and a multicolored fairy house. The perfect addition to your fairy gardens is this finely constructed Tire swing. In your fairy garden, you can also hang this tiny tire swing on a small plant or tree branch.
13. Wooded Wonderland of Fairy Garden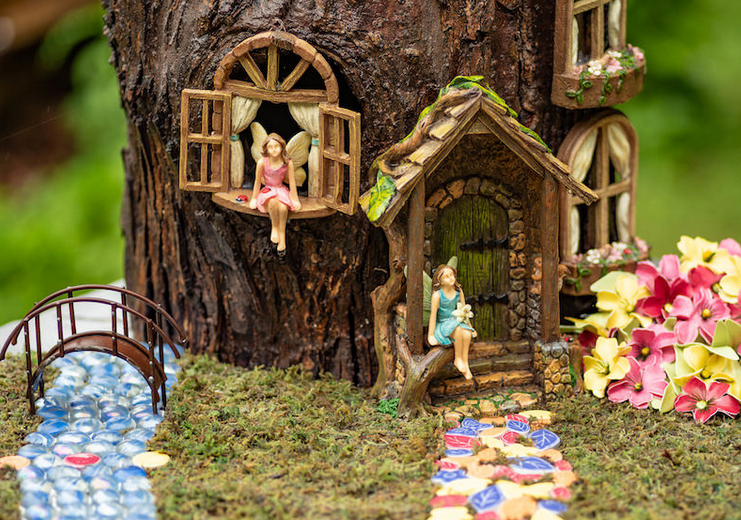 This beautiful fairy garden is ideal for a natural outdoor environment because of its woods feel. What can you use to beautify it? With pretty much anything. Think of stone ornaments, moss-covered logs, spotted toadstools, colorful pebbles, wooden dwellings, and a tonne of gnomes! A decent outside area would be necessary for a forest paradise so that all its components could shine. Therefore, check that you have enough space before beginning your work.
14. Backyard Fairy Garden Pond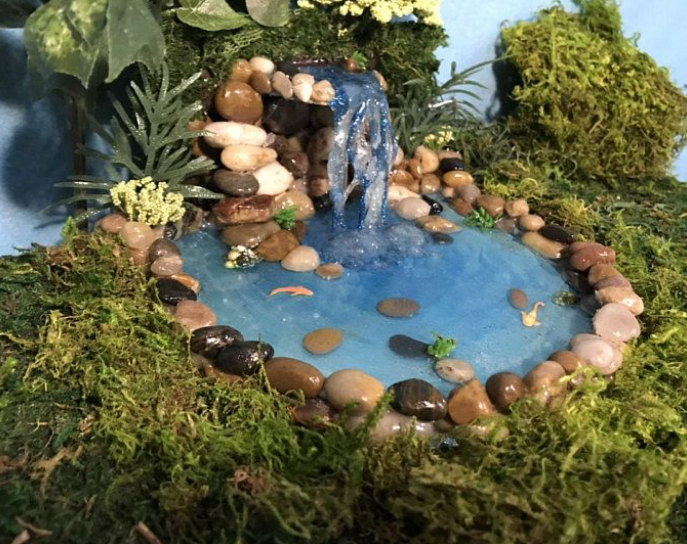 Consider creating your fairy garden around a pond in your backyard. And to complete the appearance of a fairy garden pond, this one contains a little sitting area and numerous well-maintained plants. A few shells, water, food coloring, and cling wrap are all you need. Make a delightful path for the fairies by placing a modest bridge across the pond. You can construct a bridge from wood and stones or even reuse a little ornament. Plant tiny shrubs and flowers close to the pond to make a rich, vibrant fairy garden. Pick plants that can survive in humid or semi-aquatic conditions.
15. Container Fairy Garden
A DIY fairy garden can be housed in an old container or a wheelbarrow. This container garden, one of the finest easy-to-maintain fairy garden ideas, can include succulents for the greens. Make a little wheelbarrow for them. Make miniature garden equipment from recycled aluminum foil cans, such as spades and trowels. Plasticine plants can grow in thimbles and miniature acorn flowerpots.
16. Christmas-Themed Fairy Garden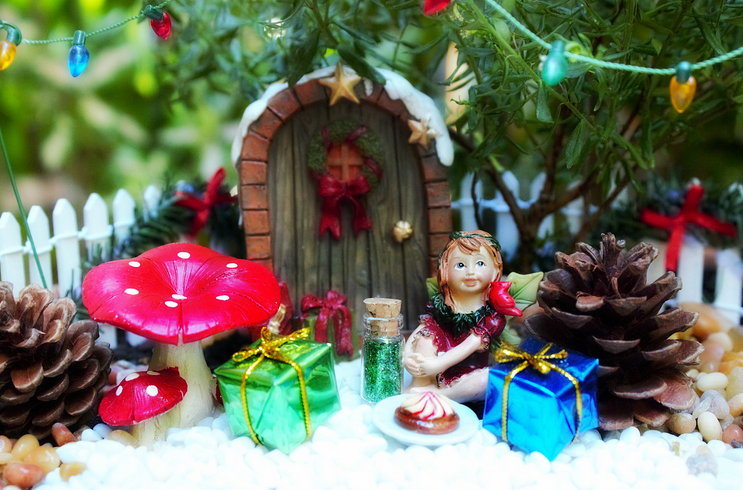 The phrase "Comfort and joy" is best summed up by a little Christmas garden. Utilize an old wood box to hold your garden and decorate it with holiday decorations like fake gingerbread and a hot chocolate container. Or a birdhouse made of sugar canes, miniature Christmas trees, sweets that trick fairies into eating, and miniature plants. For kids to play with the fairy garden and leave cards for the fairies, this feature is adorable,
17. Wooden Cottage Fairy Garden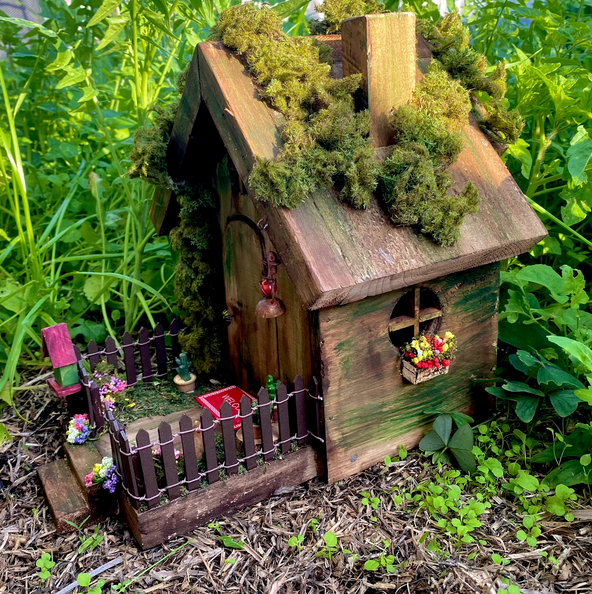 Bring your homemade fairy garden inside the woods! For a walkway, use some rocks and stones. And for a lovely outdoor fairy garden, you could even include a little street light. Your environment might already have a complete fairy house, or you might only want to add a few finishing touches, like exquisitely made fairy doors and windows. Coffee stirrers or chill pole sticks make simple picket fences and gates. Ice pole sticks can also be used to create furnishings for your animals. The atmosphere of a beautifully concealed fairy garden in the woods is wonderful. Put a small wooden cottage in the middle of your setup, and place some industrious dwarf around it. By making genuine "smoke" emanate from a chimney, some fairy gardeners step up the level of realism.
18. Broken Pot Fairy Garden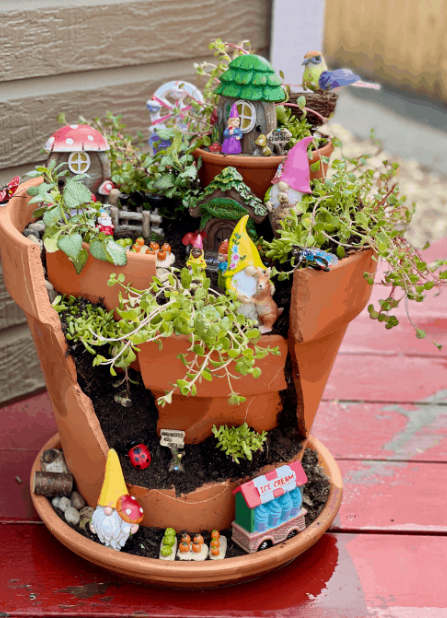 You can reuse those broken flower pots and other items, so don't toss them away. For a layered fairy garden, this DIY employs numerous shattered clay pots. Additionally, place plants that grow slowly along the sides, and finish off the design with a tiny fairy house and figurine on top. Everything about fairy gardens is in the details. Your fairy garden occupants need possession and furniture to give a realistic atmosphere. You can purchase items for fairy gardens online or at large garden centers.
19. The Garden of Lights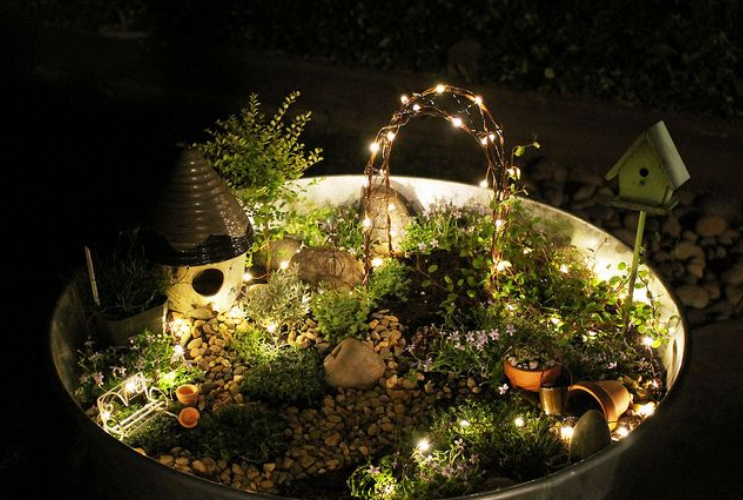 Make your fairy garden more magical using a sparkling string of lights. To increase the whimsical factor, surround your garden using small vegetation. To finish your sparkling garden, add a variety of subtle accents like a stone house, tiny potted plants, a pond full of pebbles, and a swing to complete the look.
20. Fairy Garden in An Enchanted Forest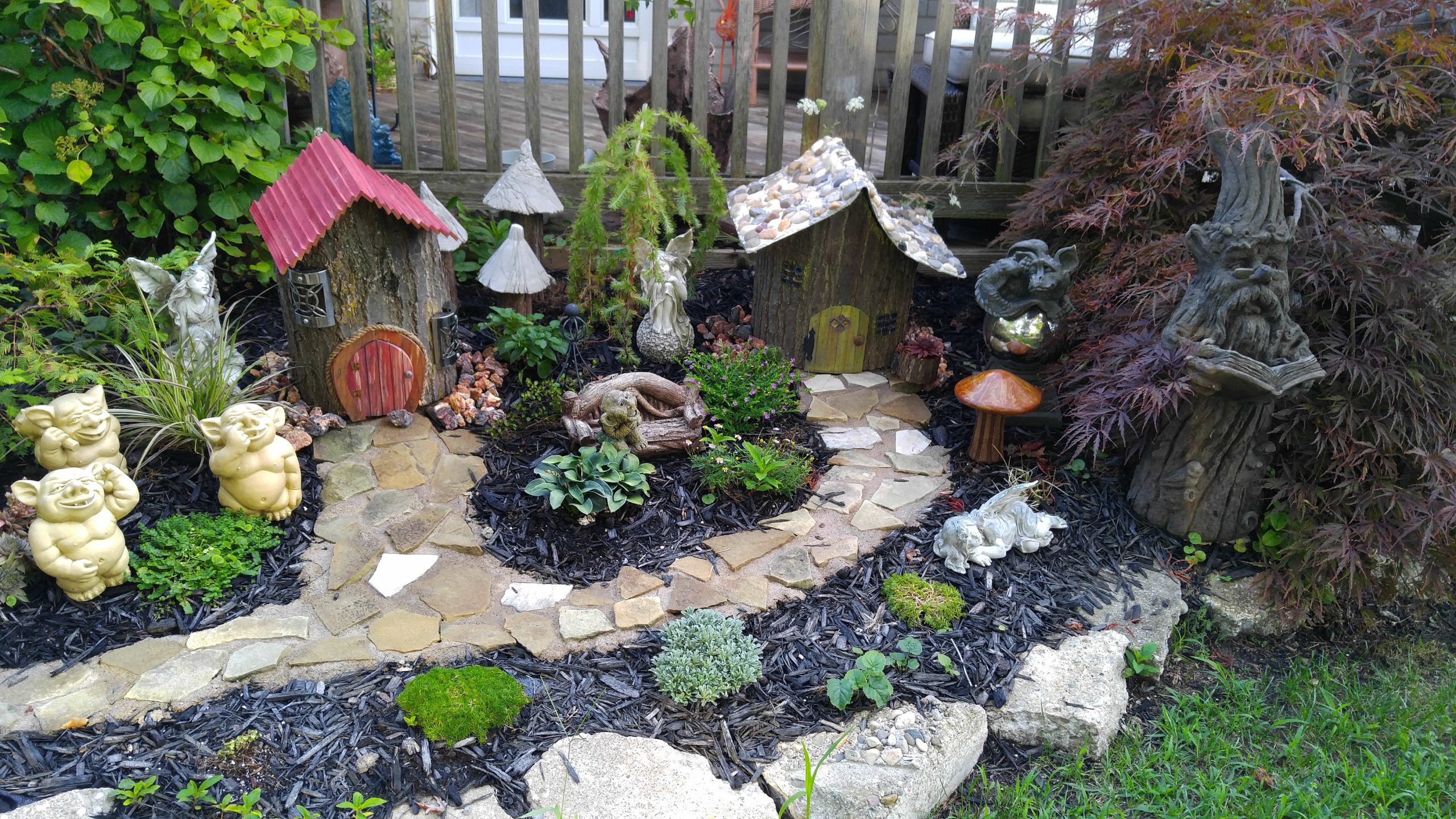 With mossy paths, small trees, and fairy doorways hidden within the vegetation, you may create the appearance of a mystical forest. Include whimsical elements like fairy lights and woodland creatures like owls or deer. Use tiny stones, pebbles, or stepping stones to make twisting pathways to create the atmosphere of a dense forest; use a variety of lush green plants.
21. Fairy Playground Garden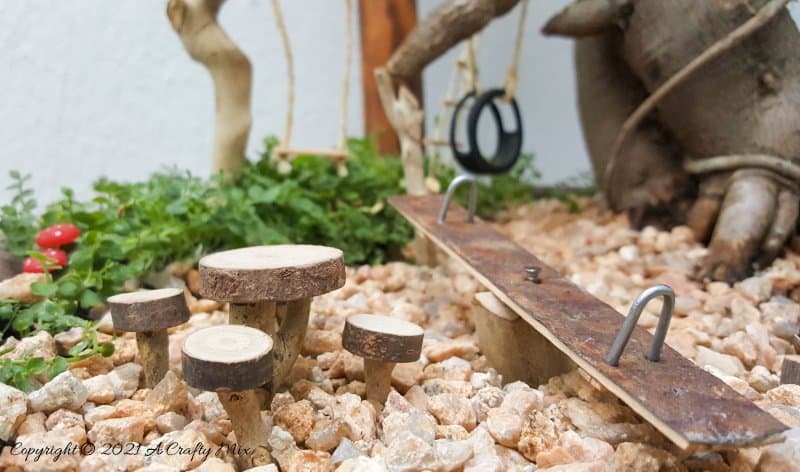 Create a fun fairy garden with miniature slides, swings, and other playground accessories. Include miniature basketball hoops, soccer balls, or even a playground for the fairies. Use things like paper or smooth rocks to make miniature slides. Make a tiny see-saw out of tiny branches or twigs. Include components for fairy sports such as a tiny soccer field with pebbles goalposts, a toy basketball hoop, or even a tennis court the size of a fairy. Make a little Ferris wheel from wire, cardboard, or craft supplies like popsicle sticks.
Remember to personalize your fairy garden to highlight your unique tastes and inventiveness. You can combine various components, add special touches, and let your imagination run wild. It would be an exciting achievement to make a fairy garden. It's a narrative exercise you can perform alone, with a loved one, or with your children, and enjoy every step.
Recommendation
Select suitable items. Choose the ideal spot. On paper, draw the design of your garden and indicate the location of the trees and plants you intend to plant. Pick a central feature for your landscape. Add your plants with minimal growth. After that, include your characters and props. Don't be frightened to jump in because you may start small and progressively build up your fairy garden over time.
Conclusion
One can look at various fairy gardens, including the Rock Fairy Garden, Gothic Fairy Garden, Christmas-themed fairy gardens, and more. Depending on the location, area size, and other considerations, you can choose and determine which is appropriate for your backyard. Get imaginative, use your creativity, and observe how your backyard is transformed into a captivating world filled with living fairies. You can create a personalized fairy garden for your loved one with references to their passions or significant aspects of their lives.
Frequently Asked Questions
How to Create a Fairy Garden?
Consider including tiny decorations like tiny birdhouses, fairy lights, or miniature gardening tools to give your fairy garden a charming finishing touch. These lovely elements will heighten the surreal ambiance and foster awe. Keep the magic alive and dazzle guests with your fairy garden's ever-evolving beauty by regularly rearranging and refreshing it by adding new components or altering the scenery.
How Can I Protect My Fairy Garden from Rain?
To protect your Fairy Garden from rain, create a drainage system to remove extra rainwater. The indoor fairy gardens might not be impacted by rain, but you can avoid precipitation damage by choosing a protective garden spot, like under a tree.
How Often Should a Fairy Garden Be Watered?
How often fairy plants should be watered depends on the plants in your fairy garden and where they are growing, you may need to water them. Only water the plants when the soil's top few inches are dry. You shouldn't drown your fairy garden in the water!
What Kind of Plants Make the Best Fairy Garden?
The most outstanding plants for a little garden include arrowhead plants, weeping figs, mini bonsai, and silver sprinkling plants. A terrarium is perfect for moisture-loving plants from subtropical and tropical regions. Succulents and the majority of other plants are also suitable for terrariums. Your chosen plants will determine whether you make an indoor or outdoor terrarium and how big you want it.
h