Whether you have visitors over or just trying to make your home look appealing to the passersby, front door wreaths come in handy. They are beautiful pieces of decoration that, when hung on the front doors, make it dressy and bright and elevate the look of the whole space. This makes your home look more welcoming and lightens up the mood of everyone who might be walking into your home.
There are many different kinds of wreaths available out in the market, and the good news is, you can choose the one as per the season and preference. Here is a list of 21 Front door wreaths that you can use for different seasons and make your front door look very appealing and welcoming.
There is something for everyone here.
Spring-Summer Front Door Wreaths
It is a time of warmth and sunshine as flowers blossom and bring joy everywhere. If you are in the mood for celebration for this beautiful season, it makes sense that you would want to decorate your house in the theme too. The color palette for the spring season is generally colorful and fresh, and that is what you can incorporate in your front door wreaths too. You can very easily incorporate fresh-looking flowers with colorful accents with these beautiful artificial front door wreaths that are just perfect for the Summer-Spring season.
1. Lavender and Daisy Wreath by Soomeir Store
This bright and fresh Soomeir Summer-Spring Wreath is a lively wreath to add to your front door. A collection of different types of daisies of different colors like soft pink and beautiful purple, this wreath compliments the door very well. The colorful flowers of this wreath compliment the greenery that comes with several leaves, baby breaths, and small buds.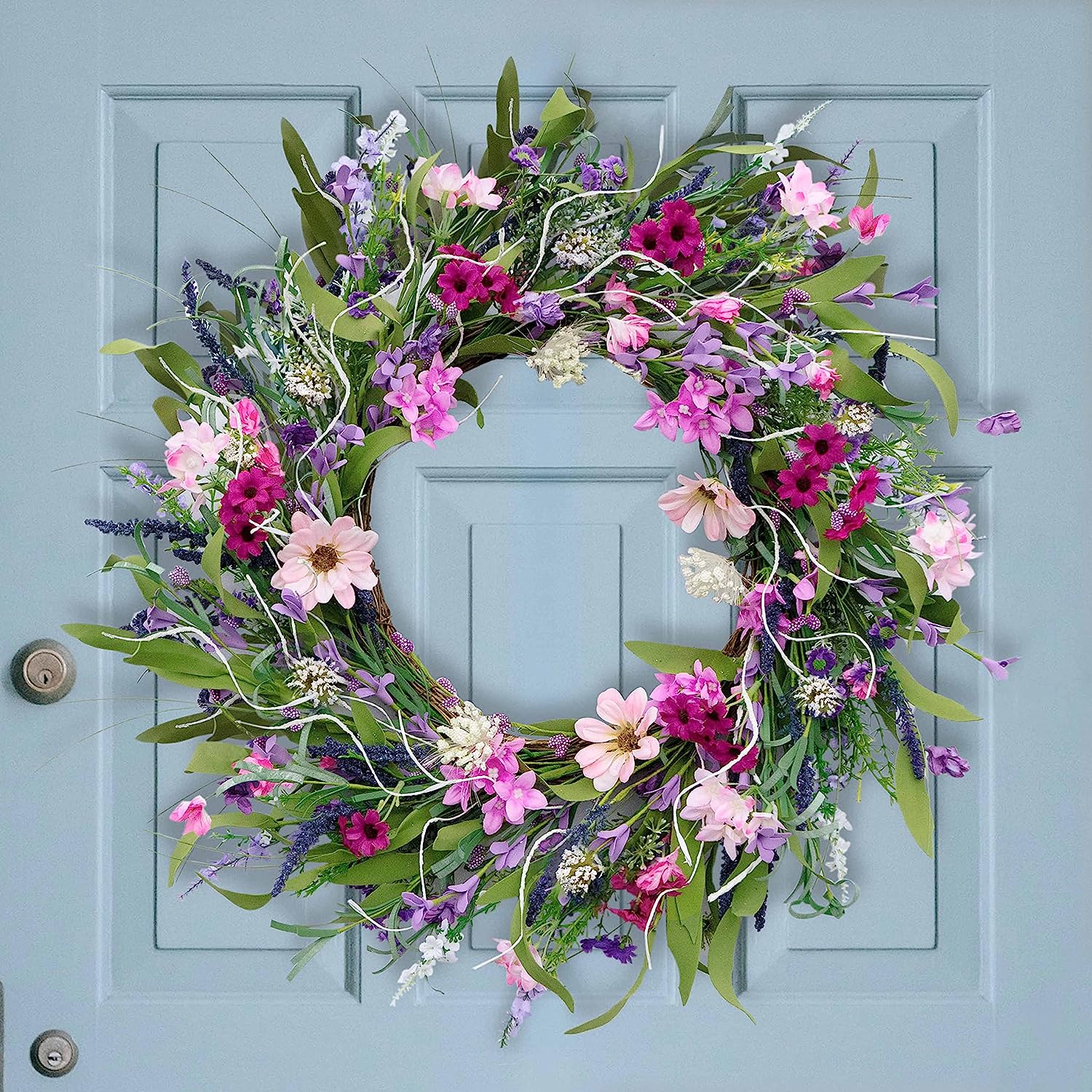 This wreath is made out of high-quality silk, and the wired hanging loops allow you to hang this in your home easily. You can use it on the door or even inside the home. It also makes a perfect addition to various Summer-Spring celebrations. This is a 20-22 inch wreath and is a perfect addition to any space.
2. Artificial Dasiy Wreath by LSKYTOP
The LSKYTOP yellow wreath is a wreath made out of artificial yellow flowers and is adjustable in size. It makes a great addition to your front door because of how lively and fresh it looks. The artificial flowers and leaves used in this wreath are made out of high-quality silk that gives it a very natural look. The artificial flowers look like jasmine, lavender, and daisy, making the whole wreath look lively. It is handcrafted and symbolizes the arrival of spring-summer. It is a great front door decor, and you will enjoy the look of it, which will instantly put you in a good mood.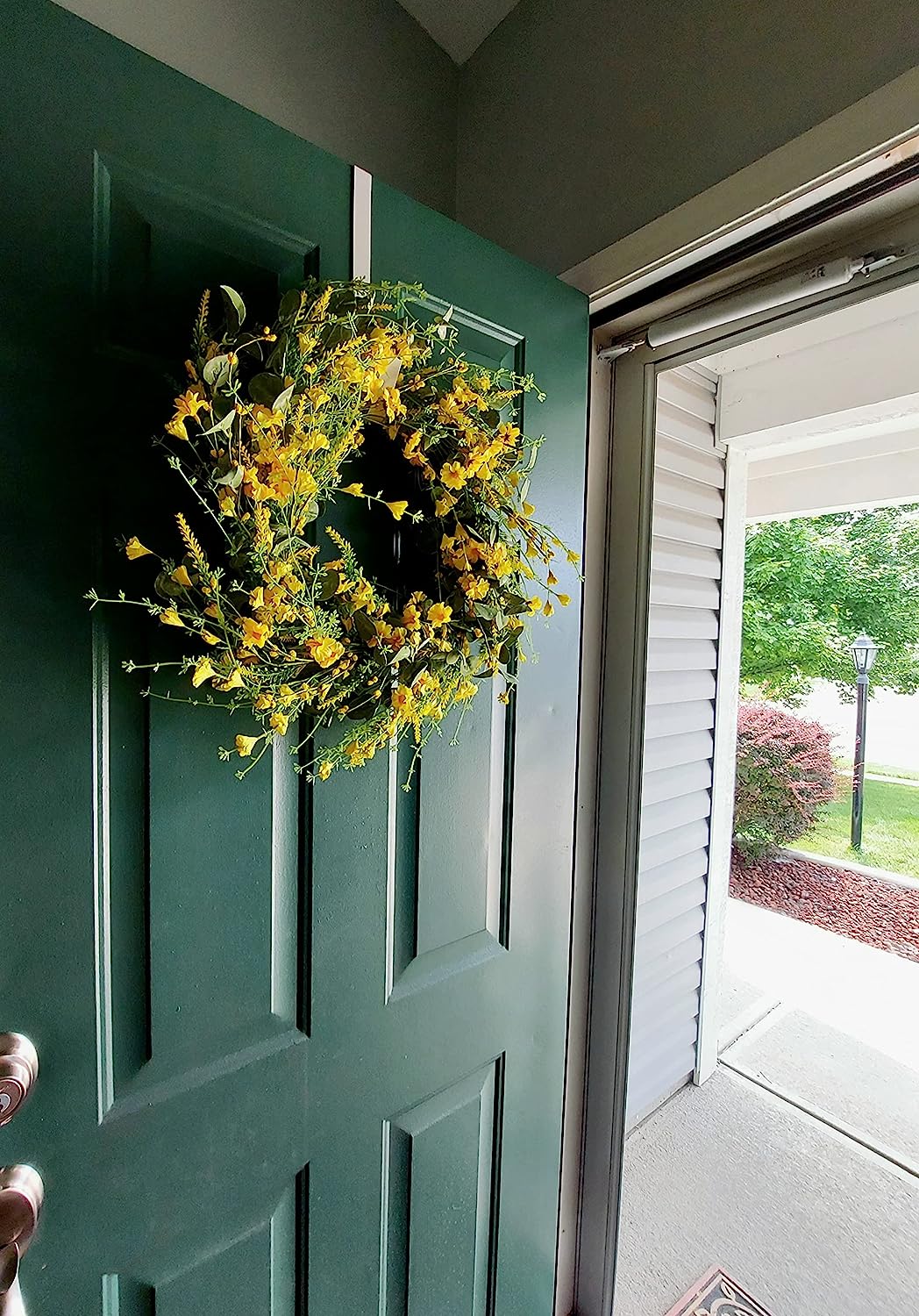 3. Lemon Wreath By Vofuly
Summer-spring is the season of lively colors, and this Lemon Wreath by Vofuly is a great wreath to hang on your door this summer. This hanging is full of beautiful lemons and features boxwood greenery that is finished with some floral ornaments too. To add to the beauty of this wreath is a contrasting buffalo plaid bow that compliments it and brings the whole wreath together.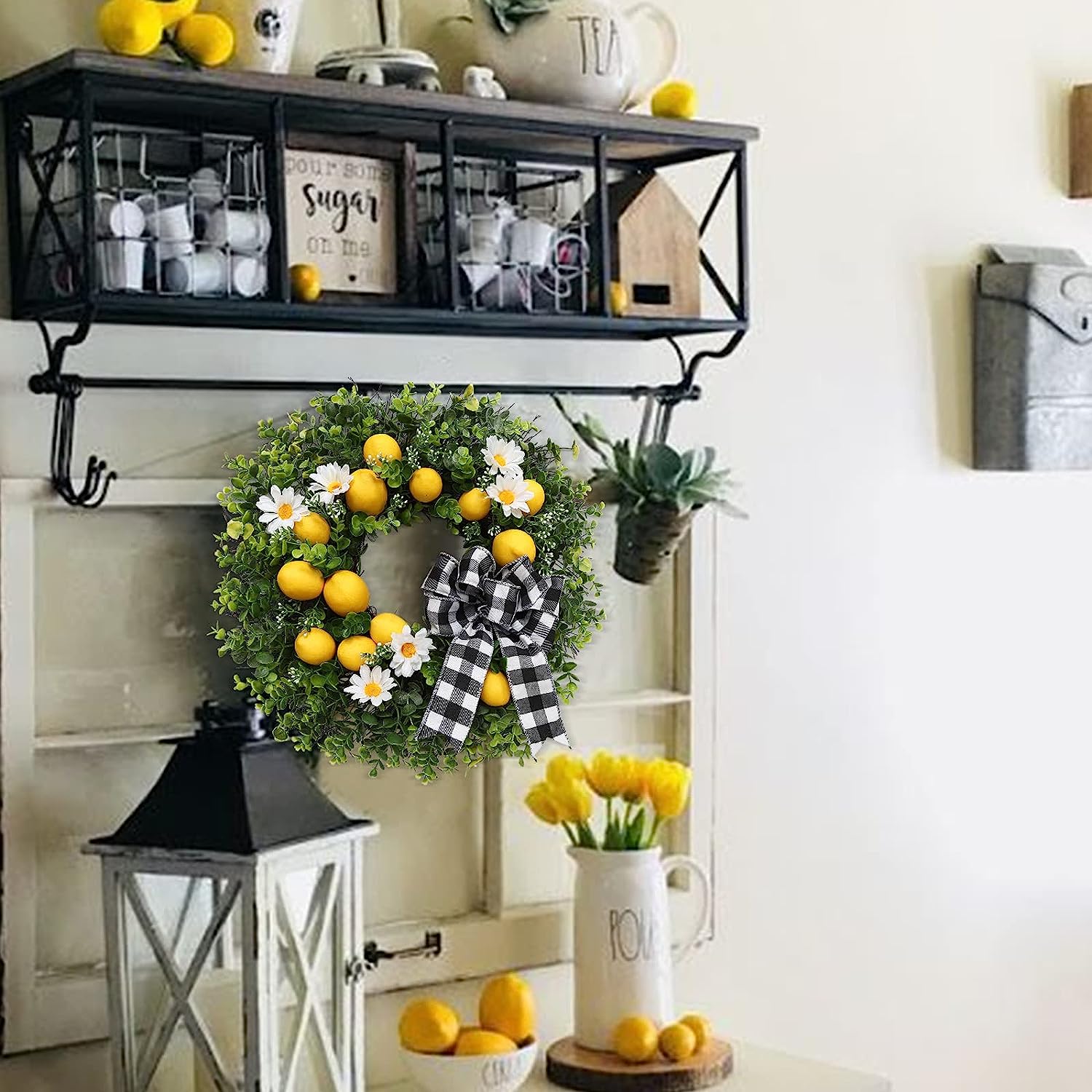 If you are looking to bring a pop of color to your door, this is the perfect wreath. It is a 20-inch big wreath that is neither too big nor too small. It brings a fresh look to whatever space you add it to. Since it is artificial, you wouldn't need to care for it too much. Just wipe it with a clean, dry cloth, and you will be good to go.
4. The Artificial Spring Summer Wreath by AMF0RESJ Store
A unique and beautiful wreath, this AMF0RESJ spring-summer wreath is handmade out of top-quality materials. Each of these wreaths is unique, and your guests will feel welcomed like never before. You will be able to add some beautiful charm to your decor with this wreath. This particular ornament has lifelike tulips that add personality and warmth to your front door and all special occasions. While this wreath looks very realistic, it is also durable and very easy to maintain. You just have to take a clean, soft, dry cloth and wipe this to make it clean like new.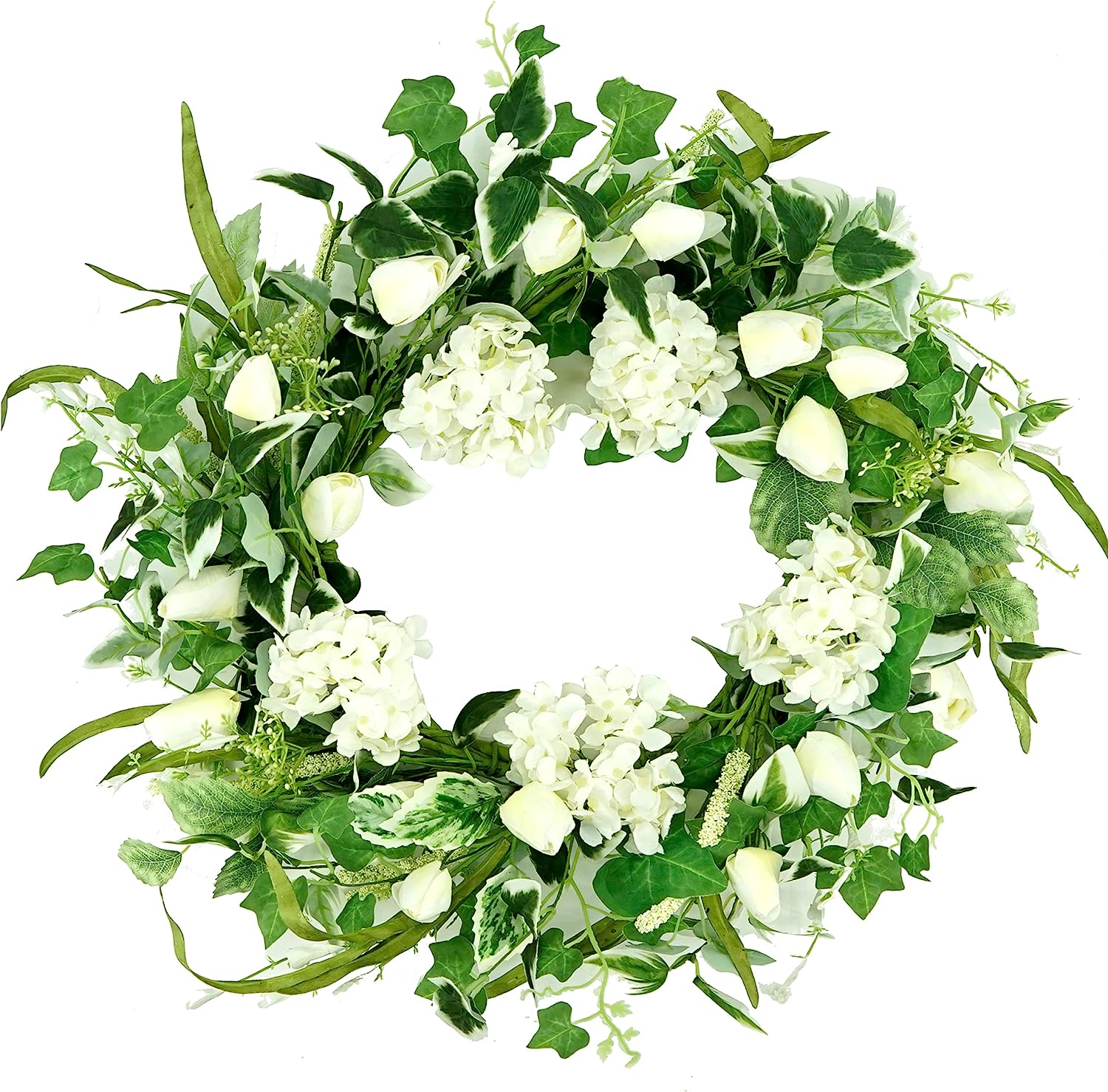 5. The Sggvecsy Daisy and Lavender Wreath
Made out of high-quality premium plastic, The Sggvecsy Daisy and Lavender artificial spring wreath is made out of durable material that features various plastic flowers like colorful daisies, lavenders, jasmine, orchids, dancing lady, and other wildflowers. To add to the beauty, this wreath has berries like that of big green ones, red ripe ones, and big clusters of them. All of this is based on the natural grapevine, which looks like it is all-natural.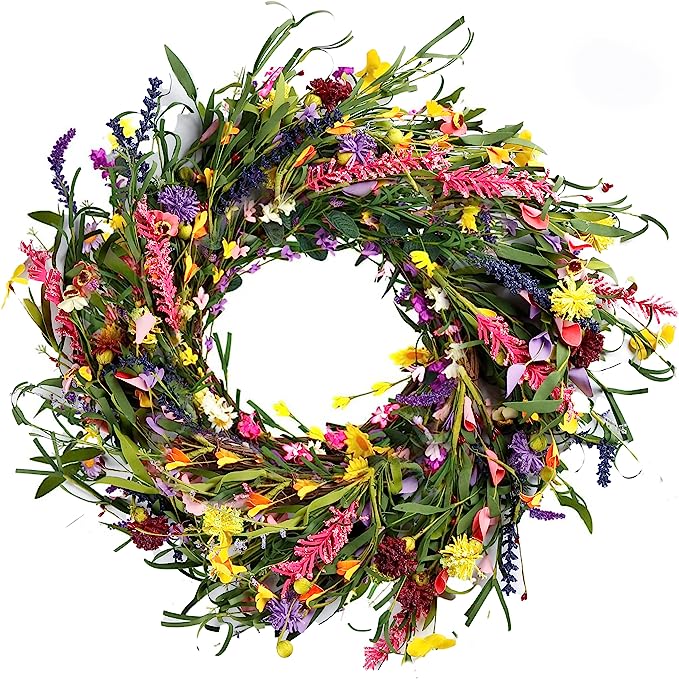 The wreath is sized about 22 inches and is suitable for both indoor and outdoor decoration. It is also very convenient to clean with a soft dry cloth. If you take care of it, you will be able to use it for a long time. Make sure you keep this wreath away from rain and snow to elongate its durability.
Autumn Wreaths
Autumn is a month of transition. Days start getting shorter, and we all start preparing for the long chilly months coming up. Not only us, but nature does that too. Our paths are covered with yellow and orange leaves as trees start to shed them. The color palette becomes similar to tones of orange, yellow, and brown around this time. You can bring these colors into your decor very easily too. There are a number of front-door wreaths that let you bring autumn beauty to your doorstep.
6. Bibelot Fall Wreath
A very subtle, cohesive Autumn Wreath, this Bibelot Wreath is made out of high-quality plastic, silk, and paper that gives a look like it is made out of real flowers and leaves. The colorful leaves of this wreath are paired with very real-looking bright chrysanthemums and frothy berry ornaments that help you bring the feeling of autumn even inside your home. This decorative wreath is not only good for your door but also indoors. It is very easy to clean. You can just wipe it with a soft cloth, and it will be clean as new.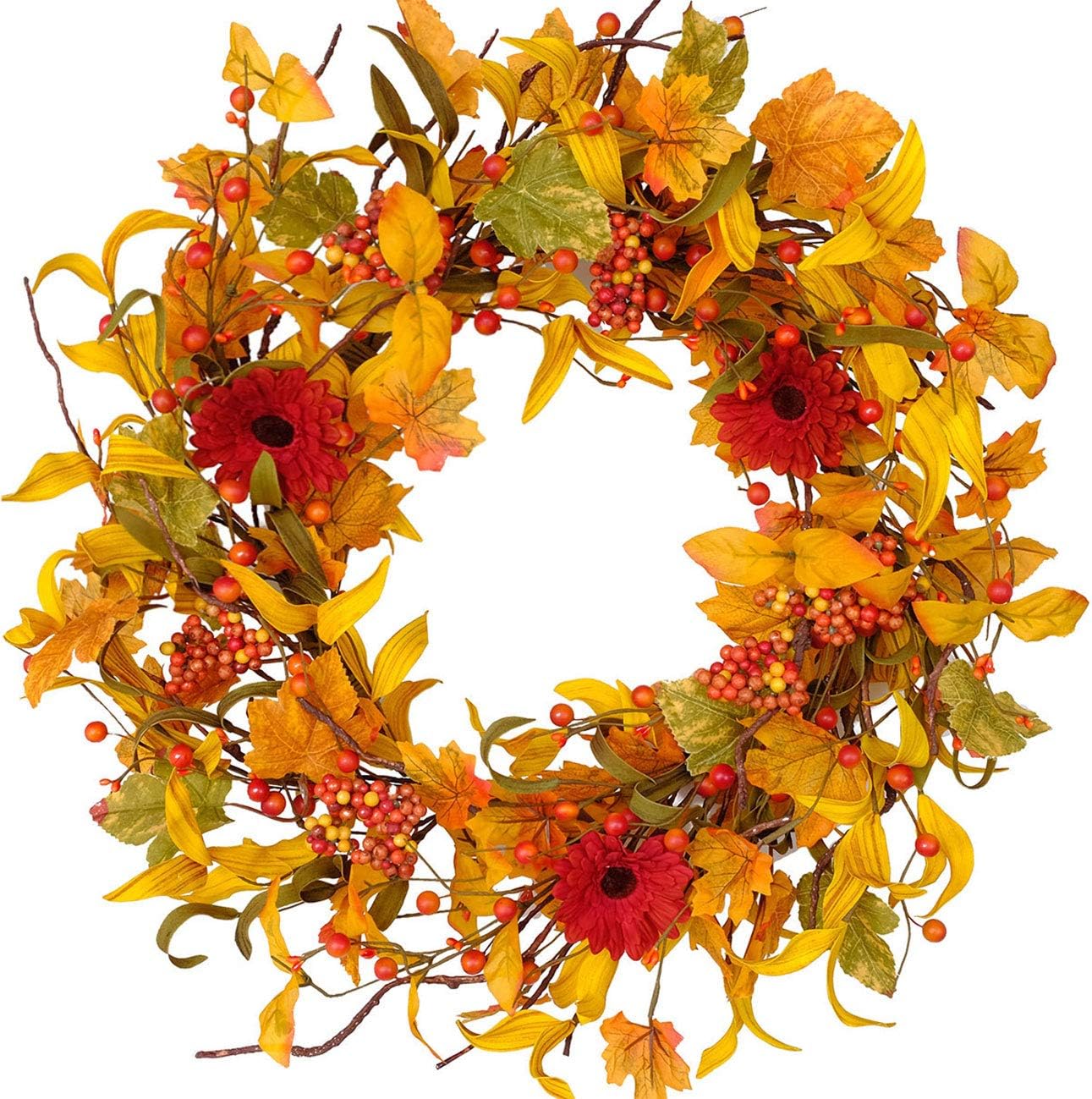 7. Lohasbee Artificial Fall Harvest Wreath
This 22-inch artificial fall harvest wreath by Lohasbee is made of colorful foam berries, grapevine frame, wheat, and yellow leaves that make it look very realistic. It is an easy-to-maintain wreath that doesn't need much cleaning and can be used for longer times. This wreath will add a sense of autumn chill to your home and bring some festive cheer into your space. This is a great decor piece for fall decorations, and you won't be disappointed.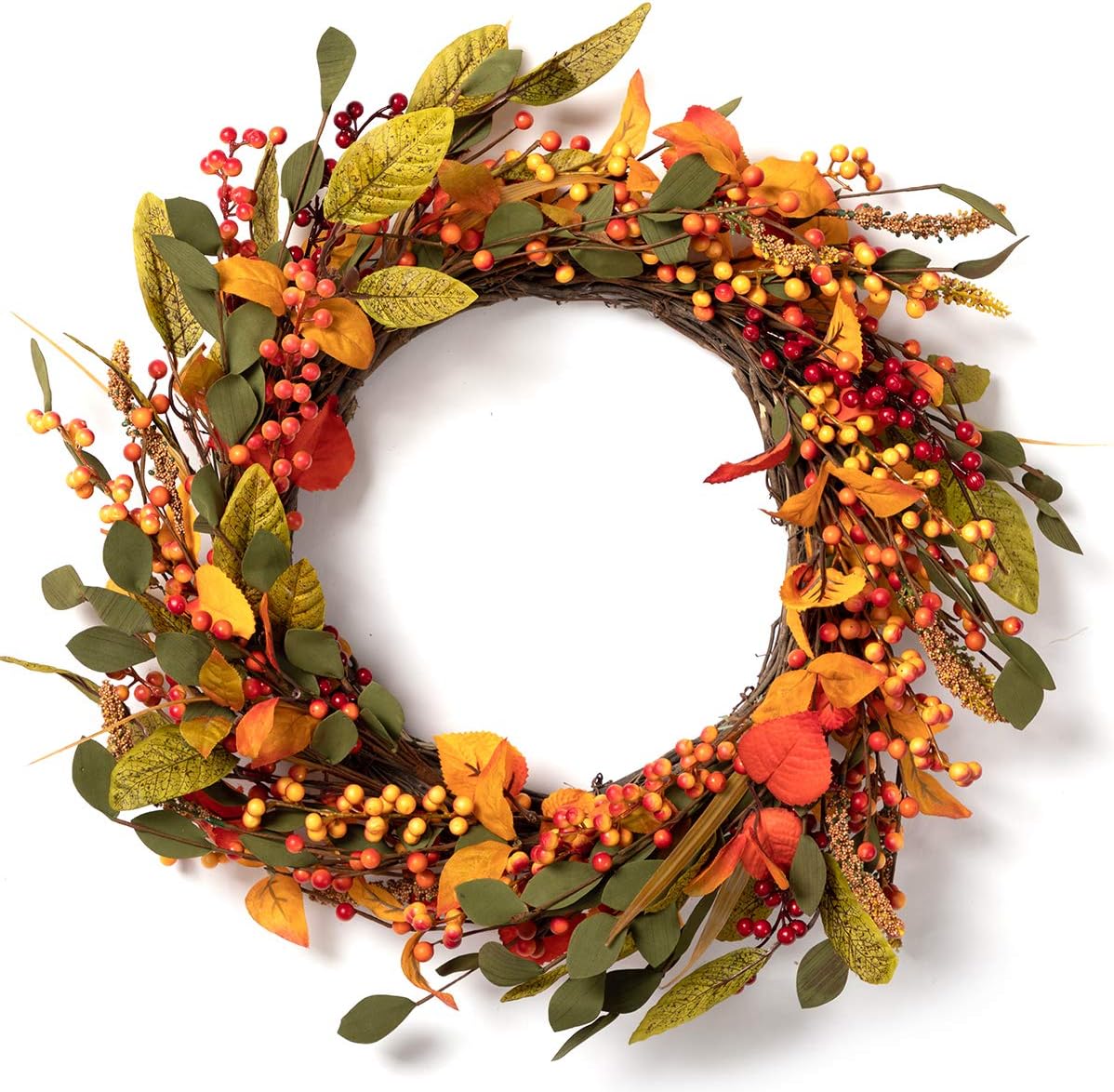 8. Sggvecsy Harvest Wreath with Daisies
Made out of premium silk, foam, and plastic material, this Sggvecsy durable Fall wreath is a beautiful fall decor accessory. It has ornaments like grapevine, colorful daisies, wild leaves, and red berries that make it vivid and vibrate. It is 22 Inches inside, which makes it a perfect fit on any door. You can hang it on the front door, living room, or even make a centerpiece out of it. It is easy to clean and a great addition to your Thanksgiving decor too.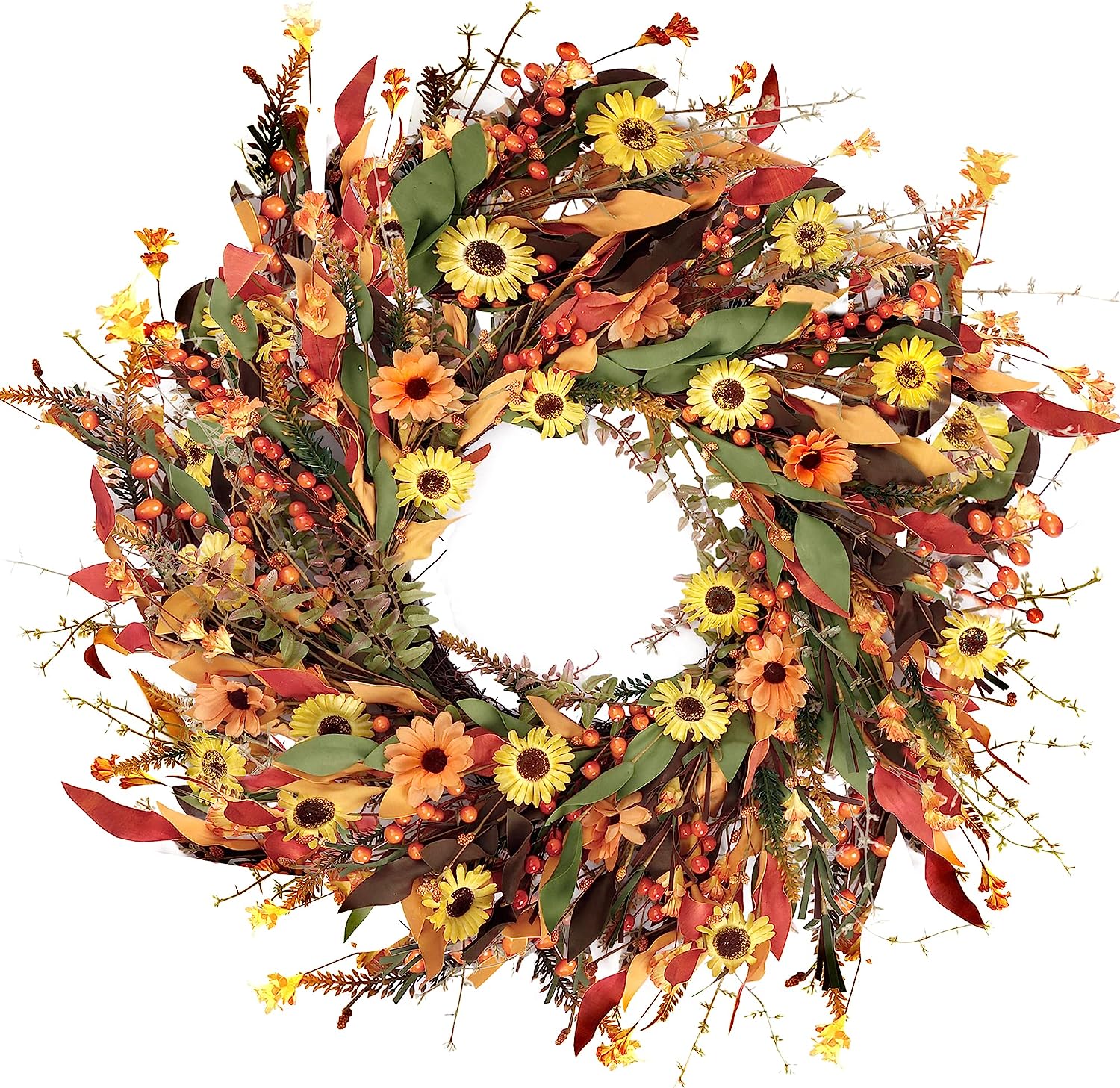 9. The Sunflower Wreath
If you are a lover of sunflowers, pumpkins, and all things autumn, this sunflower wreath is the perfect wreath for you. Handcrafted with love, this wreath has elements like colorful berry clusters, pine cones, acorns, pumpkins, fall leaves made out of cloth, and beautiful big sunflowers. Attached on an artificial grapevine, this is a very charming wreath that would elevate the look of your door instantly.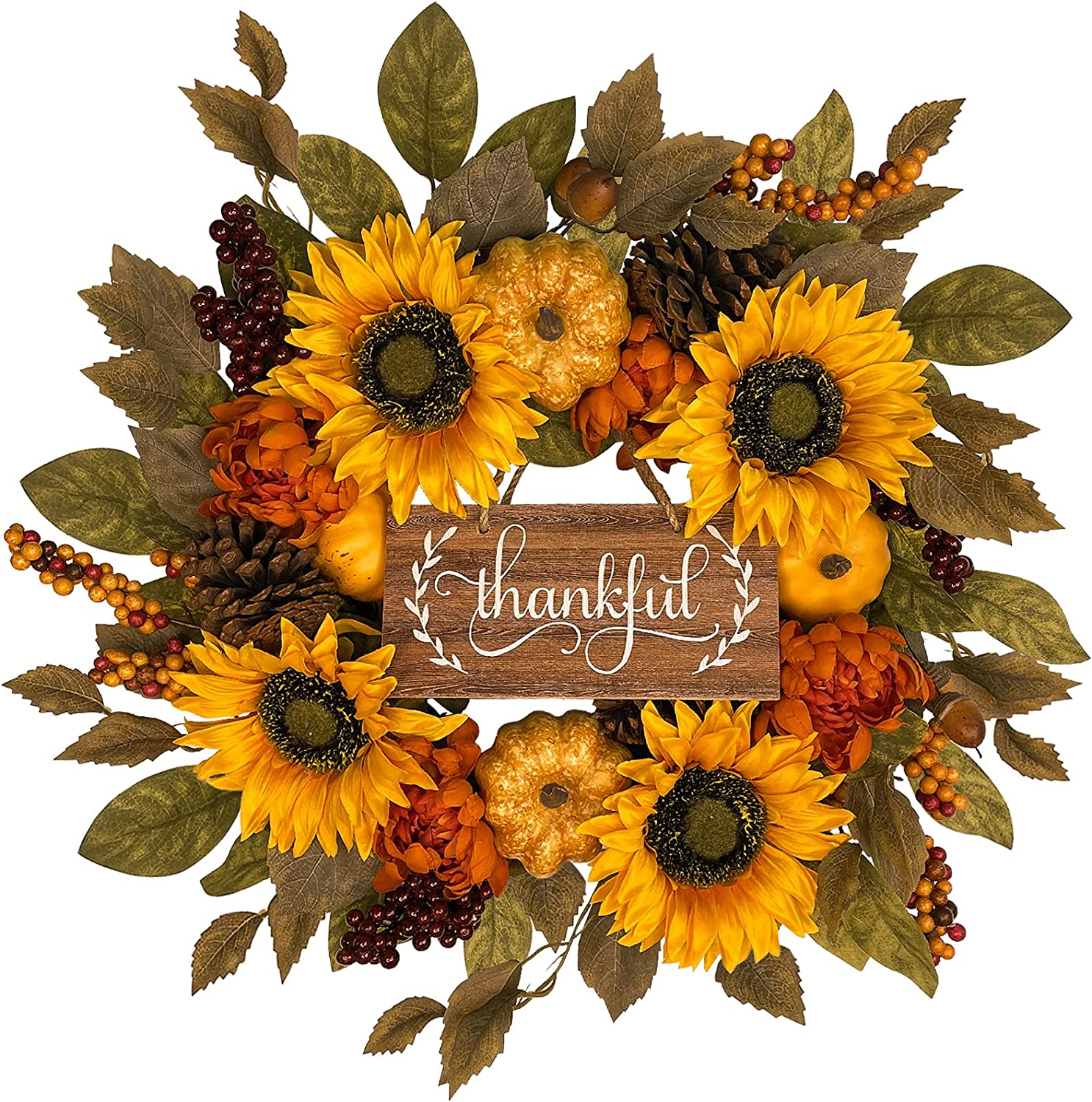 This is a good wreath for outdoor and indoor decoration. You can use it as a sin as well. If you are looking to gift your friends something this autumn, this will make a great gift too. This wreath really is a very beautiful and warm piece to add to your decor.
10. Hydrangea Wrath by Qunwreath Store
Loving the autumn color palette and want to bring it to your home decor? Look no further because this Hydrangea Wreath brings just those colors. A perfect fall wreath with colors like white, orange, and green, this hydrangea wreath has flowers, as well as many red and orange berries that make it more so beautiful. Adding to the beauty is a burlap bow that brings life to the whole decor.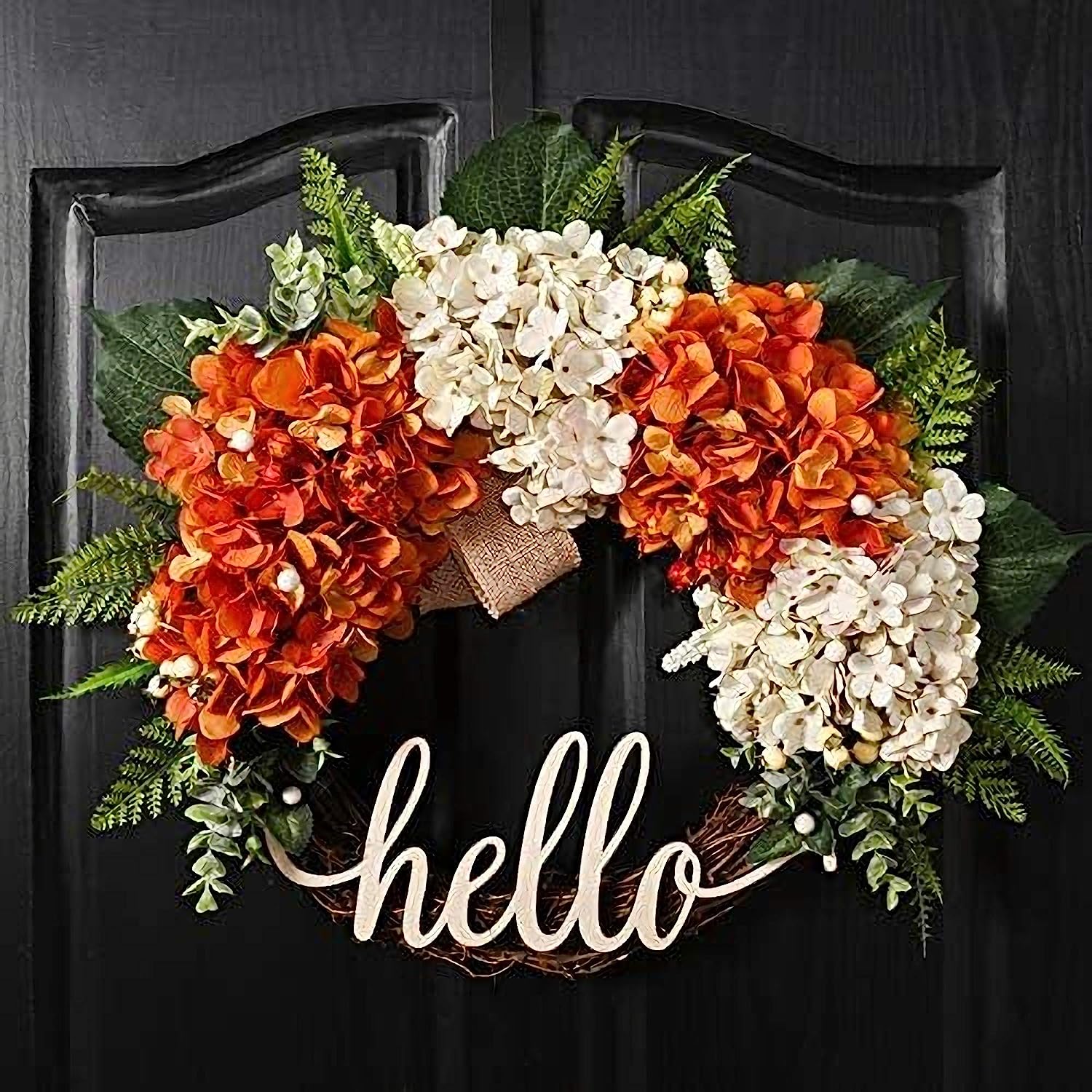 An easy-to-clean wreath, this piece of decoration doesn't just bring in the colors of autumn but also a festive spirit. There is a hello written on the lower side of the wreath that greets your guests even before they enter your home. This is a high-quality, durable piece of ornament that will make your door very inviting. You also get a 12-inch black wreath hanger with this, and you can hang it immediately upon receiving it.
Winter Wreath
As the chilly winter starts to take over, the time to change decorations comes too. Especially since the holiday season looms, it becomes more important to give your home the magical touch. Thankfully, it is very easy to bring this beauty to your home with some beautiful winter front door wreaths. From Christmas themes to simple eucalyptus wreaths, there are too many options available. Have a look at them here.
11. The Eucalyptus Leaves Wreath
Giving a very realistic look, this artificial green eucalyptus leafed wreath comes with big green berries and gives a very full and vibrant look to the whole space. It is made out of silk and foam and gives such a realistic look that you will not believe it when we say it is artificial. Suitable for front door decor, this is a great addition to the festive decorations of winter. It is durable and easy to clean. Without much hassle, you will bring some festive spirit to your home with this wreath.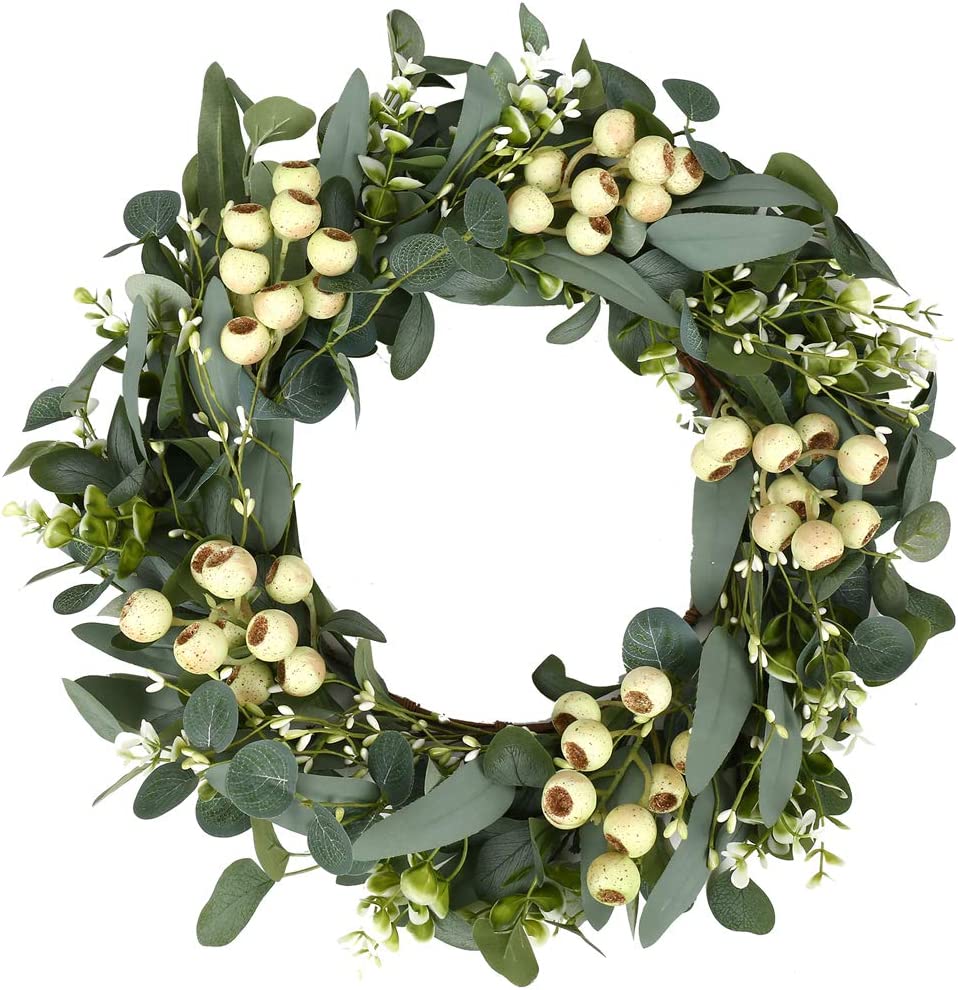 12. DIYFLORU White Winter Wreath
A simple, unique, and generous DIYFLORU wreath, this decorative piece is made out of white berries of three sizes that make up to be a beautiful addition to any decor. It is a 20-inch wreath and is suitable for any mood and decor. Made out of high-quality material, this is a sturdy piece that will brighten up your home throughout the winter season. You can hang it indoors or outdoors. However, when doing so, keep in mind to save this from rain or snow.
13. White Cream Forsythia Wreath
Made from a forsythia flower design, this white cream Forsythia Wreath is a very good transitional wreath. As you move towards the chilly winters from springs, your house will start feeling it too. With beautiful white flowers, this is a beautiful addition to any space, especially around winter. It is a 24-inch big wreath that is made out of plastic. However, given how intricately it is made, you will find it very hard to differentiate between this and the one made out of original flowers.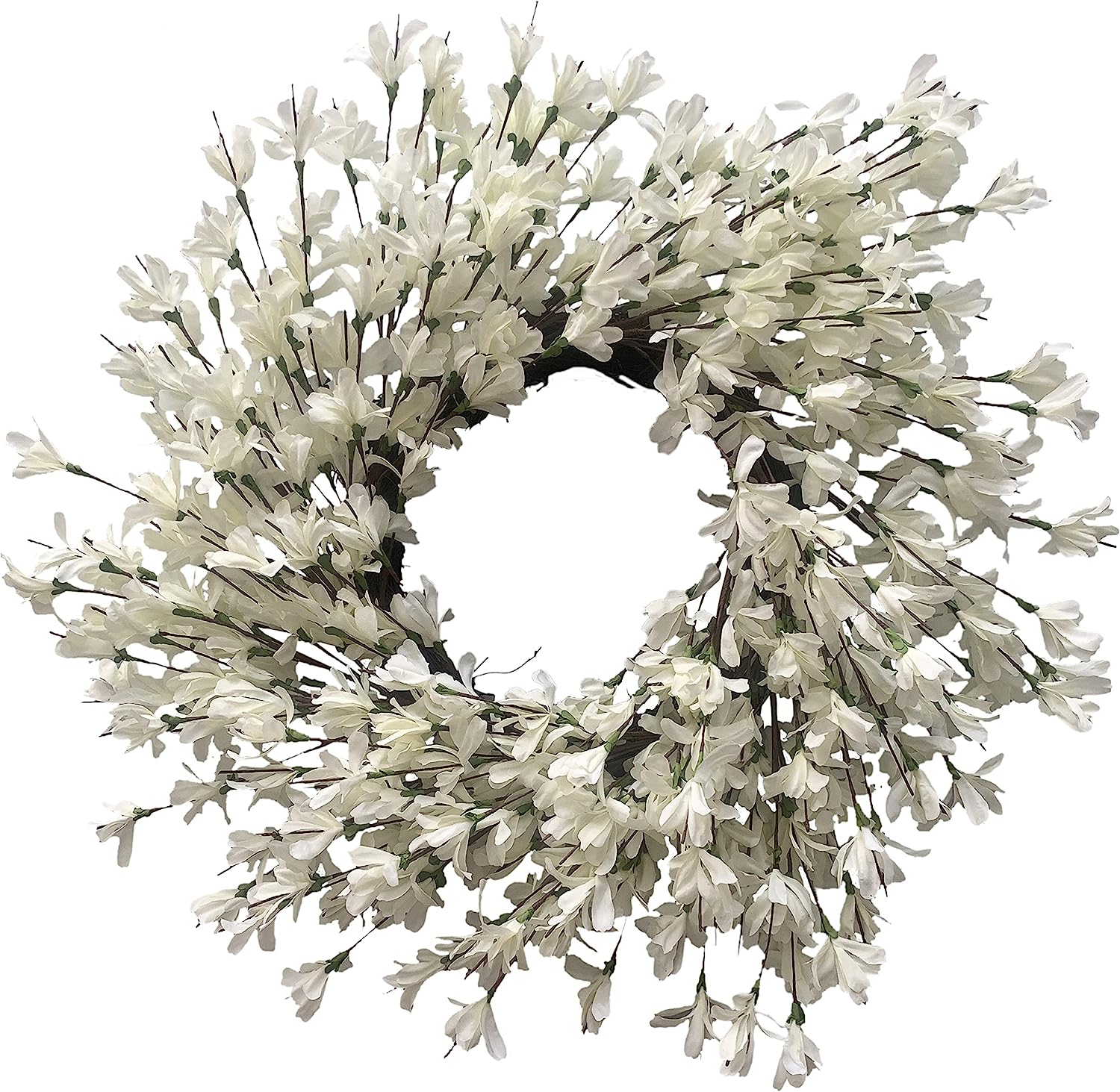 14. National Tree Company Pre-Lit Christmas Wreath
As the winters start to hit, all homes are filled with the joy of Christmas. Celebration is on the mind, and if you are looking to take it up a notch, this National Tree Company Pre-Lit Artificial Christmas Wreath is a perfect addition. Made on a Wintry pine branch base, this is a 60-inch big wreath that is decorated with many Christmas elements like pine cones, clustered berries, frosted branches, and beautiful little lights.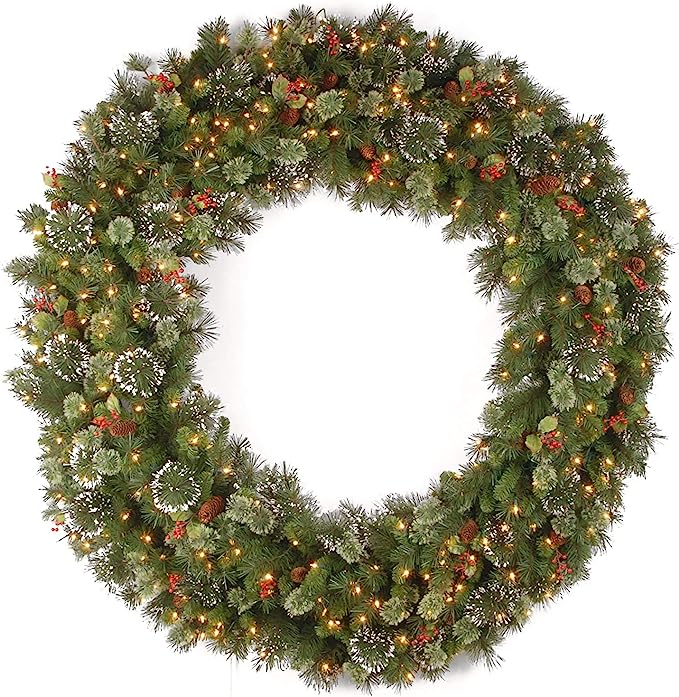 This wreath is crafted individually and is so pretty that it will impress everyone in your home indeed. It is a sturdy, high-quality, hypo-allergic, and fire-resistant wreath that will bring you holiday cheer like nothing else. You can hang this piece of decoration anywhere in the home, but it will look beautiful nevertheless. However, the ideal place to hang this beautiful wreath is on the front door.
15. Home Collection Frosted Traditions Unlike Artificial Christmas Wreath
Another Frosted wreath by National Tree Company, this wreath is a trimmed festive wreath that is ornated with berries, pinecones, and ribbons, all based on a woven branch ring base. This wreath is sturdy and made of high-quality materials that capture the charm of wintery celebrations like nothing else. You can hang this front door wreath, not just on the doors but anywhere else too.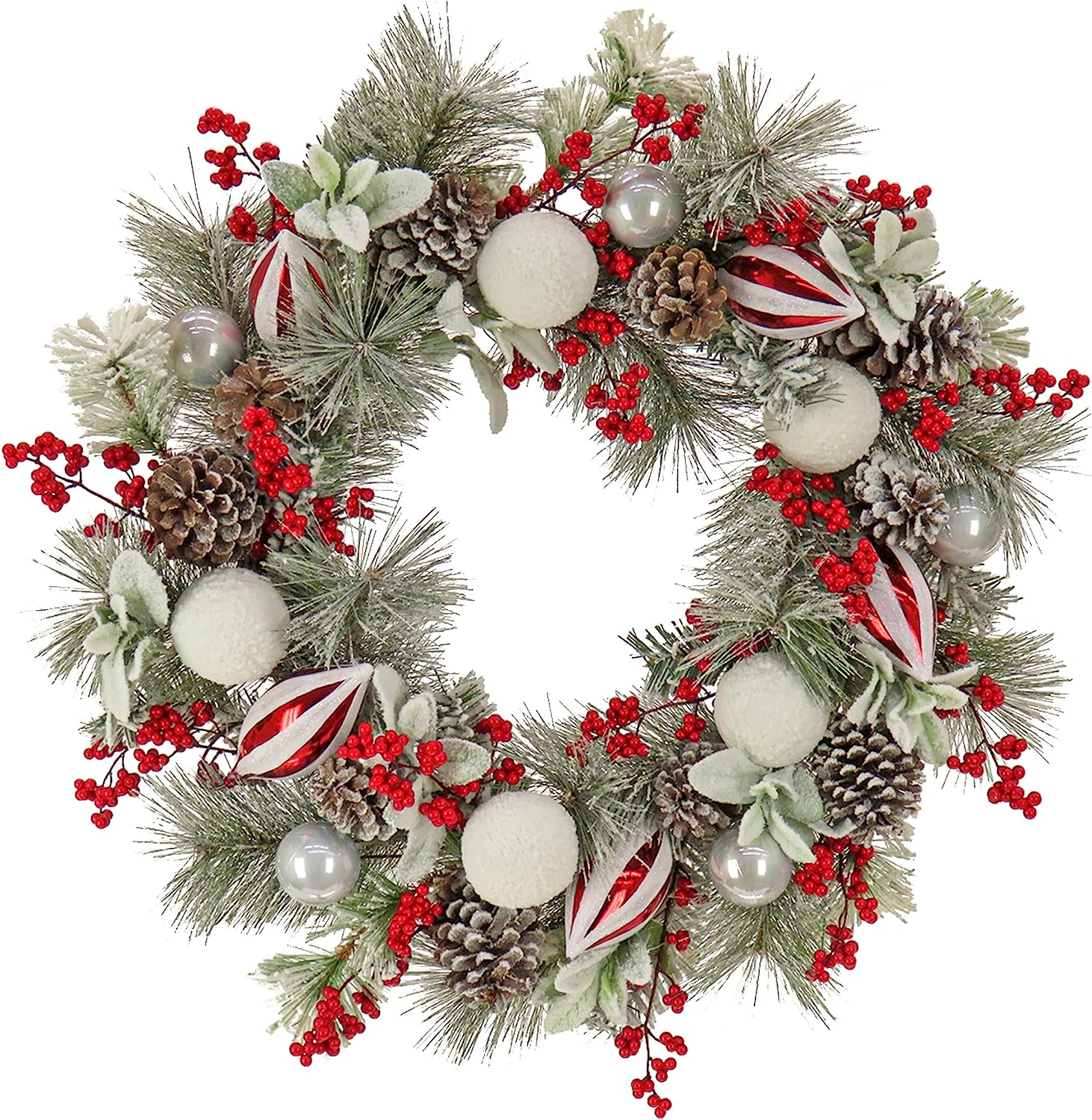 All Season Long Wreath
If you are not a person who likes to change the look of their front doors very often and are looking for a wreath that you can put up all year long, you don't have to worry because there are plenty of them that you will find. It is easy to find wreaths that are beautiful and compatible with all seasons. Here are some beautiful options that you can check out, here.
16. Huadanbor Artificial Lavender Wreath
An all-season wreath is this beautiful artificial lavender wreath that has a wooden "welcome" plate that comes along with it. Additionally, you get a hanger with this wreath so you can directly hang it over. This is such a durable piece that the purple color of this is vivid and doesn't ever fade. It is perfect for those who do not want to change their decor every few months.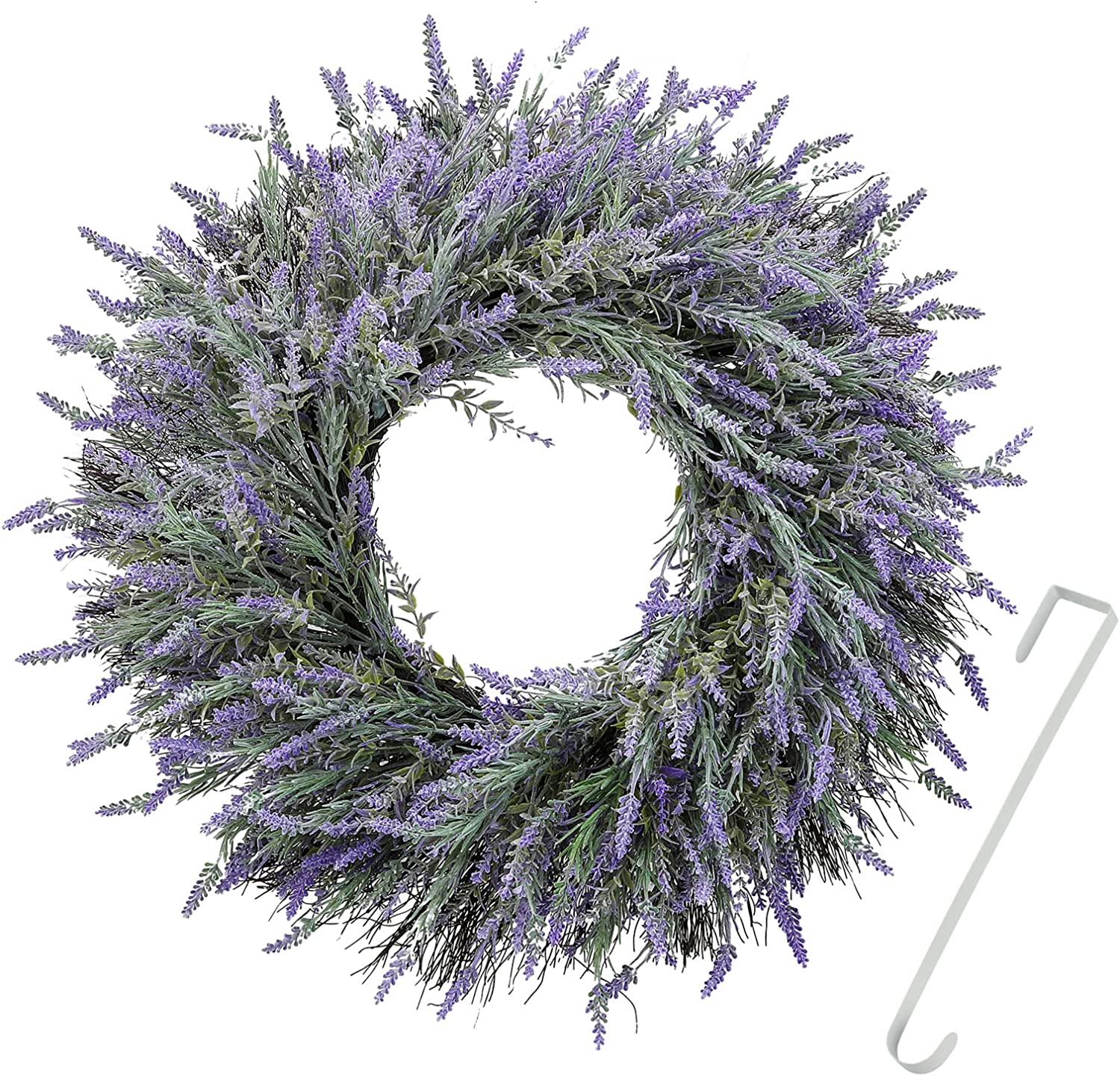 17. Soosubel Front Door Wreath
This farmhouse Soosubel wreath is a colorful, durable, and beautiful addition to your door. Decorated with artificial flowers like peony, lavender, berry, and lambs ear, with brown durable twig vines that cover the base of the wreath, this wreath is good for all seasons. It is a full-size wreath that will add to the beauty of your space. Given that this wreath is made out of high-quality material, it will look very real. It is also durable and easy to clean.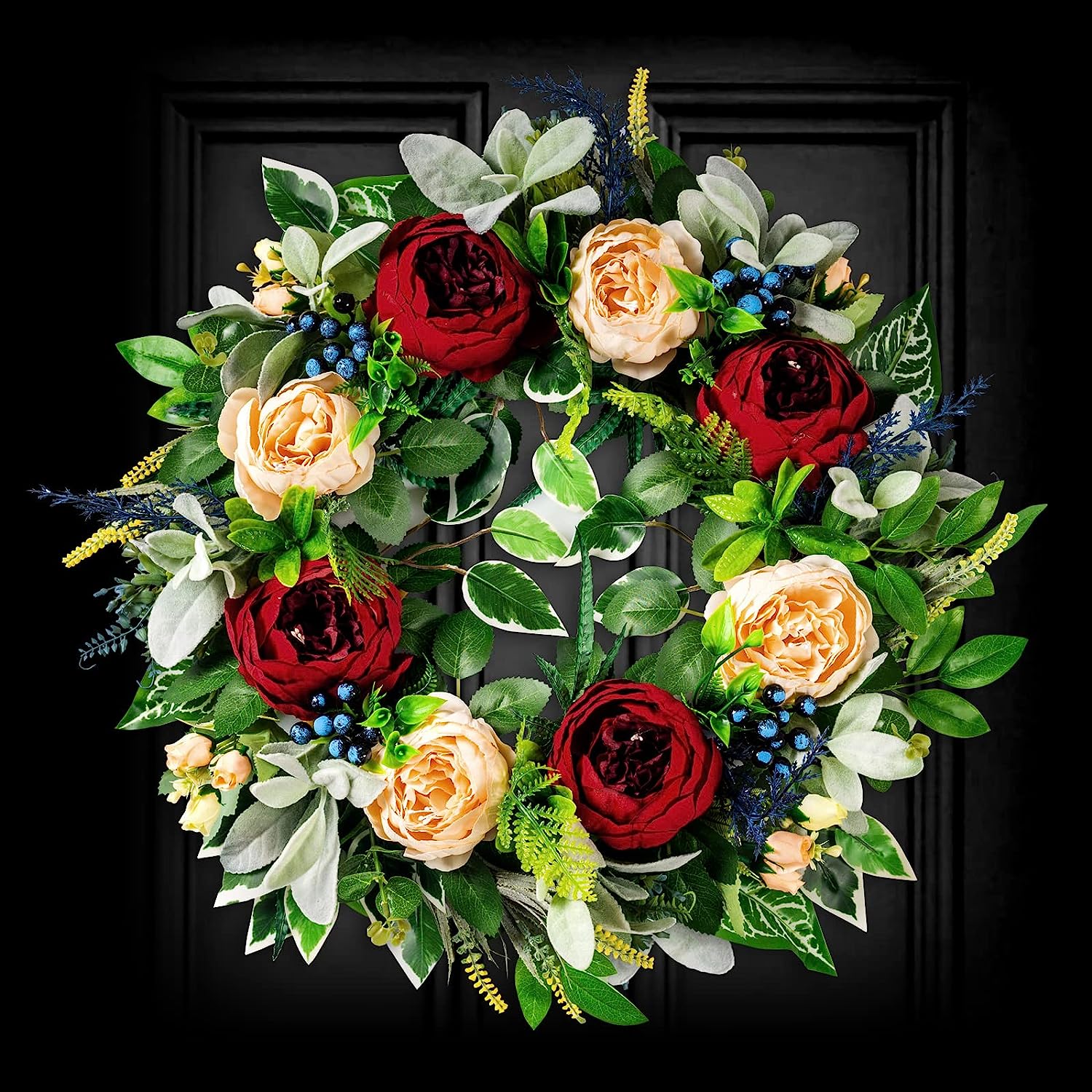 18. YIIA Tulip Wreath
Handmade with love, this YIIA Tulip wreath is a full circle of artificial tulip that has clear texture leaves and is made on a natural twig round base. It is a very durable, soft, and realistic-looking decor peace that will bring a lot of elegance to your space. You will be able to add a touch of color and nature to your home with this YIIA Tulip wreath. Since the material used to make this wreath is the best quality, it is durable, and the leaves of the wreath do not look withered ever. The colors of the flowers are Red, sunset color, and yellow, which gives a range of colors and a beautiful look altogether.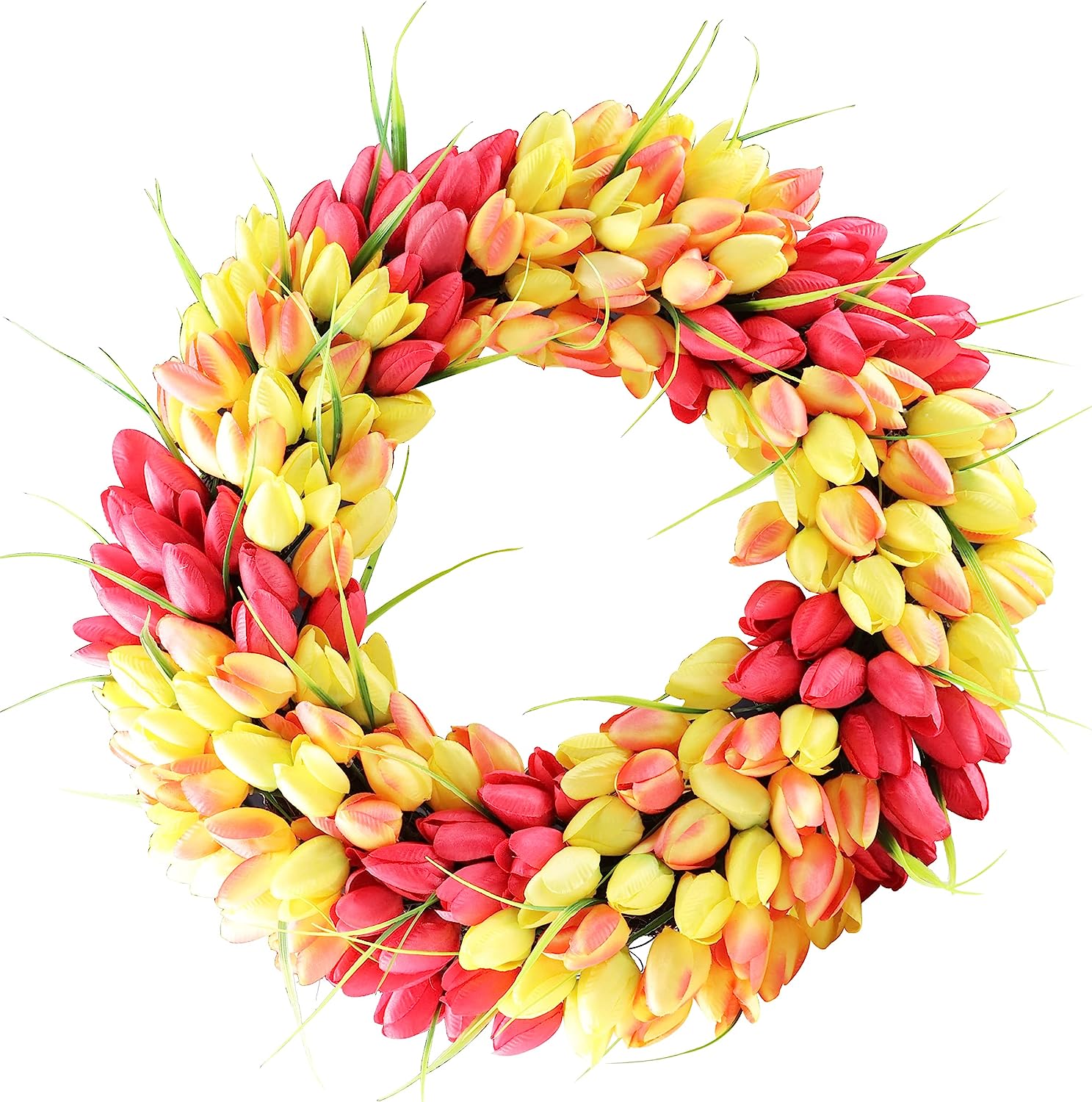 19. 3D Welcome Wreath
A gorgeous wreath that will make all your guests feel welcomed, this 3D Welcome front door wreath is brought to you by the Joyseller store. It has a rustic charm to it and is made out of high-quality paulownia wood. This is an elegant piece that is weather and fades resistance. Adding to the beauty of this statement piece is the little touch of leaves and a rustic burlap ribbon that makes it all more beautiful. The wreath is a beautiful touch to your front door, and it will make the door dressed up within seconds of hanging it.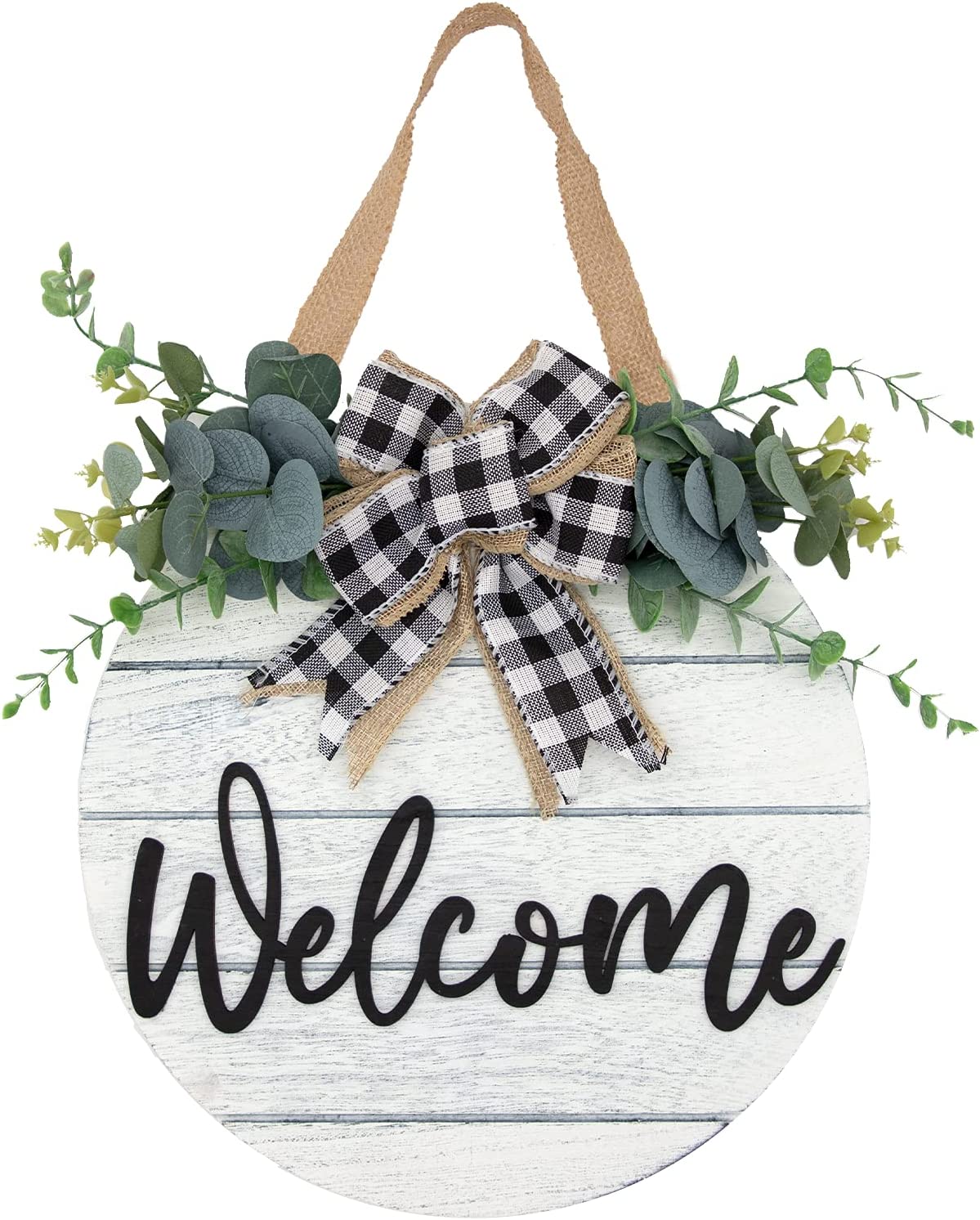 20. Wreathome Wreath for Front Door
A lamb's ear wreath, this Wreathome Wreath is another great addition to your front door decor. The wreath is uniquely decorated with its unique half-covered design. It is a neutral piece of decor that does not overpower your other decorative ornaments. Along with a few flowers and leaves to make it beautiful, you get a farmhouse-inspired bow that is easy to incorporate and goes with any decor scheme.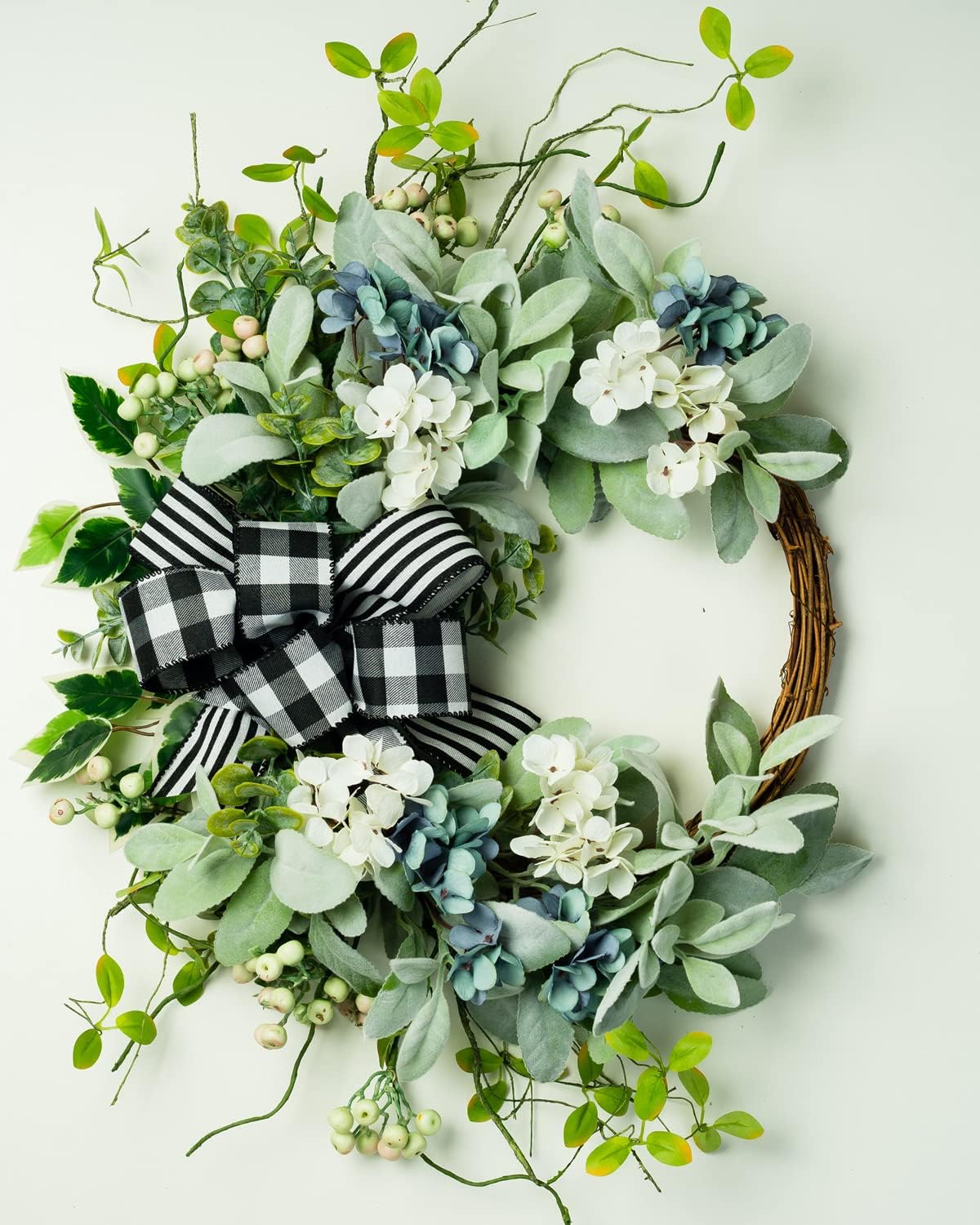 The green wreath is made out of almost natural material and is put on a rattan ring. Given how subtle it is, you can hang it on your front door all year long, and it will just add to the beauty. This wreath is a great addition to any door.
21. Interchangeable Season Welcome Sign by Rose Craft Store
Make a wall hanging that is a wreath but not a flowery leafy wreath. You can have a fun sign that lets your creativity shine through. The round Interchangeable welcome board is made out of wooden material that is high quality, and you can use a glue gun to stick artificial green plants and decorations on it as per your liking.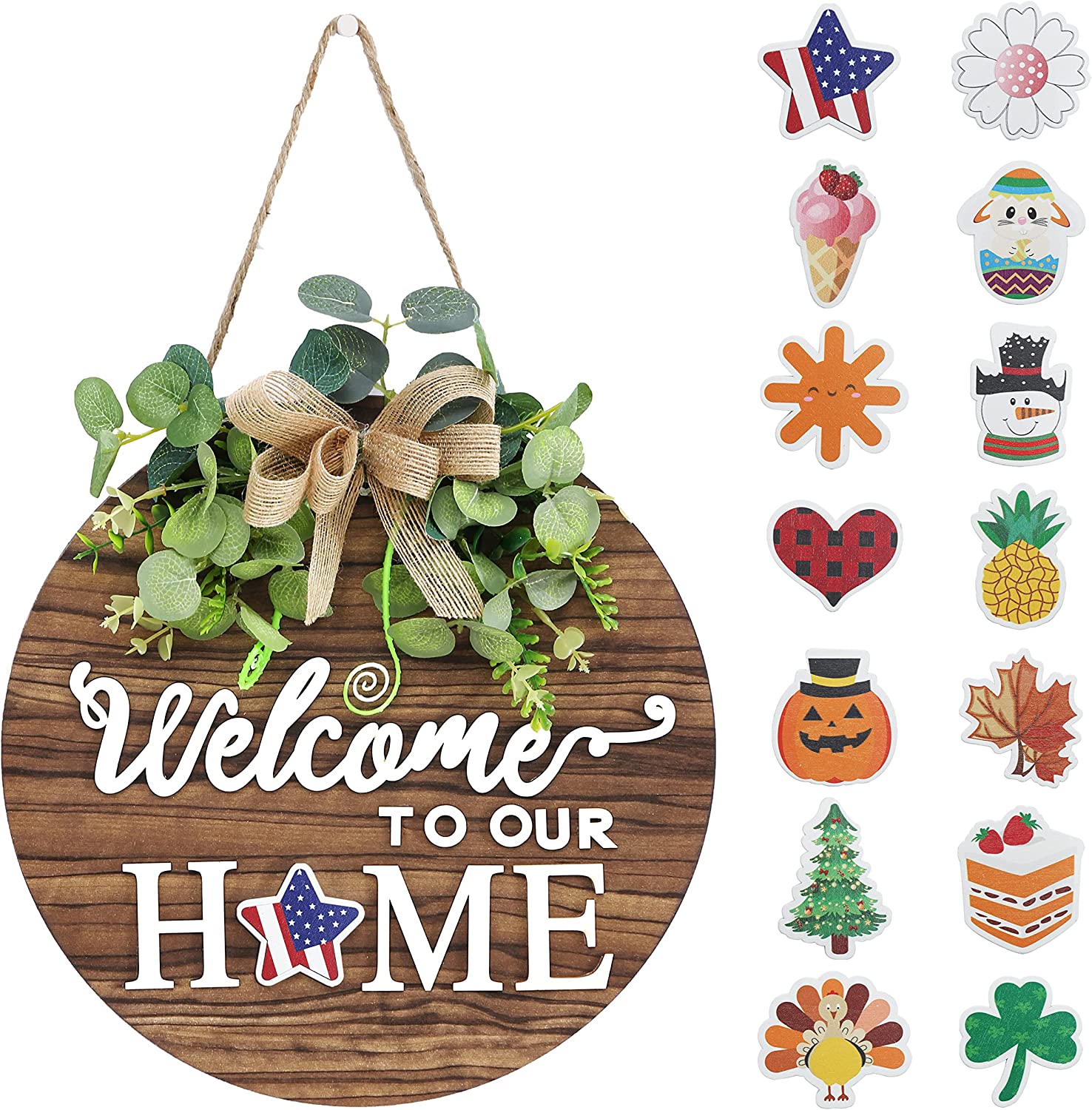 You can hang this instead of a front door wreath, but it will make your door look just as dressy. The good thing about it, since this board is customizable, you can change the ornaments as per your liking and the decorations you have put up around your home. This board is a 12*12 inch board and is suitable for most door sizes.
Conclusion
For a very long time, many decorators have believed that a wreath is a thing that you hang in winter, especially around the Christmas season. However, the good news is the trend is changing, and now you can find wreaths for every season and make your space look beautiful all year long.
For instance, you will find beautiful floral and vibrant wreaths for summer. You can take the color palette of autumn and choose a wreath with that to decorate your home. You will also find some very beautiful wreaths for winter, but that is not it. Thankfully, there are options that you can use all year long as well. Basically, you will find something for everyone when it comes to wreaths.
So, what are you waiting for? Make your entrance more welcoming now.