One thing that is common between all age groups people is their favorite food. Most of the favorite food includes delicacies that are sweet, as they lighten the mood and come in a variety. It is almost impossible and incomplete to have a celebration without sweets.
Out of all the sugary delicacies, candies have been omnipresent from everyone's childhood till they grew up. Candies come in many forms, shapes, colors, and types that brighten up the surroundings. These colorful, small pieces adorn a kid's birthday party and even a wedding buffet. It is the art of decorating candies on a piece of table or jars or making a bouquet out of it.
Candy bar ideas have to be made on a budget, as many times, it becomes a lot more than needed. You can get candies at a reasonable price, but the price hike is due to the decoration that comes with them.
Listed below are 21 candy bar ideas to make any event refreshing while yet being pocket-friendly and delectably unique.
1. Decide the Theme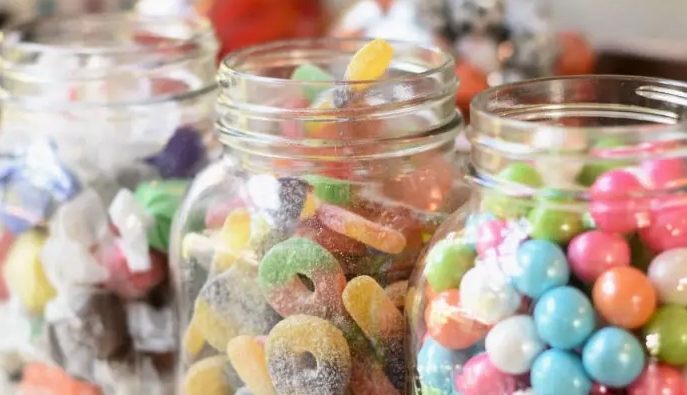 The first and foremost thing when it comes to using candy bars in a creative way is deciding where they are to be used. It can be a birthday party, success party, bon voyage party, baby shower, bridal shower, wedding celebration, or wedding anniversary. Candy bars go great on all these occasions. It is as important as deciding the menu to decide the sweet counter.
Once the theme is decided, move on to its location. A specific buffet table for candies can be dedicated to the event. Furthermore, decide the type and colors of candy that go along with your theme. For example, if it is a kid's birthday party, choose a bunch of colorful candies that attract toddlers, a colorful decoration goes well with it. You can prepare your own with these directions 100things2do at home.
2. Use Whatever Is In-House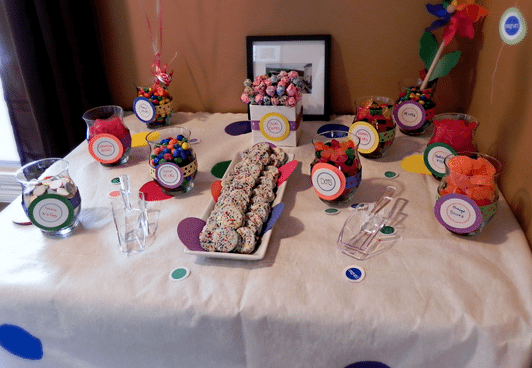 Making a candy bar buffet or bouquet does not mean stepping your foot down. You can always utilize the materials like tables, decorative elements, and jars that are already present. With this, you can make candy bar buffets on a budget and yet include all types of candies.
If you are making a candy bar buffet, which will be a lot more feasible, you can opt for a square card table, a console table, or a side table, depending on the number of guests, so that you can easily accumulate all your vibrant sweets.
Plan the decor colors to highlight the candy bar as a center of attraction. You can choose to make the buffet table as simple or elaborate as you want. Floral arrangements, candles, lighting, or even color coordination with candies can make it look classic.
There is a great DIY decor designs and hacks on Mad in Crafts if you are thinking of being the host!
3. Candy and Its Accessories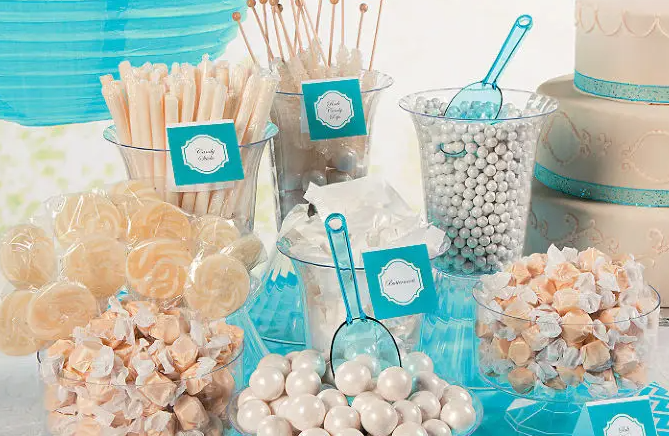 If the star of the show during the event has to be candy bars, they should be selective and match your theme. From a wide range of candies, select those most liked by every category of people and tend to contain less allergic matter.
The choices for candy are pretty much endless, especially when you think of all the tasty little treats you could add to your candy bar. It is not compulsory to add specific candies to a candy bar; pecan pralines and cookies can also go along at the buffet table.
After the selection of candies, think about the accessories that they'll be served in. Use the glass jars, microwave bowls, margarita glasses, and glass storage to store the candies. Not only will this grab the attention of every guest, but it'll also look aesthetic. Furthermore, have scoops and tongs for your candies if you have selected M&M chocolates or gummy bear candies. Don't forget to label your sugar pieces so that it becomes easier to refill during the event, and the visitors can enjoy the delicacy without the fright of their allergies.
4. Be Creative with the Candies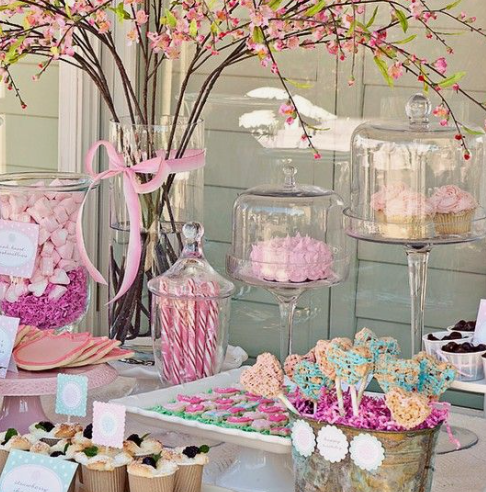 It is always exciting to unwrap the sweet delicacies because it comes with a surprise of what's inside it. Moreover, while creating a candy bar buffet, try to make use of every element you have in-house. For example, covering your glass jars with colorful scrap papers, using toothpicks for marshmallows dipped in chocolate, or painting the tablecloth.
Furthermore, you can wrap up some homemade cookies and attach a handwritten label to them. Making a candy bar buffet table on a budget does not mean purchasing everything in bulk; you can add a homely touch by baking some choco-chip cookies and doughnuts to be added to a basket stand.
While choosing to be creative with your candy bar buffet table, keep certain things in mind. Try to recreate the memories from childhood, as candies are all about it. Furthermore, try to bring different colors and types of candies to the table, like lollipops, cinnamon candy, etc.
5. Pack Them at Home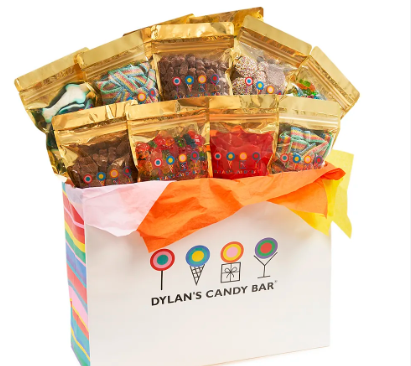 Wondering about returning gifts at the function and in a doldrum about what to purchase? Gift jars of candies with a thank you letter. Not only will this look creative, but it will also rejuvenate the guests and remind them of the good old days. Some of them will surely freeze them for longer merriment.
Furthermore, when you are creating a candy bar buffet table, order them in bulk; this will make it cost-effective and give you the benefit of choice. Alongside, make some cute paper bags and cups for candies so that your guests can top up some pieces and enjoy the event without causing traffic at the candy counter.
6. Customizing Candy Bars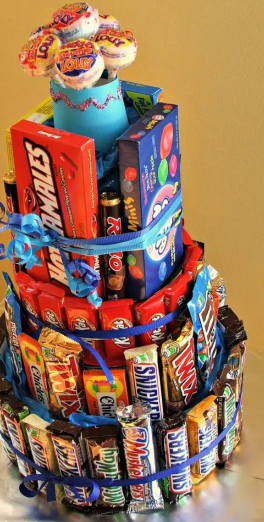 Candies are multi-purpose in nature. They aren't limited to just hosting guests but are also used as gifts. Instead of huge cakes and sweet delicacies, which have less shelf-life and much of it gets wasted, candy bars are a savior. By using a mixture of bars, one can always DIY a candy bar cake or bouquet for the event they are to attend. Not only does it look good, but it also shows the efforts that you have made while making it.
Choose a tin or stand, cover it with double-sided tape, and then add your favorite candy bars. With this technique, it is easy to make a gift that resembles a cake and lasts longer. Make a candy bar cake without baking; follow these tips and create your own.
7. Go with Color Coordination or Create Something Unique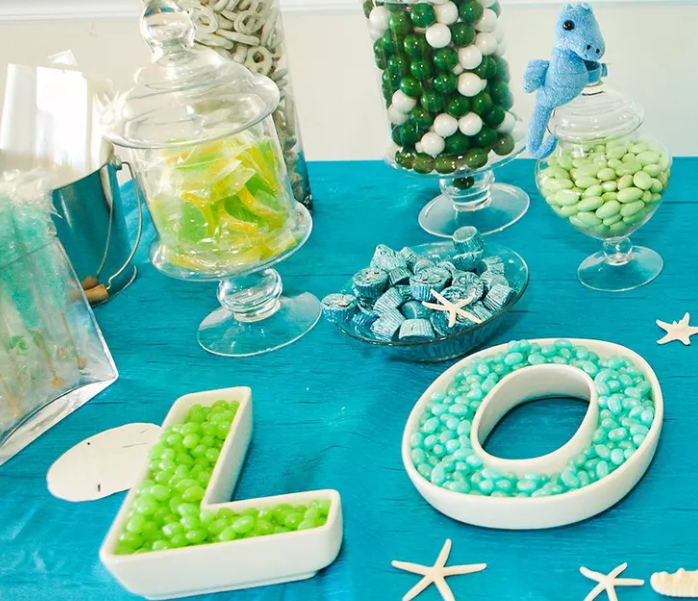 If you have opted for a table at the wedding reception, it will grab your guest's attention if you choose a color-coordinated candy bar buffet table. Candies come in wide and vivid colors; you can choose from this the sugar balls that best suit your dress code and cake color. If you are a classic at heart, make a buffet table where desserts are dressed in all-white with flashes of gold and green. This will create a lovely color combination and be eye-catching as well.
Furthermore, the location of the wedding decides the color of the candies. If you are going to enjoy a beach wedding, you should consider decorating the table in a boho style. Fill your candy bar with everything blue, pink, and purple colors that are available in Airheads, Skittles, and Saltwater Taffy. To bring everything together, add nautical accents like sea shells and starfish to your table decor.
8. Mix and Match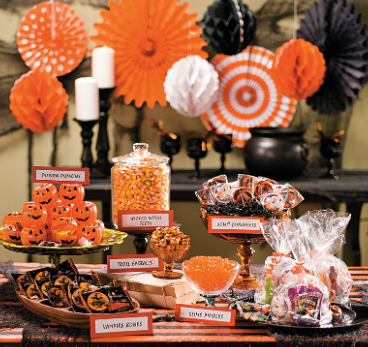 Having a Halloween get-together this year at your place? Make it on a budget, colorful and spooky with candy bars. Usually, the Halloween theme consists of bright colors like black, orange, and yellow, so choose your decoration, candies, and desserts accordingly.
At this event, there are many things that you can DIY, like spooky paper pumpkins, candy bar wrappers, placards, and cups. Get some bright scrap paper, cotton, sticks, and other spooky items to make the decoration at home, and order the treats in bulk. Add some Halloween decorations to your candy buffet, such as paper lanterns, fans, glass jars, tablecloths, and lights for a spooky glow.
Moreover, Halloween is all about trick-or-treating, and the sweet counter should be generously filled with the customized candies available during the season. Fill the jars with Hershey's cookies n creme fangs, Halloween shape assortments, Twix cookies, and Snickers peanut brownies. Don't forget to keep Halloween treat bagson your tabletop so that guests can take their preferred selections with them.
9. Happy Colors for a Happy Day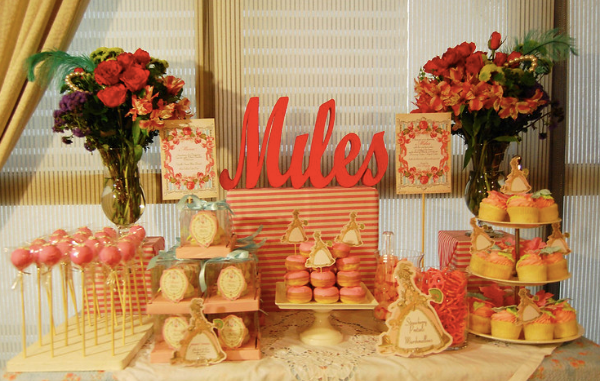 It is necessary to allocate a buffet table for sweets when planning a celebration. Sweets are delicacies that are loved and craved by everyone. One of the most auspicious occasions in a girl's life is her marriage, and it's incomplete without throwing a bridal shower before she turns into an mrs!
An affordable and easy bridal shower candy bar table can be set up with all the materials available at home. Begin with DIY dessert plates or a cake stand, by using plastic cups and light-weight plates of different sizes. With this hack, you can put your candies, doughnuts, macrons, and cookies in layers. Try to introduce varieties in sweets so that there is less pressure on candies and guests enjoy the variation. Moreover, you can also use kebab sticks in a fancy way to load marshmallows, truffles, cherries, etc. Make the candy bar buffet a mixed one so all age groups enjoy it.
10. For a Traditional Holiday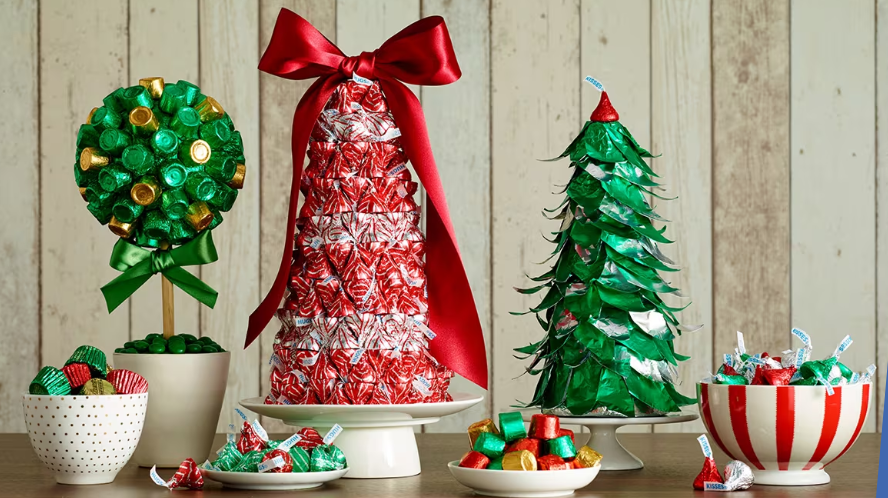 One of the most awaited festive seasons is Christmas and new year's Eve. Everyone has a corner to decorate and delicacies to make. Apart from traditional cake, candies and other sweet delicacies have a seat at the table too.
Christmas special candies can be chosen in red, white, green, and silver that can go well with the decor. Choose the appropriate size of table and use a white tablecloth to highlight the candies. Furthermore, consider adding risers to your display; this adds depth and allows for a variety of different jars and containers. You can use anything as risers; stacked books, clear plastic boxes, or candelabra.
As you are decorating the Christmas tree, give a bright touch to your buffet table with the help of ribbon, flowers, confetti, and streamers. Try to use large open candy jars with labels so that it is easier for the guests to enjoy their favorite delicacies. Furthermore, don't forget to place some cellophane bags with twist ties or transparent take-out boxes for the guests to pack their Christmas nougats, walnut fudge, and gingerbread.
11. Candy Stocks for Storks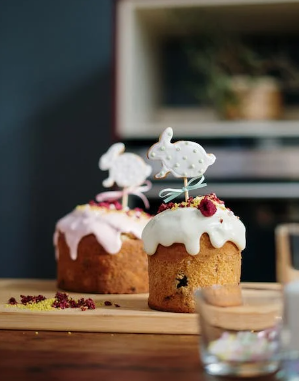 The preparation for a baby shower is as exceptional and colorful as other festive. Nowadays, this event is not limited to just the new parents, but also the guests, who not only enjoy the games but also the delicacies served in it.
The new mother definitely craves something sweet, so set a special table for her dedication to all her favorite desserts. The best part about having a candy bar buffet table is that they are multipurpose in use. They can be used as giveaways and centerpieces, as in creating a customized baby bottle bouquet or stocking them in baby jars.
Use the baby jars to fill the cake and equip it with a wooden spoon. Tie some colorful ribbons and a placard on it as decoration. Furthermore, you can use biscuits like Oreos dipped in melting chocolate and sprinkled colorfully to make a lollipop or rattle on a lollipop stick. Add mini rice krispie treats and white chocolate pretzels for the table.
12. Sweet and Savor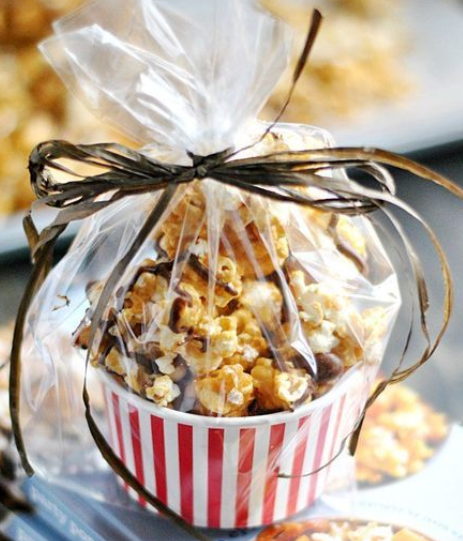 When it comes to deciding about a dessert table, why should it consist of only sweet things? Why not something savory? Thinking of something unique in your event this time, try making a popcorn candy bar buffet table. Not only does this look beautiful, but it also tastes amazing. They come in a combination of sweet and savory flavors, and a variety of textures.
Try using mason jars, paper cups, cones, and goodie bags to fill the popcorn. Furthermore, grab some tissue paper and ribbons for crafting and DIY decoration. This popcorn candy bar buffet goes well with a kid's birthday party, wedding buffet, and any other festive. It looks unique and is a boon for those who want to combine their sweets with some salty taste.
You will need candy melts for the popcorn, white chocolate-covered raisins, peanut butter eggs, white chocolate-covered peanuts, and silver metallic sprinkles that will help in dressing the popcorn. Mix the popcorn with the consistent paste that you prepared from above, and allow it to rest on wax paper, and you'll receive a jar full of white and pink popcorn.
13. Candy Buffet on Wheels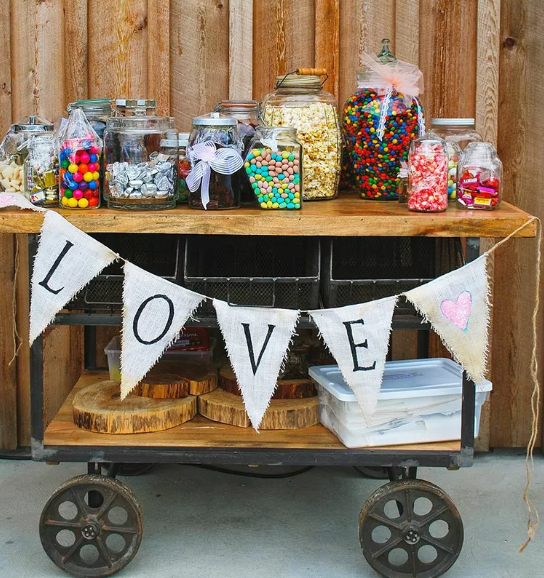 Why restrict the sweet counter to just one corner when it can reach all the guests? Opt for a cart so that your candies and desserts can travel to all sweet tooth holders. This will save the traffic on the counter, and everyone will enjoy the delicacy.
Try to involve as many colors as possible to make the cart look bright. You can also use different glass vases on each table for the guests to sit back and enjoy the treats. Candies come in vivid colors, but they should be put to the table in a coordinated manner that suits your event and grabs the spotlight. Pink and green colors go well in candies and in their floral decor. You can never get tired of candy buttons, sixlets, and rock candy in these two shades.
Another great combination is the shade of white alone or added with golden foil. This combination is evergreen and suits all events, especially a wedding buffet. Moreover, a white and black combination also gives a retro touch to the wedding.
14. Fusion Up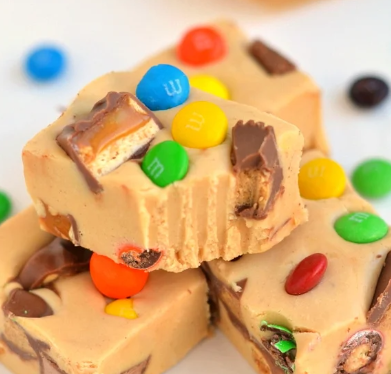 Instead of providing just conventional candies at your event, why not add a twist to the sweets? You can create any sweet dish from the chocolate bars and candies that you have been eating. By applying the fusion method to your sweets, you bring uniqueness, craft, and affection to your hospitality.
Snickers have always been in the category of solid chocolate bars. Try to move it up to the category of ice cream popsicles and add it to your buffet table for a change. A fine amalgamation of peanuts, snickers ice cream, snickers bites, and caramel forms this delicious fusion that can be enjoyed by all.
Pondering on left-over candies, can't return, and can't eat them all? Try making a peanut butter candy bar fudge from M&M, Peanut M&M, Reese's, and Milkyways. With the help of marshmallow creme, you can make a whole new dessert from these candies and serve it in minutes.
Here are a few hacks that you can try with your leftover candies and make it look like a whole new dish.
15. Make It Attractive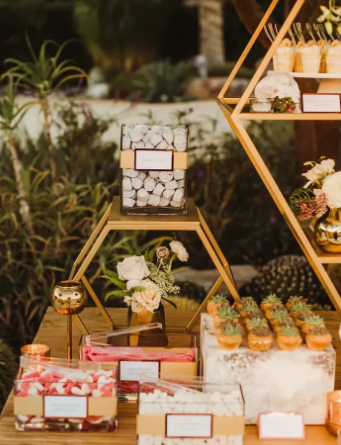 Candies are a statement in themselves; their bright colors and vivid shapes have a tendency to attract everyone. But when you are using them in an event, they need to be set up elegantly. Even though they are allocated a corner, try to make the candy bar buffet table an attractive piece. You can always use long jars, flowers, ribbons, cake stands, or tower stands for display. Using metallic stands for dessert display will catch everyone's eye towards them.
A candy bar buffet table is not all about candies and desserts; add a sweet note or limerick to it to showcase the creativity and work that you have done with the sweets counter. Always remember to label your candies so that your guests are aware of the innovative buffet table.
16. Keep It Graceful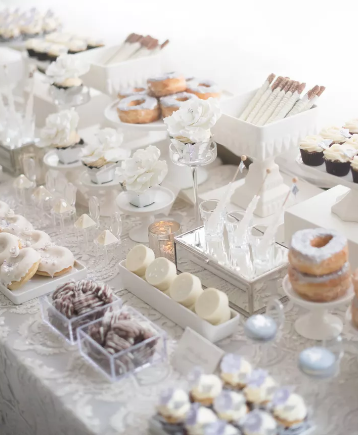 The best part about candies and desserts is they can be served in any glassware and in any shape. These small pieces of heaven can be given any color and texture, as per requirement. You can serve them as they are or accompany a dip with these candies.
These candy bars go well on every occasion; they come in many shades and can be coated in many shades. You can enjoy a white chocolate-covered Oreo, doughnut, Twix, and even truffles at a white-themed wedding. These sweet dishes can be served in cups, jars, and glasses and can be carried along in bags too.
A wedding table can be paired with the unique decor perfectly, tying colors together with stunning florals and pops of greenery. Along with this backing, a rose gold metal frame might just add a statement and highlight the candy bar buffet counter.
17. Create an Edible Centerpiece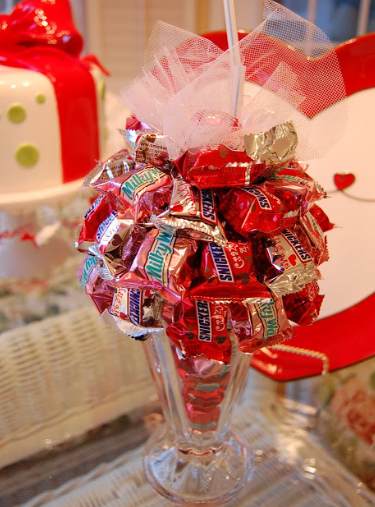 Usually, at weddings and birthday parties, the star of the show is the cake. But creating an edible candy bar centerpiece at an event is a task and looks unique; it'll surely make the cake feel inferior! You can use any material available at home and create a beautiful centerpiece. A flower pot and a wooden stick can help you make a candy topiary that can accumulate all your favorite candy bars, from Bounty to Toblerone.
With the help of sundae glasses at home, you can tape your desserts and make a beautiful flower for each table at the event. Candelabra can also help create an attractive centerpiece for lollipops. Moreover, you can arrange these candies in a bouquet form with the help of tape and ribbons. Not only do these candy centerpieces look attractive and display your creativity, but they also help to store these candies for a longer time.
The Big DIY ideas have made it a lot simpler to make a centerpiece from the candies at hand.
18. Keep It Selective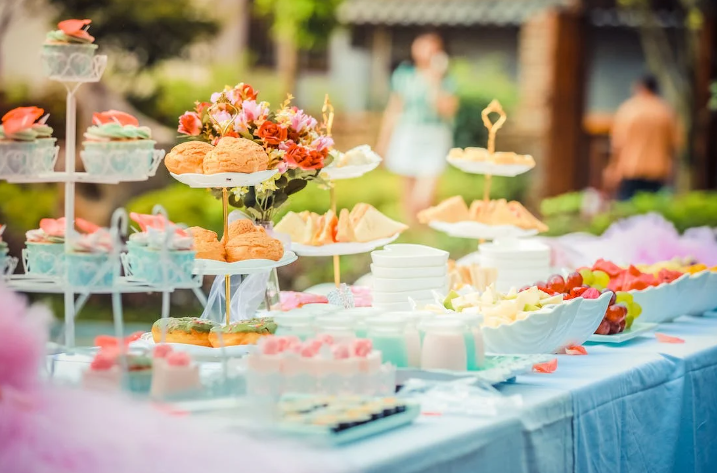 Even for a modest wedding, a candy bar might be perfect. You could even be able to incorporate more variation as a result. It looks lovely to combine a tall one-layered cake with a spread of mini treats on the table below.
Furthermore, keep the treat bags small and limit your candy buffet table to one or two, depending on the number of guests. This will keep your candy bar buffet on budget. Also, try to include other desserts like macrons, doughnuts, and pretzels along with candies, so there is less burden on one particular sweet.
When it comes to sweets, it is an endless list of what to keep on the table and what to eliminate. Instead of choosing all different candy bars, select a few that are liked by everyone, and go with your event, as we are concentrating on making candy bar buffets on a budget.
19. Recreate the Childhood Memories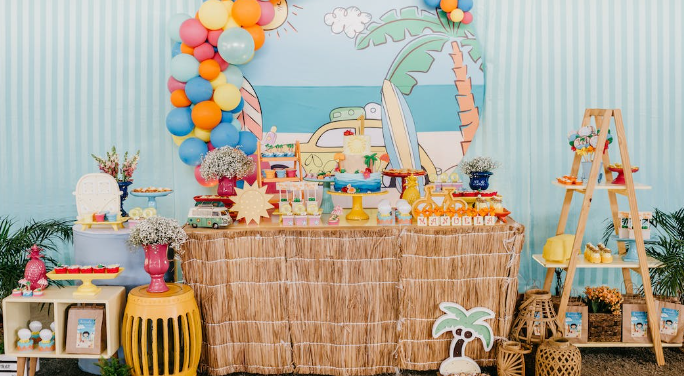 We adore a candy bar that includes some of our favorite nostalgic treats from our childhood in between exquisite, elegant delicacies like hand-painted handmade sugar cookies, macarons, and truffles.
Make sure you include the favorite sweet delicacies of the guest of honour to make them feel special and loved. You can make a beautiful counter with all minimal decor items, keeping just bright flowers and layers of mini-cheesecake cups, eclairs, biscuits, and cupcakes. Other than using flowers, you can choose to go completely green and use tall frames to make it look attractive. Furthermore, these lovely arrangements will be made on budget and showcase an exquisite color scheme.
20. Ample Candies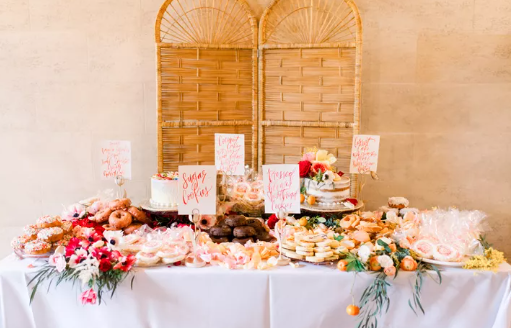 When upgrading your bar, think about adding attractive signs. With so many dessert options, you'll want to let your guests know what they can expect. You should make it as versatile as possible so there is something for each guest at the table.
Consider keeping two different single-tiered cakes, doughnuts, and sugar and shortbread cookies, as they are liked by almost everyone. Old splashes from your color scheme should be incorporated if you want your candy bar to stand out. The addition of many cake stands to this table adds height, and the doughnuts and truffles go perfectly with the stunning blossoms on the cake and in the vases.
21. Decor It Yourself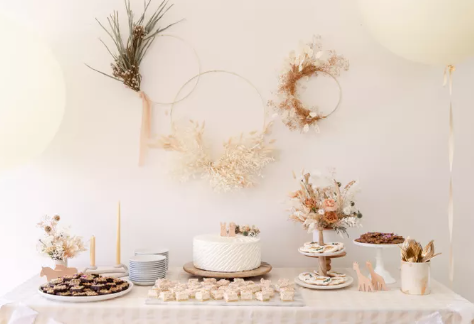 It is not necessary to make the candy bar buffet table all bright; sometimes, making something from the pre-existing decor can become a statement. As you can see in the picture, the ideal use of neutral colors can be seen.
This table's decoration sets the scene with its lovely use of dried flowers. We adore the simplicity of this bar, which consists of a sizable one-tiered cake, personalized cookies, and bars. The sophisticated design of this candy bar is a total dream, fusing a white and gold color scheme with a dash of greenery. The table can be littered with cupcakes, meringues, and macarons, all within the color scheme, mixed with the most ingenious of display accessories to elevate the aesthetic, such as gold platters and metal boxes.
Wrapping up!
There are several alternatives when it comes to any event's dessert suggestions. It might be very challenging to choose what to serve because there are so many options, such as pies, macarons, and tiered cakes. Above all, you have to make a dessert table that has all your favorite sweets, looks elegant with your event, and, most importantly, is within budget. You don't have to pick just one treat, though, which is the beauty of planning your function and figuring out exactly what you want. Candy bars come into play in this situation.
Be sure to keep the overall look in mind as you select your candies and desserts and decor things from the material that is available in hand. You should incorporate components of your decor if you want to use the table to make a statement. Think about the linens, floral arrangements, table settings, and the perfect candies.