Thinking of an easier way to keep your shower glasses clean? There is nothing more appealing than sparkling glass when you enter your bathroom. Whether it is the interior or exterior of the house, regular cleaning and maintenance is very necessary. Not only does this create a good impression on the visitors, but it also keeps the surroundings disease-free. Regular cleaning of the place helps you de-clutter and make the place look airy and beautiful. One of the places in the house that is used daily and gets easily muddy is the bathroom. 
Apart from this, a clean bathroom and sparkling shower glass will leave a lasting impression on the guest, and they'll surely ask about the glass cleaner for the shower. The best part about glass cleaner for showers is that you can prepare the solution with the material which is already available at home, so you can just mix them in proportion and make your shower glass sparkle. Furthermore, this cleaning process is literally kid's play, so you can keep your kids busy on holidays with a sponge and glass cleaners!
Here is a compilation of 21 tips for cleaning shower glasses like a pro that will ease your burden, and you will no longer delay it or get bored.
1. Dryer Sheets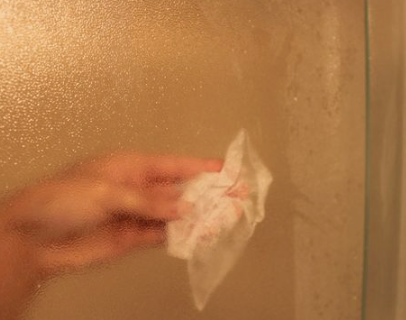 While cleaning any part of the house, especially the bathroom, grab a good quality pair of cleaning gloves. This helps in maintaining a distance from the dirt and refraining from contacting hazardous materials. The dryer sheets are super effective that will help remove dirt and grime along with hard water stains. These sheets are reasonably gentle and help lift all that is stuck on the glass. It is advisable to keep the glass shower ideal for 15 to 20 mins and then spray water. Wipe it down with the sheets, and you'll be getting a shower glass as new as you bought it.
This dryer sheet method is inexpensive and saves a lot of time. You can keep the dryer sheet box in the cabinets in the bathroom, and all those who use the bathroom can contribute by helping clean it when used.
2. Scrub Daddy
The glass cleaners come in multi-purpose use. You can not only clean the shower glasses but your refrigerator glasses, oven plates, etc., for a sparkling view. The bathroom and shower glasses are vulnerable to all kinds of dirt, mud, soap scum, water stains, etc. Not only does this look messy, but it also starts smelling awful. You cannot afford to keep the stains longer, or else it will result in greasy floors and shower glass.
The scrub daddy comes to a rescue when you want a quick and easy shower glass cleaning. Prepare a paste by using distilled white vinegar or baking soda and dish soap store this cleaning solution in a dispenser or in the spray bottle so that you don't get bored every time cleaning shows up. The scrubs come with a coarse material on one side for rubbing and smooth material on the other side for wiping. Furthermore, you can use scrub mommy, too, as it is specially designed for bathroom cleaning and has extra scrubbing power.
3. Vinegar and Water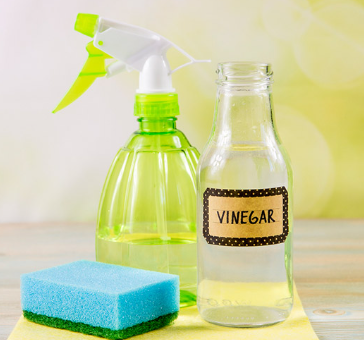 Most of the cleaning products are present in the household. This is an advantage, as it will help you spend less on expensive cleaners for shower glasses, and you will no longer delay in cleaning. A lot of times, while cleaning, we don't pay attention to the cleaning tools, but while using a cloth, we ignore the details of the type of fabric, leaving the glasses with scratches. While using paper, we often grab a newspaper or any other regular paper, making the glass worse and dull.
Shower glass cleaners are the no-nonsense ones. You can prepare the paste or liquid and store it for a long time, and use it on any glass like shower glasses, window panes, etc. Prepare a solution of water and vinegar, 50% each, in a spray bottle. For the degreasing purpose, you can choose to add any dishwasher liquid. After giving the shower glass a good sprinkle, rub it with a sponge to remove all kinds of stains. You can also try adding plastic wrap to the shower glass door, which will help keep it moist while holding the solution. Rinse and wipe clean with dry sheets after removing the wrap for tidy results.
4. Hydrogen Peroxide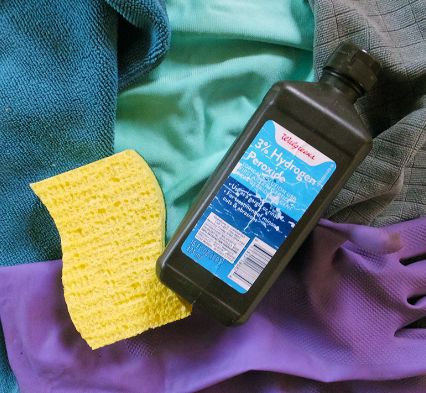 This chemical is a powerful disinfectant and can be used in the kitchen and bathroom for cleaning purposes. Not only this, but your toothbrushes, make-up brushes, and sponges can be disinfected with the help of this chemical. You can spray it directly on the shower glass surface and allow it to dry or mix it with baking soda to make a scrub.
Hydrogen peroxide cleaning is a gentle solution that can make the tedious task of cleaning faster and safer. By choosing this chemical for shower glass cleaning, you will not require any other solutions for sparkling it naturally, which is an advantage. The hydrogen peroxide solution is a very versatile cleaner. Besides a disinfectant, it is a strong degreaser, helps remove streaks off the glass and mirror, and sterilizes the space. The solution of hydrogen peroxide should be mixed with water and dish wash liquid so that it remains non-toxic and safe. Apply the solution on the glass to remove any kind of stain, and allow it to settle for a while before you rinse it off with cold water.
5. Mr. Clean Magic Eraser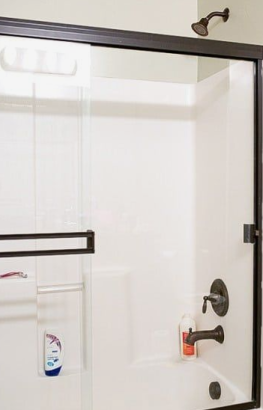 Cleaning a glass shower or door can be difficult because of the soap scum, hard water stains, rust, and dirt that build up with time. Cleaning a glass shower is not as hard as it seems and can be taken in your daily chores. Using the Mr. Clean Magic eraser, the task has been simplified to a great extent. This product works really well on shower glasses and doors when it comes to cleaning, leaving a sparkle at the end.
The easy way to wash these glass showers is to simply wet the Mr clean magic eraser and wipe them on the glasses. Rinse the glasses and doors with water and get a tidy look at the bathroom. The eraser is effective in removing hard water stains and soap deposits quickly. Now you do not need to spend a lot of time cleaning the bathroom. This inexpensive material will help sparkle the glasses in no time, and anyone can use them. Apart from this, it has a fresh scent, so you do not need to use any room fresheners after its application.
6. Steel Wool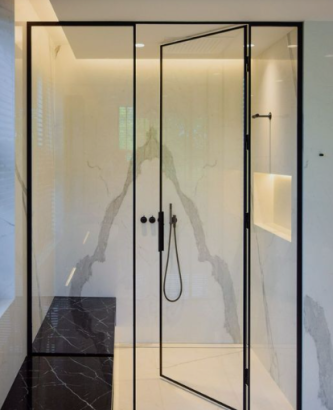 By investing in a few cleaning tools, you can easily clean any corner and any part of the shower glass or door. These tools come in different shapes and sizes for efficient functioning. These cleaning tools help reduce the worry of cleaning and save a lot of time and money. The Superfine(0000) steel wool is one such cleaning tool that doesn't scratch the surface, but it is coarse enough to remove the stains.
Steel wools come in different grades for different purposes. If you are going for shower glasses and doors, you should prefer the 0000 grade, as they are customed for cleaning the glassy surface. Furthermore, try a small area on your glass to avoid any issues. Steel wools can be used, dried, and even damp by spraying cleansers. Steel wools are actually made of steel, so make sure while cleaning, you don't catch rust, or else, you'll end up scratching the surface. You just need to use them in a circular motion or buff them and then just rinse them with water for great results.
7. Other Cleaning Tools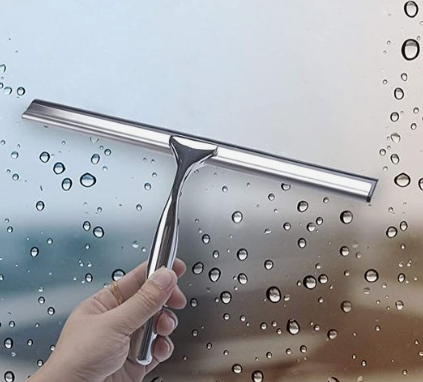 Often any one person from the house ends up cleaning, especially when it comes to the bathroom. Usually, after a bath, water drops and soap scum tend to build up on the glasses and doors. And if a regular wash of these glasses doesn't occur, they remain stained. Instead, keep some cleaning tools hanging on the bathroom wall, near the shower, so after the bath, you just need to wipe it off. Apart from this, you add some decorative and functional material like a sponge attached to a dispenser filled with water, vinegar, and dish wash.
A squeegee on the bathroom walls can help everyone remind to wipe off the glass before leaving. Squeezing after every shower makes sure that water does not cling to the glasses and doors, and hence haze is not formed on it. These sticks are water-resistant and inexpensive cleaning tools that can save a lot of time.
8. Shower Glass Coating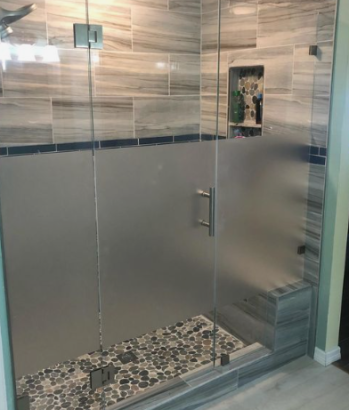 The prime reason for cleaning the bathroom glass doors is due to constant water contact, soap build-up, rust, and dirt. As the place will always remain in touch with all these elements, you'll have to tackle it with more budget-friendly, time-saving methods. Shower glass coating is a genius way to repel water from clinging to the glass surface. The shower door protectant resists limescale and soap scum build-up keeping your shower glasses cleaner. They provide a hydrophobic barrier between the shower glass and the water that comes in contact.
Without coating or regular cleaning, a clear shower glass can also turn into a translucent one. The coating option is once in a while process. You do not need to replace it for years. It just needs a little bit of maintenance. Moreover, the glass coating cuts your cleaning time, and the use of coarse material, that forms scratches on the glasses in the longer run.
9. Rain-X Glass Cleaner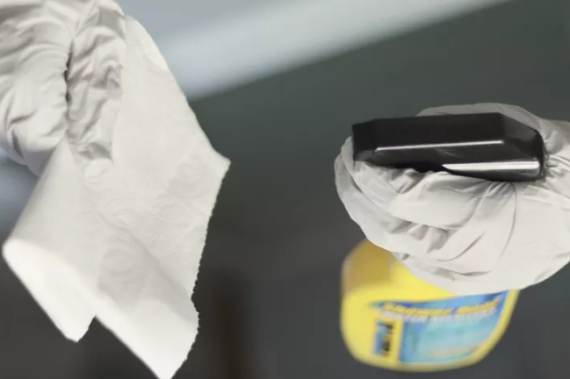 If you want an inexpensive and always available coating, you can go for the Rain-x shower door water repellent. The barrier created by this solution helps keep the glasses clean and reduces the damage created by other cleaning tools.
The liquid comes with a spray attached to the top, which makes it very efficient for anyone to use it. The process of applying rain-x on your shower glass is easy. All you need is a clean and dry surroundings. Apply the liquid on the glass doors with the help of a microfiber cloth, paper towel, or dry cloth. Prefer microfibers as they do not shred small pieces of fabric or scratch the surface. Always remember, while cleaning any glass surface, follow a particular pattern of applying the cleaners, like it should either be horizontal, vertical, or circular. Don't mix it up, and try to overlap so that every nook and corner is covered. Rain-x coating should be left for at least one hour on the surface without disturbance during the first coating, and once the haze starts appearing, apply the second coat and allow it to settle.
10. Oxiclean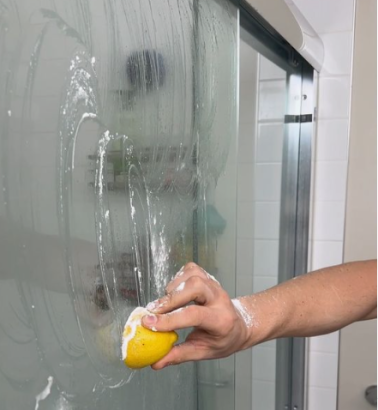 The best part about cleaning the shower glasses and doors is that it does not demand a dedicated treatment, like cleaners, cleaning tools, etc. You can use anything from the house materials to make the glass shine. Like the OxiClean, which is actually used in the laundry room, it can help remove all kinds of stains from the shower glass.
You need to use hot water while dealing with OxiClean. Shower the glass with hot water so that the powder can completely dissolve while it is still wet. You can also use cold water to apply the OxiClean with the help of a sponge. All you need to take care of while using it is that use it moist and in the required amount. You can also apply this on shower tiles, backdrops, grout lines, etc., for at least 15 to 20 minutes. With the help of a dampened towel, just wipe off the glass surface, and get a stainless surface.
11. Miracle Cleaner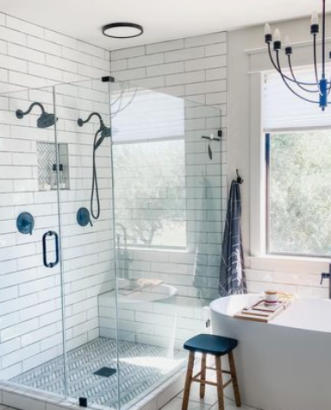 Making a glass cleaner at home is a lot more economical option than purchasing from the store. You can make the solution as and when required without the worry of expiry dates, overuse, etc. One of the most budget-friendly cleaning solutions is the dawn dish wash and distilled white vinegar, which is present in almost every household, which is why it is known as a miracle cleaner.
Use equal proportions of the dish wash and vinegar, and with the help of a scrubber attached to a dispenser, you can keep it on any bathroom wall to remind you of cleaning. Not only shower glasses but also bathroom hardware like taps, shower heads, etc. can also be cleaned and made stan-free with the help of this inexpensive solution.
12. Rain-X Anti-Fog Spray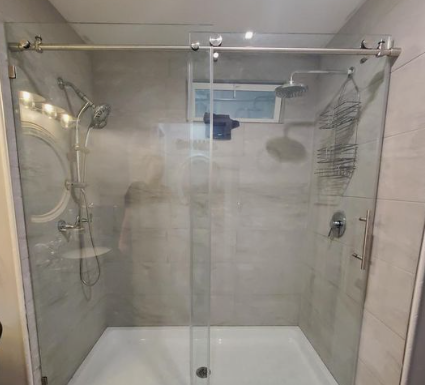 The bathroom is vulnerable not only to dirt and stains but also to fog. Especially when you are using hot water for showers, the shower glasses, doors, mirrors, glass on the closet, etc., turn foggy, making everything hazy and they do not turn clear due to lack of ventilation. Although hot showers are beneficial for you, they harm the interiors of the bathroom in the long run, as the moisture from the hot water peels the paint, causes rusting, etc.
The way forward for foggy shower glass is to use an anti-fog coating that will help the glass doors remain transparent. The Rain-x's interior glass anti-fog spray is also designed for household purposes. Apart from the anti-fog coating, you can use proper ventilation or window for the moisture to escape and make every glass clear.
13. Enduroshield Treatment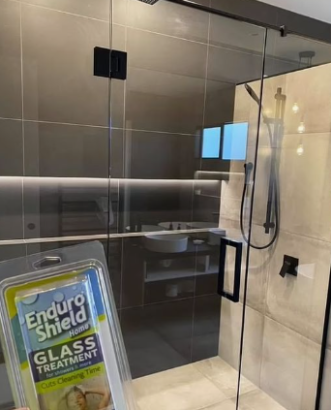 Cleaning up is a huge task, especially when it comes to bathroom cleaning. We like to delay it as much as possible and cannot stand the stains, dirt, or grime on the once-transparent shower glasses.
There is a solution that saves daily cleaning for a long time. The enduro shield glass treatment has protection guaranteed for 3 years. This easy DIY kit includes a cleaner, steel wool, and product application cloth.
The advantage of applying this coating on the shower glass is that the water beads just run down the glass instead of clinging to the surface. You just have to wipe them off. It also refrains the soap scum and grime from sticking to the glass doors. This saves a lot of time and money in cleaning. You do not need any other kind of chemicals when you apply this coating.
14. Bar Keepers Friend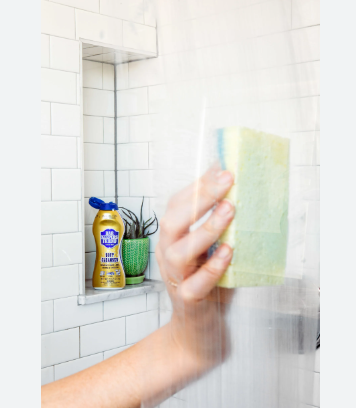 While using any kind of cleaning tools, and cleaners, there are chances of leaving the glass surface with scratches due to cloth, rust, or any kind of dirt. This makes the glass surface dull day by day. A solution to use as a glass cleaner for showerand scratches and getting rid of the mess is the Bar keepers friend more spray, which is specially made for removing lime, calcium, soap scum, tarnish, stains, and hard water deposits.
With the help of a fine non-scratch scouring pad or scratchless sponge, apply it to the shower glass and allow it to settle for a few minutes. Rinse it with water and wipe it off with a squeegee and dry cloth, mainly microfibers.
15. Baking Soda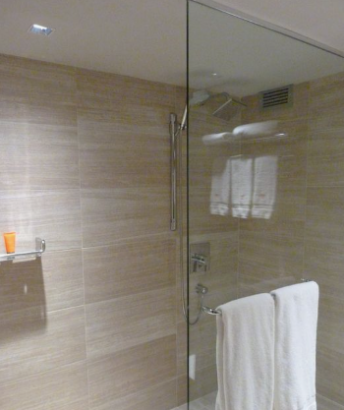 The shower glasses and doors can quite easily transform into dirty and smelly places over time. You may not notice them initially, but they form a lump or layer over time, making them permanent stains and hard to remove. There are many reasons behind this mess, and the two prime reasons are hard water and soap. They gradually accumulate on glass shower screens if left uncleaned, resulting in permanent damage to the glass.
One home remedy that can save you time, and money, is using baking soda and vinegar as glass cleaners for the shower. You can use both separately as cleaning agents, but they are stronger against stains when combined. Prepare both these elements in equal proportion and apply them with a sponge on the surface. Allow it to settle for 15 to 20 minutes, and then wipe it off with microfibers for a cleaner and brighter look.
16. Lemon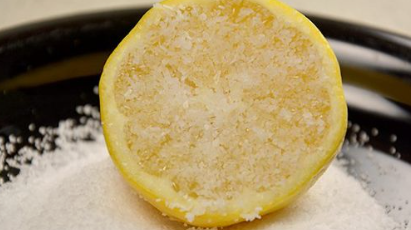 Using natural cleaning materials is a lot more effective and inexpensive when it comes to bathroom and shower glass cleaning. Lemons can be the perfect match glass cleaner for the shower. They also help get rid of the stripes and scratches caused by some cloth. Cut a lemon in half and dip it in baking soda. Rub the lemon on both sides of the glass door to make a foamy appearance. Allow it to settle and react with all the stains and dirt. Wipe it off with a fresh microfiber cloth, and rinse it with water.
You can also use lemon oil after the glass is cleaned. The oil will repel the water so the soap does not dry on the glass. This effective method will also leave you with a fresh scent rather than other chemicals.
17. Ammonia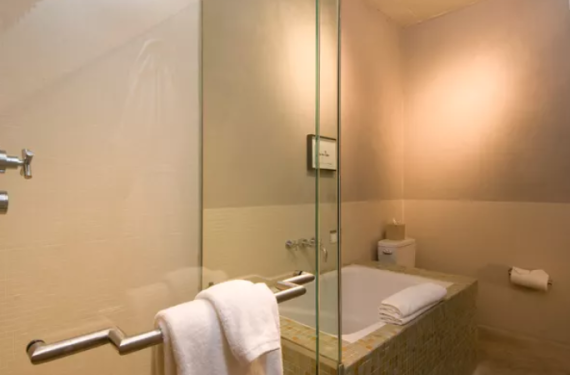 Shower doors turn translucent quickly after use due to the water, soap, and moisture. Commercial shower cleaners can not be purchased for a longer run, although they effectively remove all the debris and dirt. While staying within budget, ammonia can be a great help in cleaning shower glasses and doors.
Moreover, its properties allow it to be used with different household materials to create a stronger cleaner. You can use ammonia with vinegar, or baking soda, along with warm water, to apply on the glasses as an inexpensive glass cleaner for the shower. Use a microfiber dipped in the solution to apply on the surface and allow it to rest. Rinse it off with water and use a dry cloth later on.
18. Cultivate a Habit of Cleaning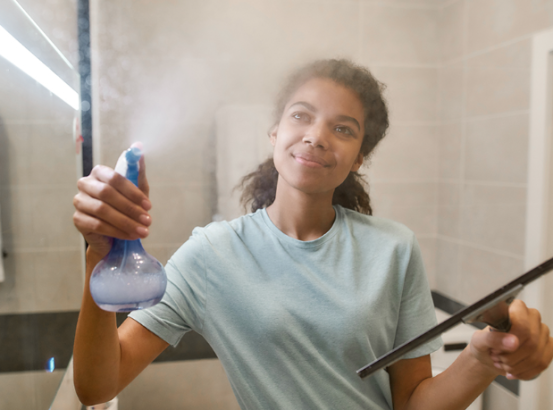 You can always get solutions to every cleaning problem and overcome it in no time. But the bathroom and shower glass cleaning can appear now and then due to its constant contact with water, soap, and moisture. Instead of waiting for the soap scum and hard water stains to accumulate, keep a habit of constantly cleaning after a shower so the deposits do not remain stuck to the surface.
As you will be using all types of chemicals, cultivate a habit of using gloves and a spray bottle to avoid direct contact with the toxics. Easy cleaning tools and cleaners can be used by everyone as glass cleaners for showers. Keep a cabinet in the bathroom where you can harbor all your cleaners and tools so that you have track of all things.
19. Keep Other Hardware Clean
The bathroom is an amalgamation of many elements like taps, floors, mirrors, closets, showerheads, and shower door tracks. The materials that you use to clean the shower glasses can also be used to clean other hardware as they are multipurpose in nature. Moreover, all these elements are prone to staying in contact with water, moisture, and soap.
If you have a frame below the shower doors, there are chances of soap scum and grime entering the metal track. It is advisable to fill the track with vinegar and baking soda solution overnight and later use paper towels or an old toothbrush to remove the dirt and debris.
20. Clean Every Spot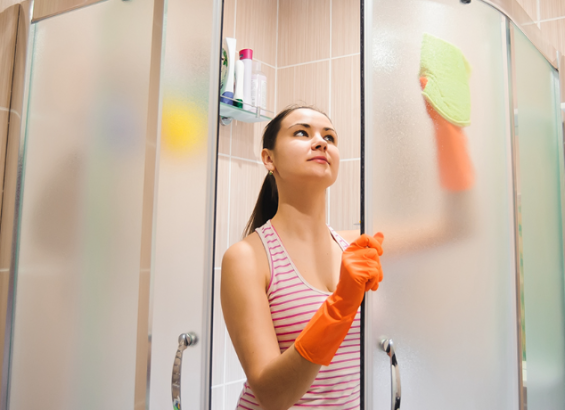 Cleaning can take a toll when it is required on a daily basis. Especially when it comes to bathroom doors, it is inevitable, or else it will result in an untidy, foul-smelling place that results in diseases.
Usually, the size and height of the shower glass vary from house to house, and it is hard to reach every nook and corner alone. Along with this, the corners and curves harbor more debris where cloth and hands cannot reach. In this case, you can use a microfiber mop to reach the heights and can use old toothbrushes in the corner and metal tracks to remove the debris or apply cleaners.
21. Maintenance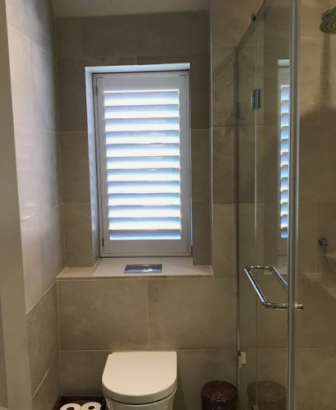 The showers emit all kinds of vapor, moisture, soap, and water in all directions. That's the main reason for having shower glasses or doors so that the pouter area is not wet and untidy. Along with this, moisture remains in that limited area as it has nowhere to go due to a lack of ventilation. When this happens, it results in soap scums, molds, odor, and all other cleaning challenges.
It is advisable to have a ventilation fan, window, or timer fan in the bathroom to avoid this mess. You need to ventilate the bathroom while you shower and at least for another 40 minutes after the shower to avoid a hazy shower glass.
Conclusion
Shower glasses and doors look appealing when they are transparent and smudge-free. These glasses do not require the entire day for cleaning. A few minutes daily or a good wash at the end of the week can help keep the shower glasses as new as day one.
With the help of regular cleaning and sticking to a single-brand cleaning tool and cleaner, you will cause less damage to the glasses and keep them scratch free for a longer time.
Many of the glass cleaners for showers can be made at home or can be bought on a budget. It becomes necessary to regularly clean the shower glass to avoid water drops, dirt, and soap scum settling.
Go through these 21 tips for shower glass cleaning to make them sparkle and keep them intact. These hacks will give polish your shower glass and doors in no time.