Making the perfect shoe storage for your choice could feel like a massive challenge, especially for shoe lovers who love to purchase new pairs every now and then. If you feel like you are always searching to find the perfect shoe, depending on the right occasion, you have come to the right place.
In today's post, we are going to introduce you to 21 clever DIY shoe storage ideas that will not only give you room for a massive makeover but also help you keep your footwear in place and find them right when you need them, without turning the whole closet upside down.
Clever DIY Shoe Storage Ideas to Tidy up Your Footwear
1. Repurpose Your Bookshelf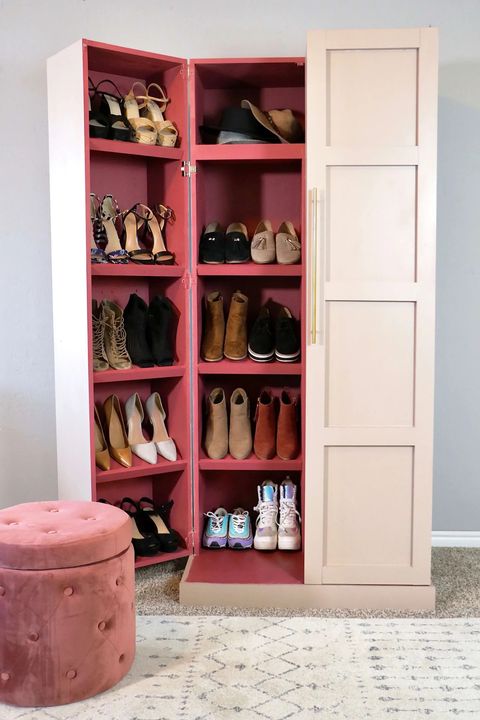 You can turn your old bookshelf into a pretty-looking shoe rack. All you need to do is remove some extra shelves and make extra space for them. The rest of the shelves can be used for storing some of the items like accessories, bags, etc. You can consider giving it a fresh coat of paint depending on the color you'd like to have a more stylish solution for your storage.
2. Use Your Pvc Pipes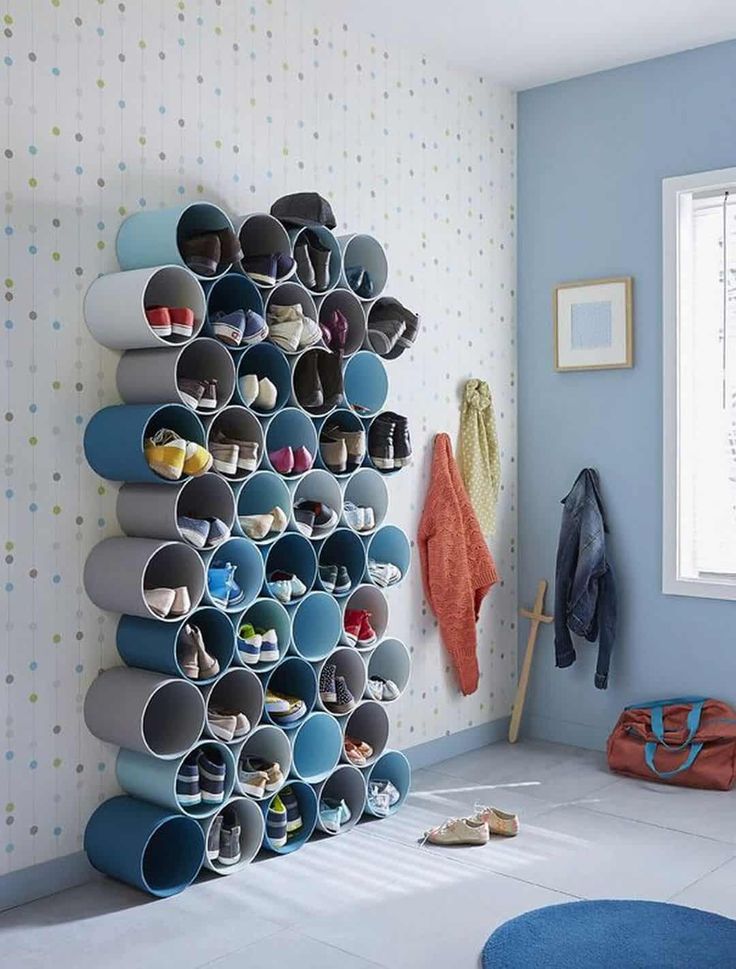 You can create a minimalistic and modern shoe rack with the help of PVC pipes. Surprised? Well, it works wonders if you do it right. All you need to do is cut the pipes into lengths of your choice, stack them up vertically or horizontally, and then secure them using ZIP ties or adhesives. Using this will allow you to easily customize your shoe collection based on the space that is available.
3. Ladder Shelf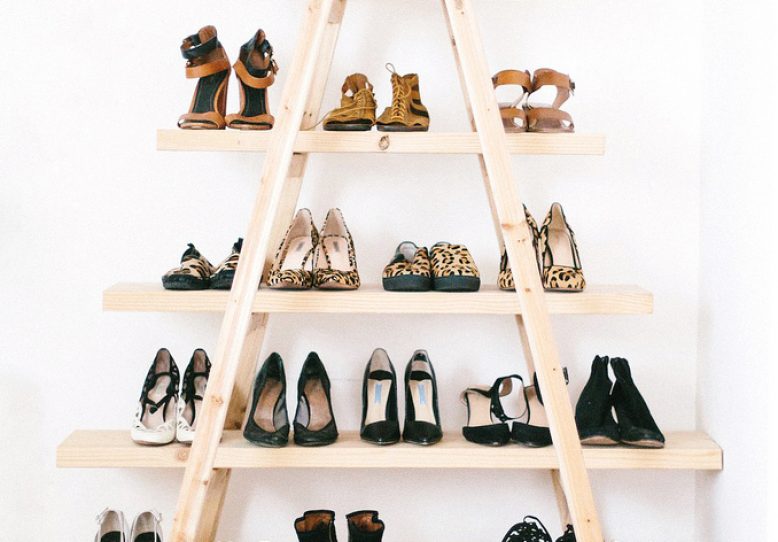 You can also repurpose your old wooden ladder and turn that into a nice-looking shoe shelf. All you need to do is lean the ladder against the wall and then use the rungs to hang your shoes. If you like, you may also use wooden planks on the steps in order to create some extra shelves for boots and extra storage.
4. Shoe Pegboard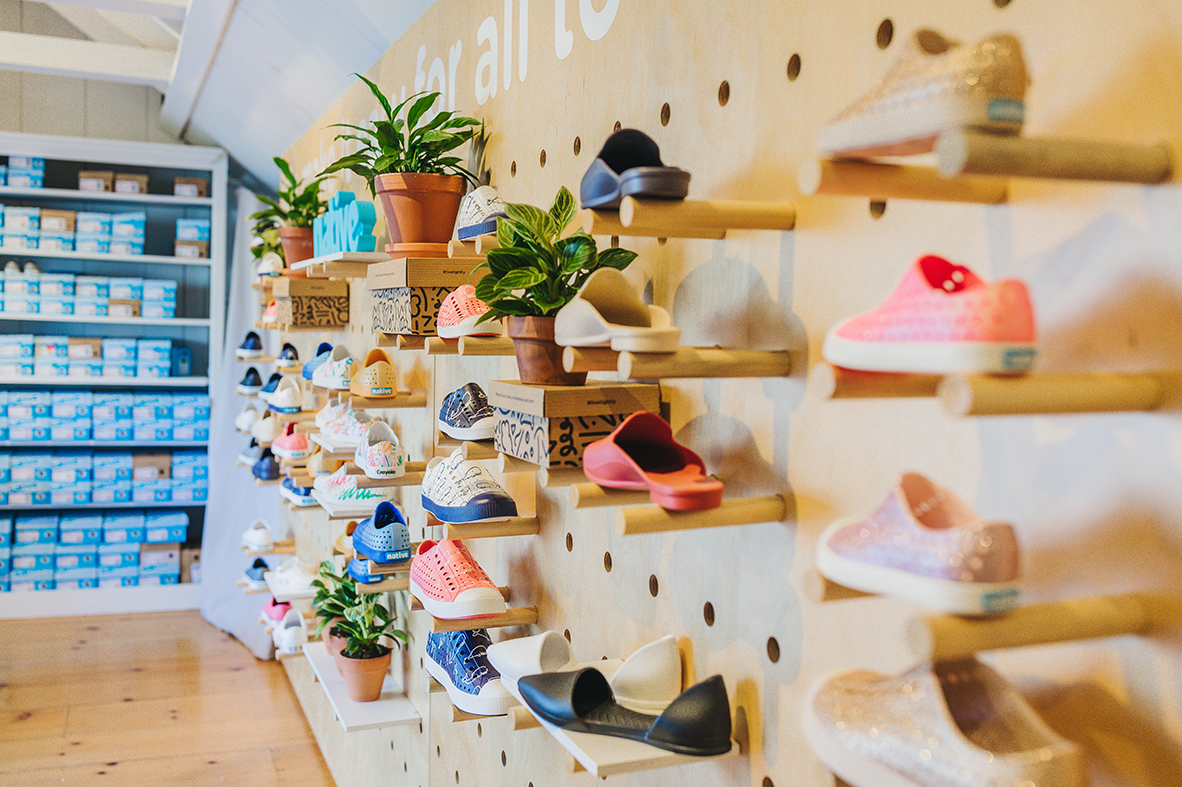 This is also an option that you can try. All you need to do is install the pegboard on the wall and then attach hooks to hang the shoes. This system is quite versatile, which allows you to adjust the hooks and their placement so that you can accommodate various styles and shoes. You can consider painting the pegboard in various colors to create a more attractive display.
5. Create Your Own DIY Cabinet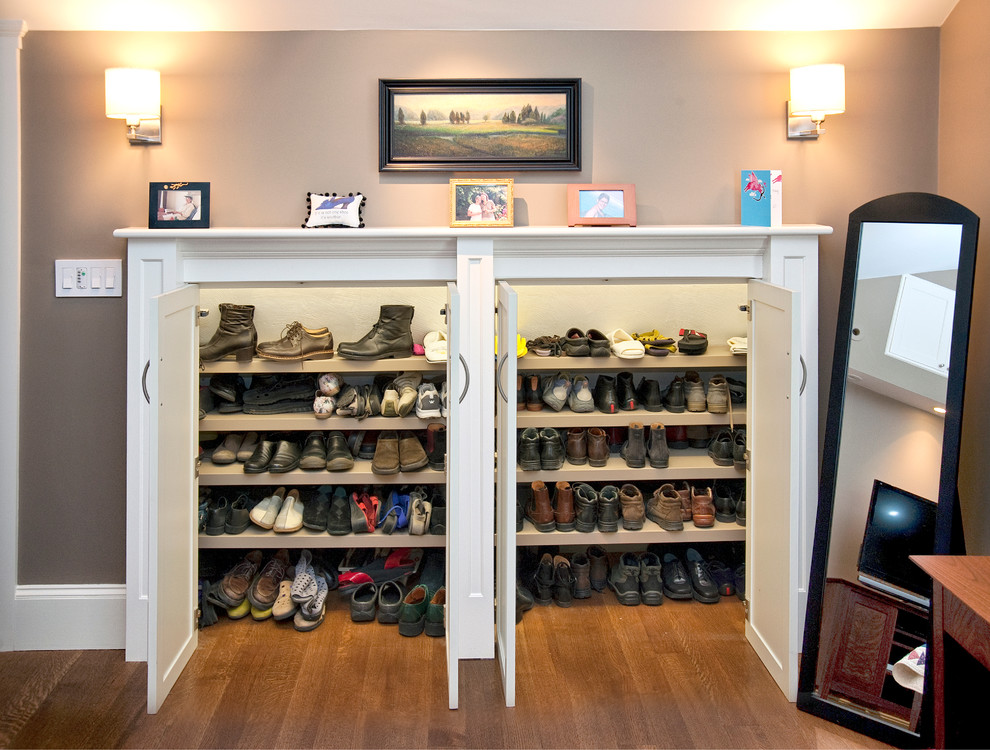 Did you know that you could create your own DIY cabinet? To start off, measure tour dimensions for the cabinet and then gather all the important cabinets like hinges, screws, and plywood. You can cut the plywood in various panels using screws and then reinforce the joints using glue. You can also install hinges for the doors. After this, you can add extra touches like paint or handles. Customizing the cabinet also lets you tailor it to your style and specific needs, which results in a unique and functional storage solution for many.
6. Shoe Storage Ottoman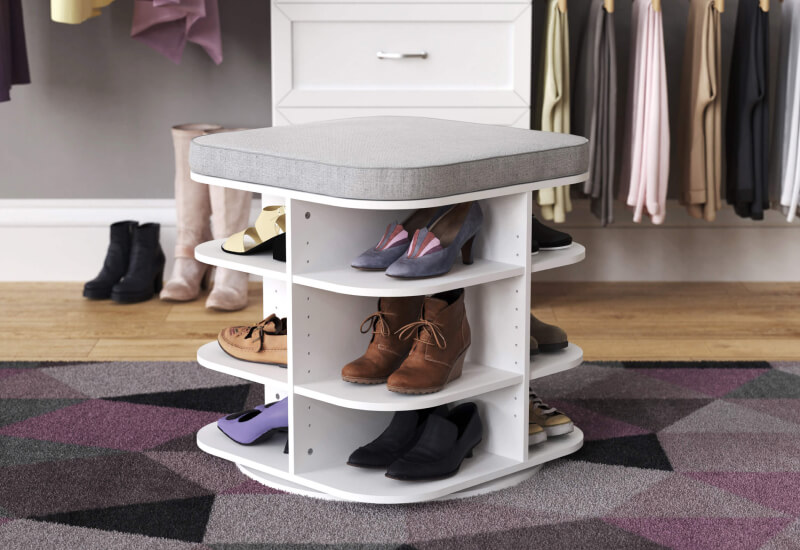 Shoe storage ottomans are extremely versatile. They are also practical solutions if you want to conceal and organize your shoe collection. It will combine the ottoman and give you the benefit of hidden compartments as well. Ottoman features are often removable from the top, which gives a spacious interior where you can store the shoes. A few signs may also include dividers that keep the shoes organized and then prevent them from mixing.
7. Shoe Storage Tower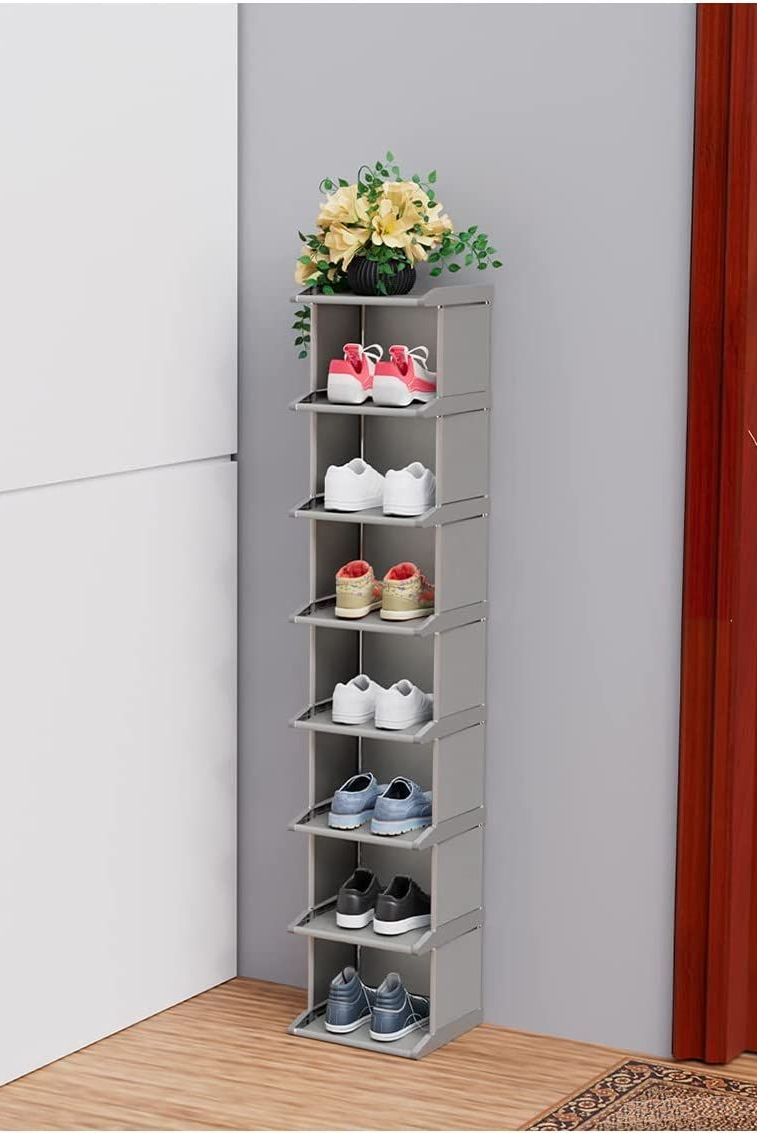 For this, all you need to do is construct a narrow shoe storage tower by using a few wooden boards or any repurposed material which features multiple cubicles or shelves that accommodate many kinds of styles and shoe sizes.
8. Entry Shoe Storage Bench with Hooks
You can also build a functional entryway bench which includes built-in shoe cubbies. You can complete this with hooks on the wall next to the bags. This will automatically make a convenient space for your outwear and shoes.
9. Use Wire Mesh Panels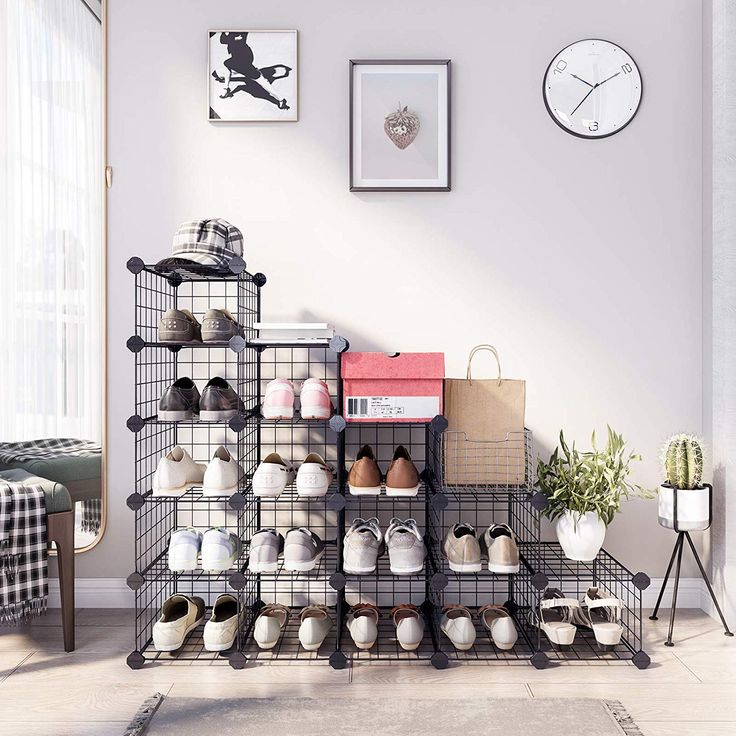 Using grids and wire mesh panels will help you create a good DIY shoe storage rack by simply securing them vertically and then adding the clips or hooks in order to hang or display the shoes, adding a touch to your storage solutions.
10. Woven Basket Shoe Holders
These are not too bad as options either. They also act as a functional and charming way to store your shoes and also add a natural touch to your house. The baskets here are usually made of wicker, seagrass, and rattan, which creates a more visually appealing and durable storage solution. By keeping an open design, you can easily access the shoes when you are keeping them healthily organized. You can place the basket on the shelves, floor, or closest. They are breathable, which makes air circulation a lot easier and helps you maintain the condition of the shes well.
11. Vertical Narrow Storage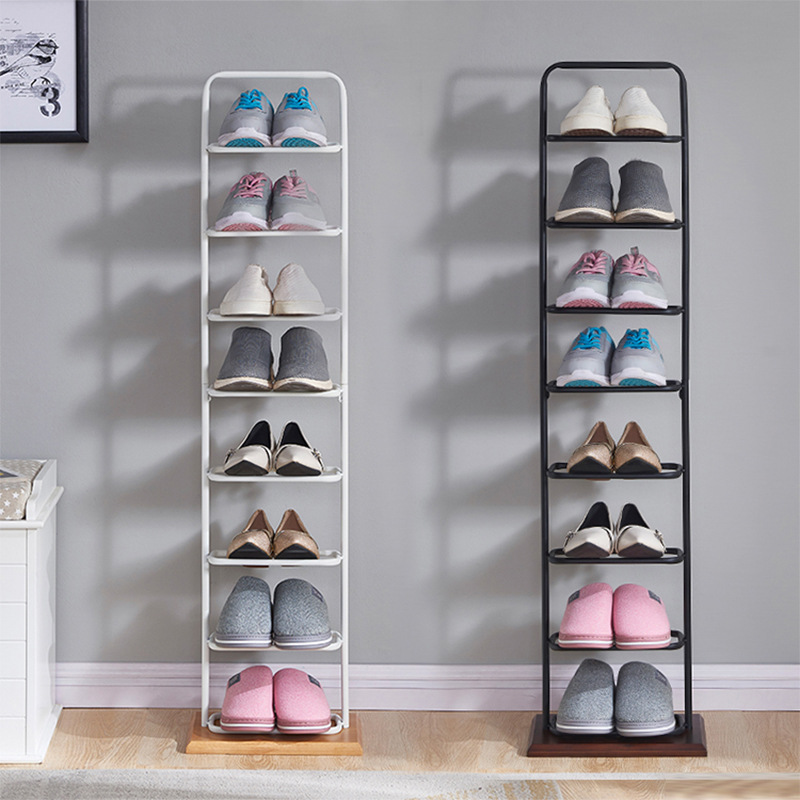 This is a practical method that will help you maximize your space. Using a slim design, you can effectively utilize your vertical space without copying the floor area too much. This option will allow you neatly organize your footwear and keep them easily accessible. Regardless of whether it is an organizer or wall-mounted shelf, you can use this to declutter your space and keep your shoes tidy effectively.
12. Hidden Shoe Cabinet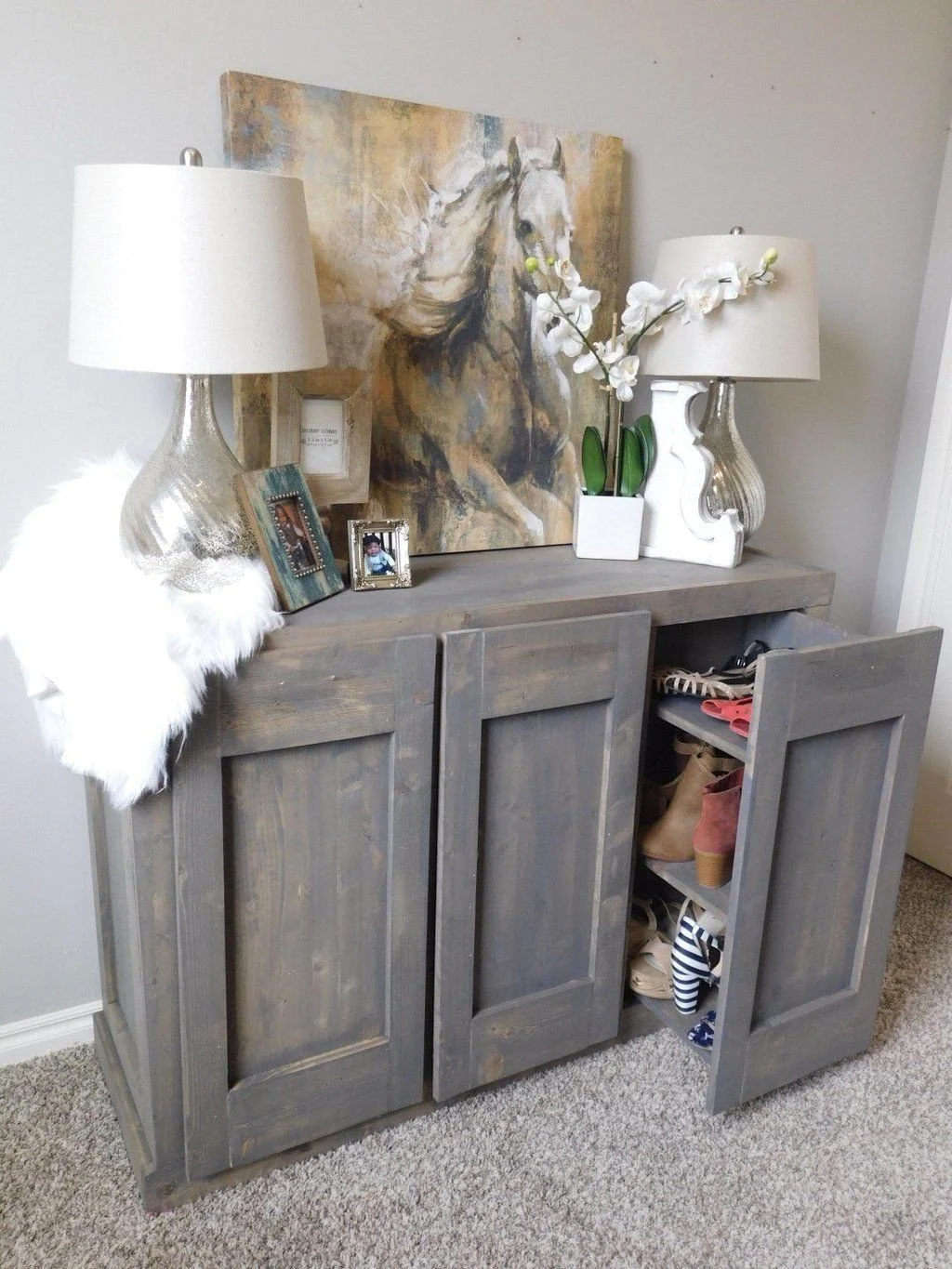 Construct a cabinet that cleverly conceals shoe compartments, ensuring a discreet storage solution. Incorporate a sliding or hinged door system that elegantly hides the shoe storage area when not in use.
13. Shoe Storage Bookcase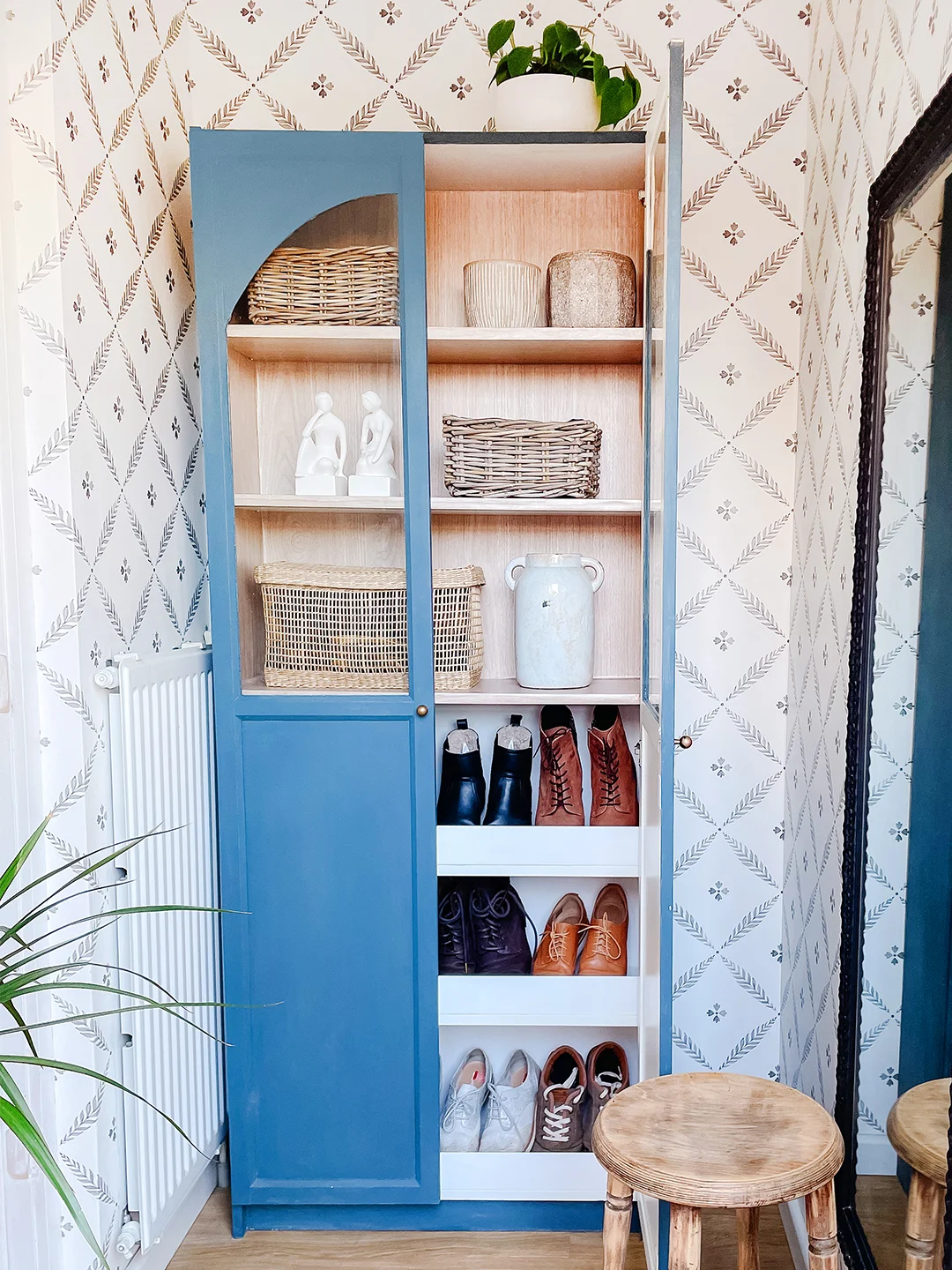 Transform a bookcase into a practical diy shoe storage unit by removing select shelves and inserting cubbies or angled shelves to accommodate shoes of various sizes.
14. Wall-Mounted Floating Shoe Shelf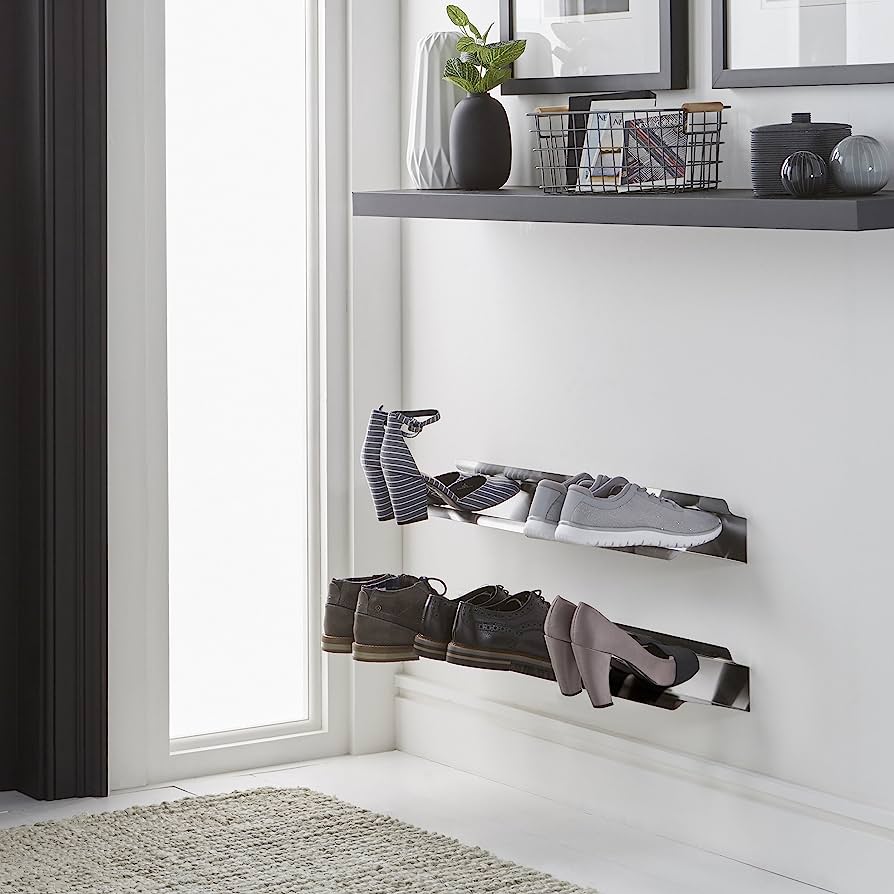 Install stylish floating shelves on the wall, arranging them at different heights to create an artistic and eye-catching display for your shoe collection.
15. Shoe Hangers with S-Hooks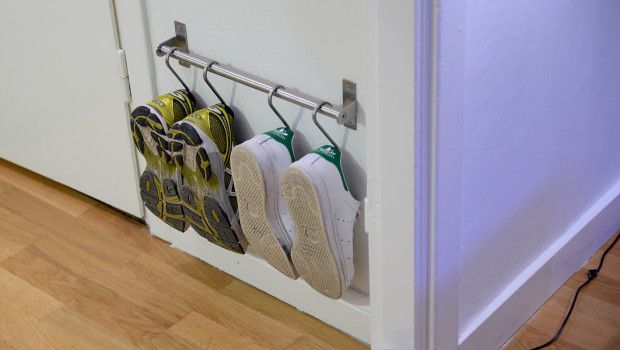 Optimize space and organization by attaching S-hooks to a clothes hanger. Hang your shoes by their heel loops, offering a simple and affordable solution for keeping them tidy.
16. Vintage Suitcase Shoe Storage4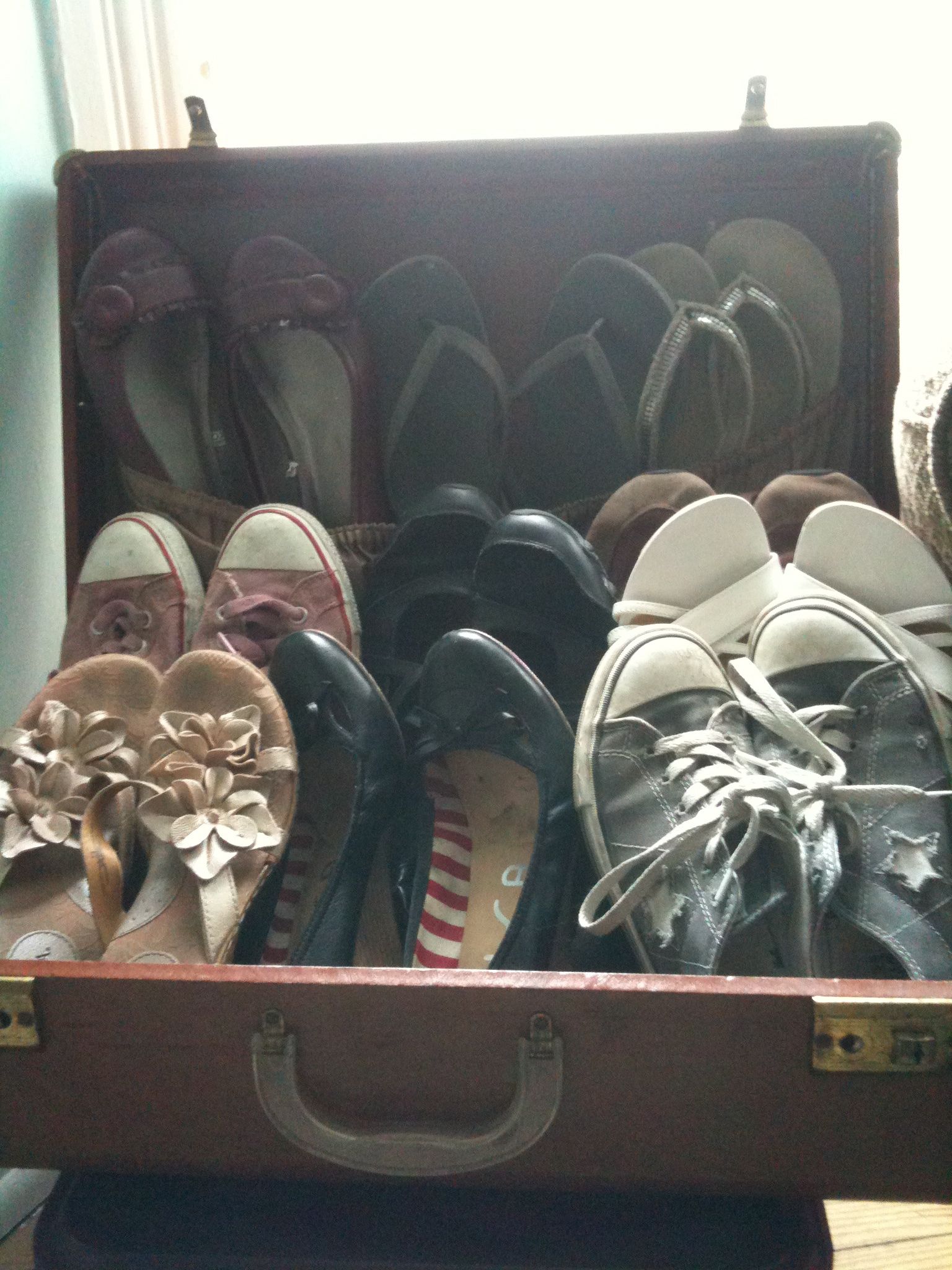 Embrace the charm of vintage suitcases by repurposing them into unique shoe storage containers. Stack them and add fabric or foam inserts to ensure shoes stay securely in place.
17. Shoe Storage Ottoman with Trays